We all have pieces of art Buck made,' says friend of Steven Lloyd (Buck) Auliffe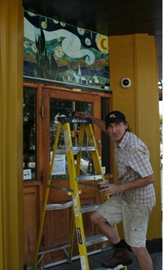 I had a sinking feeling last Wednesday morning when news broke about a Puslinch man who died when the car he was working under slipped off the jacks and crushed him.
No name had been released and scenarios raced through my head until my sister called a short time later with the tragic news.
Even after his name was released it took a while for the news to spread because most people knew Steve as Buckwheat or Buck.
It's a nickname he picked up as a child at Aberfoyle Public School because his bushy, unruly hair resembled that of Buckwheat from The Little Rascals. It was a fitting name for a rascal like Buck who would never miss an opportunity to amuse and entertain those around him…
[Click here to read full story…]