Market Minute: VanDenbroek Farm's Wagon is Back!
— July 14, 2017
If you are looking for produce this week you will find it at the Aberfoyle Farmers' Market. The VanDenbroek Farm's wagon is back and that means locally grown freshly picked veggies, herbs and fruits are aplenty! Along with their bounty of greens they will have red AND black raspberries. And starting this week their beautiful heirloom carrots will be available as well as ripe, luscious wild blueberries. And for the diehard strawberry lovers they still have a few but this author advises you come early!
If cherries are on your wish list look no further as Warner Orchards will have sweet cherries in stock. Love apricots and raspberries? They will have those too. Try this recipe they shared with us:
Apricot and Raspberry Squares
Made with fresh Ontario raspberries and apricots, a pan of these squares makes a perfect picnic treat. Or serve them as dessert at a backyard barbecue. They are best freshly baked on the day you plan to serve them.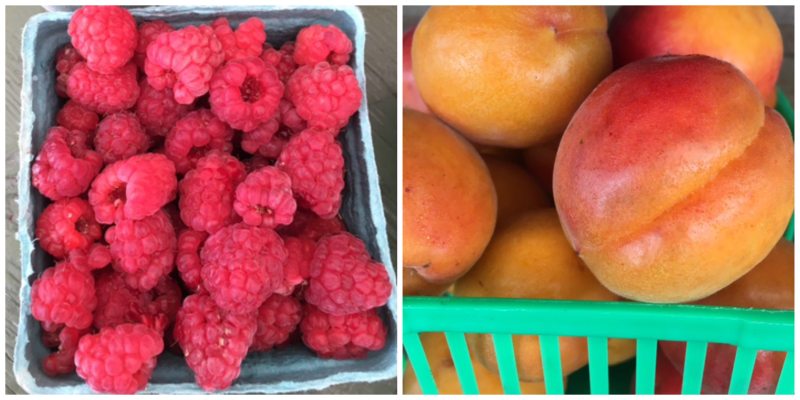 Apricot and Raspberry Squares (Recipe from Foodland Ontario)
Preparation Time: 30 minutes
Cooking Time: 40 minutes
Servings: 12

Ingredients

1/2 cup (125 mL) butter
1 tsp (5 mL) grated lemon rind
1/3 cup (75 mL) granulated sugar
1/2 cup (125 mL) ground almonds
1 cup (250 mL) all-purpose flour

Topping:


1 cup (250 mL) ground almonds
2/3 cup (175 mL) granulated sugar
1/2 cup (125 mL) all-purpose flour
2 tbsp (25 mL) butter
2 Ontario Eggs
1/2 tsp (2 mL) baking powder
Pinch salt
2 cups (500 mL) Ontario Raspberries
1 cup (250 mL) sliced Ontario Apricots

Preparation
Butter sides of 8-inch square baking pan; set aside.

In bowl, beat butter until creamy, stir in lemon rind, then sugar and almonds. Mix in flour gradually, using fingertips if too stiff to mix with spoon. Press onto bottom of prepared pan.

Bake in 325°F (160°C) oven for 12 minutes or until slightly puffed and surface appears dry; set aside. Increase oven temperature to 350°F (180°C).

Topping: In small bowl, combine half the almonds, half the sugar and 2 tbsp (25 mL) of the flour. With fork, blend in butter until mixture is crumbly; set aside.

In separate bowl, beat eggs with remaining sugar until thickened and pale. Combine remaining almonds and flour with baking powder and salt; stir into egg mixture. Combine raspberries and apricots; spoon evenly over base. Cover evenly with batter. Sprinkle evenly with crumb mixture. Bake for 25 to 30 minutes or until top is puffed and golden and fruit is bubbly. Let cool in pan on rack. Run knife around edges of pan and cut into squares.
The Market is pleased to announce a new vendor this week that will fit the bill for anyone who is looking to satisfy a dairy free sweet tooth. Lana's Specialty Foods is featuring three dairy free cheesecake mini cups that are also gluten, soy and egg free. Lana's dairy free cheesecakes are also naturally sweetened with dates, agave and/or xylitol.

Highlights this week are:
Produce
VanDenbroek Farms
– red and black raspberries, wild blueberries, strawberries and heirloom carrots as well as a bounty of greens
Warner Orchards
– sweet cherries, apricots and raspberries
JND Family Farms
– mini English cucumbers, zucchini, flower bouquets
Baked Goods
Lana's Specialty Foods
– dairy/gluten/soy and egg-free cheesecake mini cups
Meat, Dairy and Eggs
Wagyu World
– fresh rib eyes, strip loins and sirloin steaks, hot Italian sausage, pepperettes (back in stock), raw dog food and now introducing puppy mix
Prepared Foods
Aberfritters
– apple fritters
Crafts
C.S.H
– hand cream, foot cream, body lotions, citronella mist, salt scrubs
The Aberfoyle Farmers' Market is alive and well and open for business. If you live in South Guelph this is the closest local farmers market to you and there is plenty of free parking and fresh air!
Come support this local market at the Aberfoyle Farmers' Market, at the Optimist Recreation Centre's outdoor pad, 23 Brock Road S in Aberfoyle, next to the Puslinch Community Centre. Saturday, July 15 from 8am to 1pm.