Crime Stoppers 30th Anniversary BBQ – Everyone Welcome!
— August 1, 2018
Crime Stoppers is celebrating its 30th anniversary and you're invited to enjoy a free BBQ with them! Come out and show them that you appreciate all they do for our community.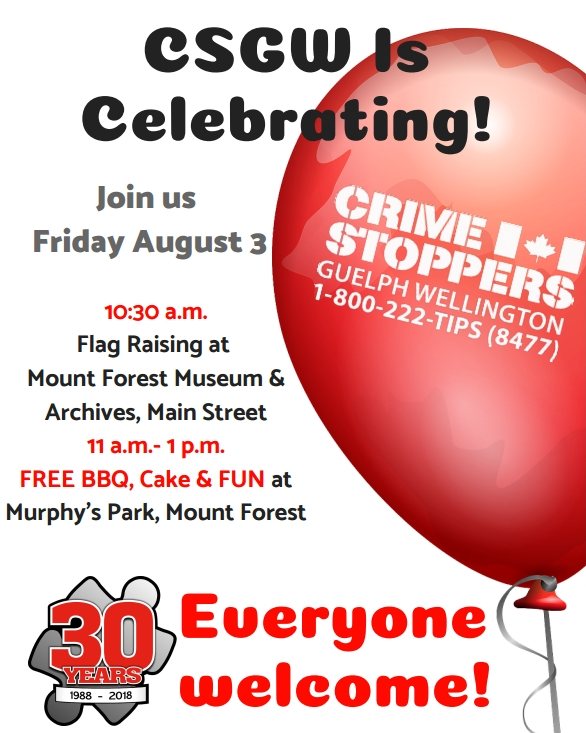 About author
Related Articles
Post Categories:
Archives
Never Miss An Update!
Upcoming Events
Oct
17
Wed
all day
Dewey Make-and-Take (All Ages)

@ Puslinch Library
Dewey Make-and-Take (All Ages)
@ Puslinch Library
Get creative with crafts and activities inspired by books. Drop in. Tuesday, October 16 to Saturday, October 20 during branch hours.Share this:FacebookTwitterGoogleMorePrintTumblrPinterestRedditPocket
all day
Quick Code Breakers (All Ages)

@ Puslinch Library
Quick Code Breakers (All Ages)
@ Puslinch Library
Help us load the library van, sort books, and navigate from one branch to another. Can you complete these library logic challenges? Drop in. Tuesday, October 16 to Saturday, October 20 during branch hours.Share this:FacebookTwitterGoogleMorePrintTumblrPinterestRedditPocket
Oct
18
Thu
all day
Dewey Make-and-Take (All Ages)

@ Puslinch Library
Dewey Make-and-Take (All Ages)
@ Puslinch Library
Get creative with crafts and activities inspired by books. Drop in. Tuesday, October 16 to Saturday, October 20 during branch hours.Share this:FacebookTwitterGoogleMorePrintTumblrPinterestRedditPocket
all day
Quick Code Breakers (All Ages)

@ Puslinch Library
Quick Code Breakers (All Ages)
@ Puslinch Library
Help us load the library van, sort books, and navigate from one branch to another. Can you complete these library logic challenges? Drop in. Tuesday, October 16 to Saturday, October 20 during branch hours.Share this:FacebookTwitterGoogleMorePrintTumblrPinterestRedditPocket
Oct
19
Fri
all day
Dewey Make-and-Take (All Ages)

@ Puslinch Library
Dewey Make-and-Take (All Ages)
@ Puslinch Library
Get creative with crafts and activities inspired by books. Drop in. Tuesday, October 16 to Saturday, October 20 during branch hours.Share this:FacebookTwitterGoogleMorePrintTumblrPinterestRedditPocket
all day
Quick Code Breakers (All Ages)

@ Puslinch Library
Quick Code Breakers (All Ages)
@ Puslinch Library
Help us load the library van, sort books, and navigate from one branch to another. Can you complete these library logic challenges? Drop in. Tuesday, October 16 to Saturday, October 20 during branch hours.Share this:FacebookTwitterGoogleMorePrintTumblrPinterestRedditPocket