Carole Precious Named "Chef d'Equipe" For Canadian Single Horse Driving Team In Holland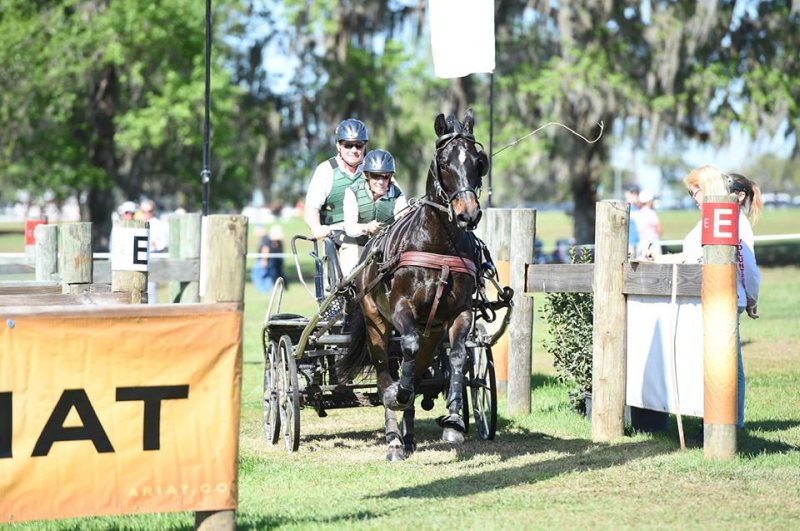 Carole Precious driving Bukhara, her home grown Holsteiner gelding. Tom Coverdale is the Navigator helping to keep the shiny side up.
Carole Precious from Puslinch has been asked to be Chef d'Equip for the Canadian Single Horse driving team in Holland. Here is the announcement from Tri-County Carriage, August 7, 2018:
Tri-County Carriage Association is proud to learn that Carole Precious, who began her driving career with Tri-County Carriage, has been asked to be Chef d'Equipe of the Canadian Single Horse Driving team attending the world Championships in Kronenburg, Netherlands, August 28 – September 2, 20118.

Carole was a Director and Chairman of the Board of the Canadian Classic, a long-time member of the Drive Canada Committee, and a three-time participant at a World Championships (once as a navigator and twice as a driver).

Three Canadians have qualified: Kelly Houtappels Bruder, Pierre Guillemette and Catherine Levasseur.

Traditionally the expenses for sending the Chef d'Equipe are covered by the national equestrian federations. Equestrian Canada does not have a budget for this. It is up to Carole to come up with the funds. The Drive Committee of Equestrian Canada, of which Carole has been a volunteer member for many years, is giving $500.00 and she has secured two Canadian sponsors.

Carole will use her personal air miles for the airfare but there is nearly $700.00 for taxes and fees. She will have hotel, meals and transportation which she is organizing for herself. It is estimated the total costs will be about $2,500.00 which does not include 8 days giving to the job, as well the costs of paying others to cover work responsibilities at Chassagne, her farm business on Concession 1. In an effort to promote the sport of driving, Carole has offered a great deal of personal time, money. Always remembering her driving roots, Carole remains Loyal to Tri-County through membership and giving clinics at no charge such as the most recent Marathon Clinic and Harness workshop.

Carole says "In Canada, our sport is healthy but miniscule when contrasted to other countries. We should all be proud that we have drivers competing at the world level who'll be representing us."

The Chef d'Equipe has an important job as a Team Official who functions as the liaison between the Organizing Committee and the Officials of the World Championships and the Athletes (think Team Manager). Carole is hoping there may be a few Tri-County members who would help her with the expenses by sending a donation to Equestrian Canada, along with a note saying that the money is to be paid toward the expenses of the Chef d'Equipe for the Single Horse World Championships. This payment should be sent to: Jon Garner, Director of Sport, Equestrian Canada, 308 Legget Drive, Suite 100, Ottawa, Ontario K2K 1Y6. In return you will receive a tax receipt.

Carole has said that she would be pleased to offer a presentation about the World Championship experience to the Tri County members.

Let's support Carole in her attending the World Championships as she takes TCCA/GLCC with her – all the best Carole!
Judi Morris