Puslinch Fire and Rescue Services Creates Dry Fire Hydrant Identification Program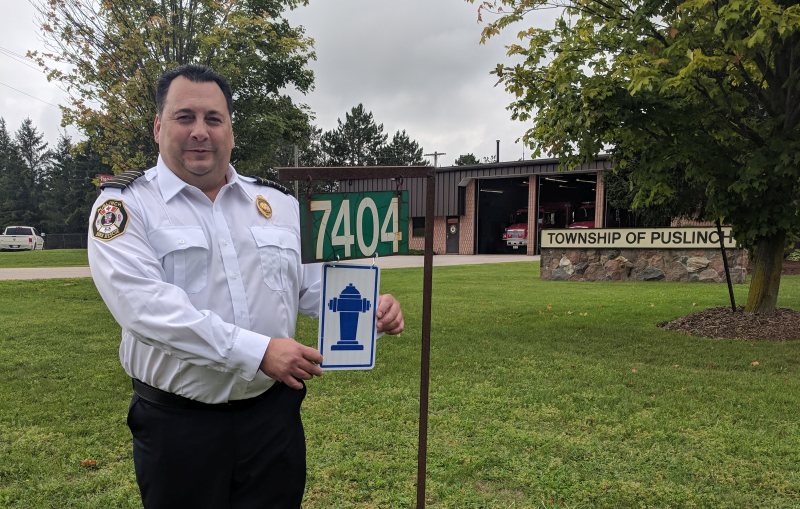 All of the 100 Dry (Non-Pressurized) Hydrants used for fire suppression by Puslinch Fire and Rescue Service within the Township of Puslinch will now be identified from the roadway. A reflective standardized hydrant sign will be displayed with each civic address sign that has a fire reservoir on its property.
The 6"x10" white reflective background with a blue fire hydrant symbol will be highly visible to fire crews from Puslinch and its fire service mutual aid partners.
A dry hydrant is an unpressurized, permanently installed pipe, used by a fire department pumper or pumper/tanker to draft water from reservoirs in rural areas where municipal pressurized water systems are unavailable.
Our Fire Dispatch Provider is also updating their GIS mapping system with the location of these properties. Fire Chief Luis Gomes notes that "In the event Puslinch Fire and Rescue Services needs to respond to an emergency, retrieving water from the closest source is an essential component of firefighting operations. GIS mapping and standard hydrant identification will assist our crews when seconds count."
Chief Gomes presented this program to the Wellington County Fire Chiefs in June. They approved the concept and design, and will be implementing this standardized dry hydrant identification in our neighboring Wellington County communities. Chief Gomes stated, "This concept will now be proposed as a provincial standard to the Ontario Fire Chiefs Association and as an international standard with the National Fire Protection Association."
Property owners in Puslinch with water tanks have been advised by mail that they will have Puslinch Fire and Rescue Services provide and install their sign.
Chief Gomes adds, "We are committed to having a safe community. Having these valuable resources available at all times will allow Puslinch Fire and Rescue to combat fires more efficiently and effectively".
For more information about our fire service visit: http://www.puslinch.ca/en/our-government/Fire-and-Rescue-Services.asp