Wellington County / OPP Property Auction Nets Record Funds for Crime Stoppers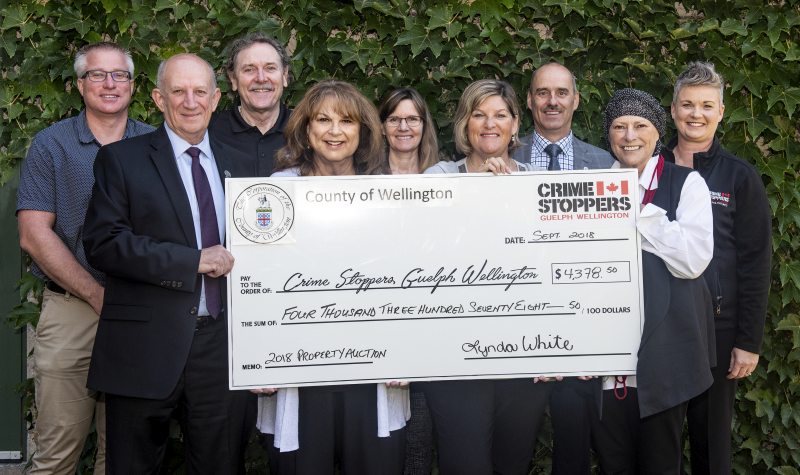 Those on hand for the official cheque presentation include, from left, Wellington County Police Services Board (WCPSB) members Jeremy Vink and Warden Dennis Lever, CSGW Board member John Svensson, WCPSB Chair Lynda White, CSGW Office Coordinator Leesa Keleher, WCPSB member Lisa MacDonald, Wellington County OPP Inspector Scott Lawson, WCPSB member Joanne Ross-Zuj and Program Coordinator Sarah Bowers-Peter. (Photo provided by County of Wellington)
Record Funds Raised At Auction
The 2018 County of Wellington/Wellington County OPP Property Auction generated record-level funds for
Crime Stoppers Guelph Wellington (CSGW).
At the September County of Wellington Police Services Board meeting, CSGW representatives were advised
by Chair Lynda White that $4,378.50 had been raised at the June event. In addition to the funds raised by
CSGW through the Piller Meats barbecue and sales of CSGW T shirts, the entire event raised more than
$5,200.
This is a record for the event, which raised just over $4,000 from the auction alone nine years ago.
"The Wellington County Police Service Board is very pleased to present this amount to Crime Stoppers
Guelph Wellington from the proceeds of this year's public auction. Thank you for the very important work
that you do in our community," stated Chair White.
"The Board is appreciative of the generous support of the County of Wellington in so many ways," said
CSGW Board Chair Peter Canning. "This donation is just over the top as far as the support they are
providing to us."
"The auction is such a creative way of taking a negative – property that is stolen and turning it into
positives. Crime Stoppers receives the proceeds, but the public can also can buy some great items at
excellent prices," agreed Program Coordinator Sarah Bowers-Peter. "We appreciate the support we receive
for this great event."
The auction, which started in 2007, has raised more than $26,000 for CSGW. Property sold in the auction
are a variety of items that cannot be returned to the rightful owner following the conclusion of a police
investigation. The items are cleared for auction by Wellington County OPP and the sale has been held for
the past five years mid-June at Parr Auctions north of Fergus in conjunction with the CSGW/Piller Meats
barbecue.
The Police Services Board also received the annual CSGW update and was able to view the three
International Awards presented to the program, as well as the five Provincial Awards received earlier this
year.
"It truly has been an outstanding year for Crime Stoppers Guelph Wellington," acknowledged Bowers-Peter


For further information, contact Program Coordinator Sarah Bowers-Peter, 519-846-5371 or
[email protected]