Fuel Spill Update – Concession 2 Still Closed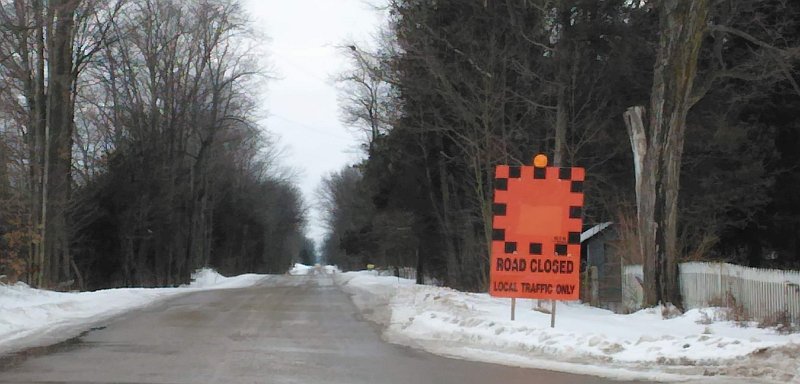 UPDATE FROM THE MINISTRY OF THE ENVIRONMENT, CONSERVATION AND PARKS – FUEL
SPILL – FEBRUARY 21, 2019
The Ministry of Environment, Conservation and Parks has directly provided the following update:
Based on assessments made to date, sheen and hydrocarbon impacted water is present in
Aberfoyle Creek and Mill Creek between the spill site at Highway 401 and north of Concession
2.
Localized areas of sheen are being observed between Concession 2 and Wellington Road 35,
and at the Gore Road and Side Road 10 crossings.
The consultant is maintaining booms to collect any hydrocarbon and sheen at key locations up
to the Grand River.
Vacuum truck recovery of hydrocarbons and impacted surface water continues 24 hours per
day, seven days a week at Concession 2.
A water treatment unit was installed over the weekend of February 16th, 2019 at Concession 2
to treat hydrocarbon impacted surface water.
A request for an additional water treatment unit is under ministry review to treat hydrocarbon
impacted water at the spill site adjacent to Highway 401.
The consultant's surface water sampling results from February 14th and 17th, 2019 do not exceed
any referenced guidelines downstream of the spill site at Highway 401 for jet fuel related
parameters.
Surface water sampling continues for laboratory analysis of benzene, toluene, ethylbenzene
and xylenes (BTEX), petroleum hydrocarbons fractions 1 to 4 (PHC F1-F4) and polycyclic
aromatic hydrocarbons (PAHs).
The referenced guidelines for the surface water sampling are as follows:
Provincial Water Quality Objectives (PWQOs) for BTEX and PAHS.
Canadian Council of Ministers of the Environment (CCME) Surface Water Guidelines for
protection of freshwater aquatic life for BTEX and PAHs.
Alberta Environmental Quality Guidelines for Alberta Surface Water for protection of
freshwater aquatic life (Short Term Acute) for PHC F1 and F2.
Hydrocarbon odour continues to be noticed at the outlet of Shades Mill Dam, without the presence of observed free product or sheen.
It should be noted, that the odour threshold for jet fuel is very low and the ability to see sheen
at this level is influenced by the turbulent water.
Furthermore, as water goes over Shades Mill Dam it is being aerated, which encourages the
volatilization (release to air) of the hydrocarbon components.
Given that no free product or sheen has been observed, the consultant has hypothesized that
either free product may be under the ice or it is dissolved throughout the water, but
concentrations are low enough that they are not being picked up in the surface water
sampling.
A deceased duck was observed on February 15, 2019 by a third party and reported to the
ministry on February 20, 2019 at a location north of Concession 2. There was no indication at
the time of the report that the duck had been impacted by the jet fuel spill, and the cause of
death remains unknown as the carcass could not be located.
The Ministry of Transportation has approved the closure of the westbound access ramp to
Highway 401, from the Hanlon Expressway, for Thursday February 21, 2019 from 10 pm to 5
am, for the continuation of the soil remediation occurring north of Highway 401.
Any questions regarding this update are to be directed to:
Lynette Armour, Provincial Officer at 519.826.4759 or 1.800.265.8658
via puslinch.ca