Puslinch Travels! Part 3: Fun Getting Around Bangkok
This is part three of a travel series by Margaret Hauwert. View Part one of Margaret's series by
clicking HERE, and part two HERE. Be sure to view all the pictures at the bottom of the post!
By Margaret Hauwert
I enjoyed this part of Bangkok the most as it was so easy to get from one side of town to the next. Often we would take the BTS (Bangkok transportation service) sky train which is similar to the subway in Toronto. We bought a rabbit pass for 800 baht plus 100 baht to activate it for a total of 36 Canadian dollars. Most places from our BNB were 30 baht to get to but sometimes it took 60 depending on how far or how many switches we had to make. But that is where the similarity stops because unlike the Toronto subway no one gets through the turnstiles without paying as there are a couple of security guards at each entrance so no fare evaders here. They also have clear gates at the entrance way to board that stay closed until the train has come to a full stop. Here in Bangkok people exiting are allowed to come off first before others load on. No one on any of our multiple trips took up two seats, ate or drank anything or did anything disgusting. I observed many young and mature passengers taking advantage of the many cheap gigabytes that come with a cell phone plan to catch up on soap operas, cooking shows, you tube, a favourite blogger or play a game app. Many people wore headphones and had a portable external charger. I often witnessed passengers giving up their seat for the elderly or moms with children. Even though the cars were packed, it was often a very quiet but thankfully air conditioned ride.
The boat ride along the river however was completely different. It was noisy and full of people going to a variety of tourist attractions. There were many types of boats to choose from and the price was dependent on the choice. There was a hop on hop off boat for 200 Baht ($8) for one person. At this point we had already been to many of the attractions so for us it was not a good choice. Also it doesn't allow for much time at each attraction. You could also take a boat for 60 baht ($2.40) that did not stop until it reached your next destination. My choice of ride was the 20 baht (80c). It fit my price range, fun meter and who doesn't like being yelled at to "hurry up, hurry up and get on the boat" all in Thai of course. This was yelled by the same person who often collected your money. You sure did not take your time as the boat would only take 2 or 3 minutes at the most to collect people and then it was off again. Sometimes the gap between the rubber tires and the platform was a wide step or a narrow step depending on the choppiness of the water, how many people were on board and/or the experience of the driver. It was a rush to get on as you would always want a seat due to the unknown of how the boat would bounce or not off the rubber tire. I remember the one time while we were docking there was a sudden jerk as we bounced off the tires. There was much confusion as you grabbed onto the next person and hoped they were hanging onto the bars located near the top of the boat so that didn't fall on your rump. It was funny after but not at the time.
This means of transportation was not easy at first as you had to really know and look at where you wanted to get off. With boat help you could get to Icon Siam (for high end shopping), Chinatown (to look at the many stalls full of everything under the sun, I bought raisins at one (280 baht-$12) and one of the many temples (which will be the topic of a future article). As always in Bangkok, the people were friendly and would help with directions even though language was a barrier. I eventually started to type on my phone the name of where I wanted off and this was a Eureka moment because all the signs had English on them. At this point, I was becoming more savvy and independent. Hurray for me!
I forgot to include the most curious way to transport yourself in Bangkok and that would be the Tuk tuk. In my experience, is it a scam which is most unfortunate. The drivers and managers are mostly near or around the Grand Palace, they had wanted to take us for a ride to two free temples that were open and then for some shopping. I had read on trip advisor that this indeed with the offer of many others who did take the ride for 100B (4$). The hassles that ensued over getting away from the shopping that apparently was prearranged between tuk tuk company and proprietor was too much! So we walked away.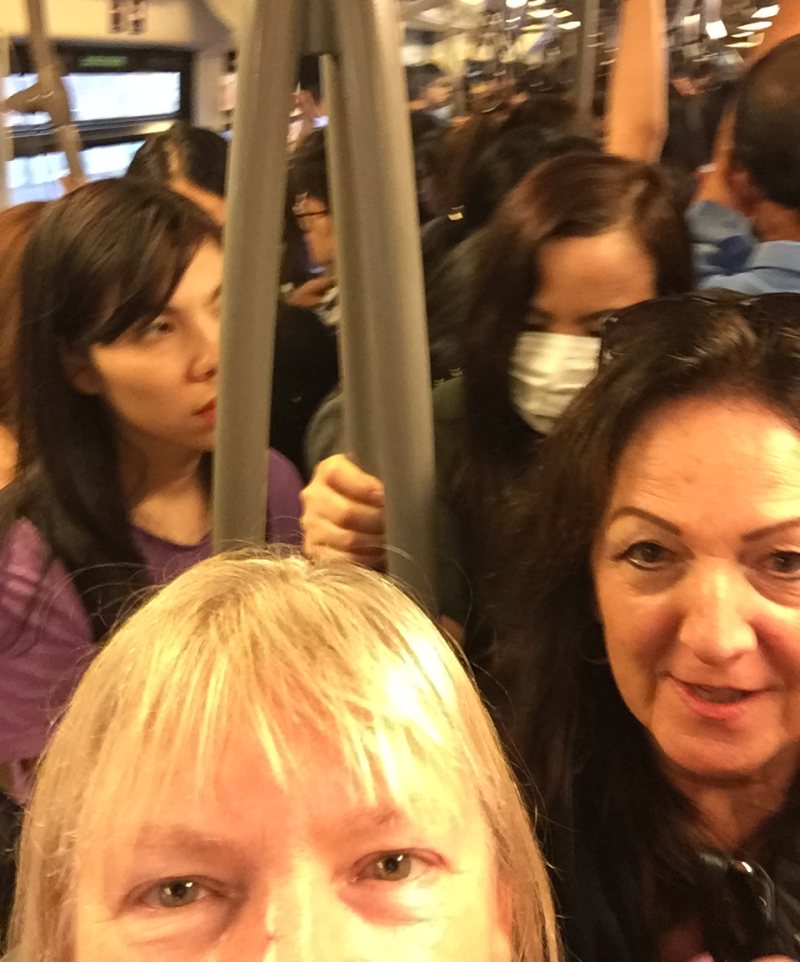 Cramped on the bts.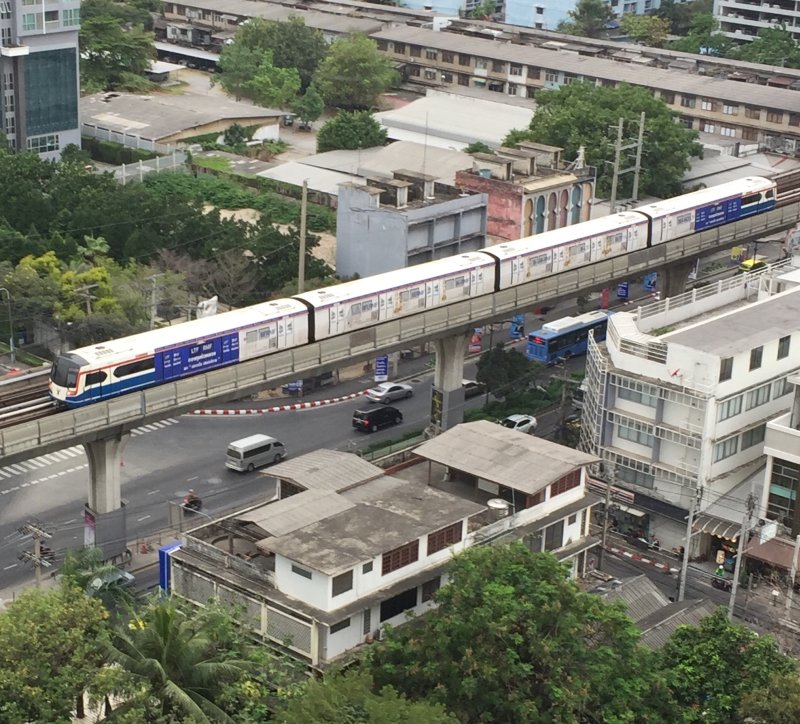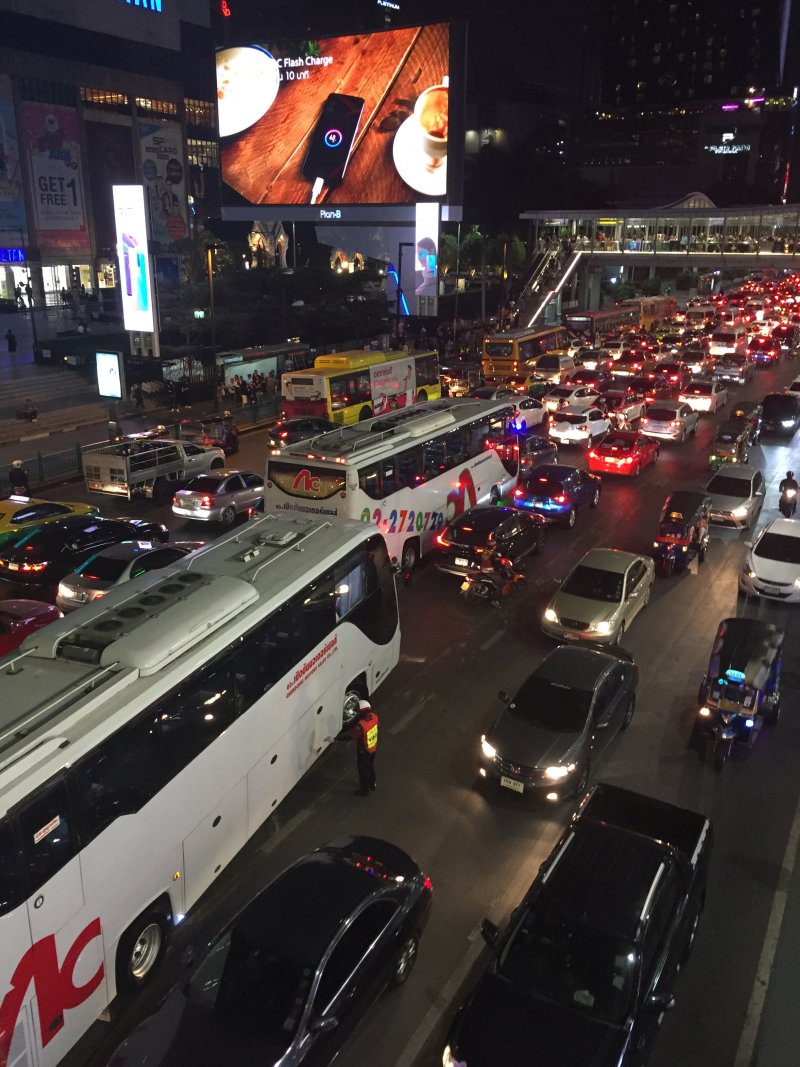 This is one of the many reasons I take the skytrain (bts). To Bangkok's credit, there are lots of walking paths so massive amounts of people use those instead of trying to cross the street.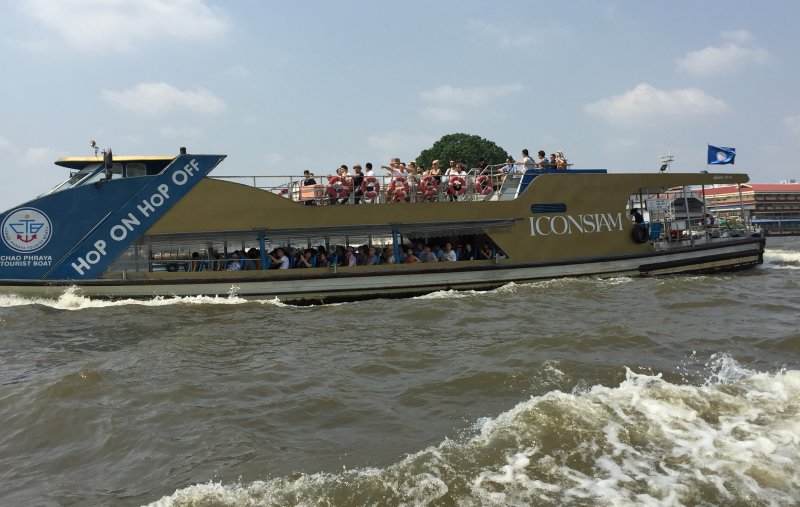 This is what we call the tourist bus. For 200 baht (8$), you could visit all the popular sites. If you were in town for only two weeks this would be a good choice.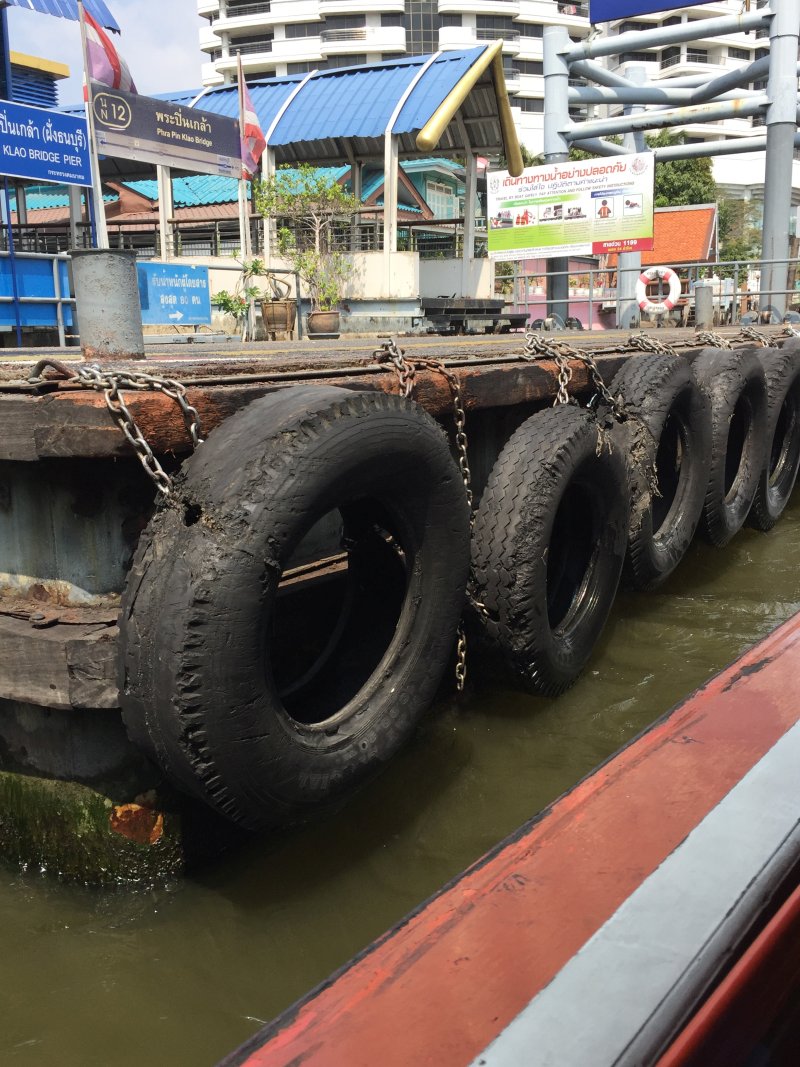 These are the tires located at all step off platforms. Some are missing more tread then others but they still bounce!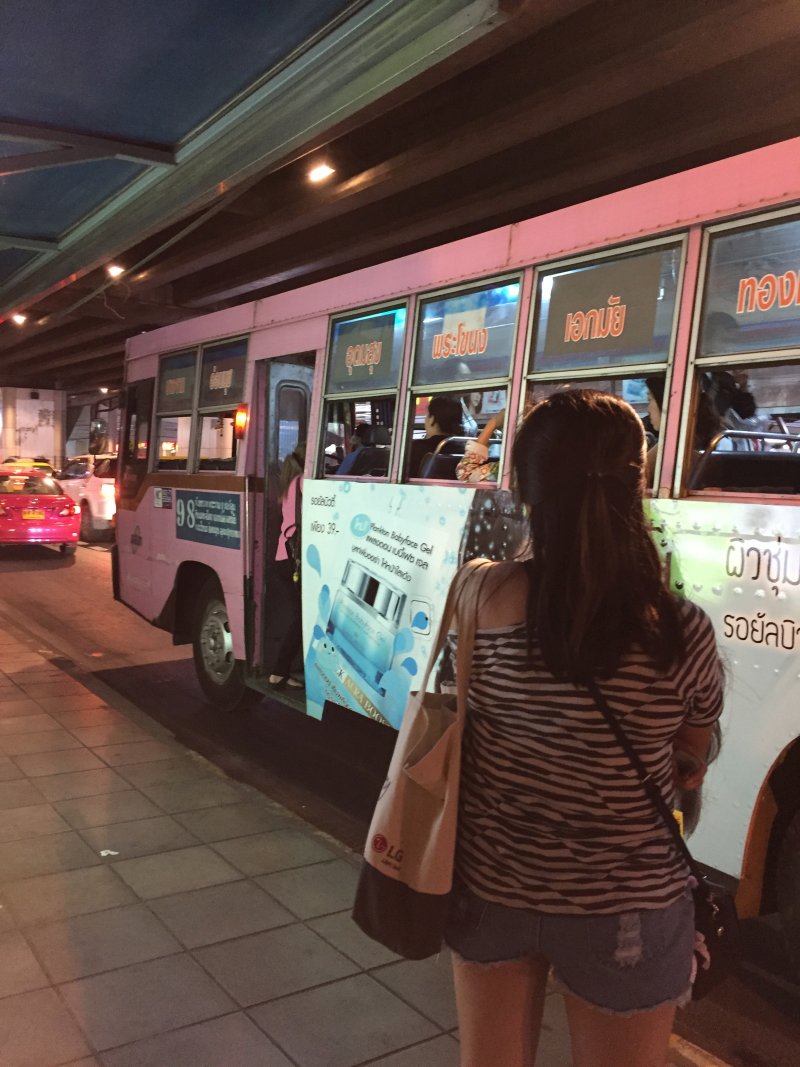 I did not take this form of transportation as it was more for locals than the average tourists.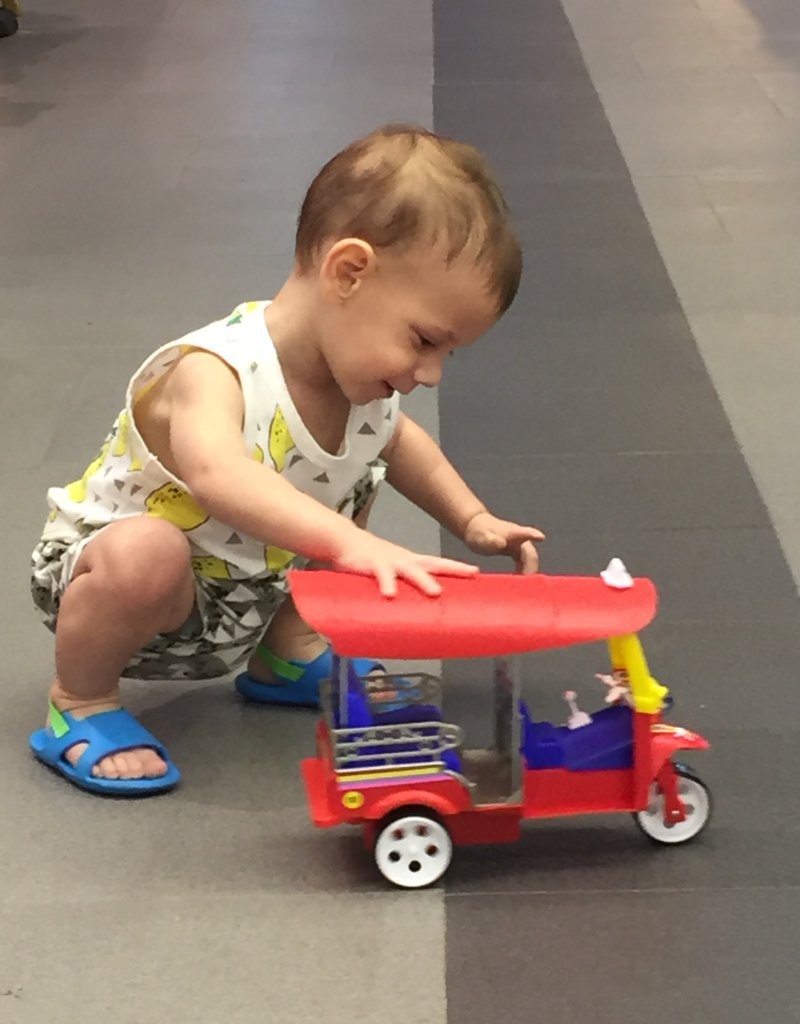 With permission from mom and dad, this would be a tuk tuk driver I would trust.