Puslinch Travels Part 4: Chinese New Year's Eve
This is part four of a travel series by Margaret Hauwert. View Part one of Margaret's series by
clicking HERE, part two HERE and part three HERE. Be sure to view all the pictures at the bottom of the post!
By Margaret Hauwert
During my 20 years in the classroom teaching celebrations, it was a goal of mine to visit a place where I could see first hand how this would be celebrated. Thailand seemed to be a good pick as due to every Thai having a small portion of Chinese in them I thought they would for sure celebrate this tradition. I was not disappointed. It just happened that Icon Siam was hosting a celebration on Feb. 5 which was only days after our arrival. The event started with the traditional gold and red decorations everywhere. It was The Year of the Pig so printed shirts could be bought at most shops. Chinese lanterns were featured at stalls, restaurants and malls. China town was also having an event but I was reluctant to go because the crowds I felt would be overwhelming. After talking with a couple from the UK I was correct. They waited 2 hours for a parade that didn't happen all while being pressed against buildings to let others get through to other spots.
The celebration started with a traditionally dressed speaker (gold dress for good luck) who presented dignitaries (I'm guessing as it was mostly in a combination of mandarin/cantonese with some Thai translation). These guests inspected the dragons (large and small) and gave their approval. Then the night started with the smaller dragons going down the rows and back again. Next up were a few performances by school children. One group showed off their ability to balance and jump on small wooden platforms at different heights. The last group used each other to balance off at different heights. Lots of noise was made by drums as that is a tradition of warding off bad spirits.
Next up, were the lion dancers who balanced and jumped onto stationary stilts. With two people under each lion costume you can imagine that something might go wrong. Their agility and balance was tested each time as they jumped from one small pole platform o another. Everything was going swimmingly until half way through the performance when one of the members slipped. There was a small gasp from the audience and then silence as we all watched them regain their composure. From this point onward only one lion jumped from any platform. The onlookers were teased with some acrobats as the one lion swung on an imaginary swing between the poles. It was really nice to watch.
At this point, it was time for the dragon to appear. It wound its way through the crowd once before the lead person turned on lights (similar to a set of Christmas lights) which made it look meaner than it was. At the same time a group of men were climbing a pole to receive the dragon which we were hoping would breathe fire. But it didn't happen, even though we saw a liquid go through the air. Actually it was just as well because the dragon was cloth with a paper that unrolled from its mouth to tell everyone to enjoy The Year of the Pig.
The event was capped off with some very loud firecrackers!
My happy bucket was filled when I had my picture taken with one of the dancers in costume.
The very next day we had another celebration happen outside the local mall next door. To say you could hear them coming down the street was an understatement as anyone who was in any of the surrounding apartments could see and hear them. It was a group led by a young boy of 6 or 7. When I caught up with them inside the mall I could see that they were passing out to local businesses lai see to wish them well for the new year. It was worth running up the street to see them in action.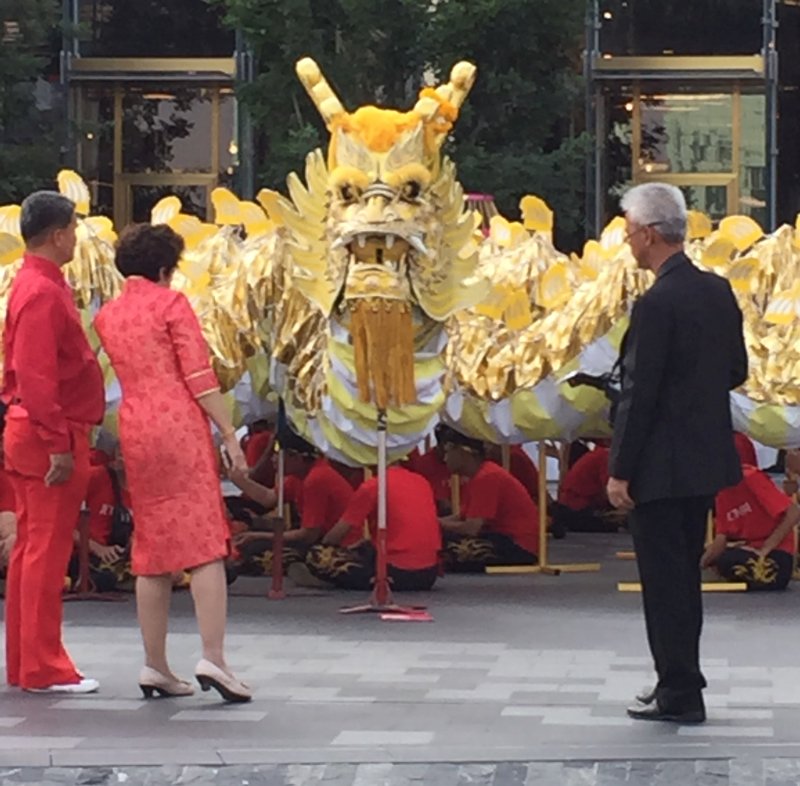 Who knew the princess would be there to open the ceremony. Not me that is for sure!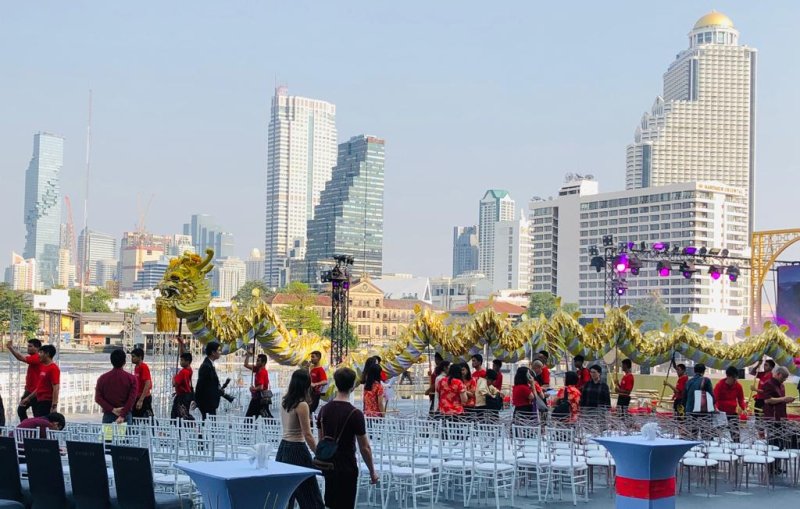 Practise run of the dragon dance.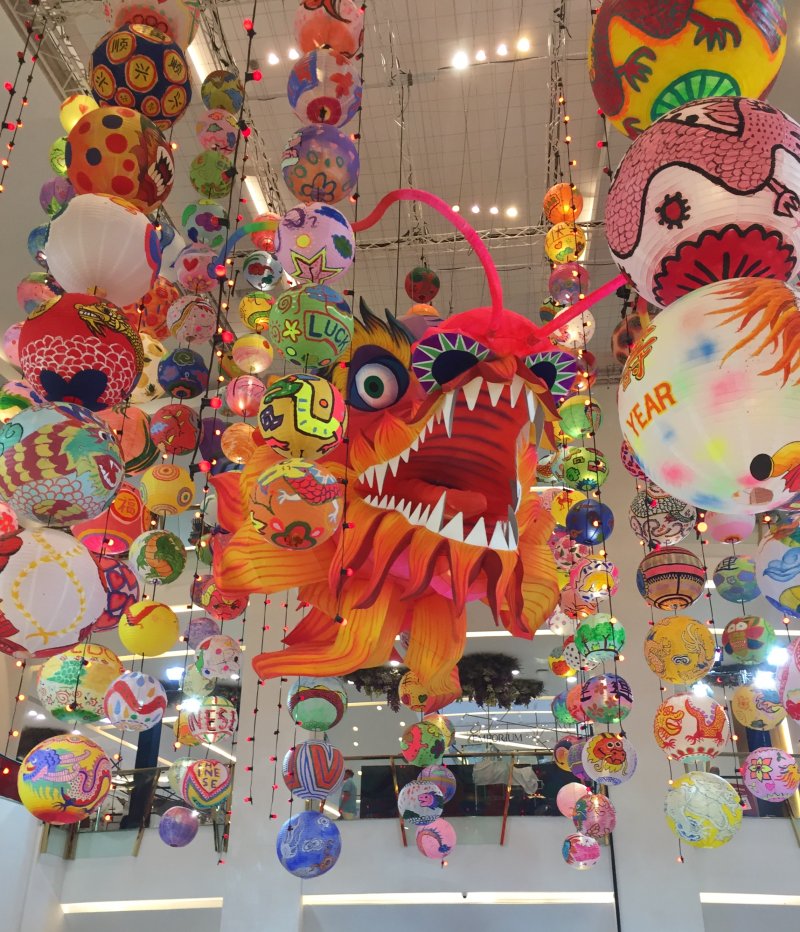 A local decoration in one of the many malls.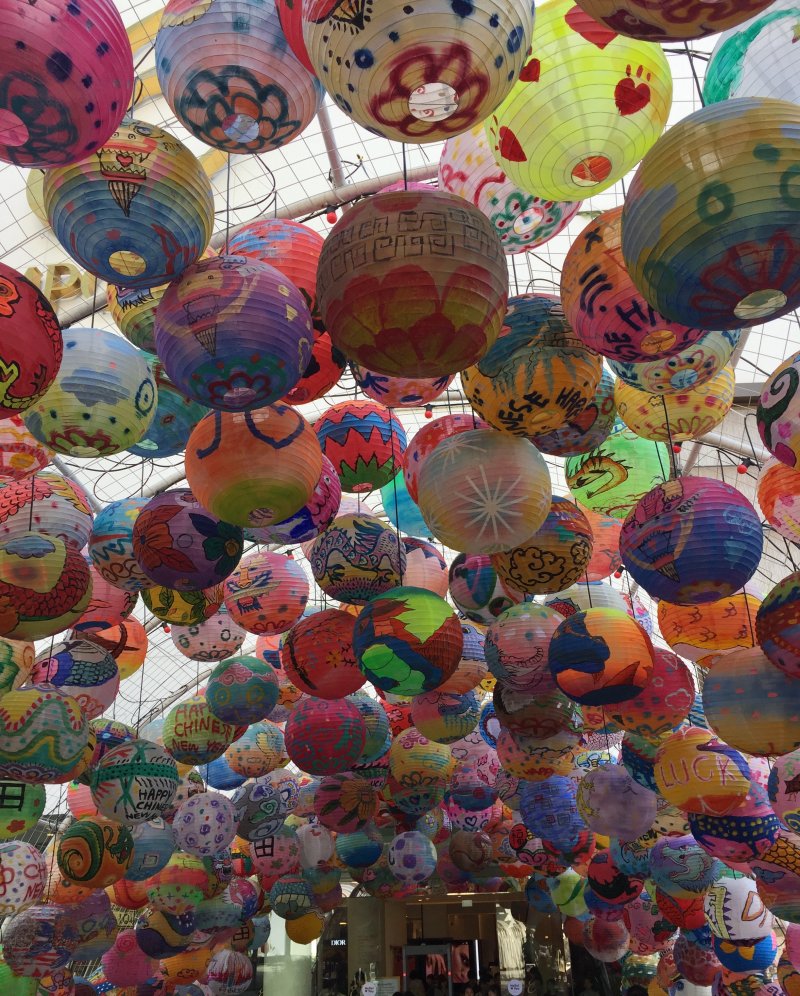 These designs were created by school children as the mall gave out 8000 Chinese lanterns to local schools.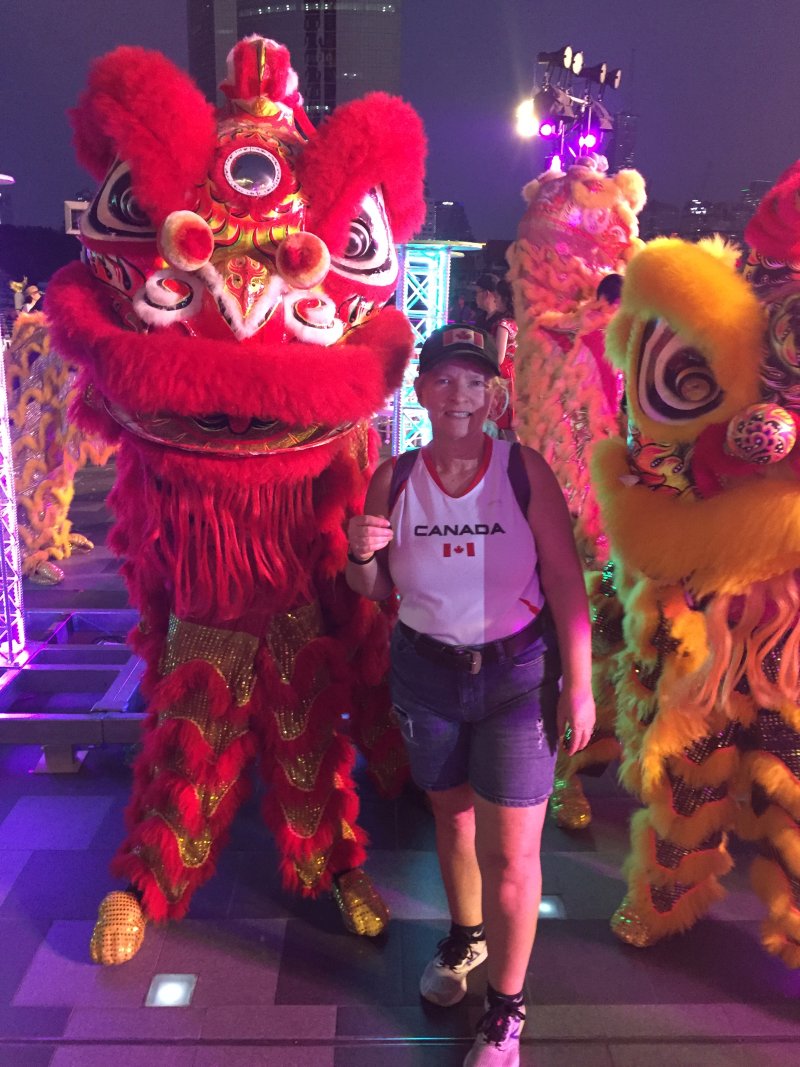 I had to wait awhile to have this taken as the lines were long.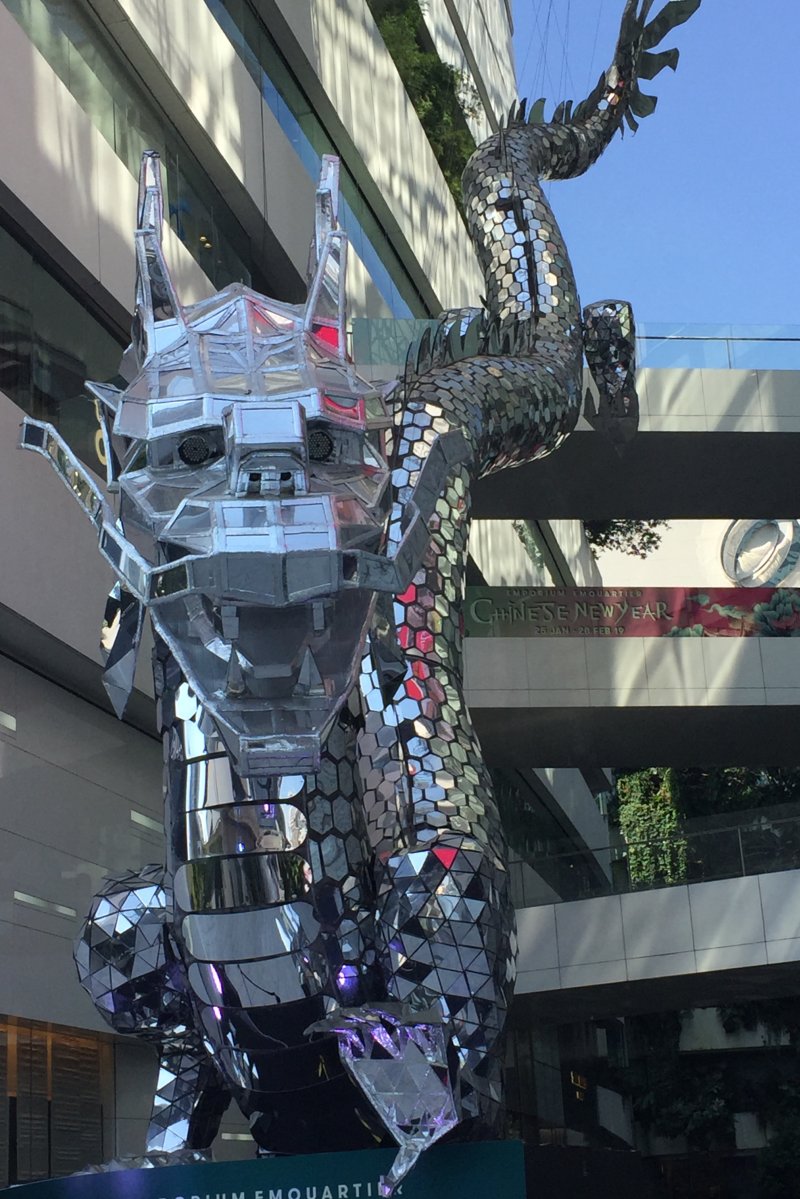 Even though it was Year of the Pig, this dragon is a permanent fixture at Siam Paragon.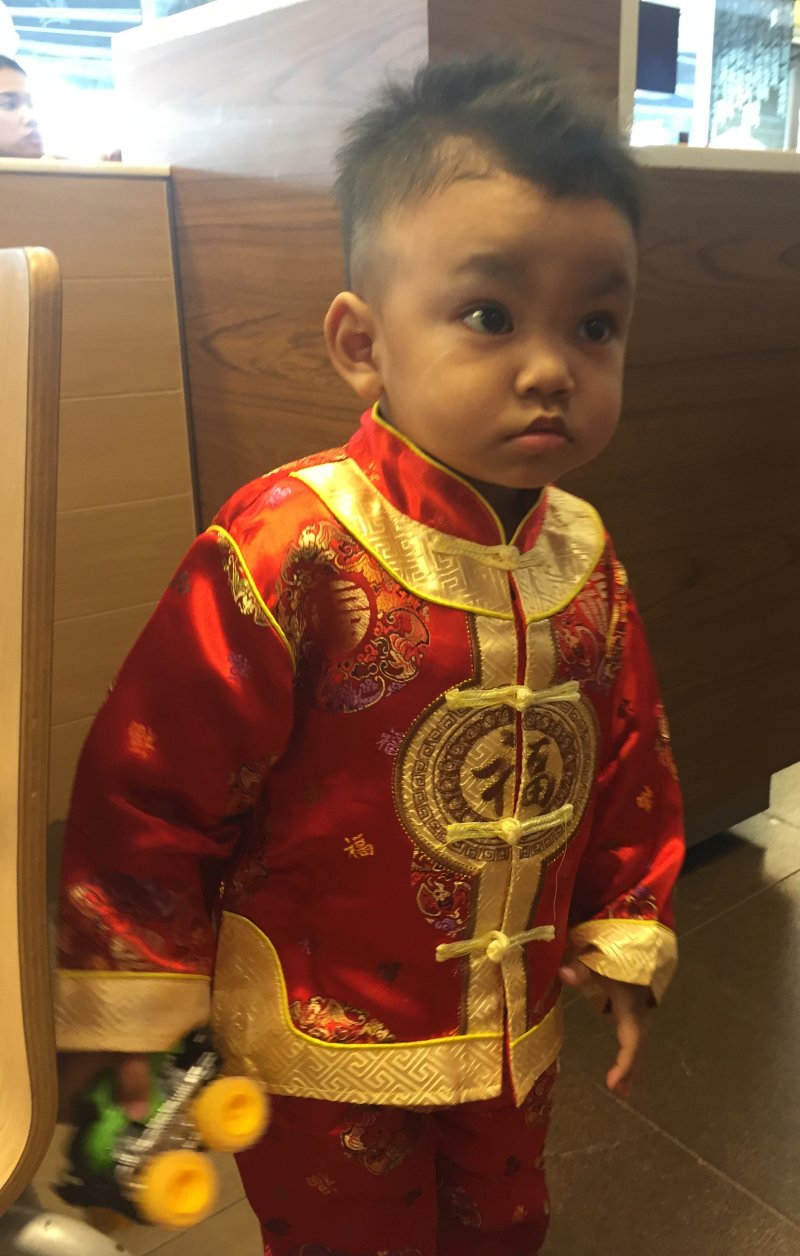 This child was celebrating at the local McDonald's. Although, he was not to happy about his picture being taken his mom was proud to be showing him off for me.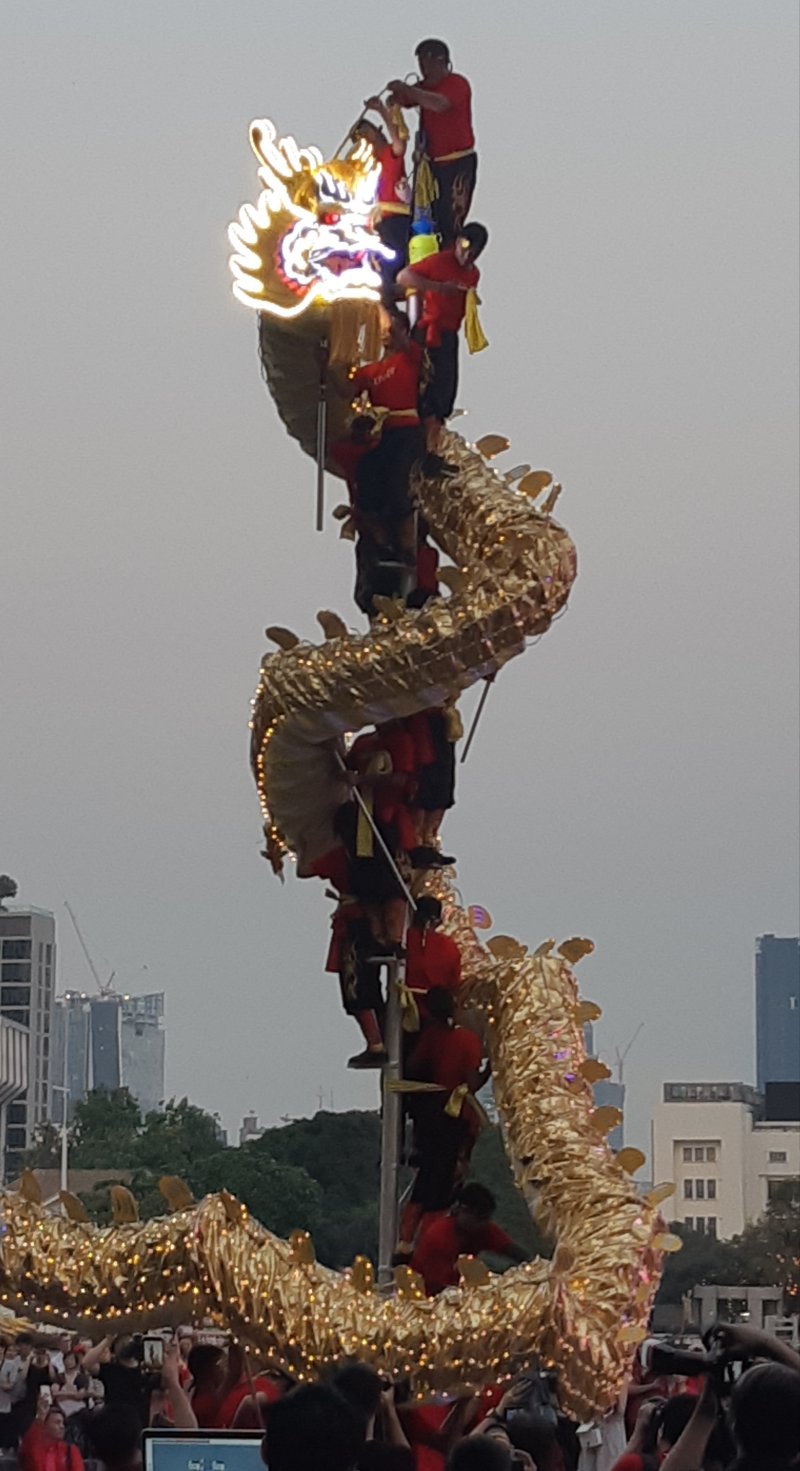 It took a wee bit for the dragon to wind it's way up the pole with many hands helping.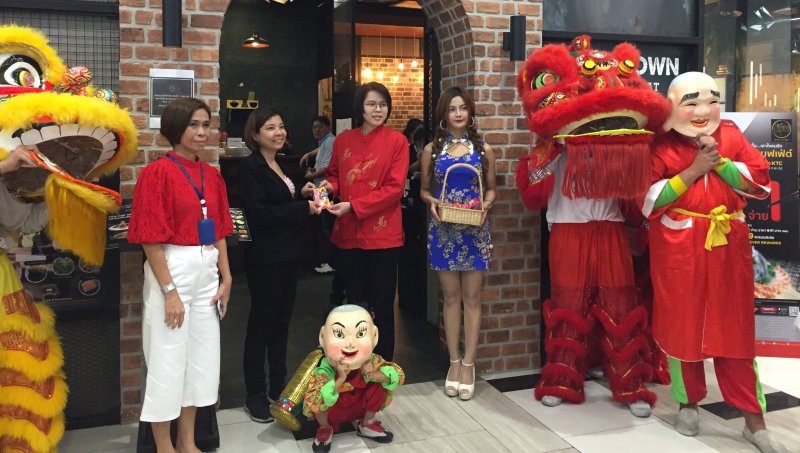 Giving good luck and fortune to local businesses in the mall.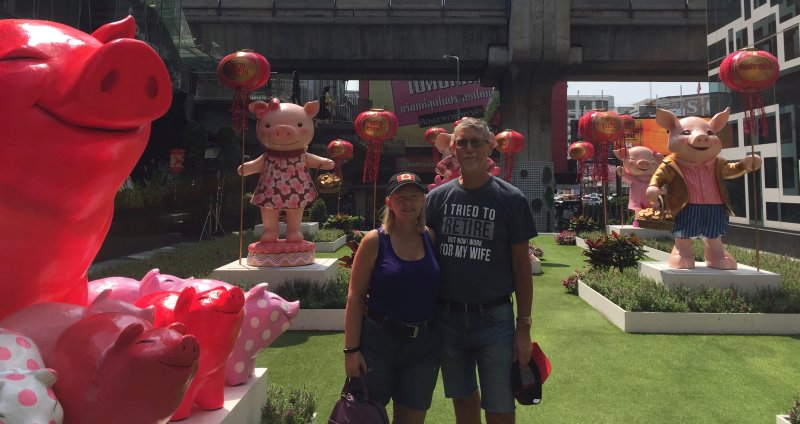 This was one of many picturesque spots for Year of the Pig.