Puslinch Travels Part 6: Puslinch Travels To The Temples
This is part five of a travel series by Margaret Hauwert. View Part one of Margaret's series by
clicking HERE, part two HERE, part three HERE, part four HERE and part five HERE.
By Margaret Hauwert
Next up, temples. The first thing I did was to check with trip advisor for tips and must dos. Next was to check YouTube to see what each looked like so that nothing was missed. Then I checked websites to see how much each site cost, find where it was located, time it opened and closed, dress codes and lastly decide which mode of transportation.
All temples required woman to wear long skirts/pants and no one could show any shoulder or above the knee skin. Men could not wear shorts or jeans. This was managed feverishly by attendants at the entrance. If you forgot, you were expected to buy pants/tops in the gift shop for 200 baht each ($8).
So first up was the Grand Palace. The cost was 500 Baht ($20) each. Many commenters on the site stated that it would be filled with thousands of tourists. The bloggers and vloggers were correct as there were at least 5000. There were so many that the side street was blocked off to allow for large crowds to cross the road. Once inside I decided to rent an audio guide, this was a poor choice because we ended up starting at the back of the buildings due to all the people. Also it had to be returned in 1.5 hours and that was not near long enough! Structures were interesting to look at as you often had to remind yourself that in that time it would have been very hard work as there would not have been access to large machinery or cranes. The intricate patterns were lovely to look at and the layers of gold leaf were painstakingly reapplied often by sculptors. Your fee included entry to see the emerald buddha but you were not allowed to take photos. No footwear was allowed in any of the buildings that were used for prays but these floors were so clean you could have eaten off them as they were constantly swept and mopped. Unfortunately many buildings were inaccessible due to renovations. I would not go again as there was not enough to see and the crowds were ridiculous and very pushy.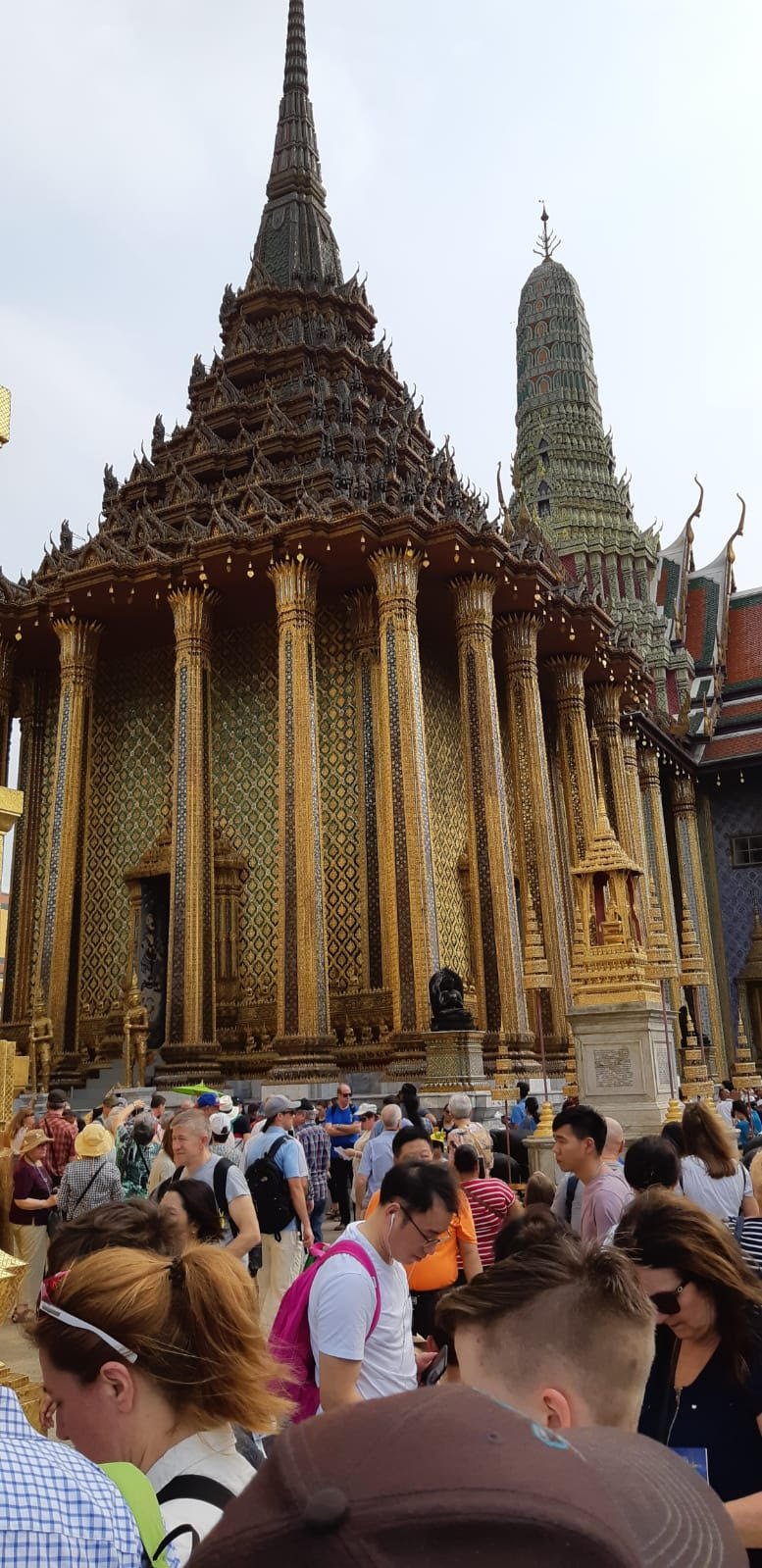 At times you couldn't move on the Grand Palace grounds.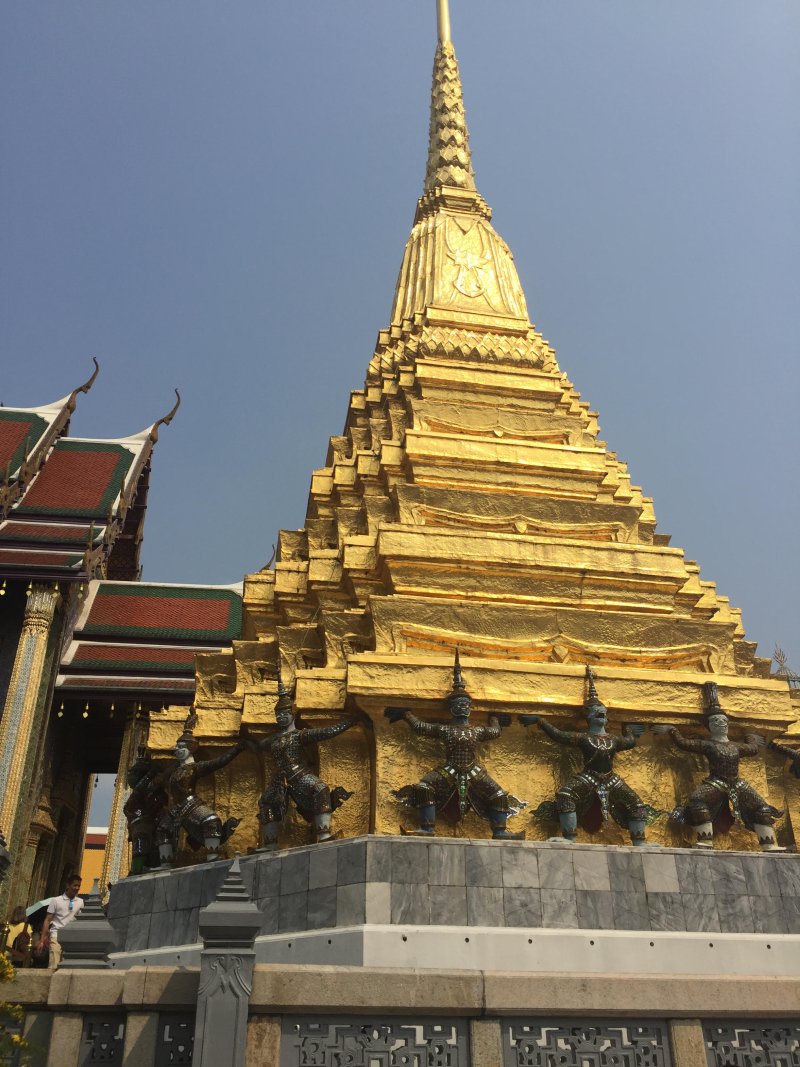 Interesting carvings could be found everywhere in the palace.
Wat Pho or better known as the reclining Buddha was fascinating. Dress code was in effect. Entry fee 100 baht ($4). This was the oldest and largest of the temples. It held many artifacts and the Chinese statues were once used as ballasts on ships. This gold leaf Buddha was 46 metres long with 108 pearls on the bottom of each foot. One hundred eight is a symbolic number as it is the amount of positive actions and symbols that would help lead a buddha to be perfect.

The reclining buddha is very difficult to take a picture of as it is so long but also other tourists get in the way.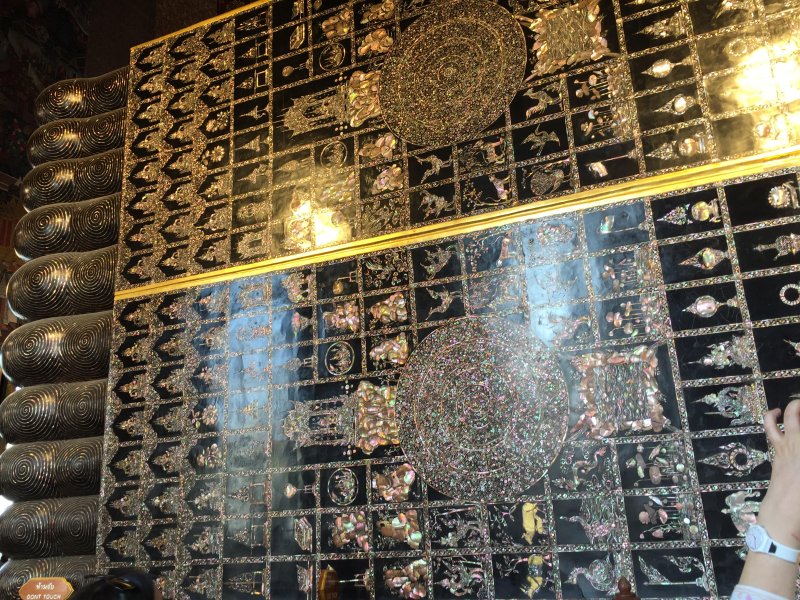 Large buddha feet.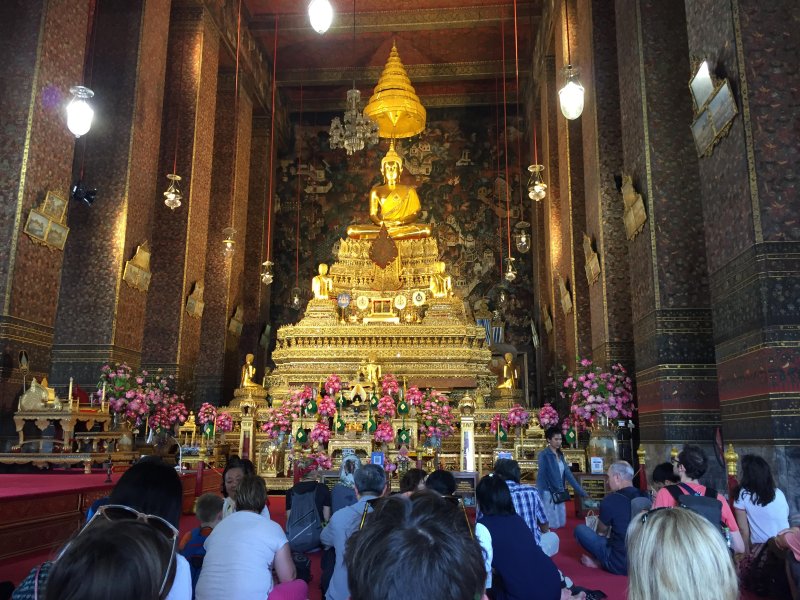 As stated all the temples are used for praying.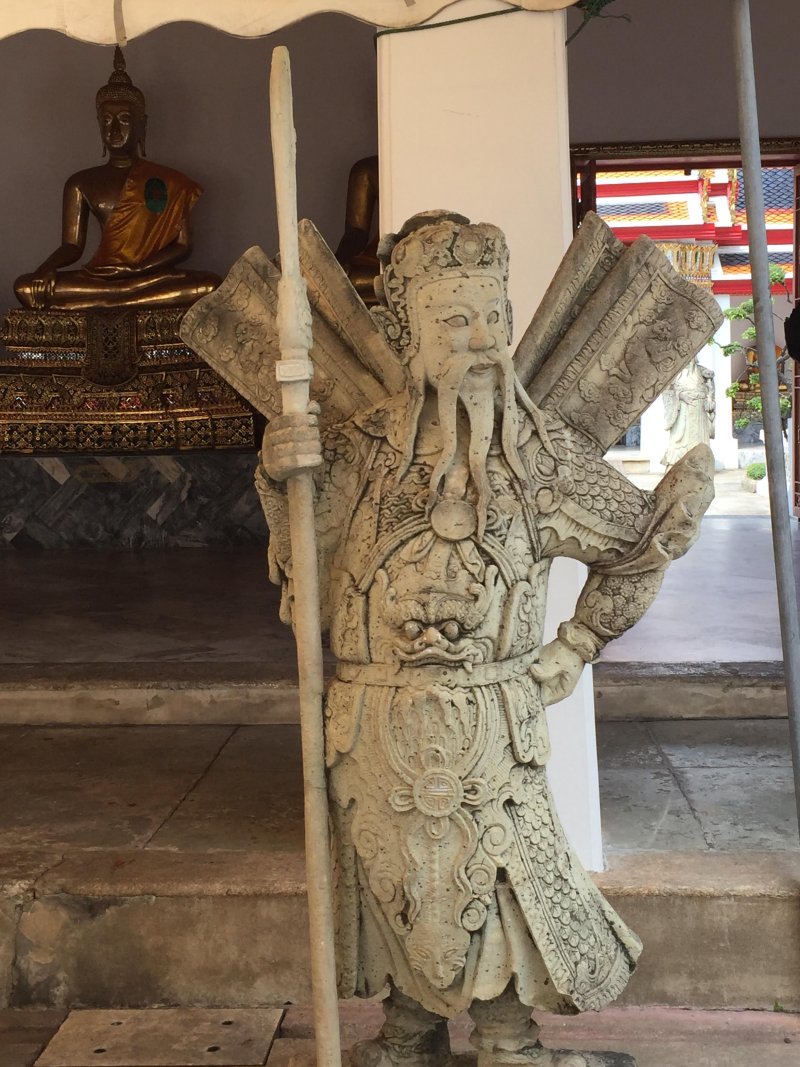 One of many statues on the grounds.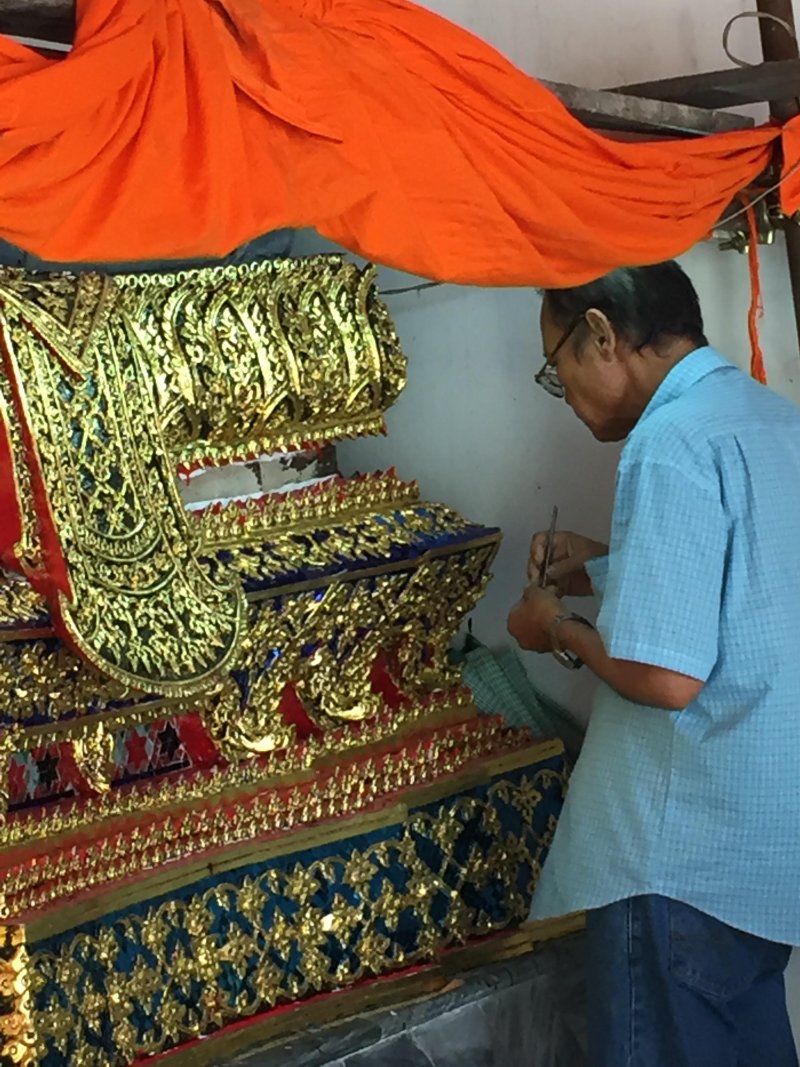 The sun takes a toll on the artefacts.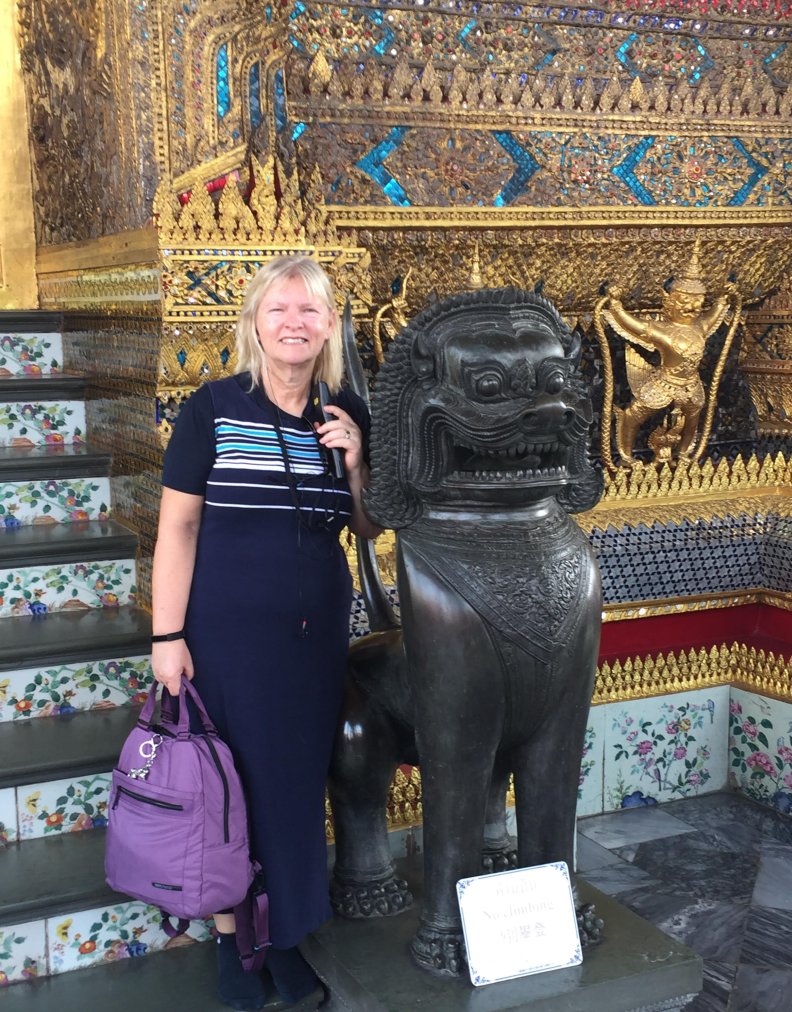 One of many Chinese ballasts used. It was a 36 C but really felt like 41 C.
As Wat Arun or the Temple of Dawn was just a short trip by boat from Wat Pho, it was attainable to do them both on the same day. This trip across the river was down a side alley but you didn't realize how many people had the same idea as you until you were half way down. By that point it was too late to turn back. It was a 4 baht boat ride (16c). Admission was 50 baht ($2). Same dress code applied. The spire is over 70 metres high and can be seen from far away especially when lit at night. It is lined with coloured glass and Chinese porcelain. This was a much better value as there was not as much to see. I was amazed by the design of the roofs. Since buddhists use these buildings as a place of worship cleanliness was a must.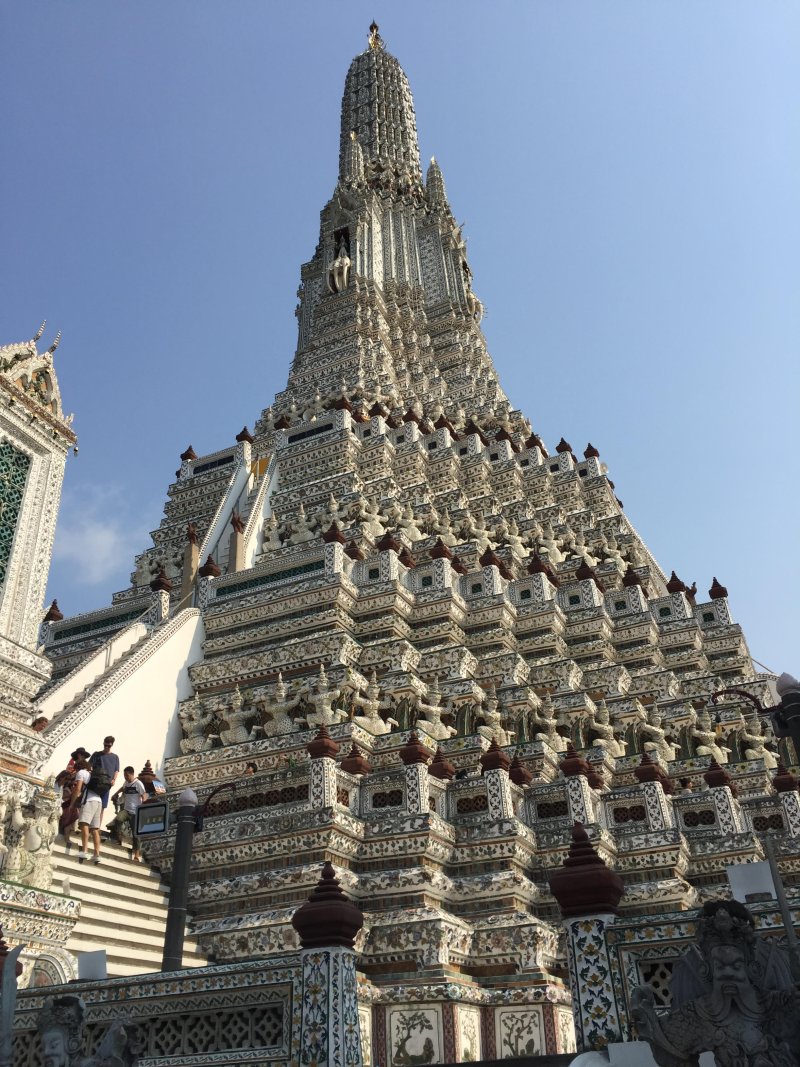 A small portion of the beautiful Wat Arun.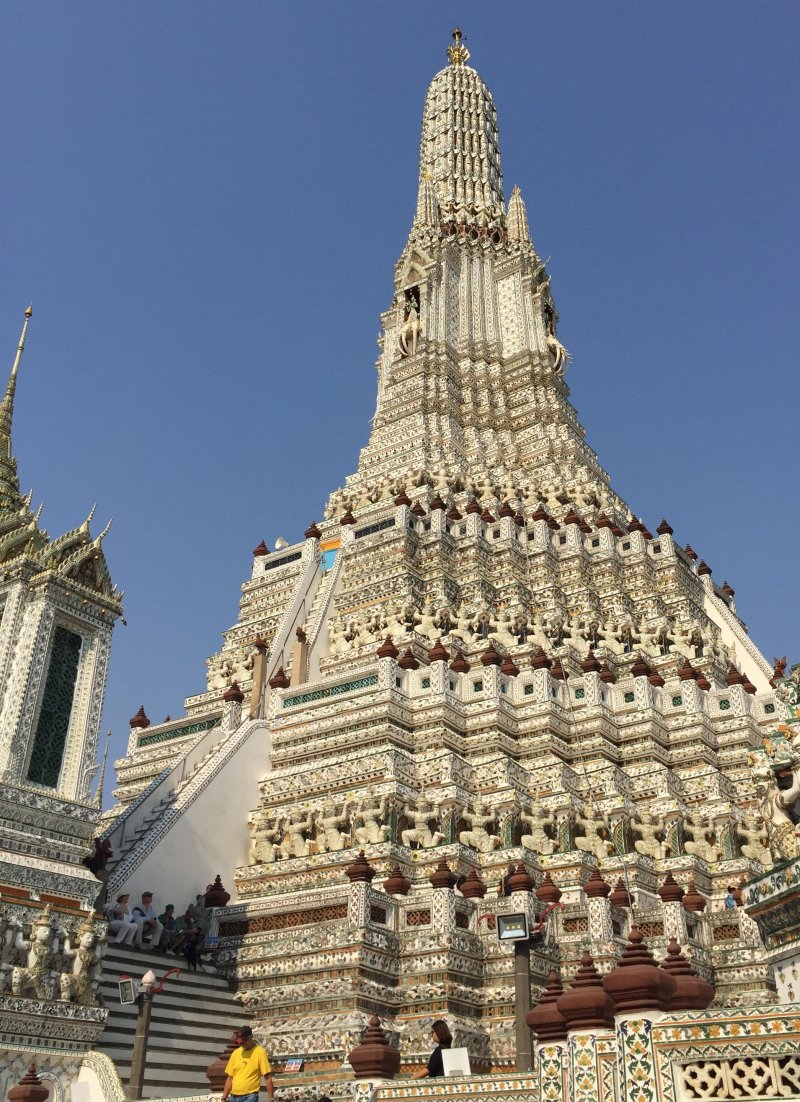 I loved the look of this structure even though you were not allowed to climb higher than two flights of stairs. They were tricky to climb as they were narrow.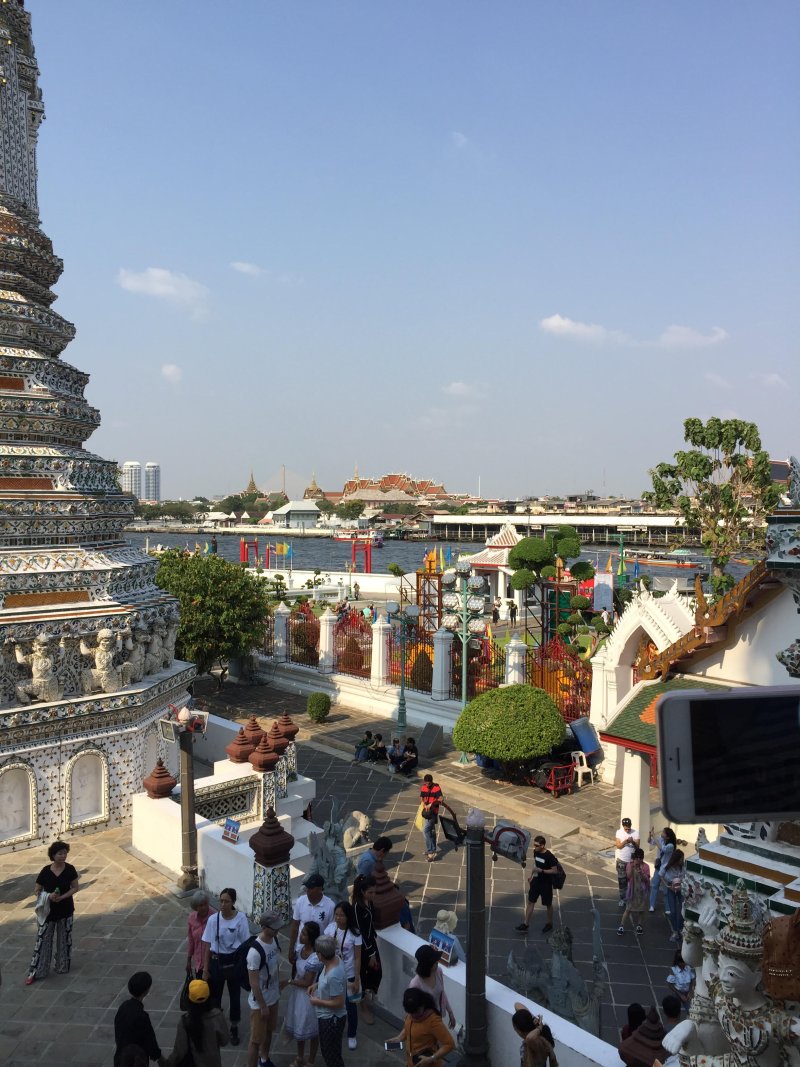 The view from the top of Wat Arun.