Puslinch Travels! Shopping in Thailand
This is part two of a travel series by Margaret Hauwert.
View Part 1 of Margaret's series by clicking here.
By Margaret Hauwert
Now I don't want to mislead anyone as retirement on many days is not bad. However, I am one of those people who likes to take breaks for two weeks at a time. So the thought of endless days with nothing to do was one that was inconceivable to me. I mean I don't have a cottage, I don't have an endless supply of money for travel and being stuck at home doing housework or renovating was not my idea of a fun time.
So at this point, I thought shopping in a different locale could possibly lighten things up. My oh my I had no idea of what was in store for me. The shopping malls in Bangkok seem to go on forever! There is legal merchandise and of course copies of every brand name of anything to purchase. I'm not talking about the old cartoon were the gentleman asks if I want a watch and then proceeds to show me the inside of his coat lined with fake watches. No, I'm talking about 6 or 7 storey high malls that have everything you could every want and more! You name it and the brand was there such as Louis Vuitton, Jimmy Choo, Coach etc.!
The Icon Siam even had a Rolls Royce dealership on one of the floors. Yes, of course I had my picture taken with it. This mall has about 500 stores and is the newest mall in Bangkok. Many foreign travellers visit this location. The square footage must cost a fortune as each store has a front room and then often has an accompanying back room where the merchandise is even more expensive. To visit this store many shoppers will need to travel by a free ferry to cross the river. It was exciting to visit for sure.
MBK was by far my favourite mall as each of the floors were dedicated to one specify type of article such level four was all electronics, level 6 was all women's fashions etc.
Terminal 21 has each of its floors with a famous country or city as its theme such as the San Francisco Golden Gate Bridge as decoration going from one side to the other (not for walking purposes.)
Platinum and Pratunam shopping plazas were wholesale malls where you could buy a range of clothing, jewellery or even semi precious stones for a fraction of the prices in Canada. For instance, I could buy a t-shirt for 100 baht (good quality cotton) (4$) where I would find the same shirt in a downtown regular store for 200 – 250 baht (8$ to 10$). It is where stores go to buy their wares for selling.
Central Market Young families frequent this complex to enjoy the entertainment facilities. There are also furniture stores here.
Siam Paragon and Discovery Siam have many luxury brands. For me this was a window shopping one. The nice feature about these malls is that they had a cat walk between the two centres so you did not need to cross a road.
On top of all these 1500 plus stores every alley also had numerous stalls selling homemade items similar to a farmers market. I forgot to mention that often the vendor would use a calculator to let the buyer know how many baht (Thai dollars) were needed so there could be no miscommunication about price. Then it was time to start bartering.
With eight million people to serve plus tourists it was busy all the time everywhere. These centres were all very easily accessed by the Bangkok train system or better known as the BTS. I will elaborate about this FANTASTIC travel feature in my next piece.
One of the coolest things to see on the 7th floor of the Icon Siam was this water falls display. It happened every half hour.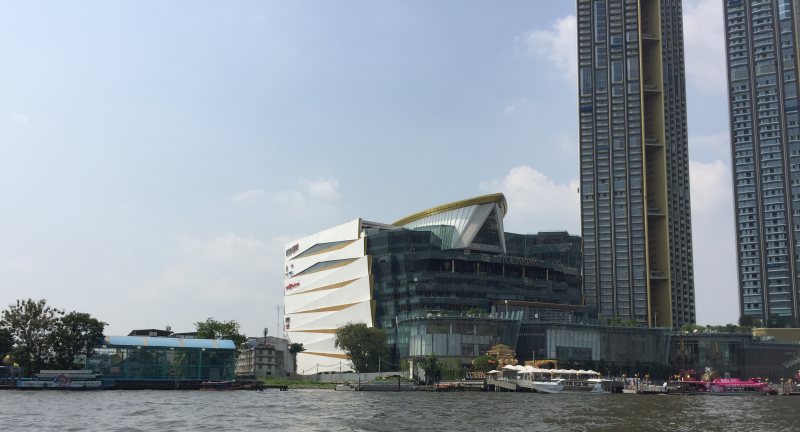 The outside of the Icon Siam with two new hotels within walking distance. The pink boat is one of several that drop off patrons every 30 minutes, however there is a ferry for just this mall that drops off every 10 minutes from a few different locations.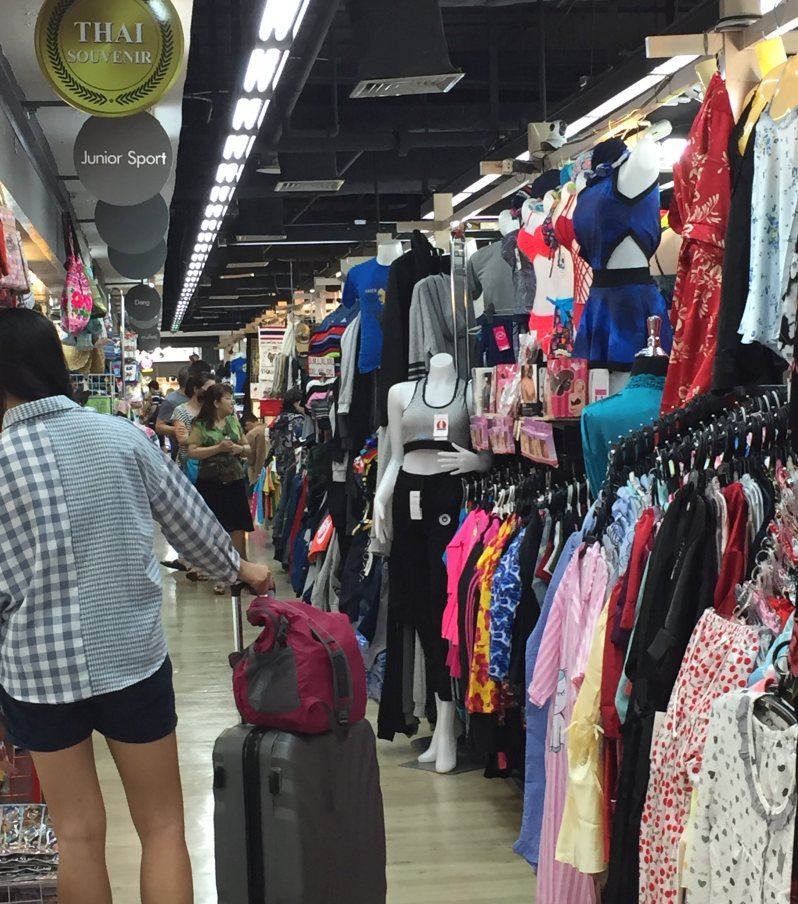 One of many aisles to go through in MBK mall.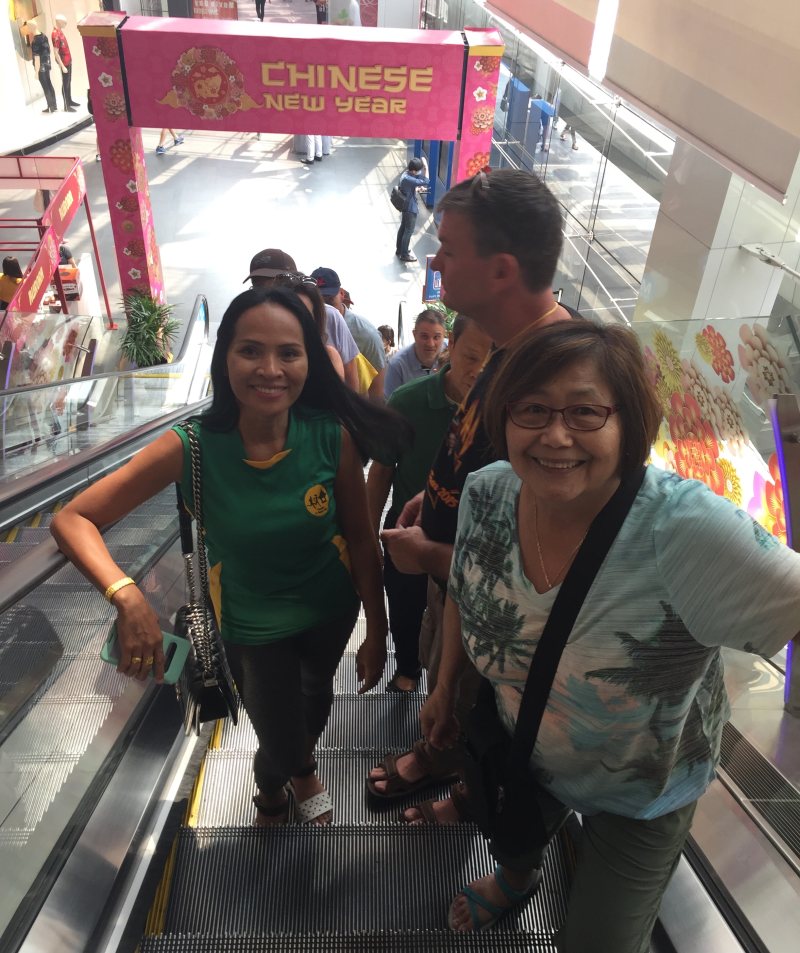 My new peeps on a really long escalator.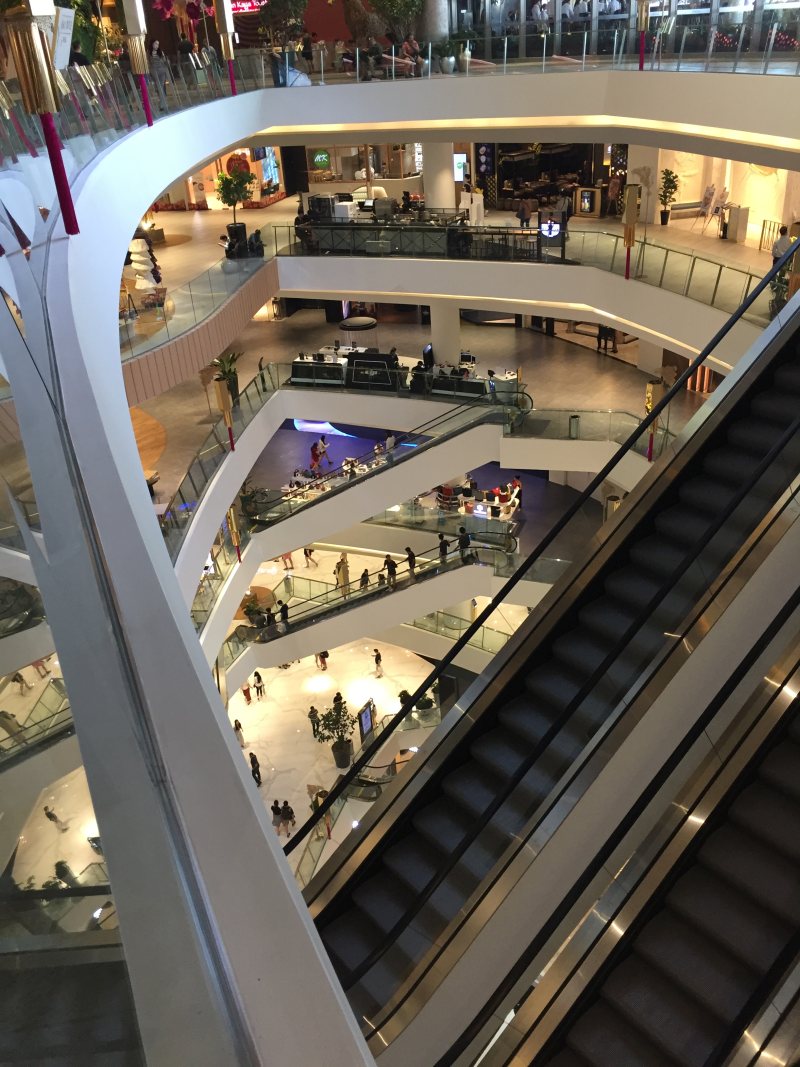 The inside of the Icon Siam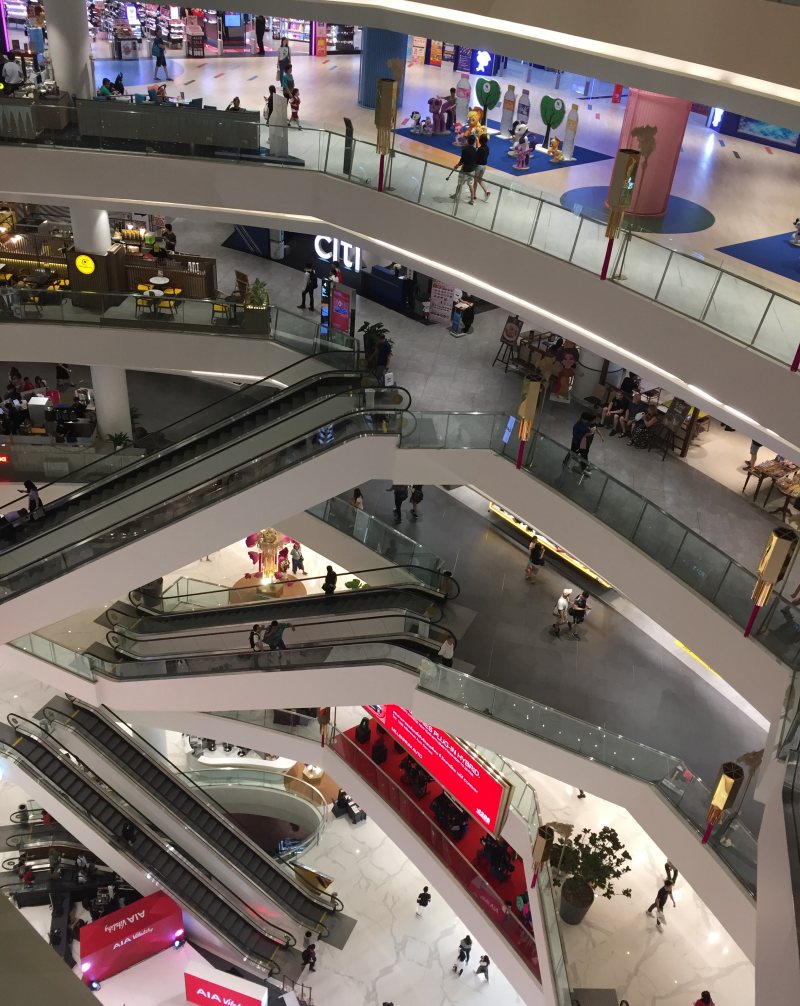 The Siam Paragon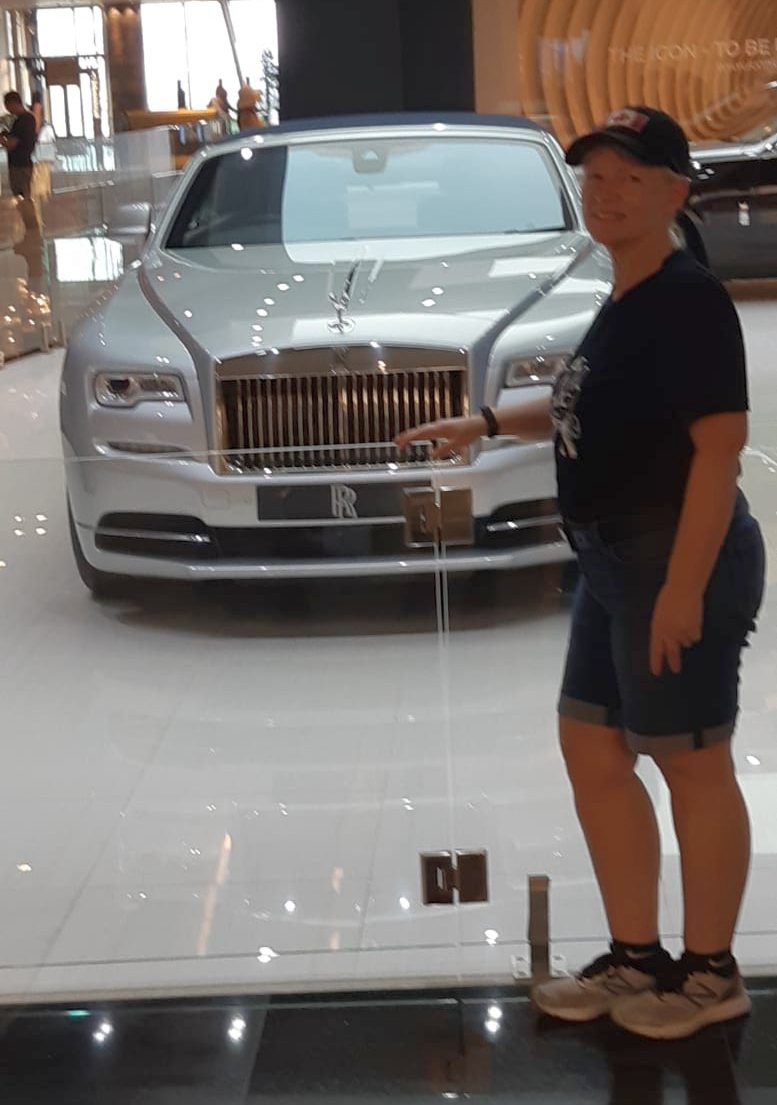 Inside Icon Siam