Puslinch Travels: Heigh Ho! Heigh Ho! Off To Hong Kong We Go!
This is part eleven of a travel series by Margaret Hauwert. View Part ten HERE.
By Margaret Hauwert
It was with sadness that we left the Hoi An Sincerity hotel in Vietnam. Such great people, many things to do and places to see. However I was also excited to go to Disney and could hardly wait to see what it had to offer. This time it was a short 1.5 hour plane ride in the same time zone to our next location.
We decided to stay at The Panda Hotel which was relatively close to the airport and Disney. We bought an Octopus card at the airport that allowed us to ride the bus or subway for a fee. This airport was vast, but very efficient. After much asking for the exit and location of our A31 bus, we were finally on our way to bus stop 16. It was great to have no language barrier.
Once again we were not disappointed with the ease of travelling in a large city.
At breakfast the next day we decided to take the free shuttle in to the centre of downtown for some window shopping. This was like a Rodeo Drive of high end shops, Prada, Gucci, Louis Vuitton etc. Off on a side street there was a bay for small cruise lines to use and it was a breath of fresh air to be away from the downtown spot. After four hours we hopped back on the shuttle and thought we would do some swimming. We were wrong as it was too cool.
The next day it was Disney time. We knew exactly were to go because we just followed the children and strollers to the subway stop. It took us about 40 minutes. It was indeed a magical ride especially since when we changed subway cars Disney had their own express transportation subway cars waiting for us. I loved every minute of it. However that was the end of the excitement as this location only took us 40 minutes to walk through the entire park. Yup, disappointment for sure. That and I happened to get my second bout of food poisoning here. Yuck!
Two days later I was up and ready to go exploring again. We were so lucky because Donna (who was Nina's cousin), had a cousin who lived in Hong Kong. Now you are not going to believe this but Phoebe's apartment was a seven minute walk from The Panda Hotel (she had also worked at one point at the hotel). What are the odds of this happening? She met us at the hotel on Saturday and opened our eyes to locations we would have never dreamt of going to (only because we didn't know they existed). We visited a local restaurant where John had the most delicious meat sauce pasta that I have every tasted, sampled high tea (not my cup of tea) and tried some red bean ice cream float (nope). It was at this establishment that I noticed that there were no empty seats. I soon realized that everyone shares a table whether you know them or not. This is common place in restaurants here. We went to a famous local Chinese seafood/fish market where my constant comments were oh my, yuck and did you see that? We also visited the famous Ladies Market. Where once again we were exposed to knock off purses, cell phone covers and other knick knacks.
Phoebe even took us to a large department/grocery store located three stories under our hotel. I didn't even know it existed. In my research it only talked about the one across the street which we had already visited.
After being in Thailand and Vietnam I was use to friendly talkative people. Here in Hong Kong it was a very business like atmosphere where people did not look that much at others. I was not prepared visually for the amount of high rises that seemed to sprout like mushrooms everywhere. I asked Phoebe about this. She stated that there is usually two or three generations in each of the flats as it is very expensive to live on your own. I expressed to her that she would be shocked if she came to Canada at how fortunate many people were to have their own houses. I was surprised to learn that our cost of living is very similar to theirs. Once again I felt safe walking here although we did witness some police presence in the early evening hours.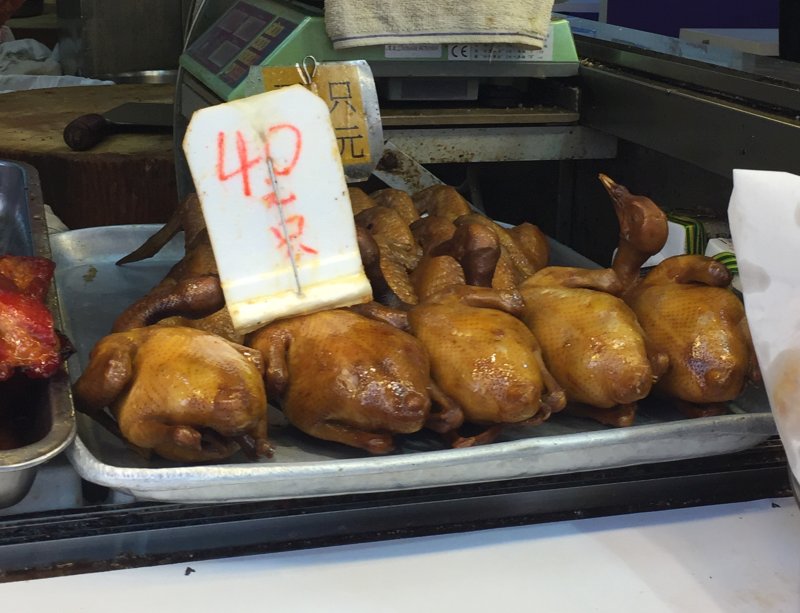 These were pigeons being sold for 40 Hong Kong dollars ($6.50 C). The heads are kept on all the foul so you know for sure what you are buying.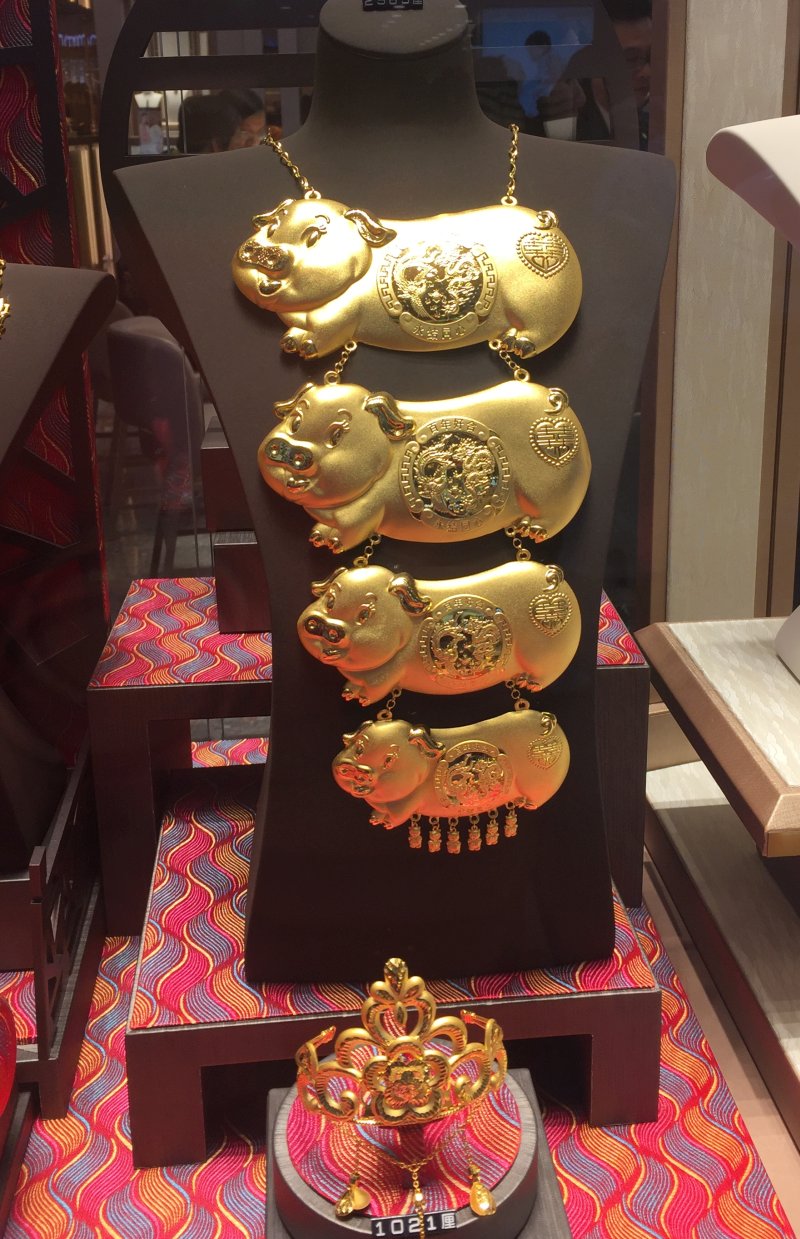 This is the jewellery a bride receives from her parents on her wedding day. They are hopeful it will make you as fertile as a sow. Yes, they would like plenty of grandchildren. My response was "isn't anyone offended by this". Apparently not.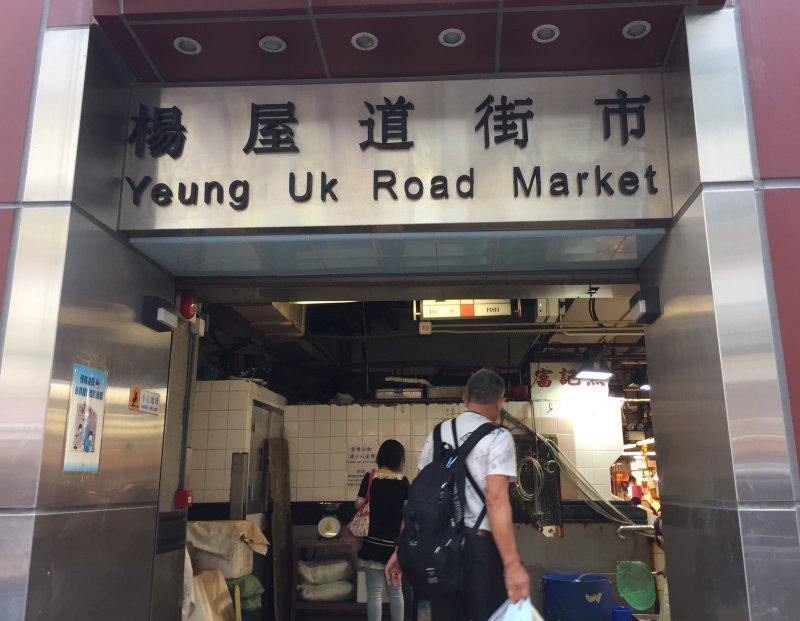 Famous money exchange and phone accessory place in Hong Kong.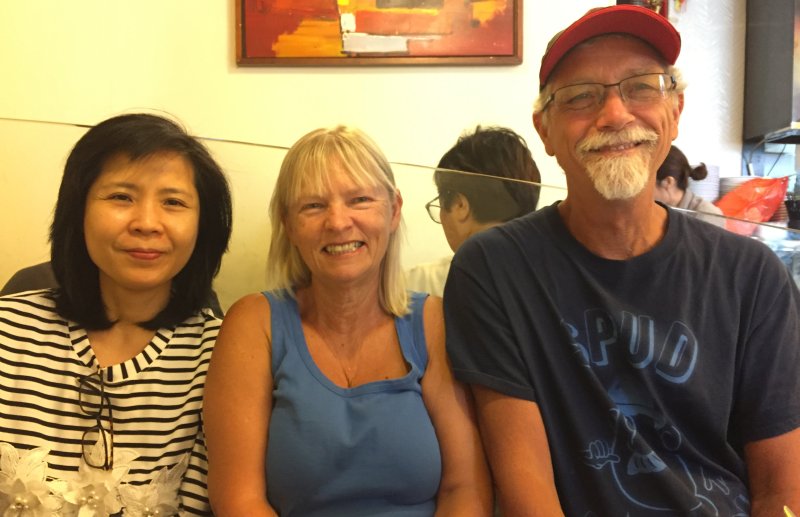 Posing with Phoebe in the Tsui Was restaurant where all the locals go. Best tour guide ever!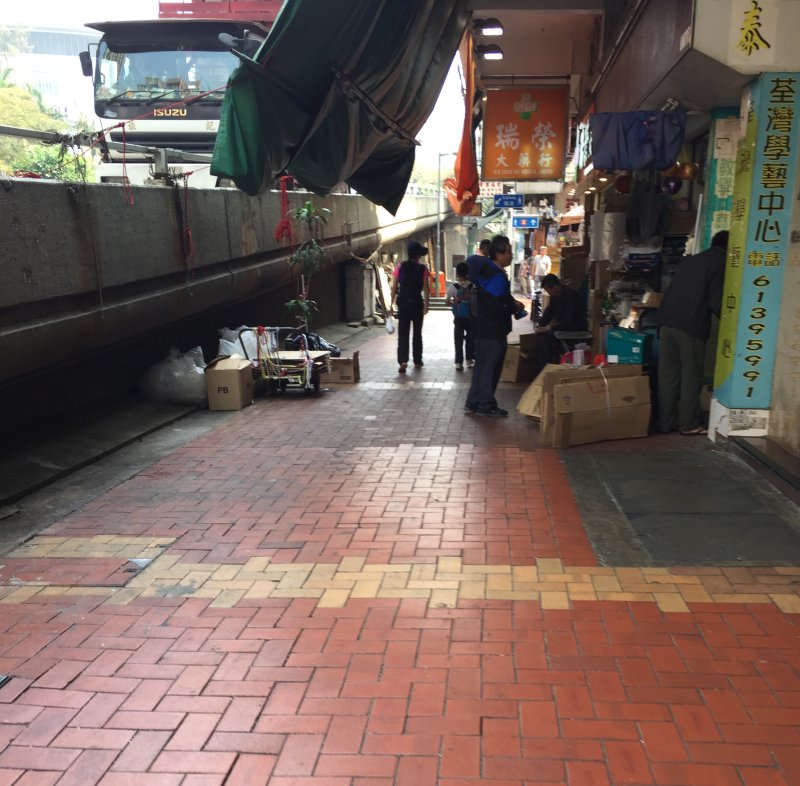 This was about as dirty as it got and even then the garbage is very organized.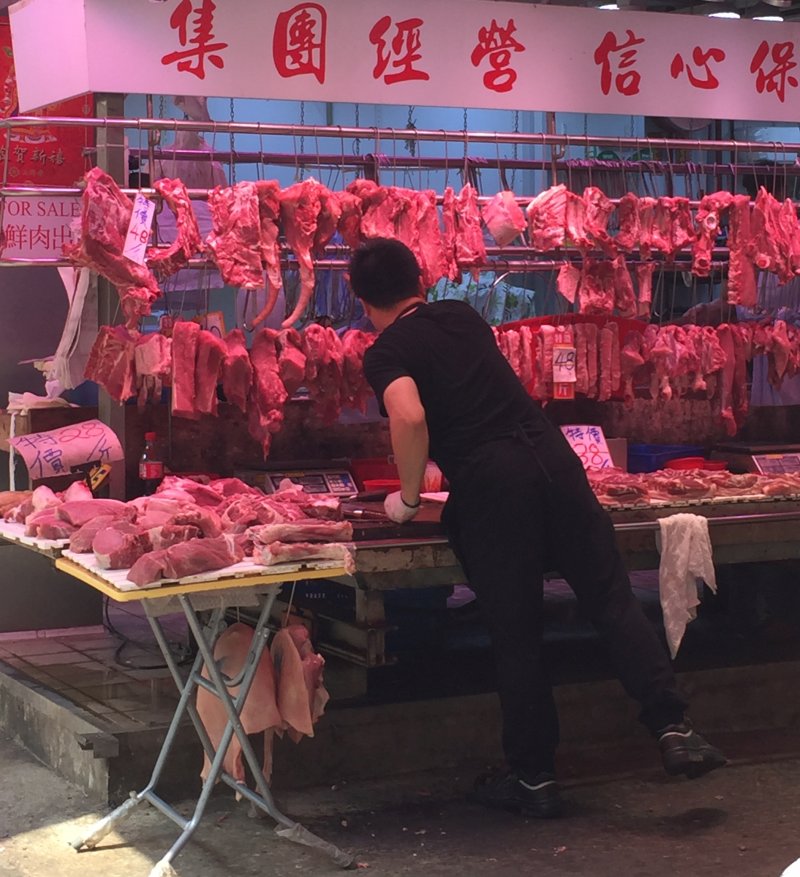 After seeing all these meat stalls I feel happy to know we have refrigeration facilities here.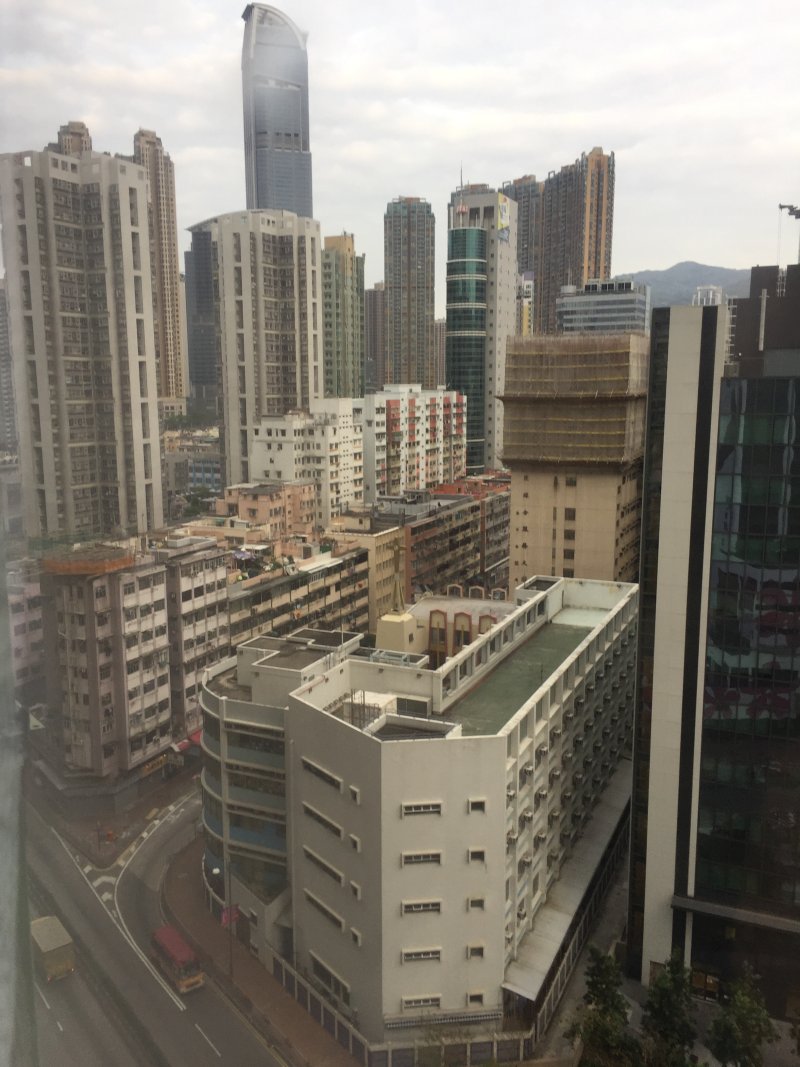 Im not sure if I could ever get use to the density in this area.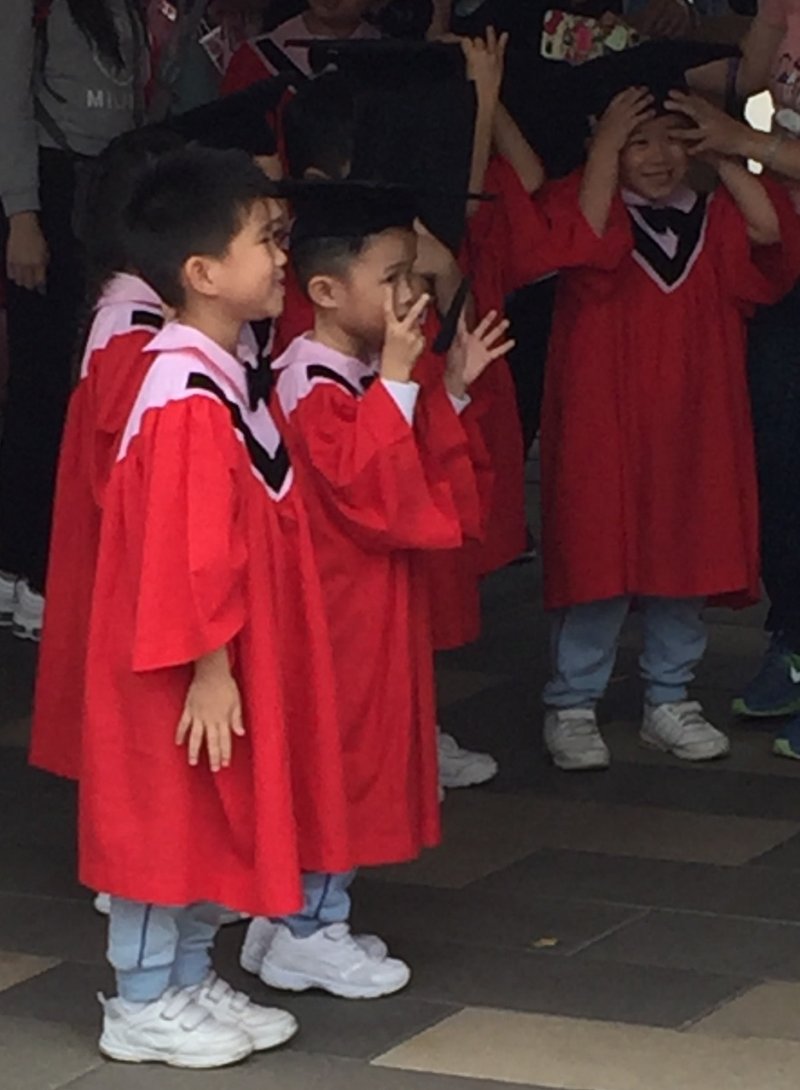 Lucky us! We were at Disney on grade one graduation day. There were 100's of children with these red gowns and black mortar boards everywhere.