Fusion Cooking: Ground lamb makes a spicy ragù
The Valensbrae cooks like to source and share recipes that are not just tasty but work well with busy family schedules.
Who doesn't love a great pasta and ragù combo? This recipe, Strazzapreti with Lamb Ragu came from one of our favourite sites – Food and Wine.
This dish was created by Chef Michael Mina, head of Mina Group with 19 restaurants from Vegas to Baltimore. According to his bio in Food and Wine, Chef Mina is best known for his trios: "taking one main product and doing three variations on it."
Mina said he chose strozzapreti as the pasta because it has a ridge along its length, which helps pick up more of the sauce'.
That brought us to the second question: Are some pastas really better than others in capturing the great sauce? Apparently so.
According to Wikipedia strossapreti [stroh-tzuh-PRAY-tee] is an elongated form of hand-rolled pasta typical of the Italian regions of Tuscany, Marche and Umbria.
The dough, made of wheat flour, is rolled out in thick flat sheets and cut into strips. And here begins the regional differences where the strips can be tightly rolled; twisted between palms or even pinched and twisted. Unlike spaghetti or macaroni, strossapreti is not uniform in length.
Nothing beats a great pasta recipe. We hope you add this one to your collection!
Enjoy!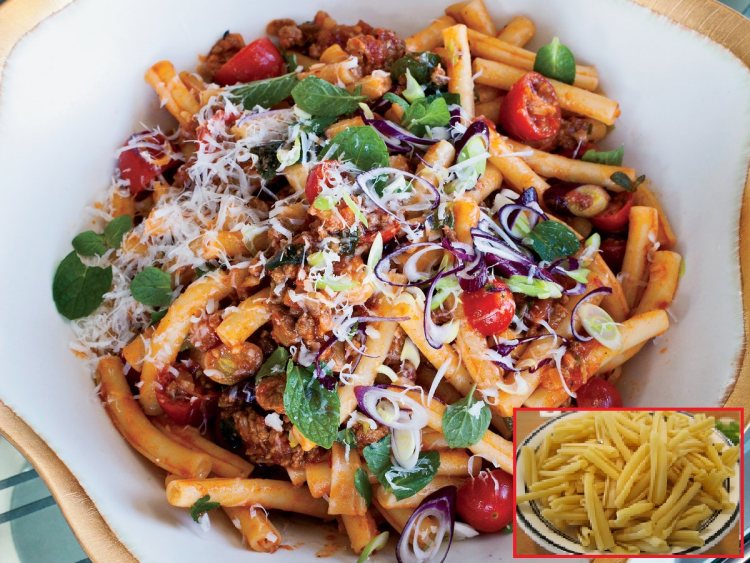 Strozzapreti with Lamb Ragù
Chef Michael Mina [Photo credit: Michael Turek]

Serves 8

Pairs with Pinot Noir
Note: This recipe calls for generous helpings of pepper including Harissa, a North African hot chili pepper paste guaranteed to be HOT! So, use wisely and according to your personal taste.
Ingredients:
1T fennel seeds
1T cumin seeds
1T Aleppo pepper or 1/2T crushed red pepper
1t whole black peppercorns
1T extra-virgin olive oil
2 pounds ground lamb
Salt & Freshly ground black pepper
6 large garlic cloves, coarsely chopped
1 large onion, coarsely chopped
1 large fennel bulb—halved, cored and cut into 1/2-inch pieces
1/2t sweet smoked paprika
2T Harissa* (North African red chili paste packs – A LOT of heat. Use sparingly
One 14-ounce can whole tomatoes, chopped, liquid reserved
2C chicken stock
1 pound dried strozzapreti pasta
1 pint cherry tomatoes, halved
6 scallions, chopped
1/2C thinly sliced mint leaves
Freshly grated sheep milk cheese, such as Everona Stony Man or pecorino, for serving
Preparations:
In a large cast-iron casserole, combine the fennel and cumin seeds, Aleppo pepper and peppercorns. Cook over medium heat until fragrant, around 2 minutes. Let cool, then wrap in cheesecloth and tie into a bundle.
Add the oil to the casserole and heat. Add half of the lamb, season with salt and pepper and cook over high heat, breaking it up with a spoon, until browned, 3 minutes. With a slotted spoon, transfer the lamb to a bowl. Repeat with the remaining lamb.
Pour off all but 2 tablespoons of the fat from the casserole dish. Add the garlic, onion and fennel and cook over moderate heat until softened, 8 minutes. Stir in the spice bundle, paprika, harissa*, tomatoes, the liquid and the stock. Return the lamb and accumulated juices to the casserole and bring to a simmer.
Cover the ragù and simmer over low heat for 45 minutes, stirring occasionally. Uncover and simmer until thickened, about 50 minutes longer. Discard the spice bundle and season the ragù with salt and pepper. The ragù can be refrigerated for up to 3 days and reheated gently.
In a large pot of boiling salted water, cook the pasta until al dente. Drain and return to the pot. Add the ragù and stir. Fold in the cherry tomatoes, scallions and half of the mint. Season with salt and pepper; transfer to a large bowl. Top with the remaining mint and serve, passing the cheese at the table.