A Celebration Of Life: Gerald Warner
— February 5, 2020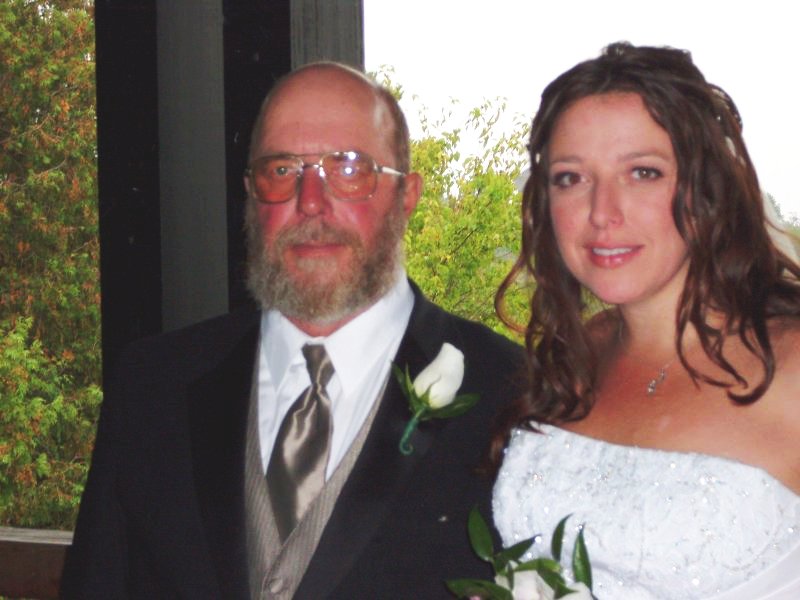 WARNER, Gerald Wayne
January 18, 1946 – February 3, 2020
Morriston has lost one if it's most iconic residents. It was a familiar sight to see Jerry walking one of his beloved dogs or scooting around the village on his skid steer or riding lawn mower.
His parents, Barney and Lil Warner, moved from Morriston to Mountsberg when Jerry was four, where the family farmed for over 50 years. Jerry returned to Morriston in mid 70's to raise his daughter Kelly. Jerry put in 37 years of dedicated service at Halton Conservation, where he made many life-long friends and was able to enjoy his passion of the outdoors, working with his hands and love of machinery. In his younger years, Jerry suffered the misfortune of a tractor rolling down an embankment and crushing him under it. He endured the pain caused by this accident daily.
Jerry loved animals. He and Kelly had many pets over the years. He also fed the birds and other animals. For a while he cared for an injured squirrel. More than anything he loved the company of a dog. His most recent companion dog, Diva, passed away in the late fall.
Jerry served for many years as village trustee until it was dissolved in 1996. Upon retiring in 2001, he quickly became known as Morriston's "unofficial Mayor". His new role was to keep a loving eye of concern for neighbours old and new. He was always willing to lend a helping hand. We will miss his kindness. He became a common thread in the village, sharing his talents and information throughout the old village and new subdivisions. Taking time to stop and talk to residents in person. He kept us aware of people moving in and out, new construction, the opening of new businesses and the health and welfare of our neighbours. Morriston will never be the same, there is an emptiness that cannot be filled.
On January 3, Jerry suffered a stroke. Fortunately, he still had periods of awareness and was able to share some treasured moments with family and friends. We know many were not able to visit due to the length of time he had to spend in ICU and other reasons, or he was resting when you came. Be assured we passed along your messages. Eventually, it was determined that the long-term prognosis didn't look promising. Jerry had a short stay in Hospice Wellington where they provided a book where people could share their thoughts and memories. The book will be available at the funeral home for you to write in or to place a prepared note into.
Jerry will remain in the hearts of Kelly and her husband Steve McIntyre with loving affection. He will be dearly missed by his sister Marie Kobylinski, brother Jim Warner, cousins, nieces, nephews, friends and neighbours.
Kelly would like to thank the staff at the Guelph General Hospital and Wellington Hospice for the compassionate care they took of her father.
Visitation will be held on Sunday, February 9, 2020 from 2 p.m. – 5 p.m. and Funeral Service will be held on Monday, February 10, 2020 at 1 p.m., reception to follow at KITCHING, STEEPE & LUDWIG FUNERAL HOME, 146 Mill St. N., Waterdown. Private cremation to take place. If desired, as expressions of sympathy donations to the Heart & Stroke Foundation, Guelph Humane Society, or Hospice Wellington would be sincerely appreciated by the family.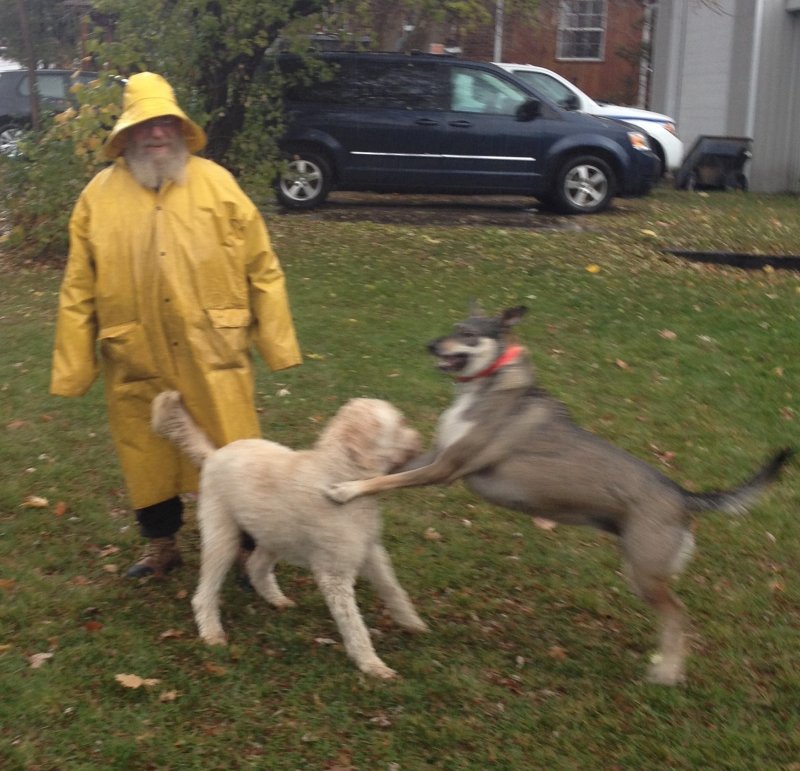 Jerry in his Captain rain gear with Glen Inglis's dog Scout and Jerry's dog Diva.