Puslinch Travels Part Two: Handling the Coronavirus Scare
— February 29, 2020
My apologizes in advance as we have been out so much it has been hard to have time to sit down and write about our travels. I was going to share with you highlights of Bangkok but that will have to wait.
Well, where do I begin, it has been an interesting month to say the least. I realize that some of the readers of this travel blog will be anxious to hear about how we are getting along in Thailand. Especially, with the constant headlines and updates, with regards to the Coronavirus which is now being called CORVID-19.
It is true that we are in an Asian country that has many Chinese tourists. Although, not as many as three weeks ago. I am also travelling with four adults of Chinese descent, one Japanese and three of us are Caucasian (six Canadians and two Australians) I only mention this because of all the backlashing and fear mongering that I have been reading about. I did not witness any of this in Bangkok which is an international city.However, we are now in Chiang Mai, Thailand, which is about a 40 minute airplane ride north west of Bangkok.
We have been very lucky not to get this virus as all of us on this trip have made multiple visits to popular tourist destinations. I did notice that as the numbers for the virus started to go up, many locations including our condo had ample bottles of hand sanitizer for use. As a preventative measure we bought three packages of face masks. At that point, there was a large variety and the starting price was 30B ($1.27) for one. A week later, if you could find a mask the same ones that we bought were now 50B ($2.12).
As always when travelling, keeping healthy is upmost on our minds. Hand washing has always been a must! With the addition of the flu like virus, we are wearing masks, washing our hands more and longer, becoming more aware of how many times we touch our face, using hand sanitizer every time we enter a mall or touch an escalator, are very mindful when in large crowds to stay away from people who are coughing/sneezing and really looking for cleanliness when eating out for a meal. So far this has worked.
I was surprised that for our domestic flight to Chiang Mai were we not scanned for any virus.
Yes, at one point we did think about flying back to Canada but at that point it was not as big of a deal as it is now. With hardly any tourists around we feel we are just as safe here as coming back to Canada.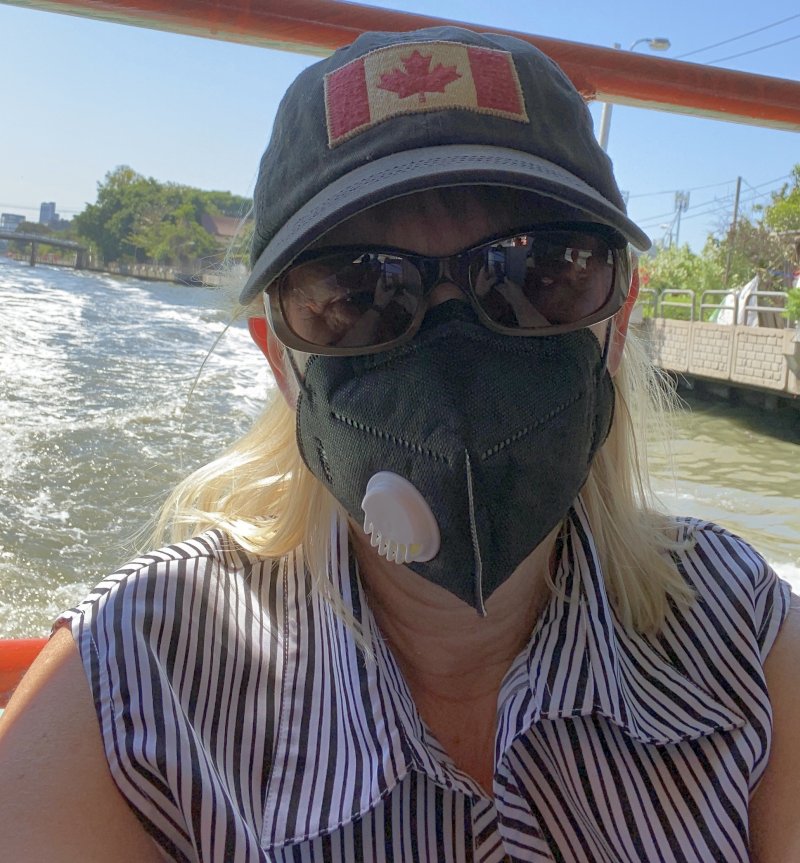 Whenever I am out in a public venue I have taken to always wearing a hat (someone said this helps to keep the droplets of your hair), sunglasses and a mask.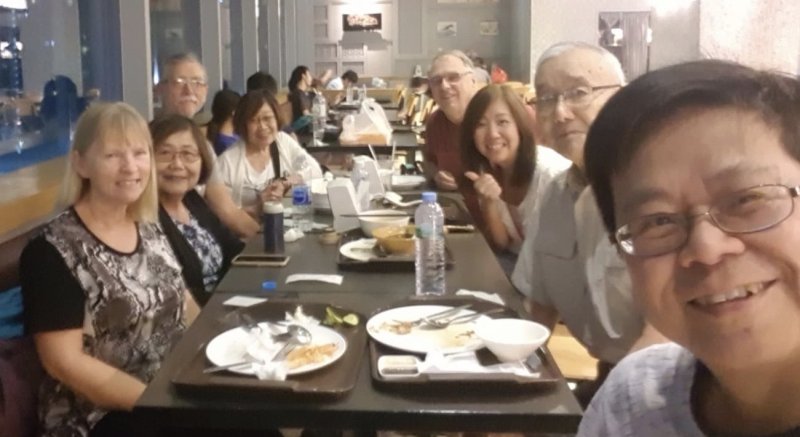 This is our group of eight. We would meet in a location that one of us had chosen to have supper. Range of ages was from 59 to 93. We often talked about the CORVID-19 as members of the group knew people on the Diamond Princess and the Holland American cruise ships.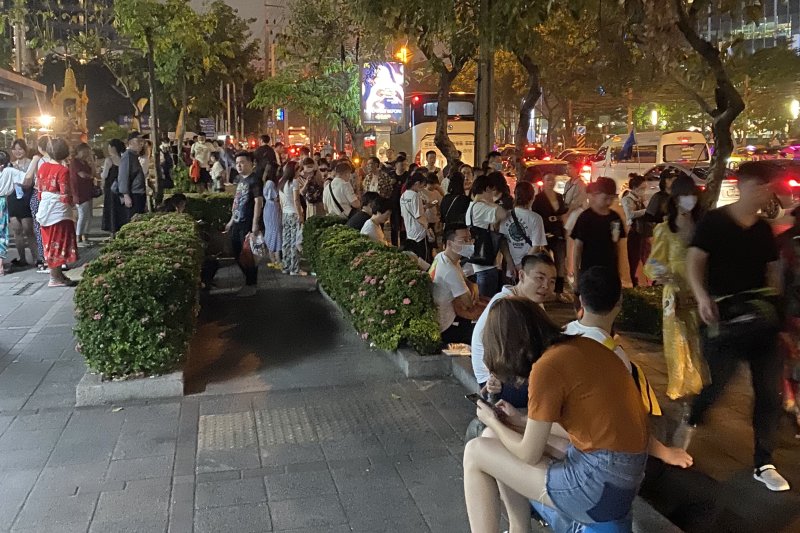 Every night we had about thirty buses pick up and drop off tourists from other Asian countries to experience the market across the street from our condo. The Ratchada Night Market is listed as being one of the top ten markets to not miss when visiting Thailand.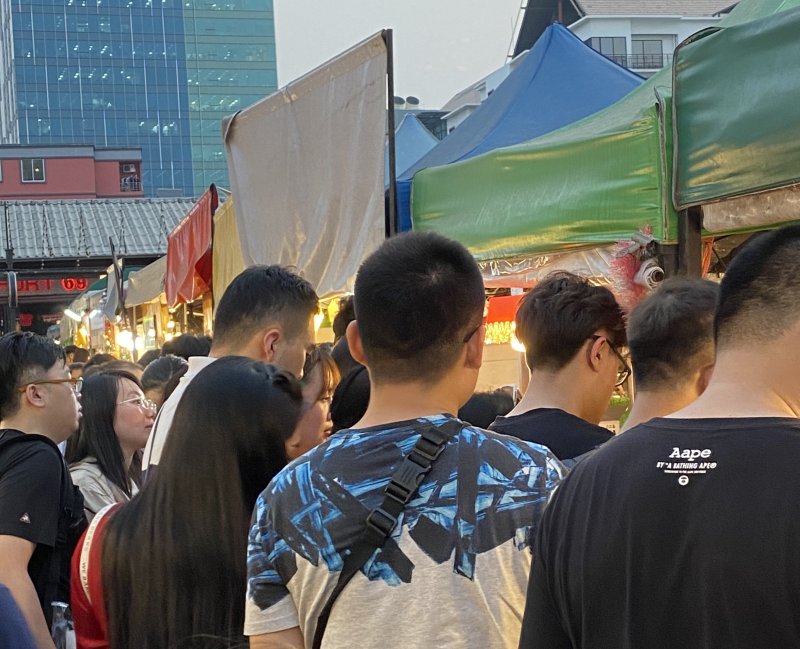 I had visited this market many times prior to the virus appearing in the headlines. As you can see from the pictures it was always filled with many people sampling an abundance of different drinks and food choices available in Bangkok.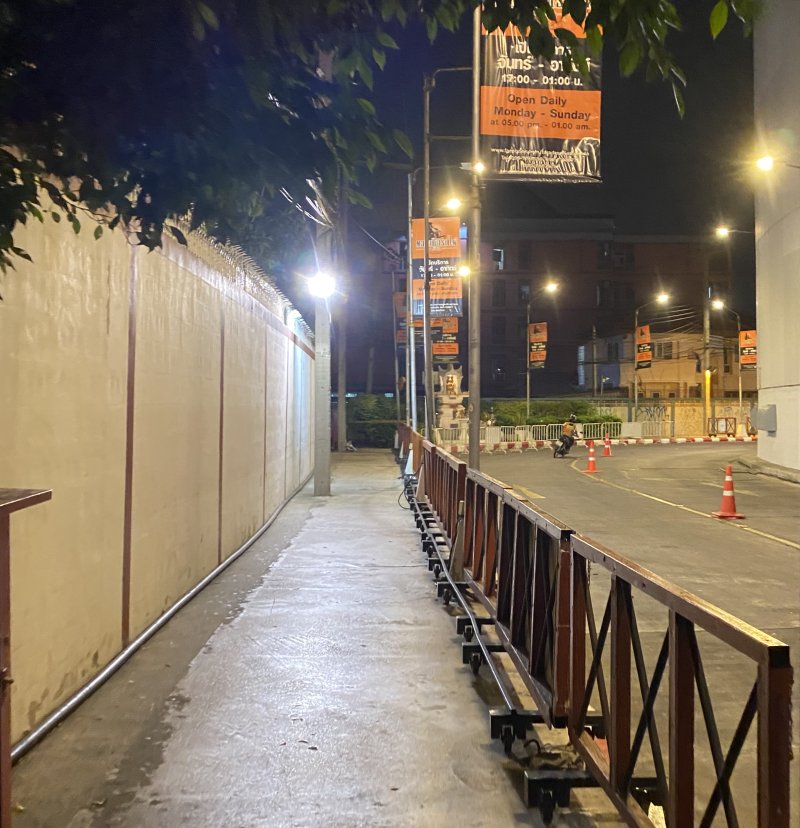 Post CORVID-19 when the awareness factor really kicked in. It became eerily quiet everywhere.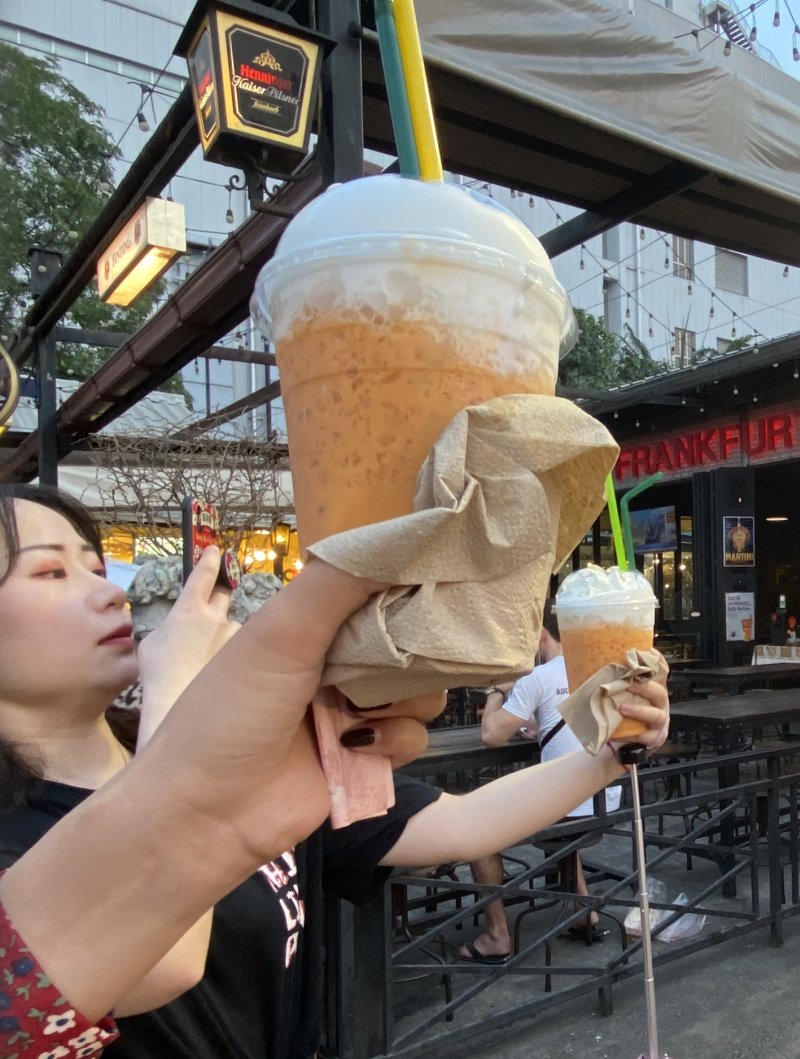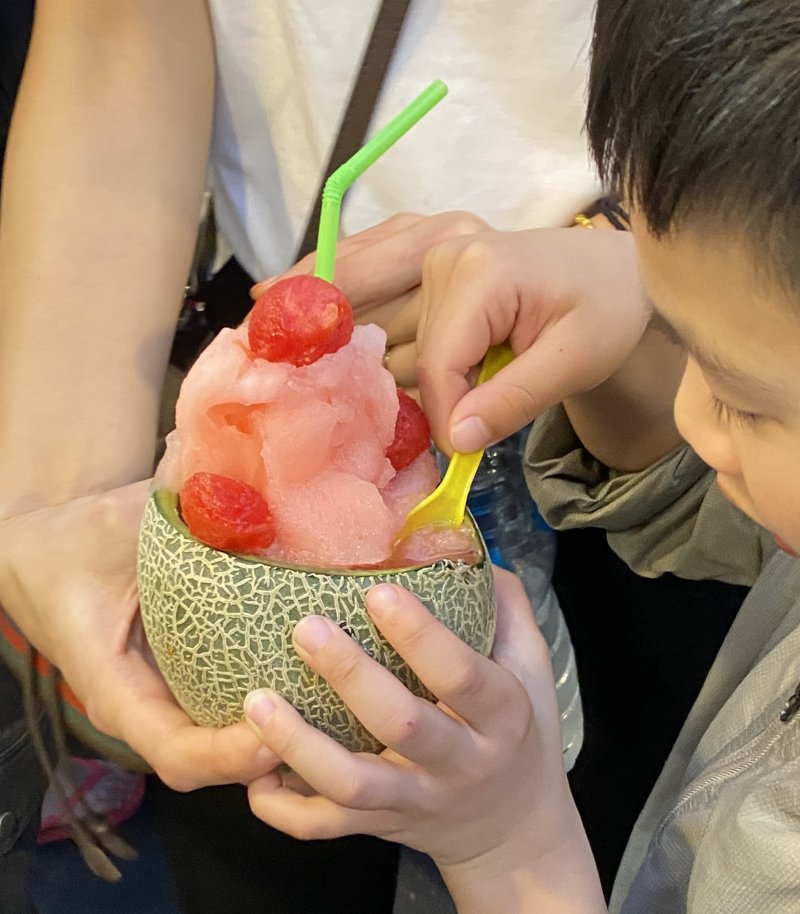 At first I couldn't understand what all the fuss was about. Then I started to see adults instagramming their drinks and fruity ice desserts in a throwaway fruit bowl. Like everyone else we started to stay away from these popular spots.
By Margaret Hauwert