Yes, We Are Still In Vietnam
— April 28, 2020
April 22, 2020
As we sit and wait for another directive to see if we will be flying out this week, we decided to go to the grocery store to have a last look at all the beauty that is surrounding us. If for nothing else Covid19 has forced me to look around at people, things and nature through the lens of a preschooler, even if there are none around. Taking a step away from the rat race and worrying about what next, what if, how am I going to make that happen have conveniently been taken away or are not within my grasp at the moment. So I must, for my mental improvement look to see what Vietnam has to offer, especially since social distancing and semi isolation has caused this once bustling city of tourists to come to a grinding halt.
Although Vietnam at this point is the envy of the world, with regards, to their low numbers of Covid19. I can attest to the aggressiveness of this government and in so many ways I applaud their early actions. Our first experiment was with trying to return home. We found out at the airport in Hanoi, Vietnam that our hub in Taipei was closed to foreigners. This forced us to board a plane back to Hoi An. Hanoi had so many covid cases that we knew it was not safe for us to stay. Then on return to Hoi An we had to have a non resident, mandated Covid test, which meant a three business day (or longer as John and I were 2001, 2002 in the cue) wait for results. All of these were needed to book our next flight out to a new hub location. These activities landed us right in the middle of a new government directive of not being able to fly domestically to any large city.
The businesses, workers, parents, children and left over tourists were itching just like everyone in the world to get back to normal activity. Now to define the word normal is obviously going to be very different for everyone and every country. When your deaths are 0 and your caseload is 269 (at this point) people at many levels don't understand the importance of crushing the curve. Going out in groups of two, for medical or grocery supplies while the weather is stellar has been a real mental game. As I'm reminded constantly from people back in Canada via my whats app messages, "At least, you can go out and explore your surroundings. We are confined to our private dwelling." This is very true because at this point my dwelling happens to be a hotel with a very nice pool.
I can happily say, I haven't needed or wanted to cut my own hair, which seems to be the hottest youtube trending item at the moment.
We have been very lucky to stay at our hotel from last year, "Sincerity Hotel and Spa" located in Hoi An. The owners have showered John and I with kindness and have been the best hosts. Even though, we are two of five people staying here. You can imagine, as a hotel owner that would not be cost effective. Many other hotels in this once thriving location have closed down as there are only three thousand foreigners in the entire country of almost 97 million people.
At times, the learning curve has been steep such as:
Learning how trip interruption insurance works or doesn't
How do we manage daily living expenses for an extended unplanned stay
How do we contact credit card companies
How long is it reasonable to stay on hold waiting for someone to pick up to answer our questions about the above
What and how do we eat when there is no way to cook
What to do when no restaurants are open even for take away
How to decipher a Vietnamese directive and how it applies to us
Learning first hand how and what a Canadian Embassy does and does not do
How much I had to rely on friends to relay messages to appropriate organizations and how that was received or not
How to keep good mental health going when you feel like all you are doing is hitting your head against the wall
How there is no such thing as a 1-800 free call in Vietnam
Emails to companies will often take 9 to 14 days to give an answer or state we do not discuss anything via email even though that is what the website states
What white privilege means to some people in a non white society (yes Covid19 was brought here by a tourist)
How to fill our days while living in one room
How marital distancing works and why it is needed
How important it is to cultivate a variety of friends (especially in retirement)
What is our health insurance coverage now
At this point, I could write a lengthy book about this journey but really what we are hoping is to be back in Canada soon.
By Margaret Hauwert
I love going to the rice paddies. We have been watching the fields slowly ripen every week. These Vietnamese were working in 37 C heat but in the fields there is always a breeze. While riding our bikes we still found it warm.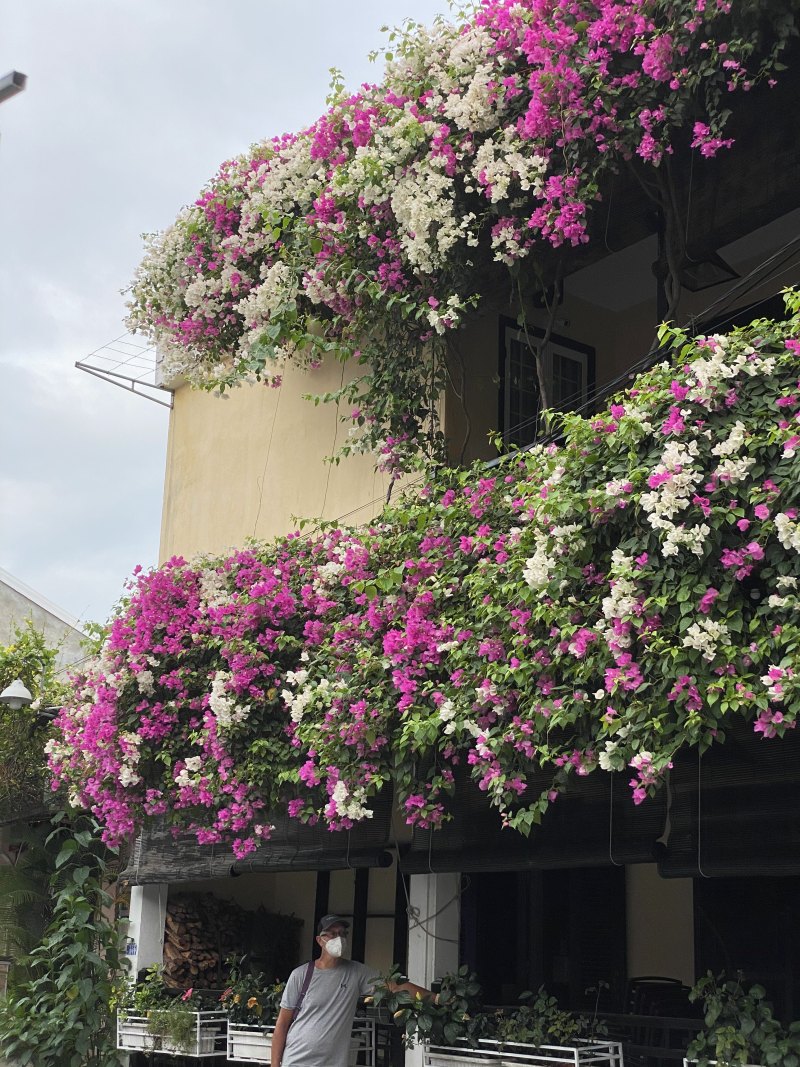 These "paper flowers" were cascading over the building like an umbrella to shade John underneath. No fragrance but they were beautiful to look at.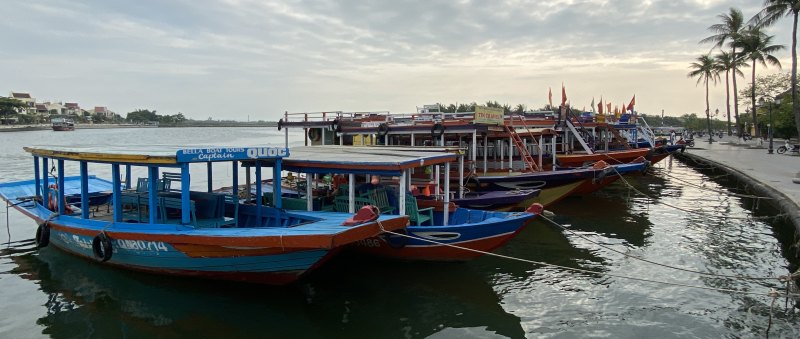 I have never been able to walk down this path without being approached by someone wanting to take me for a boat ride. Now obviously I should feel sad about this is as no one is making a living right now. But a part of me felt happy.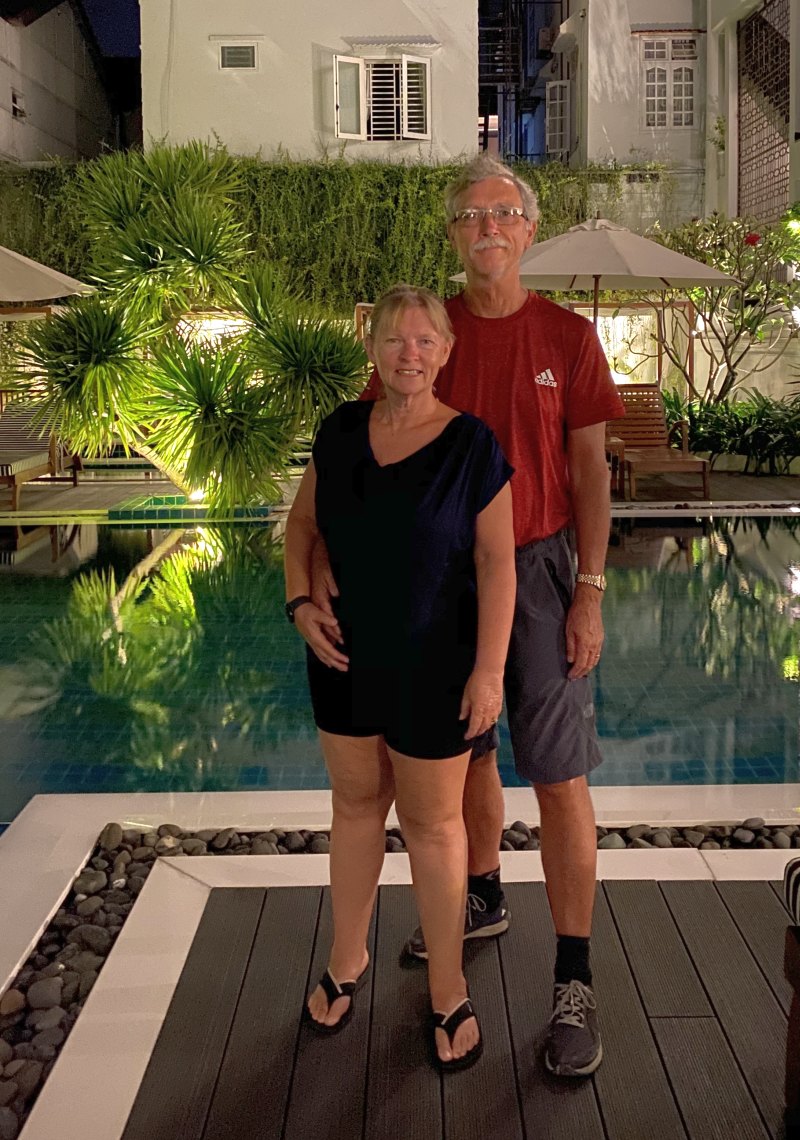 As you can see our surroundings are very nice.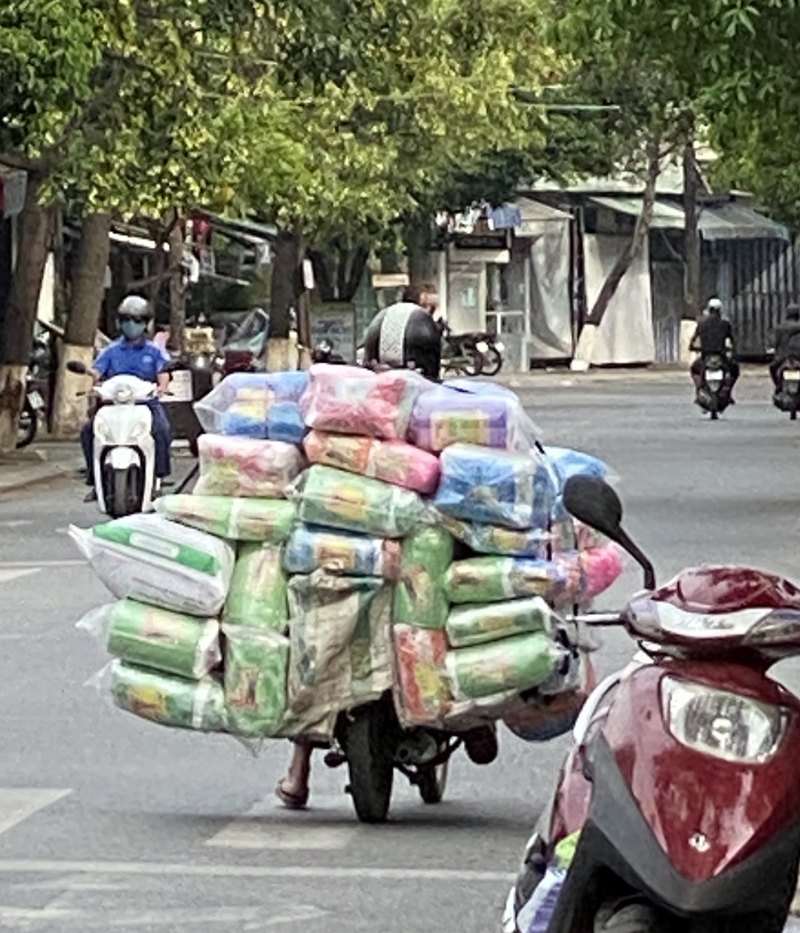 My thoughts are always the same when I see a motorcyclist with a load. "How do they balance it all?"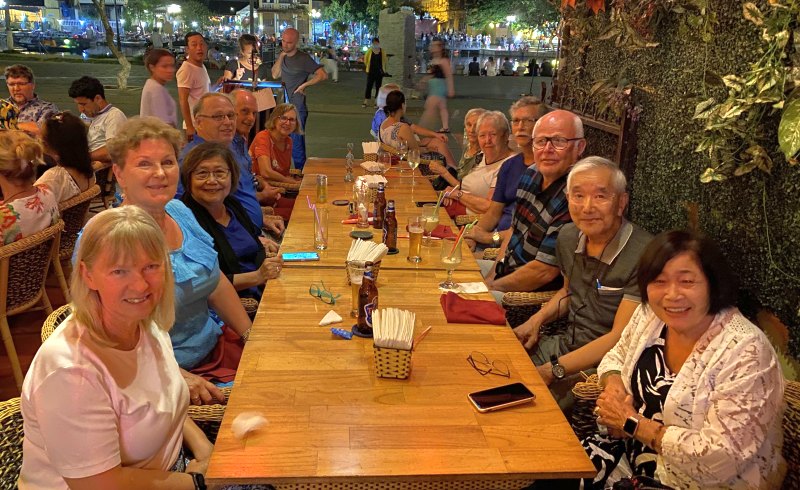 The best thing I love about travelling is reconnecting with friends from the past and developing new friendships.