A Covid Grade Eight Graduation Ceremony
— June 29, 2020
The message read "Shhhhh, it's a secret!" This intro was intriguing and for me cast an instance interest in what the event was going to be.
It just so happened that on Wednesday, June 17th, several teachers from Aberfoyle School were zig zagging across Puslinch township to present the class of 2020 with their graduation certificates. Now we can all relate to the fact that Covid 19 has pushed the world into thinking and doing many routine things differently. Even the delivery of school subjects must be done remotely. Needless to say it has been a huge learning curve for many people. In addition, since March there has been no hanging out with friends, school dances, sports teams or even participating in school clubs. Social distancing, mask wearing and getting together in groups of five (updated just recently to ten) has become the norm.
Aberfoyle School's motto is "Where Children Come First" so it should not come as a surprise to anyone that the teachers would try to reach out and make this milestone a memorable one for grade eight's and their families. This car Congo line arrived around noon and was decked out with a few ribbons and a lot of tag lines congratulating the graduates on all their hard work and perseverance.
Covid-19 is making everyone think outside of the box in order to make others aware of important local events. As you may be aware, Aberfoyle has had its share of honking lately. Two weeks ago, long-time residents Cecil and Vera Schultz celebrated their 65th wedding anniversary. A large sign was displayed on their front lawn for people to honk to help them celebrate this event. Congratulations to them as that is quite an accomplishment. This week the excitement was on the backroad in Aberfoyle. The party atmosphere started with the honking of horns, sound of vehicle engines, doors slamming and ended with clapping and cheering.
Sydney Huether showed complete bewilderment while looking at all these adults who she hadn't seen since March that were now standing at the end of her laneway. After the initial shock of everything that was going on she received her certificate and then to her surprise was also given "The Puslinch Pioneer" Award. This award is given to a grade eight student who gives their time in a school capacity to help promote a positive atmosphere for a club or activity. This student also displays a positive attitude while supporting others.
I thought to myself having been retired for almost three years, I am very much out of the loop. I didn't want to pass up the opportunity to interview Sydney on the ups and downs of her grade eight year being that it was so different. Thankfully, she gracefully granted me this request.
Q & A
What are your thoughts about doing your schooling online?
At first it was different but I got use to it. It made me realize how much I rely on my teachers to be there for help when I need it. I soon figured out that if I needed extra support I would just send a message through a private chat and I got an answer very quickly. The teachers had online hours so it was easy to get ahold of someone to help with an answer. We used Google meet to do a video chat. I would have preferred to be at school but it was not too bad.
What are some things you missed about being online versus at school?
My loves are music, art and gym and we could not do very much of that on line so that was disappointing. I missed seeing everyone and just hanging out with my friends. I just recently have been able to see them after the government upped the gathering of 5 to 10.
What did this roadside graduation ceremony mean to you?
It was crazy and fun! I loved all the honking and seeing all my teachers. It makes my graduation seem a bit more real. My grandparents, family and nanny with her friend showed up to help me celebrate. The only sadness of the day was that we were suppose to leave for our grade eight trip to Ottawa today.
Next step, grade nine, what do you think?
I'm excited for the new changes and challenges. I love sports and can hardly wait to get back to them. Riding the bus will be different because I have been able to walk to Aberfoyle School. My sister, Brinley is looking forward to being there by herself.
So there is talk of a graduation ceremony in the fall, what do you think it might look like?
I would still like it. We could maybe meet at the back of the school or rent the community centre. It would be great to see everyone again because some children go to Bishop Mac instead of Centennial.
So you were one of the lucky ones to get an extra award, your thoughts?
I was so surprised because I love to volunteer and get involved in activities and groups. Some of the groups I have participated in are: office helper, kindergarten lunchroom helper, athletic council, pizza sorter, me to we, community builder, kindness week volunteer, assembly volunteer , score keeper for sports teams and eco club.
As the world is constantly changing it is nice to see the youth adapting and overcoming the new challenges presented. As Joan Law always stated "I don't know why we continue to underestimate this age group?"
by Margaret Hauwert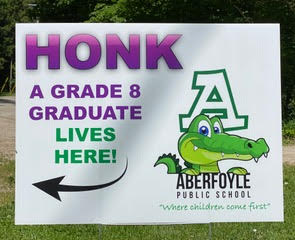 I am sure many readers have seen these signs. For most grads only the parents knew about the visit, so it really was a surprise.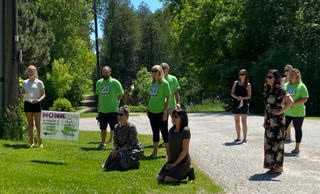 Several teachers were in the traveling conga line. Ms. Thistle was taking pictures at each stop so didn't have time to get in the picture. The whole event took approximately 15 minutes and everyone was off and on their way to the next house/laneway.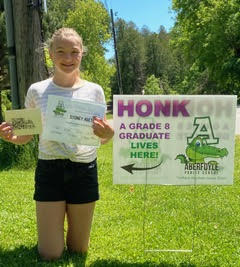 Congratulations Sydney on all your certificates!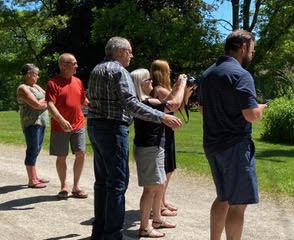 I'm sure all the guests couldn't be prouder of this moment. Lots of picture taking.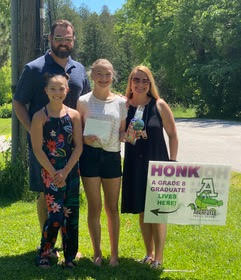 Wes, Brinley, Sydney and Sarah were all smiles on this special day.