History Corner: Puslinch Station, 1914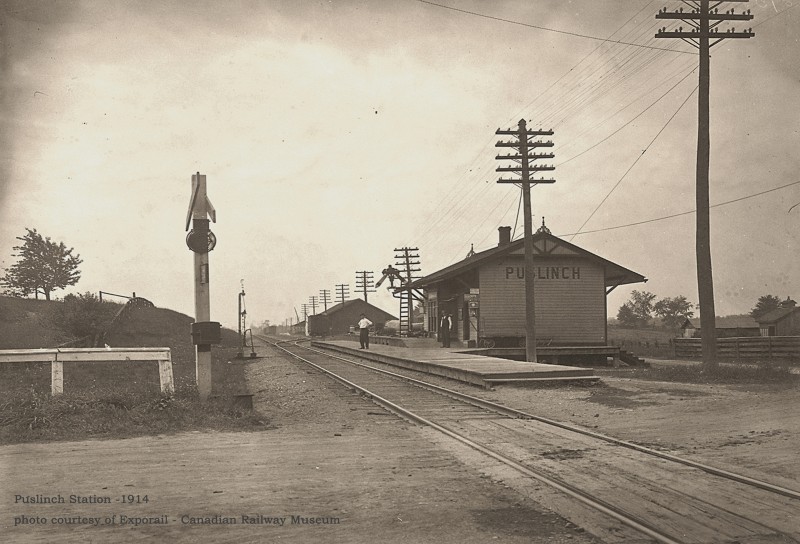 Schaw Station at Puslinch village, which surrounded it, was a hive of activity during 1890-1915. In this photograph from 1914, courtesy of the Canadian Railway Museum, the station-house can be seen to the west of the Brock Road. That is probably the station agent and the telegraph operator, who are standing in front of it. In 1898, there were two telegraph operators working here. Just beside it, further west, is Henry Ironside's warehouse.
Henry Ironside emigrated from New Deer, Aberdeenshire, Scotland. By the 1880's, he lived in Puslinch and he married a daughter of Squire William Leslie, store-keeper and postmaster at Puslinch village. He built this large warehouse, which held all incoming and outgoing freight. Goods were teamed to the railway from all over the district to ship by rail. The outgoing wares included wheat, barley, oats, peas, timothy and clover seed, hay and straw, livestock, apples and lumber. There was a stockyard for the livestock. Teams of horses drawing loads would be lined up for a mile from the station along the Brock Road. Coal, mail, newspapers and all manner of merchandise for the local shopkeepers were among the items arriving by rail. Passengers travelled to Galt and Toronto and beyond. Young men, setting up farms in the Canadian west, shipped whole carloads of goods and livestock from Puslinch. A bank and a post office and store were also located along the track.
by Marjorie Clark