Roszell Pit Receives OSSGA's Rehabilitation Award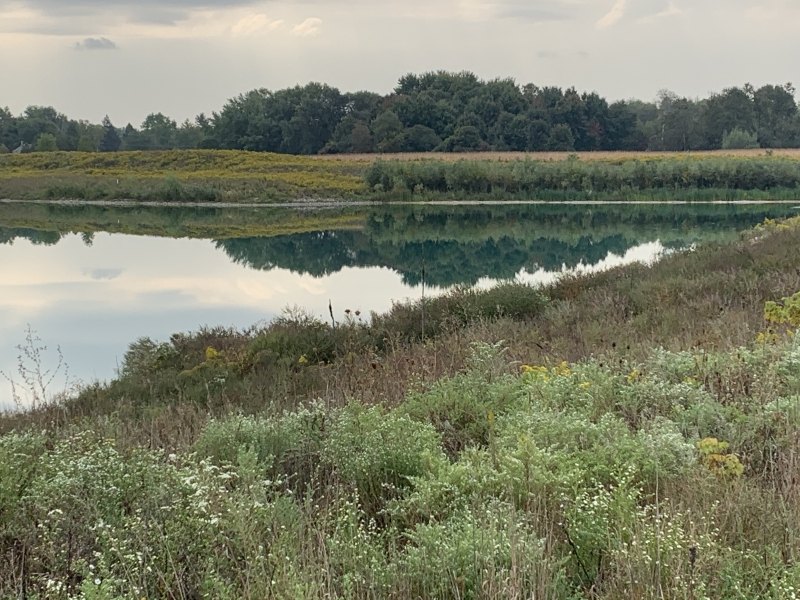 CBM Aggregates' Roszell Pit in the Township of Puslinch has received OSSGA's 2020 Progressive Rehabilitation Award, presented at OSSGA's 2021 Conference & AGM at the end of February.
Roszell Pit's 1.5-hectare rehabilitation project focused on restoring its Pond 2 shoreline and the silt barrier portion of the site's setback area into a naturalized space. In 2017, crews reconstructed the silt barrier by excavating the site to bedrock and filling the trench with 6,000 cubic metres of silt material. The area was then left to settle for a season before the excavation of Pond 2's western and southern limits began in 2019. In the spring of 2020, Pond 2's western shoreline was contoured and seeded with a 90kg grass legume mix. Approximately 15,000 cubic metres of material was moved to complete the final shaping. Native conifers were then planted at a density of 2,000 stems per hectare (1,000 trees), and portions of the shoreline areas were live staked with native willow cuttings. At last report, the new rehabilitated trees were thriving.
CBM Aggregates remains committed to raising the bar on site rehabilitation," said David Hanratty, Director of Lands & Resources, North American Aggregates, Votorantim Cimentos. "Whether simple or complex, we continue to seek innovative ways to complete our projects so they result in a seamless blend into the surrounding landscape and are valued within the community in which they are located upon completion of our aggregates operations. Land and environmental stewardship is one of our company's core pillars and something we are very proud of. This award recognition is much appreciated and we look forward to completing many more successful rehabilitation projects in the future."
Progressive Rehabilitation Award
The Progressive Rehabilitation Award recognizes the ongoing efforts of individual operators to progressively rehabilitate their sites in accordance with their site plans.
OSSGA Industry Recognition Awards Program
The OSSGA Industry Recognition Awards Program recognizes a wide range of activities that contribute to a progressive image of our member aggregate producers and the aggregate industry as a whole. A key goal is to raise the bar in the industry by highlighting operations that go above and beyond what is required by legislation.
"We encourage each member to be sound stewards of the lands on which they operate, and to be engaged and valued members of their community," said Norm Cheesman, Executive Director of OSSGA. "All of OSSGA's 2020 award winners have met and exceeded those expectations."