2021 Public Youth Beach And Grass Volleyball Festivals And Tournaments
The Scorpions Youth Volleyball Club Inc. in cooperation with Emerald Lake Campground and Waterpark will be hosting public youth beach volleyball events in July and August, 2021. The club will also host their yearly Grass Volleyball Festival in Cambridge Ontario in August.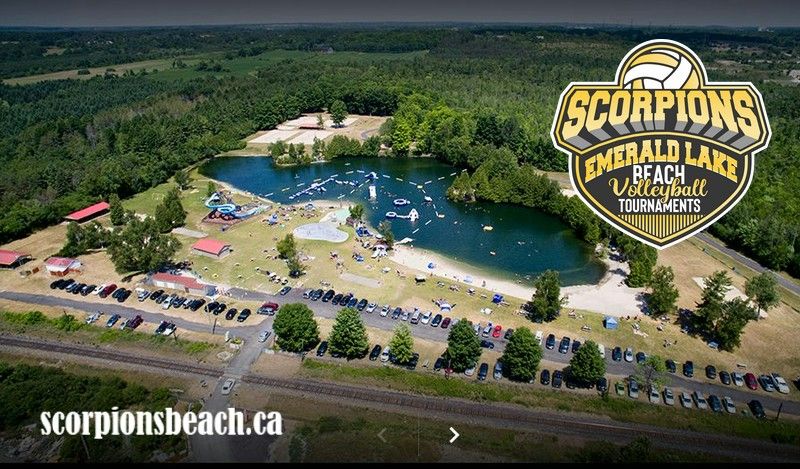 The Scorpions Youth Volleyball Club Inc. is the largest indoor and beach youth volleyball club in the Waterloo Region and surrounding area.
In 2019, they had over 400 registered in their outdoor beach volleyball programs.
The club has been hosting public youth volleyball tournaments for eight years at Emerald Lake Campground and Waterpark. In the last two years the club has invested over $200,000. in upgrading the beach courts on the north shore of the lake. The courts now have Olympic quality beach sand.
The club has also hosted Canada's largest youth grass volleyball tournament in Cambridge Ontario since 2014. It features a competitive 4 on 4 division and a recreational 6 on 6 division format.
Paul Langan, President of the Scorpions states, " Emerald Lake truly is one of the most beautiful and fun places in Ontario to host youth beach volleyball events for the public. It is centrally located just east of Cambridge, Ontario."
"We are the originators of hosting youth grass volleyball tournaments in Ontario. We are very proud to have introduced this affordable and fun version of volleyball for the youth."
The club will follow all required provincial government protocols for Step 2 and 3.
For more information on Scorpions Beach Volleyball Programs go to http://www.scorpionsbeach.ca and cursor on the Tournaments tab. You can also call Paul Langan, 226-505-7605 or email the club through the Contact page on their website.