Important Public Meeting Scheduled Next Week For County Roads Master Plan [Updated]
Hello everyone,
I wanted to take this opportunity to let everyone know that Wellington County is conducting a Roads Master Action Plan. This plan will drive the traffic patterns for all Communities in Wellington until at least 2041. The Province has assigned growth projections to Wellington County for 2041 and this RMAP is in conjunction with these projections.
What this means to Puslinch residents:
Where should traffic be in our Community, through our Hamlets and residential areas or on Provincial networks
What shall be priorities for Wellington County, facilitating traffic through residential areas for the benefit of our large urban neighbours or our residents and their quality of life
Road design for Wellington County Roads, larger wider roads equals more speeding and more traffic
Truck traffic should be diverted around our residential areas similarly proposed in other parts of Wellington County
The four items I have listed above are not to be considered a finalized list of concerns. I would implore as many people as possible to engage in the Public information meeting scheduled on June 17th 2021. This is our opportunity to have a direct influence on where we call home and to ensure our quality of life is NOT eroded.
Please tell your neighbours and friends to engage in this Public Information Meeting.
James Seeley

Puslinch Mayor

Wellington County Councillor

[email protected]
From the County of Wellington:

The County of Wellington is undertaking a Road Master Action Plan (RMAP) as part of a transportation master plan to provide the County with future planning direction. This study is being conducted to complete Phase 1 and 2 of the Municipal Class Environmental Assessment process that provides a decision-making framework. As part of the public consultation requirements, Wellington County is hosting a virtual Community Meeting on Thursday, June 17, 2021 from 7:00 pm to 8:30 pm and is contacting various stakeholders, agencies, local and neighbouring municipalities, and other interested parties. The attached notice provides further details on the virtual Community Meeting, project website and contact details.

The County has retained Dillon Consulting Limited to support the development of the RMAP.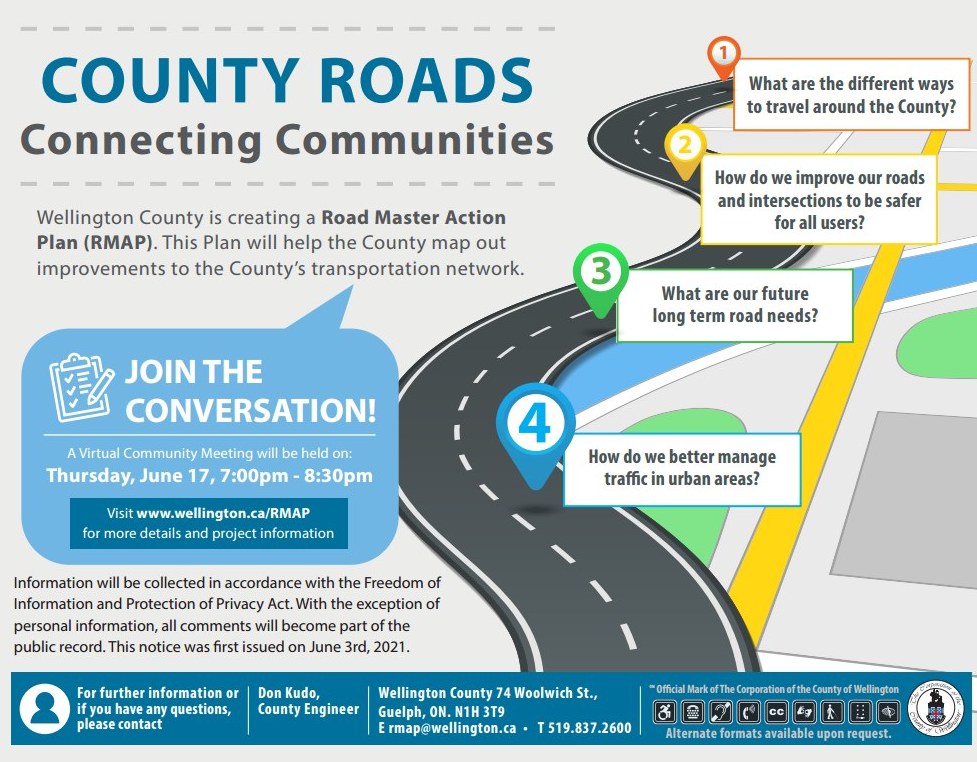 Click for full size image