Another Happy belated New Year from Hua Hin, Thailand
We found ELVIS!
The second week started off with a whole lot of shaken going on at the Village Market (local mall) as Elvis was coming to sing. I reluctantly arrived with my guests and found a table for six (just to be clear that era of music is not to my liking) around 4:30 as the performance was going to start at 6:00. My goodness much to my surprise the place was not only lively but not a table was to be had by 5:30.
The price for having a table so close to this action was a Chang beer for 80 Baht ($3.00). It was this company that sponsored the nightly rotation of bands. Now getting back to Elvis. After about 20 minutes singing on stage, he decided to venture into the crowd. Oh boy, that is when the real action began as many females ran up to have their picture taken with him. As he got deeper into the crowd I noticed that Elvis was about 75 years old, had an ill fitting suit and handlers that continued to wipe his brow. Although he had missed many of the lyrics in a few of the songs, the fact that he could speak Thai was what made the audience go wild. So this is where I give a shout out to Michael of Mobile Truck and Trailer Repairs, there is a ready audience of faithful fans waiting for you in Thailand. Just imagine you and Terry on the back of a motorcycle enjoying the warm weather and lots of beaches. Your side gig of doing Elvis impersonations would be able to cover the cost of your holiday. At least you would know all the lyrics.
Next up was our trip one hour north of Hua Hin. Once again we saw a striking beach with many Thai tourists enjoying the water as it was another blue sky day with a slight breeze. The Gulf of Thailand stretches the entire length of this side of the coast. The landforms that met our group were large mountains in isolation that seemed to jut out of the ground randomly. Our stop provided flushing toilets a short climb up Hao Nang Phanthurat Forest Park trail and for the first time we saw wild monkeys. This mountain is limestone with a triangular pyramid shape similar to the crematorium of ancient people. The views were amazing from the top.
Unbeknowst to us the appeal of camping is just starting to trend here in Thailand. You can understand why, when all you can see for miles is greenery.
To end off the week we were treated to free New Years Festivities on the beach near our condo. This event was hosted by a few of the local hotels and was very well attended. A gentleman sold for 40B ($1.60) a sheet of printed plastic to participants to place on top of the sand to sit on. It was a brillant idea! At first we were confused about where the entertainment was going to happen as there were so many people on the beach that they could not possibly light any fireworks near us. Then we saw in the distance two tugboats slowly coming towards shore. The light display was unbelievable!! Now only if the Optimist could find a large body of water like that.
Our bags were packed as we were heading back to Bangkok the next day for a month.
Margaret Hauwert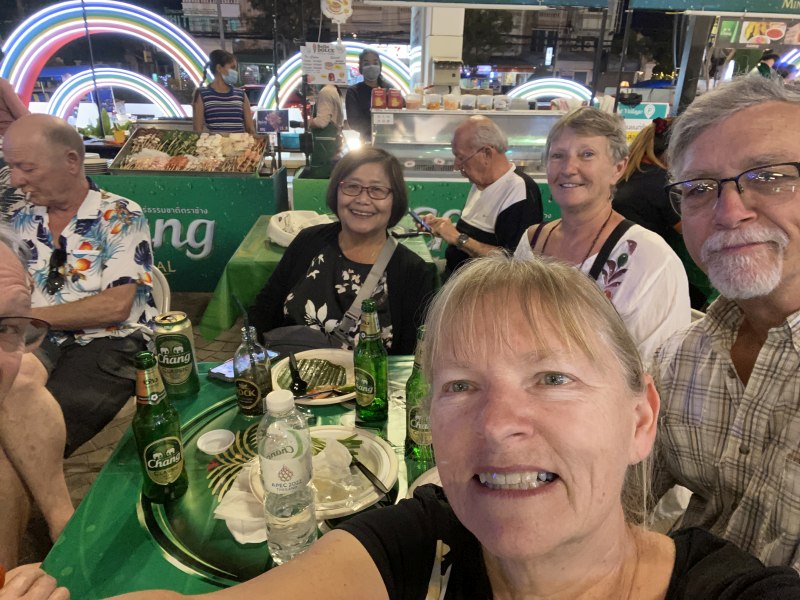 Our new friends from Edmonton met up with us a few times at the local mall to listen to the local entertainment. The bands often sang in English as there as so many expats in this area.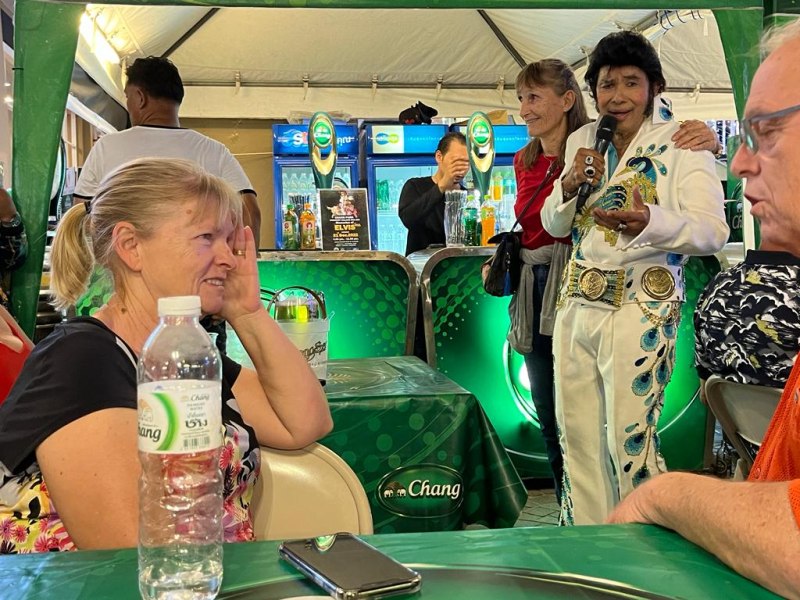 I was so worried that he was going to come to our table to sing. The so called friends at my table were a little too excited about inviting Elvis to our table. Much to their unhappiness he did not.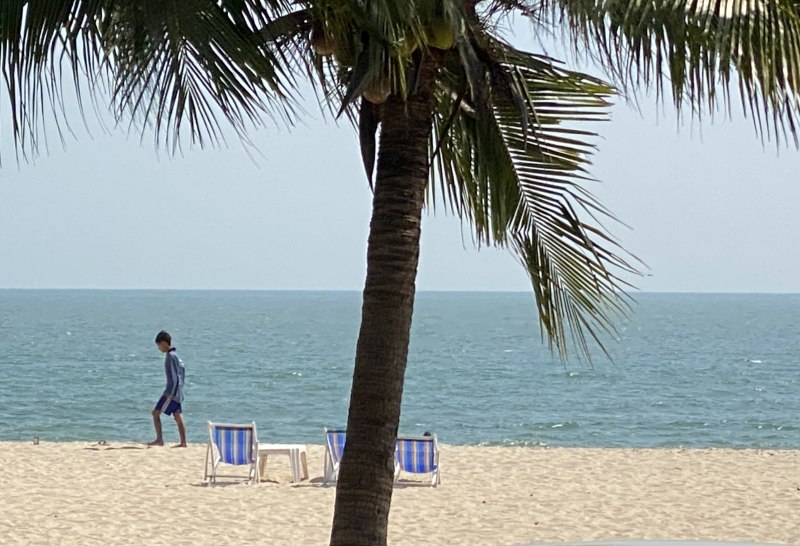 The beach in this picture does not look busy as I had to wait a long time for the picture to look too fun of people and no beach.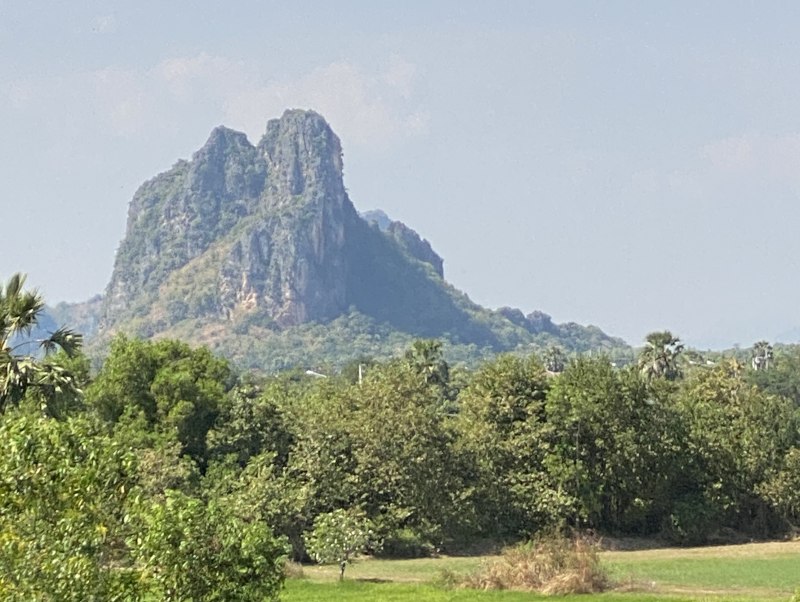 The mountains seemed to be oddly shaped but they were wide and tall.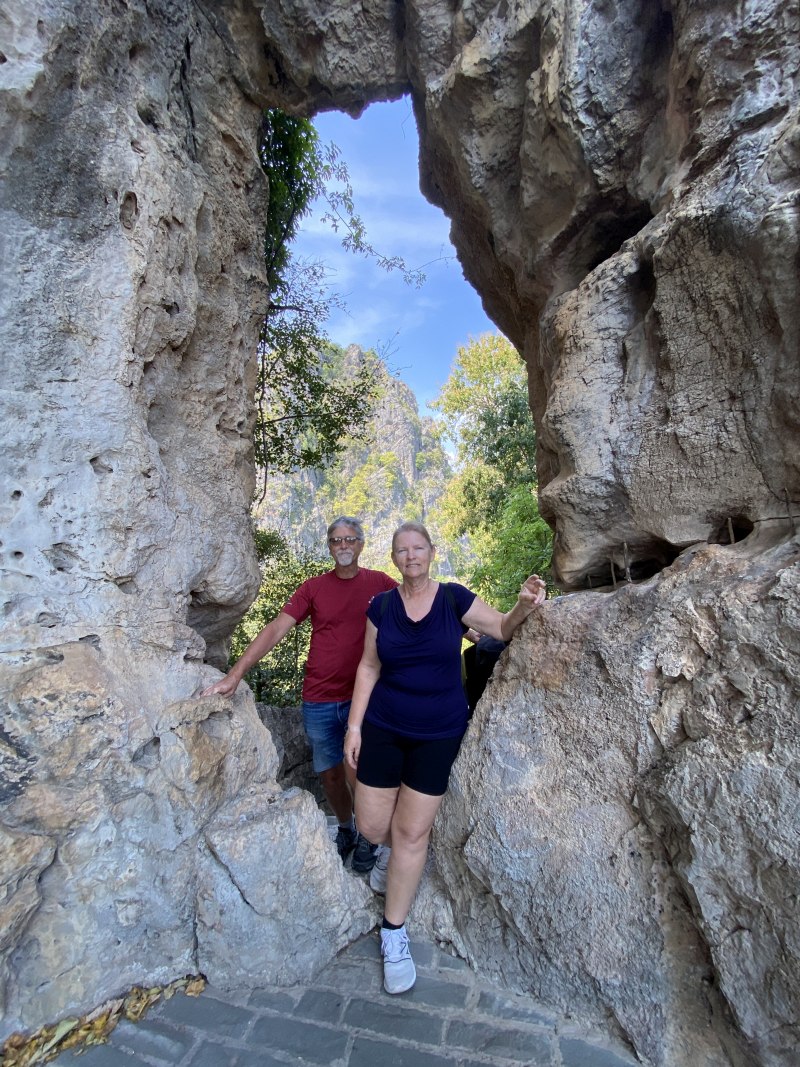 The natural rock formation made for a perfect picture frame.
I thought to myself when watching this lady shoot off the fireworks "isn't this how people get hurt"? Then I noticed she was trying to video herself doing it as well. I was like, wow!
It was so difficult to narrow this down to one video. I have an idea of how much it costs the local Optimists to do the local July fireworks so I can't even fathom how much this show was worth.