Developing Resilence Is Just As Hard As An Adult
Whenever I write articles I often think about all the readers that make comments about living vicariously through me, mostly because Asia is not on their bucketlist of places to visit. I also try to keep my articles upbeat as I feel there is so much sadness in the world already. But just like Facebook posts that only show the good about peoples lifes (even though we all know, life is not like that) it is hard to show the cracks in our own lives to others. It really is a shame that our failures are looked at as just that instead of a learning curve, I say this with my rose coloured glasses on. After years of teaching how resilence is a good virtue vs putting that idea into practise as an adult, I can tell you from experience that problem solving when things don't go your way is still a good thing. Frustration and character building all at the same time!
So after saying goodby to Hin Hua we headed north for the three hour journey reminising about all the good times we had. We were dropped off first at our condo and our host met us in the foyer. I had vetted this location six months ago and also dropped by just before leaving the previous condo. It was January 1, 2023 and the start of a new year! We had just finished one good month in Thailand after not travelling for almost two years. Yes, like many people I know so what could go wrong. Well I was about to find out that the first week of the new year would not to go as planned.
At first, it all looked good, the location, the size of the room and even the pool. A red flag should have gone up, when the host let us know on his way out of the condo apt. that if the water was too hot the breaker would flip. At the time, I thought we don't need it that hot. About an hour later, I asked what the wifi password was only to be told there was none in the room. I do remember that it was in the description when booking but had no proof and it was now listed differently. (I can state that now I screenshot my amenities) Those two things started a waterfall of items over the next two days that would go wrong: the lukewarm shower lasting one and a half minutes before loosing all power in the condo, sewage smell in the bathroom, mouldy water smell/taste, leaking toilet and a few cockroach friends. Each time I texted the host, he would say the most incredible things like: the part for the breaker panel had been on backorder for three months (not true) and didn't know about sewage smell (he remembered when I pointed it out to him from a recent review). I was exasperated! It was at that point that I contacted BNB who in turn contacted the host. His answer was for us to move out. That chain of events left us scrambling for a new BNB host. To give ourselves time we ended up renting a hotel room for two nights.
Previous to all these downturn of events I had been talking with my great niece about resilience/persevence when a new task or situation arises that she doesn't like. As a grade nine student she has definitely had many pitfalls to deal with. Regardless of walking her through all the strategies of how to develop these traits, when it came to myself I really had to dig deep to get myself out of that type of funk.
What I thought was going to be a good choice ended up being not that great. The location was good and I already knew the area. I was a little aprehensive because I knew that I only needed it for three weeks. The Thailand government insists owners can rent for one month at a time. You can imagine my surprise when they accepted my request of three weeks. However the excitment was short-lived as: the housekeeper that was to take us to the room did not show, met by an aggressive security guard demanding to see our passports and reservation, and then moving into a unit that had nothing except for sheets that had to be washed. To say I was disappointed is an understatement. At one point I was sitting on a curb, in front of a 7/11 surrounded by suitcases convincing myself that "yes, I could handle it". Thank heavens for the ability to have wifi access through a sim card as my lifeline was only a "what's app" conversation away. After a long four days, the dust settled and we were once again able to enjoy the rest of our time in Thailand. Yes, hindsight is 20/20 and I would definitely do a few things differently. A big thank you to my lifepreservers from home Cyndi, Nicole and Gayle!
Next up is a side trip to Seim Reap, Cambodia.
Challenges met:
Converting money was a breeze
No pickleball in Thailand
Tried many different types of fish
My watch let me know if I was down in steps (so far so good)
Four flights of stairs are good
By Margaret Hauwert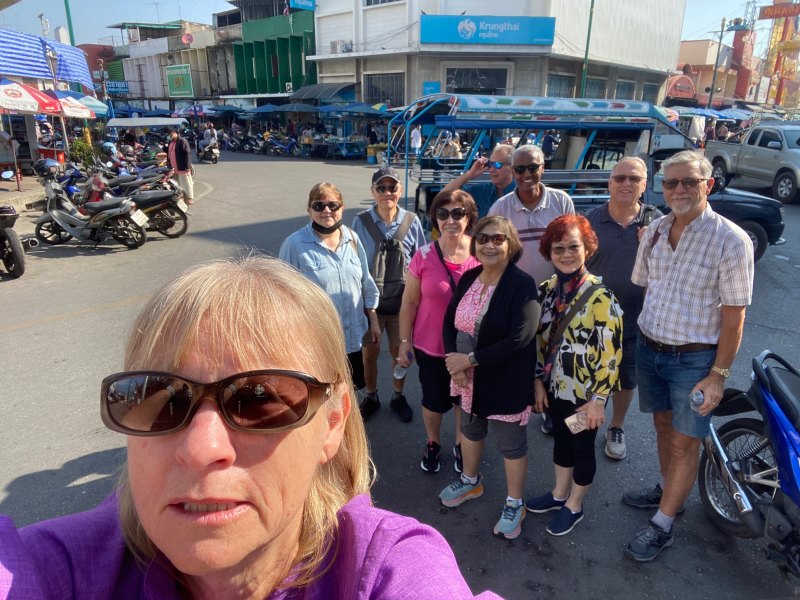 We are a group of 12 now although in this picture our friends from Australian did not come with us to the Mae kKong Railway Market or what is locally called The Folding Umbrella Market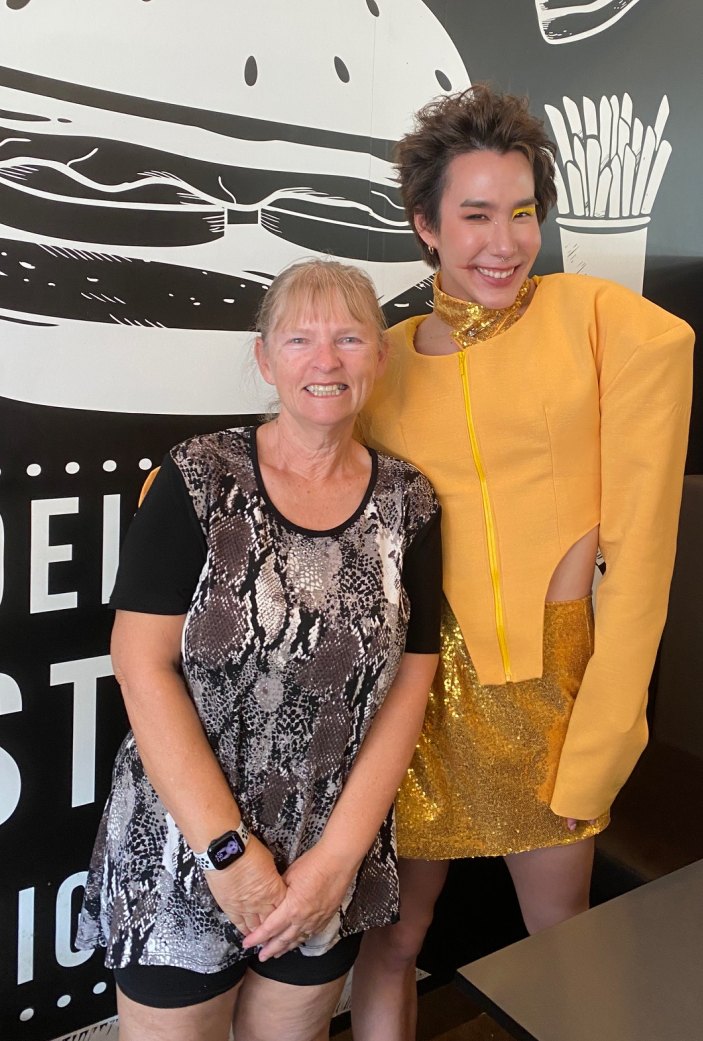 While eating at McDonalds which is like a instagram place to be I met this influencer doing an actual commercial for McDonalds- I had my niece look him up and yes he is
His name Pataradanai – who knew?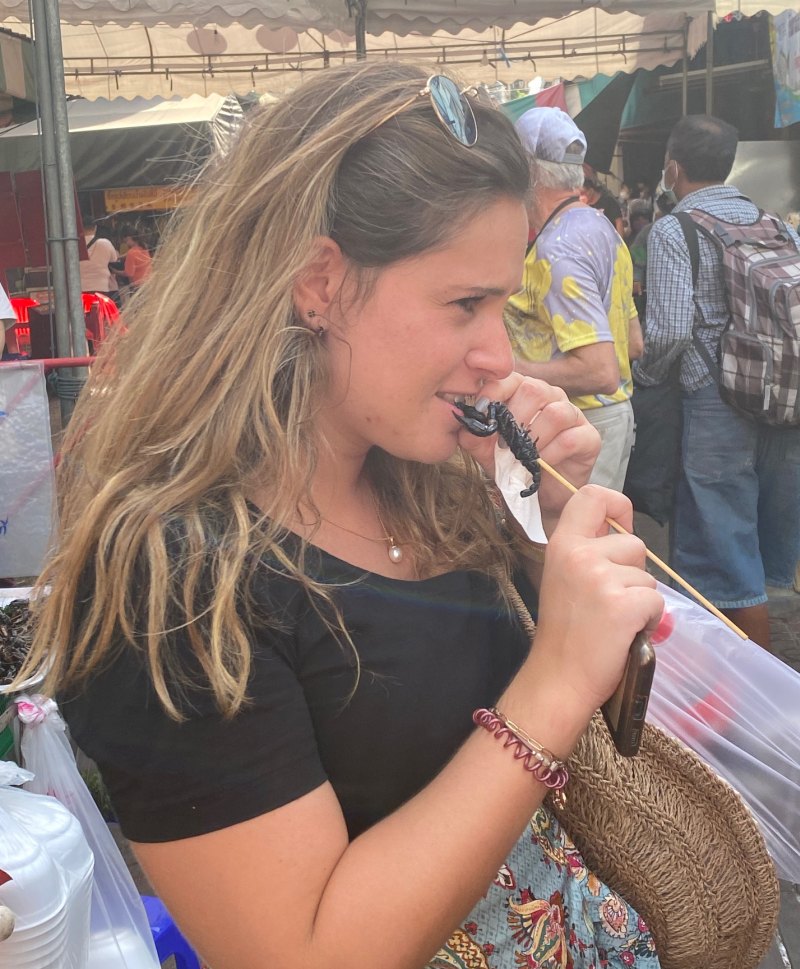 I would always see the carts with scorpions, fried mealy worms and larva but never see anyone try one until now
It was fascinating to watch the umbrellas go down for the train to go through. People from all over the world come to watch this event that happens four times a day.