Well as my holiday experiment of traveling for just short of six months comes closer to the end, I set forth on my second last article for the Puslinch Today travel blog. I have found article writing difficult over the past few months as I have been involved in meeting many people, travelling to new places all over Bangkok, Vietnam, Western Australia and just basically enjoying my holidays.
Yes, I did make that side trip to Cambodia. I was struck by how depressing it must be for the people who live there to constantly have reminders of the unwanted wars from the past. Just like now, it is all about the control of people or places. Unfortunately there continue to be many landmines left between the bordering countries which have real time effects for people living in those areas. I hope in my lifetime, people in power will see that war is never the answer.
After four days we were on a flight to Nha Trang, Vietnam. Our stay was in a condo by the beach on the 27th floor. It was lovely to hear the waves crashing but the nightly one hour opera performances on the beach were frustrating and loud! This town of about three hundred and fifty thousand people is known for its pristine beaches and warm weather. We were definitely satisfied with the temple sites, the variety of food and the many local coffee shops. The lack of tourists was evident due to so many empty shops and food markets. You can imagine going to the Guelph Farmers Market and being the only ones there. On one hand it is great to be able to walk freely but on the other the sellers have not seen tourists for a while. Suffice to say at times, it was not pleasant.
Then we were off to Hoi An, Vietnam, one of my favourite spots. It felt so good to be going back to The Sincerity Hotel and Spa that hosted us while stuck due to Covid. It was a chance to pay it forward. Just like everywhere in Canada shops/restaurants were closed or had moved due to higher rent, not many tourists because of a 30 day visa limit (also some online difficulties), price increases, the growth of how many motorcycles there were on the roads and lastly the expansion of the age two and under demographics. Despite all these difficulties the people we met were over the moon to have tourists back. Without a doubt, our group of travellers were just as happy to be here because in some respects it meant that the world was getting back to pre Covid times. Over the course of six weeks, we lost two (flew back home) and added five new people to our crew. Lots of fun was had visiting new/old restaurants, exploring old haunts such as Ba Na Hills, Marble Mountain, the city of Hue and the surrounding area of Hoi An itself. Even though I had been to all the places above it was interesting viewing the sites from the perspective of others. Once again many hotels were defunct, not open yet (due to not enough tourists) or in our case, operating at half capacity. Unbeknownst to us to help the owner stay open, each of the staff willingly took a fifty percent cut in their pay. It was their hope that by doing this the hotel would stay afloat and eventually start to make money. Needless to say our tipping reflected that bit of information because Vietnam is very much dependent on tourism.
I used to hear about six degrees of separation, however now it can be said that it is two degrees. It turns out that a cousin (from the states) from a member of the group just happened to be in Hoi An at the same time we were there. This cousin also just happened to have another cousin from Hawaii who happened to be running a school in Hoi An at the very same time. Unfortunately the facebook post was too late for the USA cousins to meet up but not for us. It has always been on my bucket list to teach/visit a school in a different country. I was not disappointed. Myself and a former colleague were invited to visit this English speaking school to introduce ourselves, share information about Canada, converse with students in English and chat about our teaching experiences. The good news for me is that on my next visit to Vietnam I have an opportunity for a short stint as a teacher. We will see.
Traveling domestically is relatively cheap by Canadian standards as a one way flight to Hanoi, Vietnam was less than one hundred dollars. The next lag of our journey was an air conditioned, no toilet bus to the north of Vietnam. There were nine of us plus our English speaking tour guide. This self made tour was taking us to Moc Chaung, Tam Coc and then back to Hanoi for a couple of days. Over the next four days we would walk on the longest glass bridge in the world, take a boat ride to where King Kong was filmed, visit a bird sanctuary, and climb five hundred steps straight up to stand at the top of a historical temple. It was certainly worth the multiple hours of riding on a bus and it reminded me of my many field trips in the past minus the children. We still had to do a head count though.
This was the last stop for the group. Hanoi, Vietnam was where we would all fly to our next destination. Most were flying back home but one couple would have a side trip to Taiwan while we would have a one month stop in Western Australia. My thought was why not we were on that side of the world already.
By Margaret Hauwert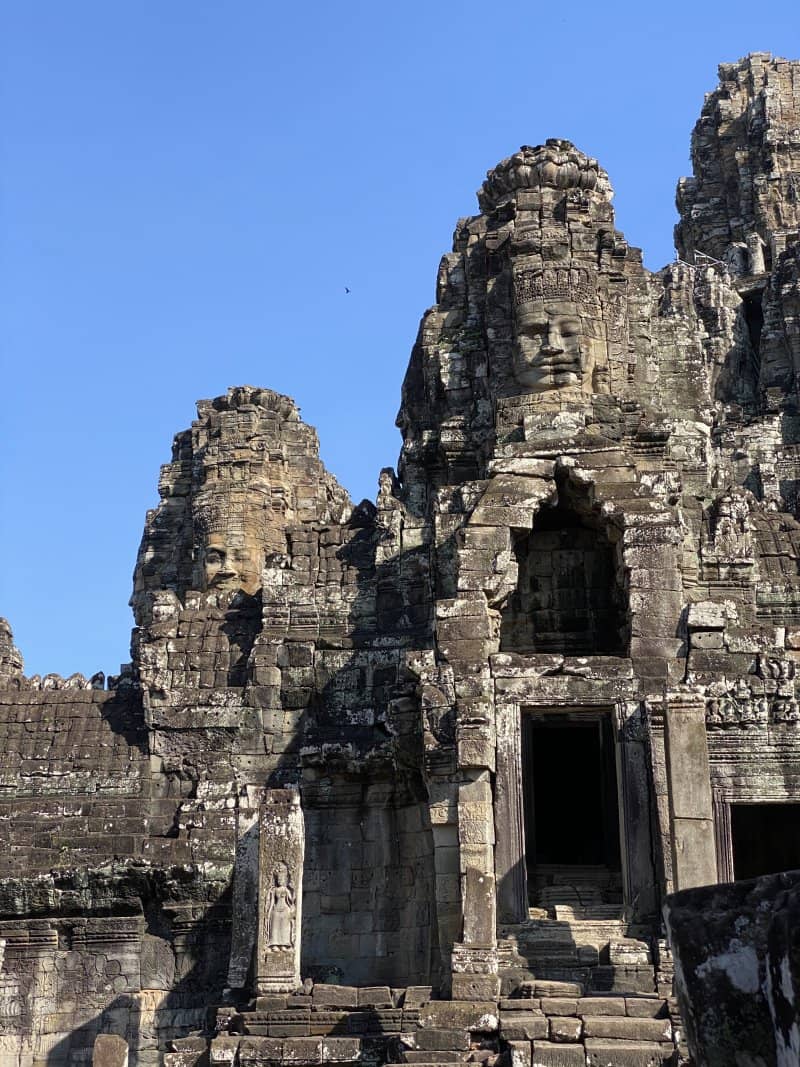 I really enjoyed looking at these embedded faces in the stone relics from Cambodia.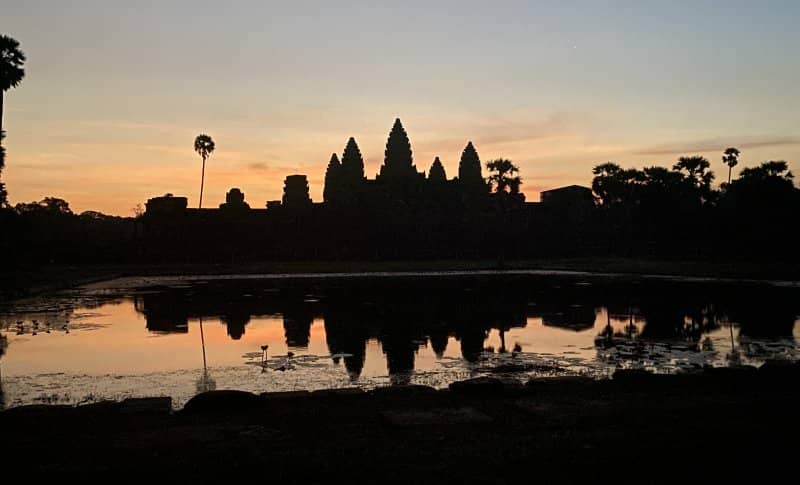 For the life of me, I do not know why so many people get up so early (4:30 a.m.) to take a photo of Angor Wat. I was told the background is different colours depending on the season. One thing for sure, once the sun came up I could actually see what I had missed in the dark. We had used a guide for this tour.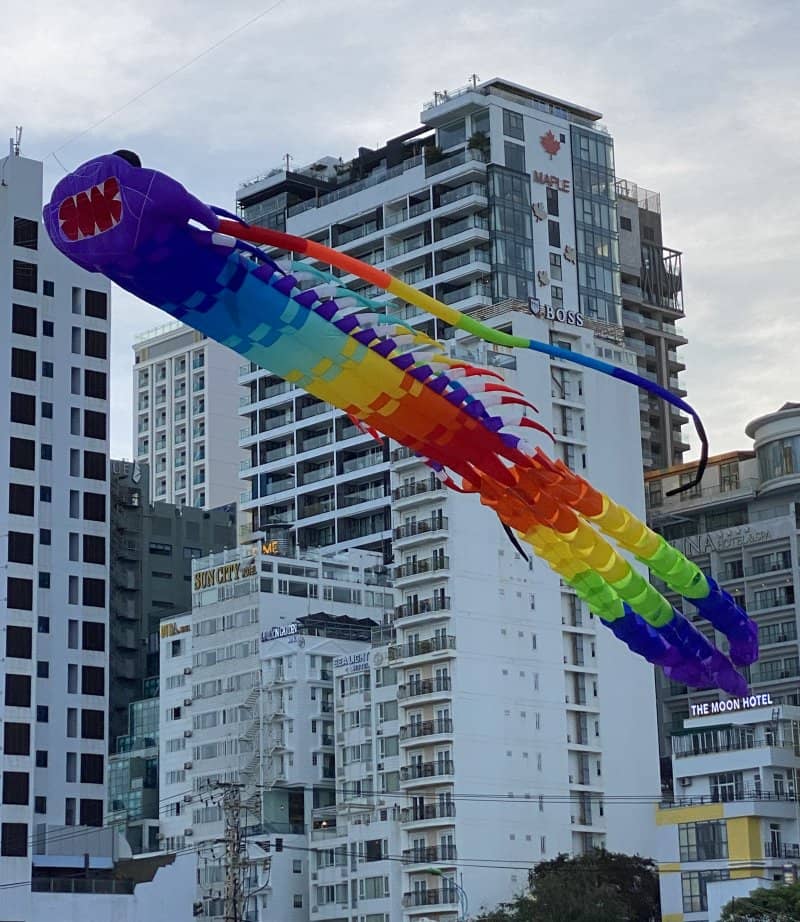 Every third night there was an evening of kite flying. This large open space allowed for many kite flyers, roller skating, displays of children's toys and an area for children to run freely. Families were encouraged to come and play. (Nha Trang)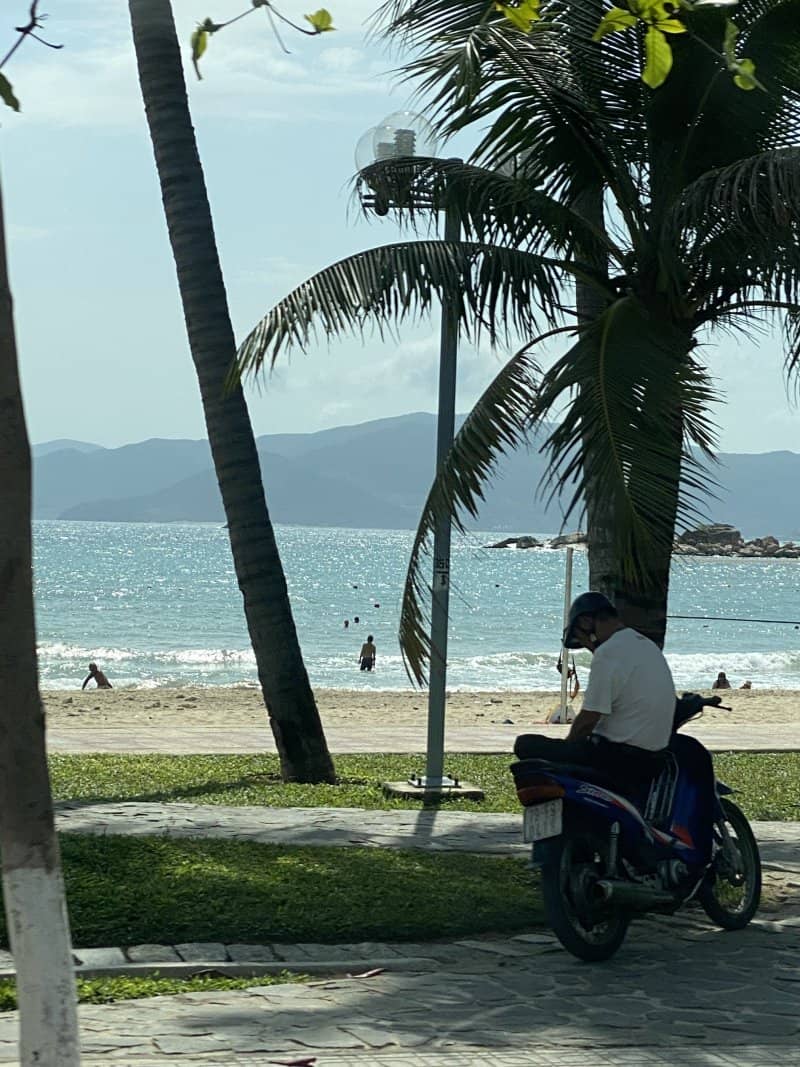 Large swaths of well maintained cement walking paths meandered throughout the six kilometres of beach. We were impressed by how many seating areas there were. (Nha Trang)


Lucky for us we happened to be in Hoi An, Vietnam for the Lantern Festival. Although, as you can see from the picture there are many tourists. They come by bus from Da Nang, for about three hours then leave.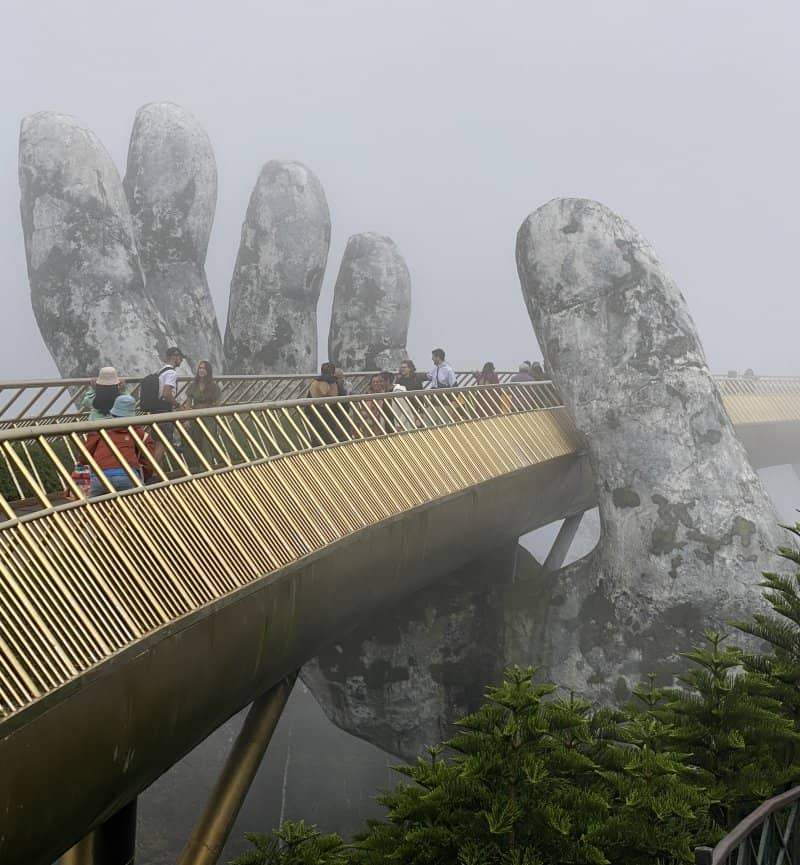 On our trip to Ba Na Hills it was the most miserable day we have had on vacation. We were totally unprepared for the misty rain, cold winds and heavy fog as the weather app stated it was going to be sunny. We all had to buy jackets and rain gear while there.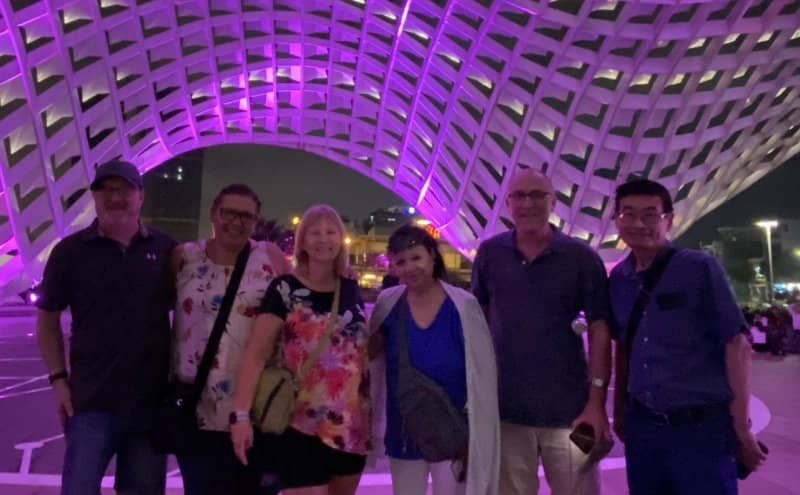 Some of the group made a side trip to Da Nang to watch the fire breathing dragon event. On route, we made sure to check out the unique sculptures and architecture nearby. Yes, I was able to convince a now retired Mr. Fiddes to join me.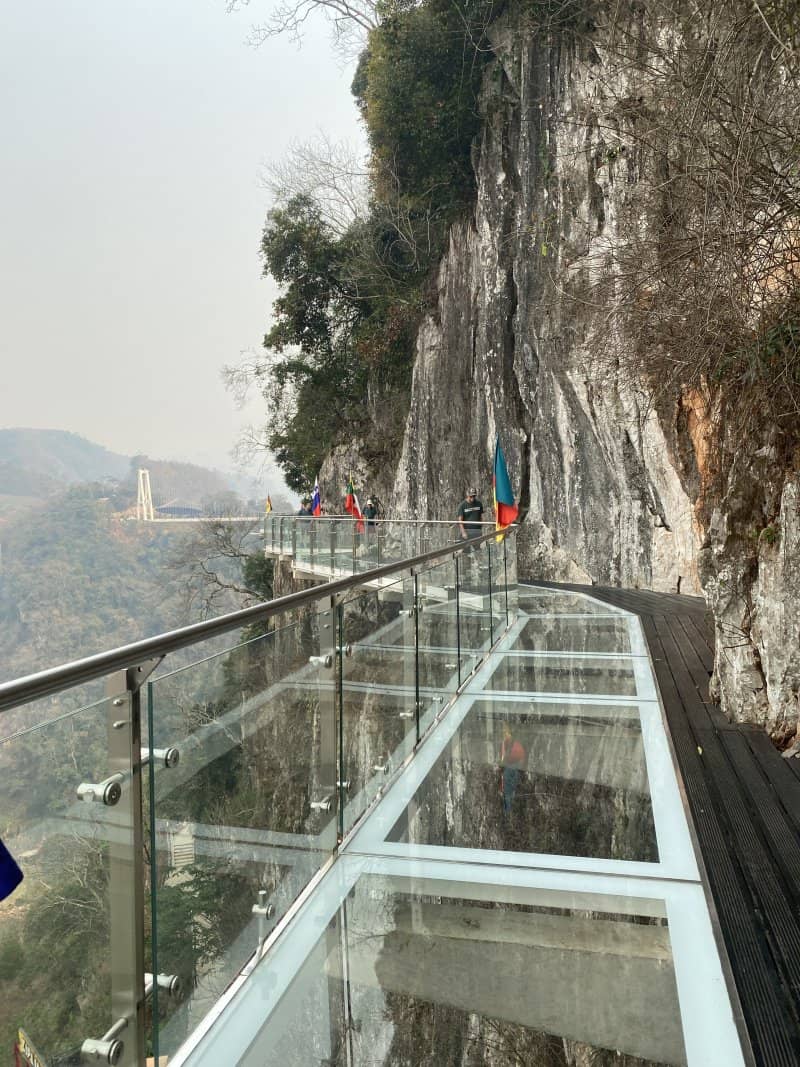 The six hundred and thirty-four metre glass floored bridge was one of the reasons we made the six hour bus trek up to Moc Chau, Vietnam. It has been crowned by the Guinness World records as the longest one in the world. It was the cave at the foot of the bridge with its natural occurring stalactites that I spent the most time in.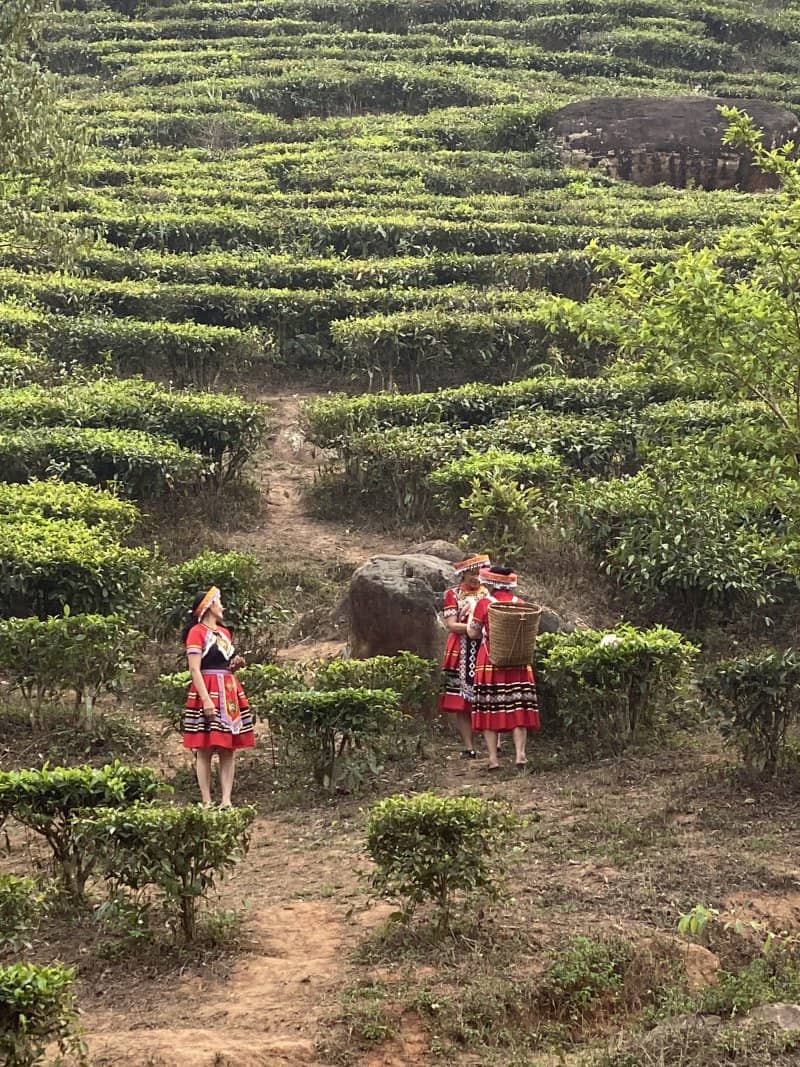 While visiting a local waterfalls we happened upon these brightly dressed ladies. There were part of the Cham ethnic group that lived in this area. They happily posed for a picture amongst the tea tree shrubs.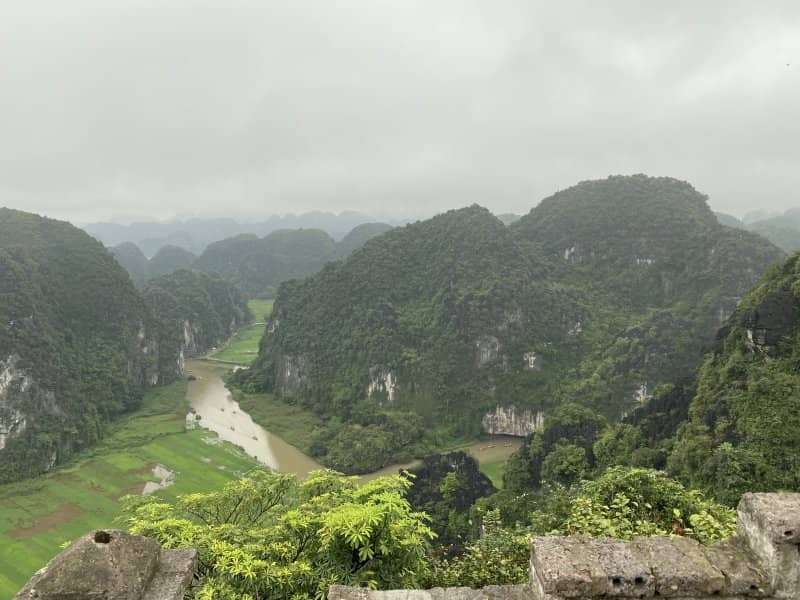 The view at the top of the historical temple was well worth the five hundred steps to climb. Lucky for us the mist had risen so we could see a long way.