History Corner – The Village of Glen Christie
THE VILLAGE OF GLEN CHRISTIE
The following article is an excerpt from the book "Our Home and Native Land, Community in Puslinch Township, Wellington County, Ontario", Published in 2005. This content was graciously provided by Marjorie Clark, the author of the book.
The lime kilns on the Christie-Henderson Company's property in the north-west corner of Puslinch were busy on June 24, 1921. The demand for lime was high and the company employed about fifty men. Five new kilns were being erected, with plans to build more. It was estimated that, when the new kilns were in operation, output of lime would increase from 12 to 14 railway cars a day to 18. Business was reported to be increasing monthly. The village, which had grown up around the plant, straddling the border of Puslinch Township and Waterloo County, was to be named and the trend seemed to be toward "Christieville". There was even a suggestion that the Grand Trunk railway station at Gourock be eliminated in favour of a station at the new village.
The site of the new village was within School Section #12, the very north-west corner of Puslinch Township, on the 4th concession. The original owners of the farm lots were:
Lot 1 and 2, rear (north) – Jacob Miller, who built his log house and barn near the banks of the Speed River in 1857. According to the 1906 Historical Atlas of Wellington County, he owned the land still in 1906.
Lot 1, front (south) – James Phin.
Lot 3, rear (north) – Peter McNaughton.
In 1855, the Great Western Railway built a line from Galt to Guelph through lot 1 and across the corner of lot 2, near the site of the lime kilns. The line opened on Sat., Sept. 26, 1857.
According to an article, written by Mrs. Clara Olesen in 1963 and included in the Jubilee Tweedsmuir book, Jacob Miller built the first lime kiln on the property in order to plaster his log house and dress his fields. The lime proved to be of such excellent quality, that others came to purchase it. He became too busy making lime to farm. He rented the land to Levi Eaton, who was in residence in 1869. Mr. Eaton did not stay long. James Reeve rented the property and his son, Charles and his family lived there in 1891.
O. B. Ellis of Beaverdale purchased these three lots and operated a lime kiln about 1908. He was familiar with lime production, since he owned lime kilns at Beaverdale.
When Mr. Ellis retired, it was bought by the Christie-Henderson Company, with principle owners, David D. Christie of Guelph and David M. Henderson of Galt, probably in 1916. David Christie also owned the lime kilns at Kelso, Ontario.
David Darling Christie was born on March 4, 1840, son of Charles Christie. His mother, who died when the children were small, is listed on his marriage record as Margaret McKenzie. Charles Christie emigrated from Kelso, Scotland about 1835 to the settlement they named Kelso in Halton County. He married a second time to Alison Telford.
David Christie had three sisters, Mrs. Elizabeth Allan (Aug.29, 1834-Sept.13, 1924), Mrs. Alison Henderson (Sept. 1842-Nov. 20, 1914), Mrs. Jeannie Gordon (c.1845-Dec. 1, 1896), as well as a half sister, Mrs. Rebecca Dempsey and half-brothers, Thomas (born c.1852) and Charles.
Alison Henderson's husband was David D. Christie's partner, David Henderson. Her son, Charles C. Henderson (born Apr. 18, 1873) of Acton appears to have had a continuing interest in the plant, as he was frequently reported as making business visits.
David D. Christie
Photograph from the Jubilee Women's Institute Tweedsmuir Book.
David Christie opened a store in Campbellville, then in Milton and then, Acton. In Acton, he operated a bank at the back of his store. When the Credit Valley Railway built the line through Nassagaweya Township from Guelph to Guelph Junction, near Campbellville, he opened a limestone quarry at Kelso. When the Canadian Pacific Railway took over the line, the station at Kelso was named Christie.
According to the Jubilee Tweedsmuir Book, D. D. Christie owned considerable property in Toronto, including apartment buildings. The book states that Christie Street and Christie Street Hospital in Toronto were named after him. However, that was not so, as Christie Street was named for William Mellis Christie (1829-1899), the baker of Christie Biscuits fame and the hospital was named for the street.
On Feb. 1, 1882, he married Margaret McNair. From 1904, they lived at 206 Norfolk Street in Guelph. They had a daughter, Jean, born in Acton in 1884. She married William Paul Gamble of Guelph, who maintained an association with the Christie-Henderson Company.
The firm was called the Standard White Lime Company. An article from the Galt Reporter of Apr. 16, 1929 gives some detail about its beginnings:
"The increase in business at the Glen Christie kiln might be traced back to 1916, when a start was made on installing the present machinery in November. Prior to this, the kiln had been active but produced only lump lime. In May 1917, work was started on the production of hydrated lime and at that time, there was one small steel kiln and one small stone kiln."
The Christie-Henderson Company operated a stone crushing plant on the site as early as 1904, when Eli Gordier was given charge. Mr. Gordier had been employed as an engineer at the site by the company since April 1, 1902. In January 1906, the family was living at Puslinch village. It is likely that he was working at the Christie and Henderson quarry there. His son, Leonard, who was born in Puslinch on June 30, 1901, lived at Glen Christie until 1936. Prior to this, the family resided in Appin, Ontario, as an older son, Milton Gordier was born there.
Born in 1868 to Lewis Gordier and his wife, Dina Plemburgh, Eli Gordier began as a farmer and later was employed as a cheese-maker, before coming to Puslinch. He married Elizabeth Rhea in 1889. They had twelve children. They were: Perry (born Nov. 4, 1889), Alice (born c.1894), Frederick (born c.1896), Milton (Oct. 7, 1896-Mar.18, 1964), Leonard (June 30, 1901-Aug. 27, 1946), Louis (Jan. 17, 1904-Dec. 5, 1976), Clara (born c.1905), Roy (Mar. 7, 1906-Apr. 15, 1962), Russell (Sept. 17, 1907-July 8, 1983), Gordon (Oct. 13, 1909-Apr. 30, 1951), Hazel and Ada (c.1915-Apr. 10, 1940). In November 1916, Mr. Gordier was transferred to the hydrating plant and on March 31, 1922, he completed twenty years of service with the company. He remained at the plant until October 1929.
After the takeover of the kilns by the Christie-Henderson Company, the company began to invest in housing and amenities for its employees and the village which resulted, became Puslinch's only "company" town. An account from Feb. 2, 1922, speculated that Christieville would soon rival Hespeler in population, as its numbers increased monthly. The construction of several new houses was planned for the summer, as well as two more kilns.
As the kilns burned wood, the demand was great. The Galt Daily Reporter, Christieville column, noted on March 8, 1922, that there had been a great rush to get wood and lumber to the area the previous week, while sleighing was still good.
The company hired Mr. Johnston, a blacksmith and woodworker from Paris, Ontario, on May 5, 1922. He had "the reputation of being a good mechanic and will be a greatly needed addition to the plant staff". The powerhouse was nearing completion and the boiler and engine were to be installed by the middle of the week.
The Christieville correspondent reported on May 17, 1922, that William Beddow of Niagara Falls, master mechanic of the Bates Valve Bag Company, had arrived on the previous Saturday to oversee the installation of the new lime bagger. The machine was cited as being of the latest design, being desired for its ease of operation and accuracy of weight.
News of the operation had spread and three cars, full of sightseers, spent an hour or two at the kilns on the previous Sunday.
Outside the plant, Herman Knack of Hespeler had the contract for stonework and plastering on one new house and two new bungalows. One foundation was already in and another was well underway. The bungalows were in a new survey known as Rife Ave. Also in May, Messrs. Sockett and Douglas of Guelph were building homes. They were still at work in November.
Rev. McAlpine of the Baptist Church in Hespeler visited Superintendent E. Gordier in late May 1922 to enquire about starting a Sabbath School. Upon calculation, it was determined that there were about forty-five children within a half-mile radius. As this was too many to facilitate assembly in a private home, they decided that Rev. McAlpine and Rev. Small of the Presbyterian Church, Hespeler, would ask D. D. Christie about the prospects of building a hall, which could be used for the Sabbath School, as well as for Sunday services. Despite the lack of appropriate accommodation, the Sabbath School was organized almost immediately. For a year, they met at the home of George Cowman.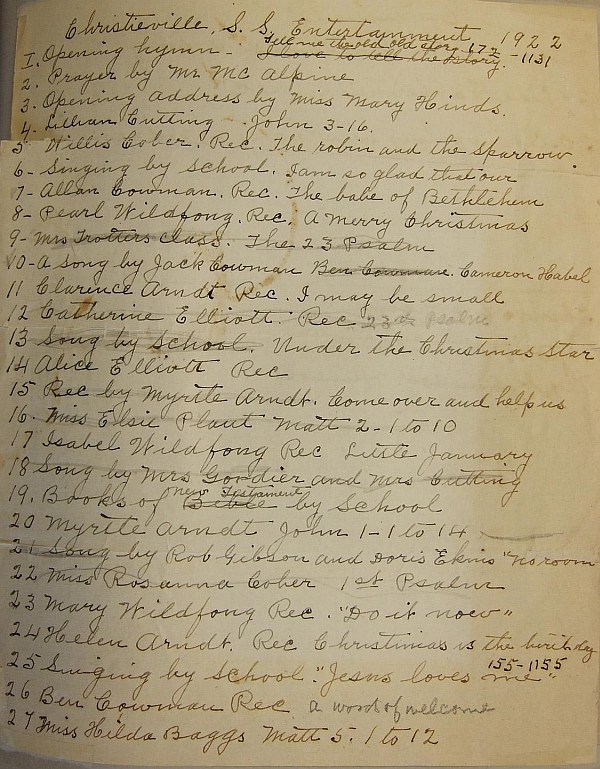 On July 4, 1922, the Christieville correspondent wrote that the new tramway, for filling the kilns, was in full operation and was a marked improvement. Each car carried four tons of stone. The round trip from the quarry to the top of the grade could be made in slightly less than two minutes. Not only was this much faster than hauling the stone by horse and wagon but it also relieved the horses of a laborious job, particularly in spring and fall, when the road was bad.
The columnist noted on August 29, 1922 that, during the summer, "a number of handsome dwellings" had been erected. According to Mrs. Olesen's article, a few houses were moved from Kelso and nine new homes were built. Expectations were that more employees would be hired and more housing would be built. Tom McConnell, who had conducted an ice cream booth and small grocery business since about 1915, was engaged in digging a cellar for a larger store. He sold it to Leslie Stager shortly after this.
The abutments of three more kilns were already in place by November 25, 1922. By Dec. 14th, the kilns were about six feet high. Wood was being delivered by Mr. Sengham and more was being purchased from the former John Cober farm.
That week, an architect from Toledo, Mr. Harsh, visited to draw up plans for the new hydrating plant. The first floor was to be constructed of steel beams, covered with reinforced concrete, the lime hoppers of sheet steel, supported by steel columns and a 50-foot steel elevator, which was extolled as dust-proof, was to be installed.
On Dec. 18, 1922, the local columnist stated that, in the past week, five carloads of wood had arrived from Shallow Lake, a carload of steel for the new kiln and a carload of fire-brick.
Some coal was being burnt by January 1923, as five carloads of coal arrived in the first week of January. However, J. Berner was hauling wood to the kilns with two teams, also.
Steel girders for the extension of the coal dump had arrived by Jan. 29, 1923. When completed it was to measure 82 feet long, which would allow for placing two railway cars at once for unloading.
At this time, too, the first steel kiln, which had been erected by O. B. Ellis fifteen years previously, was removed. The Christieville correspondent wrote that, since that time, six new stone kilns had been added to the plant and three more were under construction and would be ready by early summer. Three carloads of fire-brick arrived in mid-February.
Three carloads of lime per day were leaving the plant in March. Another large new shed was roofed.
A carload of machinery for the new hydrater building arrived in late May 1923.
Workers from Hydro arrived in mid-June, preparing to run a line from Hespeler to the plant, work which they calculated would be accomplished in three weeks. The plant was to receive a line delivering 550 volts and it was probable that electric power would be made available to householders at Glen Christie before long. The postholes were all dug by July 9th; they waited for the poles for a week. The wiring was complete in the plant by Aug. 10th and some of the electric motors had arrived.
In August, too, the bricking of the community hall was finished and the roof was put on. Herman Knack was busy with lathe and plaster on a new house.
As well, Mr. Gordon, a Canadian National Railway official, called at the plant on August 9th to discuss the possibility of a flag station at the village.
Mr. Stevens and Sam Bennett were mentioned as employees of the plant at this time.
The hall was dedicated on Sunday, October 7, 1923. David D. Christie funded the construction of the red brick structure, furnished it with chairs and piano and handed it over to the people, free of encumbrance. Rev. Little of Toronto conducted the dedication service. Speakers were: Rev. Davidson, Moderator of the Guelph Presbytery; Rev. McAlpine of Hespeler; Rev. Anderson, Superintendent of the Leper Mission; Rev. Leigh, Rev. Small, Rev. Cober, Rev. Buell, Ensign Chambers of the Hespeler Salvation Army and Mr. D. D. Christie. The building was full to the doors, while many could not gain entrance. The choir of Chalmers Church of Guelph sang. Jean Gamble sang a solo. Mr. Christie's 90-year-old sister, Mrs. Allan of Galt was in attendance.
Church service was to be held on Sundays at 2, with Sabbath School following at 3. At a Sunday following in October, when Rev. Small conducted the service, over 100 people attended. In the years afterward, the hall became the centre of activities for the village. A number of marriages and two funerals took place in the Glen Christie Community Church.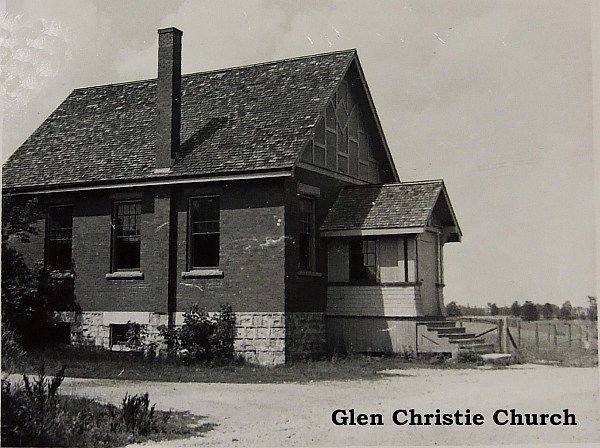 Mr. Reid, an engineer with Hydro, paid the plant a visit in late October. Four of the five electric motors had been tested and deemed satisfactory.
It was expected that work would be completed on new kilns by mid-November, which would total nine kilns available for operation.
The Sabbath School held its second annual concert on Wednesday evening, Dec. 19th, the first in what was now termed "the church". The building was filled to capacity, as the school expressed appreciation to Mr. Sheppard for his services in connection with the Sabbath School. Hilda Bagg read the address and Viola Cober presented a purse to him.
About 1924, the name of the new village changed from Christieville to Glen Christie. On March 24, 1924, David Darling Christie died of pulmonary congestion.
Approximately 125 people attended the Glen Christie Church picnic at Soper Park in June 1924. The church, which had been organized a year previously, now numbered 100 members. David Henderson of the company umpired a baseball game. "Enrico Baldram delighted the picnickers with selections on the accordion, on which he is an artist," wrote the columnist. As usual at these picnics, there were races but at this one, in acknowledgement of the number of Italian emigrants working at the plant and living in Glen Christie, "the Italian men's race" was on the slate of races and was won by J. Feruccio.
George Overholt purchased Les Stager's store at the lime kiln in June 1924. George and Melissa Overholt had resided in Glen Christie from 1902 and were proprietors of the store until his death in 1937.
Mr. McIntyre of the McGregor-McIntyre Steel Co. of Toronto visited the plant in January 1926, to discuss the erection of a new steel lime hopper. The interior of the old hydrate building was dismantled in preparation for installation of a new steel and concrete floor. Two truckloads of steel, weighing over eight tons, arrived from the McGregor-McIntyre Co. in March 1926, to complete a steel tower at the plant.
At the annual meeting of the Glen Christie Community Church, held in June 1926, Abe Habermehl was elected Sunday School Superintendent, replacing George Overholt, who had resigned. Miss Hilda Bagg was re-elected church organist and Miss Annie Gibson, Sunday School organist. Eli Gordier was re-elected secretary and Wellington Cober, treasurer. For the first ten years, Protestant ministers of all denominations from the Hespeler churches ministered to the congregation at Sunday evening services.
John Pelinskey was reported as employed by the company in 1926. A specialist in the repair of kilns, he was frequently sent to other plants for that purpose.
Wood was still being burned in the kilns in February 1927 and March 1928, as farmers from the surrounding vicinity were hauling it in by sleigh.
There were 73 in attendance at the Sabbath School in February 1927, its highest level to date. Mr. Whitcombe, a McMaster University student from Toronto was in charge of the church service.
A fire in the storage shed at the plant, spotted by the night watchman on a Friday evening in late May 1927, did damage of between $1,500. and $2,000. The Hespeler Fire Brigade and the employees of the plant fought the fire. A spark from the kilns was suspected as the likely cause. Within a week the debris had been cleared away and the building of a new steel and concrete structure was underway.
The McGregor-McIntyre Co. had finished the erection of the steel work by Aug. 11, 1927 and the A. Sweet Co. of Toronto was enclosing the structure with metal siding.
George Lockett, who had been employed at the plant, left in March 1928.
George Overholt had a quantity of material on his grounds in May 1928, as he was preparing to build an addition, to be used as a residence, to the rear of his store. Mr. Gingrich of Hespeler was the contractor and the work was completed at the end of July.
A great deal of alarm was precipitated around noon on May 16, 1928, when William Schmidt, who was in charge of dynamiting at the plant, was discovered to be absent. In the afternoon, a search party found his body in a bush some distance from the village. He had been killed by a dynamite explosion.
New seats were installed in the church in December 1928.
On April 15, 1929, the plant, along with the operations at Kelso, was purchased by the Canadian Gypsum, Lime and Alabastine Co., with head office in Paris, Ontario, along with the other Christie-Henderson quarry near Puslinch village. An article in the Galt Reporter on April 16, 1929 read:
"Since that date (1917), eight new stone kilns have been erected and the one small stone kiln was retained. This made a total of nine kilns, with the necessary other machinery to carry on the work, that was included in the transaction at Glen Christie.
During the past twelve or thirteen years, since the beginning instalment of the present plant, the increase in business and equipment has been steady. From present indications, it was stated this growth will probably continue under the new management and it is confidently expected that the next year will see further increase in the activities at the Glen Christie plant."
Mr. Mowat, an engineer with the Canadian National Railway, surveyed a new siding for the unloading of coal near the kilns in June 1929.
On Aug. 28, 1929, the Glen Christie correspondent noted the recent departure of Ferrucio Gaccomazzi and his family. A long-time employee of the plant, he moved to Guelph, where he had obtained another position. Mr. and Mrs. Eli Gordier were honoured by fifty friends and neighbours in October, prior to leaving for their new home in Galt, where Mr. Gordier had taken another job. Later, he farmed on concession 8 in Beverly Township for a while, later still, at R. R. #2, St. George, after which he re-located to Oxford, Michigan.
The Speed River flooded in February 1930 and the waters backed up into the quarry to a height of 40 feet, the highest on record. Considerable damage was caused to pumps and motors. Extra gangs of men worked night and day.
Mrs. Oleson wrote that, about 1930, Canadian Gypsum, Lime and Alabastine closed the company's plant in Elora, due to the effects of the Depression. Some of the families from the Elora plant were moved to Glen Christie. They were: Mr. and Mrs. Lorne Downs and family; Mr. and Mrs. W. Neely; Mr. and Mrs. Jack Mills; Mr. and Mrs. Tom McGrath; Mr. and Mrs. Jens Olesen; Mr. and Mrs. P. Scapinello; Mr. and Mrs. Tony Bertollo; Mr. and Mrs. Jack Powers. Jens and Clara Olesen and son, Ronald lived in the old farm house, where a daughter, Helen was born in 1935.
Tony Mendell was an employee in June 1932.
The superintendent, who followed Mr. Gordier, M. M. Miller remained only until November 1932, when he returned to his home in Toledo, Ohio.
M. Frasson and Louis Arpa were employed at the plant on June 6, 1935, when Mr. Arpa's 16-year-old son, John rescued Mr. Frasson's son, 3-year-old, Louis from the Speed River. Mr. and Mrs. Arpa, emigrants from Italy after World War I, also had a daughter, Enes, who was born in Glen Christie.
In 1937, George Overholt died. Harold and Eva Weir were storekeepers for one year. In 1938, George and Nellie Wilson became the proprietors of the Glen Christie store.
In August 1938, Sunday School was held at 10 a.m. at the Glen Christie Church. Fred Hutchings was in charge.
Jack Lloyd, employed at the plant, fell and was injured, while drilling at the quarry in August 1938.
A meeting was held on an evening in November 1939, to organize a branch of the Red Cross in the village. Guest speakers were: Mrs. Jean Gamble of Guelph; Mr. Hamilton, Campaign Manager of the Red Cross in Guelph; Mrs. Allen, President of the Red Cross in Guelph; and Mr. Barbaro, President of the Sons of Italy of Guelph. The officers appointed were: Mrs. Cecil Patmore, President; Mrs. M. Elliot, Vice-President; Mrs. William Armour, Secretary; Luigi Arpa, Treasurer. This branch continued to be very active throughout the Second World War.
The energetic Glen Christie Red Cross presented a concert in October 1940, which featured a play entitled, "Her Son's Sweetheart", with cast, Mrs. Brown, Mrs. Oelson, Eleanor Elliott, Marion Strycker, Olive Brown and Enes Arpa. The programme also included a drill by a group of little girls, Jean Brown, Lorraine Downs, Mary Ann McGrath, Rheta Arndt, Joyce Arndt and Mary Scapinello, dressed as Red Cross nurses. Jean Brown and Evelyn Lisso presented a dialogue. The orchestra, composed of John Molnar, John Arpa, Orlando and Gino Bertello, played several selections. Walter Holm was the chair. Proceeds were $30.00. During 1941, they raised $80.00 by putting on a garden party. Serving on the entertainment committee were: Miss B. Beattie, Mrs. L. Downs and Mrs. Archie Bagg.
At the same time, they were very busy producing supplies for war relief. Serving on the work committee were Mrs. C. Oleson and Mrs. A. Lisso. Between Oct. 1, 1940 and Oct. 1, 1941, the Glen Christie Red Cross completed the following remarkable amount of work: 12 quilts, 1 wool blanket, 10 girl's dressing gowns, 10 wool skirts, 6 wool sweaters, 25 boy's windbreakers, 2 pair mitts, 2 mats, 58 pair socks, 10 pair of 2-way mitts, 9 v-neck sweaters, 1 pair broadcast mitts, 30 scarves, 18 pair seaboot socks, 3 pair seamen's socks, 21 pair seamen's mitts, 1 turtleneck sweater.
The senior boys of S. S. No. 12 (Glen Christie School), Ronnie Lynch, Reno Goegan, Edo Scapinello, Howard Lisso, Harold Barron, Allan Galbraith, Clark Galbraith and Lloyd Clark, sang on the Kitchener radio station on a Saturday afternoon in November 1941.
The Glen Christie Farm Forum was formed at a meeting on Monday evening, Jan. 26, 1942 at Mr. and Mrs. Irvin Bechtel's. This group frequently held joint meetings with the Maple Grove Farm Forum.
Fred Walter Johnson, age 62, night watchman at the lime kiln died suddenly, while at work on Monday, April 2, 1945.
Street lighting was installed at the plant in April 1945.
Ross Warne was Superintendent of Glen Christie Sunday School in August 1945 and Clarence Habermehl was Assistant Superintendent. In December, Mrs. Harry Oleson was elected secretary-treasurer for 1946. On the Sunday School Committee were: Mrs. H. Strycker, Mrs. Merrill and Ronald Oleson.
Emerson and Odell Kerr came from Milverton to run the Glen Christie store, which they did until 1975.
On Aug. 22, 1946, steel frames were being erected for a tram to run from the quarry to a new gas-heated kiln, which was to be built. This was an innovation at the plant.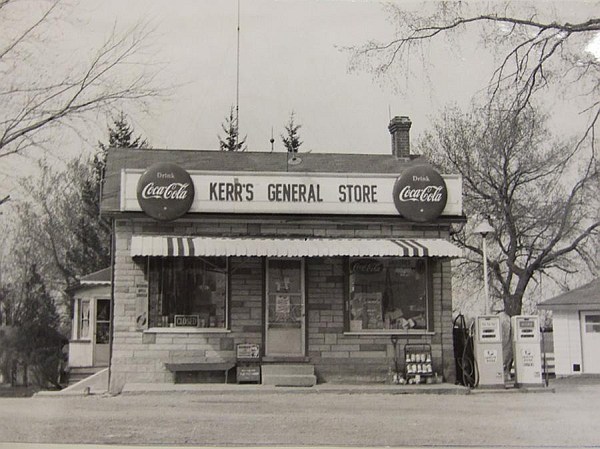 Photograph from the Jubilee Women's Institute Tweedsmuir Book.
Twenty-seven enthusiastic ladies met in the Glen Christie Sunday School room to form the Jubilee Women's Institute on May 28, 1947. The name "Jubilee" was chosen because 1947 was the 50th anniversary of the Women's Institutes. They planned to meet on the 1st Wednesday of each month. The first president was Mrs. H. Mollison and the first secretary-treasurer was Mrs. E. Frank. This group continued to meet in the Sunday School hall as long as Glen Christie existed and even afterwards for some time, made attempts to meet in member's homes.
Three new houses had been erected in Glen Christie within the year and in Oct. 19, 1947, excavations were in progress for the building of four new duplexes for employees of the plant.
An industrial safety film was shown to the fifty personnel and workers of the plant in the Glen Christie Sunday School Hall in Nov. 1947. Lunch was served afterwards by Glen Christie's Jubilee Women's Institute.
The Sunday School room was painted in the week of Feb. 7, 1948. The recent annual meeting showed a successful year, with good attendance. Ross Warne was Superintendent and Mrs. H. Mollison was Secretary-Treasurer. Mrs. W. Oleson was pianist. Directors were Mrs. E. Hinds, Mrs. H. Mollison, R. Oleson and Arthur Hinds. Teachers were: Adult class, R. Warne; Young men's class, G. Moran; Intermediate class, Mrs. W. Oleson; Primary class, Mrs. H. Strycker.
Mrs. Jean Gamble of Guelph, retaining her interest in the village created by her father, showed several films in the Sunday School room on a Friday evening in May 1948, including one of the royal wedding of Princess Elizabeth and Prince Philip.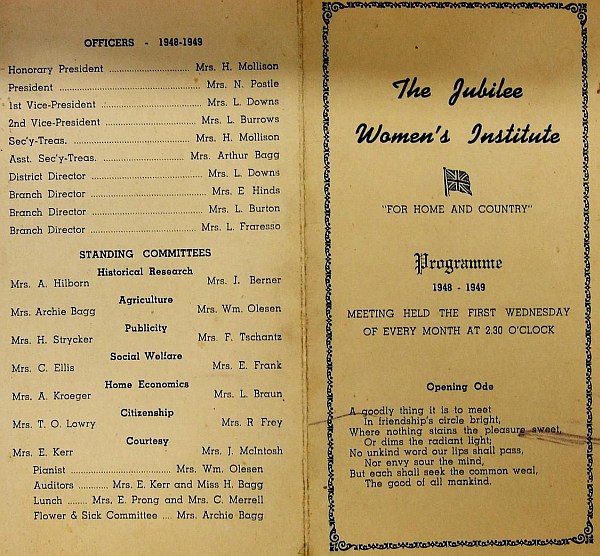 Mrs. Olesen recorded that during 1947/48, eight duplexes and one single family dwelling were added to the community, with tenants, Mr. and Mrs. Jack Robinson, Mrs. and Mrs. Arnold McDonald, Mr. and Mrs. Roy Male, Mr. and Mrs. Harry Shidie, Mr. and Mrs. Karl Heimbecher and Mr. and Mrs. Cal Cerson.
In October 1948, Calvin Cerson lost a finger in an accident at the plant. George Wilson, who had owned and operated the store at Glen Christie for many years, until not long previously, died at Georgetown, Ontario in November 1948.
A series of four lectures on the topic "Living Together in the Family" was presented in the Sunday School room by Miss I. H. McBride of the Women's Institute Branch of the Department of Agriculture, in the fall of 1948 and continuing into 1949.
Glen Christie received what was reported to be Canada's first "postal outlet" in January 1950. It was called a "postal agency" at the time. Thirty-five families got green boxes with keys, which were placed in front of Mr. Kerr's store. Mr. Kerr sold stamps, money orders and handled parcels within the store. Ford Tremain, who delivered the mail to the rural route in the area, also delivered the mail to the new green boxes.
By 1950, there were Scout and Guide groups in the area.
The Glen Christie correspondent reported a good attendance at the Sunday School on March 12, 1951. Mrs. L. Johnston was appointed secretary-treasurer at a recent meeting. Mrs. E. Hinds was teaching the primary class; Arthur Hinds, the junior boys; Mrs. W. Oleson, the junior girls; Mr. Granville Moran, the senior boys; and Ross Warne of Hespeler, the adult class. A family night service was held on a Thursday evening in April 1951, conducted by Blake Hunt, to the accompaniment of music from the accordion. During this time, Mrs. Oleson and Mrs. Hinds were holding weekly Bible classes for the children on Tuesday evenings at the Sunday School hall.
The Sunday School held its annual picnic in July 1952, at Willow Lake at Doon, where the children enjoyed races and contests, swimming and picnic lunch. On Labour Day 1952, the employees of the Gypsum, Lime and Alabastine plant held a picnic at River Bend Camp in Puslinch. A large crowd participated in races, ball games, horseshoe pitching, with a plentiful supply of pop and ice cream at the picnic lunch.
The Downham Nursery Landscaping firm sponsored a guest speaker, Miss Elisabeth Jansen of Kitchener, whose topic was "Woman's Place in the First Half of the 20th Century", on Friday evening, Jan. 15, 1954 at the Sunday School room.
Anniversary services were held at the Sunday School on Sun., Oct. 24. Rev. Merle Shantz of the Wanner Mennonite Church at Beaverdale was guest minister. At this time, renovations to the basement of the building were in progress and a new roof was recently put on.
Early in the morning of April 16, 1956, a collision occurred between a Canadian National Railway passenger train and a transport truck at Glen Christie, blanketing the scene with lime. Puslinch resident, Fred Bond, a driver for Wood's Transport, died in hospital as a result.
The children of Glen Christie attended S. S. #12, School. According to Annals of Puslinch, 1850-1950, a frame schoolhouse was constructed in School Section #12 on lot 11, concession 4 in 1847. The next schoolhouse was a one-room stone structure, similar to the Killean Schoolhouse, built in 1854 on the south-west corner of lot 5, rear concession 4, the David Strome farm, by the Rudell Brothers of Berlin.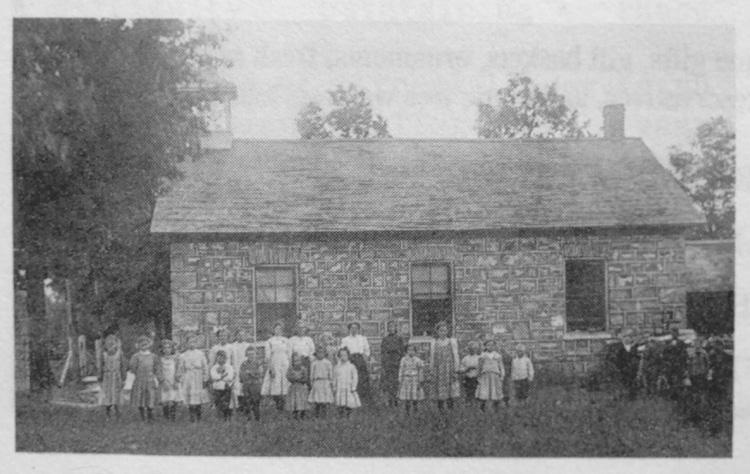 S. S. #12, Glen Christie School.
By June 1956, the old school was dilapidated and crowded with 51 pupils from the surrounding farms, as well as the village. The trustees of the #12 Board, Archie Love, Stan Harnack and Robert L. Chester, advertised for tenders to build a new two-room school. However, before the new school could be completed, conditions at the old school came to the attention of the County Medical Officer of Health, Dr. B. T. Dale, who condemned it, as not fit for habitation, on Nov. 25, 1956. The final straw seemed to have been that the toilet was blocked and children were walking a quarter of a mile to a neighbouring farmhouse to use the facilities. As well, two teachers were teaching simultaneously in the one dark schoolroom, the door was patched with plywood, windows were broken and stuffed with rags and the furnace was emitting fumes into the classroom and heating inadequately, such that students wore coats, scarves and boots in class.
After a closure of three days, the trustees were able to agree to Dr. Dale's specifications for changes to the old building and classes continued there until the new school opened 30 yards away in January 1957. The yellow brick, 2,500 square foot, single storey building cost $30,000. It was equipped with an oil furnace and featured a huge window on the east wall, fluorescent lights, tile floors, a moveable partition between classrooms and three washrooms.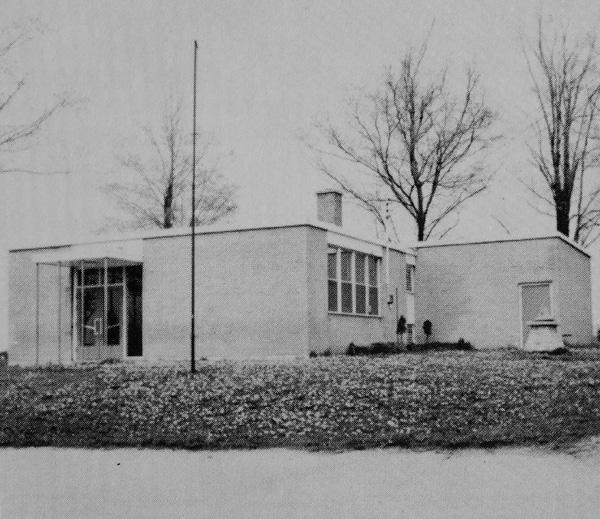 The yellow brick school in School Section #12.
Photograph from Annals of Puslinch 1950-1967.
The official opening was held on Friday evening, March 22, 1957. The Reeve of Puslinch, James McCaig was chairman and among the attending dignitaries were Henry Hosking, M.P. for Wellington South; Harry Worton, M.P.P.; William A. Walker, Warden of Wellington County; Robert W. Cripps, the architect, of the firm, Weir and Cripps; and Dr. Dale. Guest speaker was E. I. McLoughry, Director of Extension Liaison at the Ontario Agricultural College.
This new school was closed eleven years later, sold and converted to a residence in 1968, during the era when all small rural schools in Puslinch Township were being closed.
In 1957, Clara Olesen noted that the lime kiln employed about 100 men. She went on to state:
"Many and varied are the people, who have lived and worked in Glen Christie. I have known them from England, Ireland, Germany, Belgium, Scotland, Isle of Man, Italy, Poland, Denmark, not to forget Laura from Cuba and Angus Pine, who was an American Indian, as fine a worker as the place has ever known."
Robert Chester, Stan Harnack and Alex McKittrick formed a delegation to Puslinch Township Council on Oct. 3, 1959 to request the township's financial assistance to transport fifteen pupils from Glen Christie village to S. S. #12 School. The company had closed the road through its property to the public and students could no longer walk to school.
Mrs. Oleson reported that the plant was sold to Domtar in 1960. By April 1962, the company employed over 100 men and wanted to extend its quarries. The village of Glen Christie was in the way. Already, they were excavating between Highway 24 and the Canadian National Railway right of way.
The village, including the Sunday School building, was slated for demolition by the company. The final service in the Sunday School was held on a Sunday, April 8, 1962, with a commemorative dinner following. On Wednesday, the Jubilee Women's Institute held an anniversary service in the building, the final activity to take place there. Twenty-two homes, most of which had been occupied by employees of the company, were demolished and the workers and their families moved to Guelph and Hespeler. The industry, which created the village of Glen Christie, also destroyed it.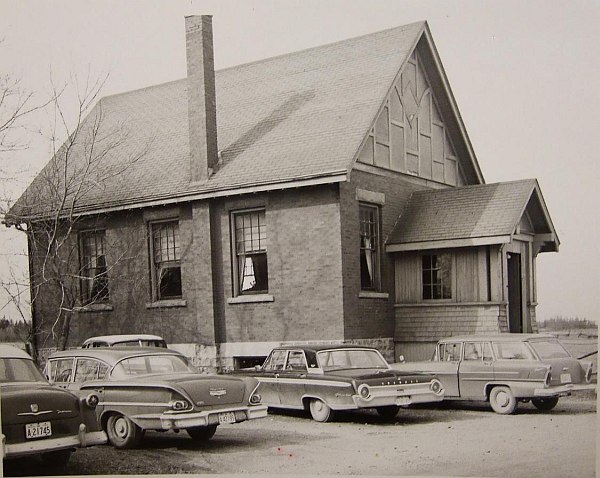 Photograph from the Jubilee Women's Institute Tweedsmuir Book.
Still, according to Annals of Puslinch, 1950-1967, Domtar Chemicals Ltd. employed 60 people in 1967. Domtar closed the plant in 1980. In March 1984, Guelph Dolime was issued a license to operate the quarry. Dolime was a subsidiary of Beachvilime Ltd., which was a subsidiary of Dofasco.