Puslinch Remembered: Dr. Neil McPhatter
Dr. Neil McPhatter
by Marjorie Clark
"Who knows what beautiful and winged life, whose egg has been buried for ages under many concentric layers of woodenness in the dead dry life of society, deposited at first in the alburnum of the green and living tree, which has been gradually converted into the semblance of its well-seasoned tomb, – heard perchance gnawing out now for years by the astonished family of man, as they sat round the festive board – may unexpectedly come forth from amidst society's most trivial and handselled furniture, to enjoy its perfect summer life at last!" – Walden, Henry David Thoreau.
Matthew McPhatter and his wife, Jean Ramsay emigrated here with their parents and siblings as young people and participated in the opening of this township for settlement. Neil McPhatter was born in Puslinch on Aug. 10, 1859, the sixth of their twelve children. Neil attended Killean School in Puslinch and then being obviously gifted with intelligence, the Rockwood Academy. He obtained an M.D. and C.M. from Trinity College of the University of Toronto. During 1881, he was a medical assistant in Falkirk, Scotland, emerging with more credentials.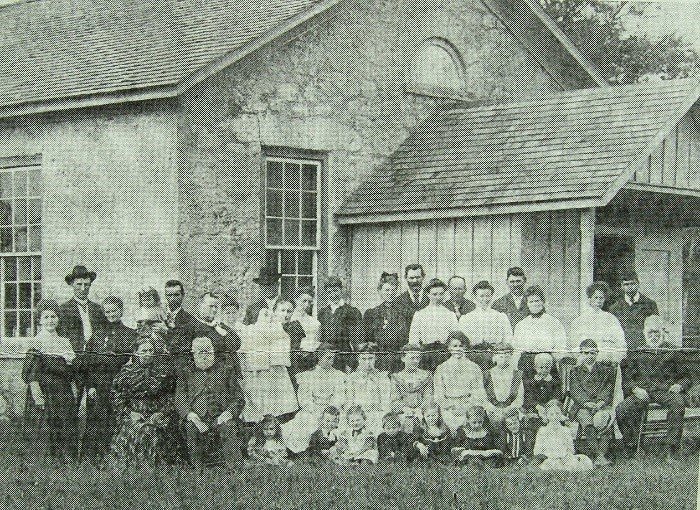 The Killean School. The gathering is the Killean Sunday School, which met in the school. The children would be the children who attended Killean School. No year known but judging by the clothing, I would guess c.1890 – Marjorie Clark.
Upon return, he set up his practice in Guelph. The newspaper of June 14, 1882 contained the following notice:
"N. McPhatter, M.D., C.M., F.T.M.S., M.C.P.S.O., L.R.C.P., L.M. Edinburgh, L.F.P.S., Glasgow
Office in rear of Smith's Drug Store, Highbotham's Block, Macdonnell St., Guelph."
Having established himself, he married Maude Mary Graham, daughter of James & Susan Graham of Barrie on Sept. 30, 1884 in Aurora, ON. Tragically, Maude died from shock after surgery on May 8, 1888.
Following this sad calamity, he set off for England on Sept. 14, 1888, where he spent seven months in the study of abdominal surgery with Dr. Lawrence Tait of Birmingham, whose acquaintanceship he had made at the International Congress at Washington in 1887. While there, he visited the leading surgical institutions, returning on Apr. 27, 1889.
He did not come back to Guelph but held a position as Professor of Gynaecology at the State University of Colorado. In 1891, his earnings for the year were reported to be $20,000.
On Sept. 24, 1890, he visited in Guelph and Puslinch after a two-year absence. Always pursuing more knowledge in his field, on July 16, 1892, he visited his home on his way back to Denver from a three-month tour of hospitals in Europe. Again, after visiting in Guelph, he left for Denver on Sept. 24, 1894. Dr. McPhatter always remembered his roots in Puslinch and his friends in Guelph, including J. Innes McIntosh, owner of the Guelph Mercury in 1906, with whom he had attended the Rockwood Academy, regaling them with anecdotes and stories. An article which featured him, published in The Caledonian in 1908, stated that he visited here yearly.
In July 1897, he was reported to be on the staff of the Post Graduate College and Hospital of New York City. It is then, that his life took another turn, when he married Bertha Hammond, daughter of George A. Hammond, a silk manufacturer, who employed 125 in a large three-story building in Putnan, Connecticut. Their elaborate wedding ceremony was described in the Worcester Daily Spy of Massachusetts, September 17th:
"The marriage of Miss Bertha Elizabeth Hammond, daughter of George A. Hammond to Dr. Neil McPhatter took place here Thursday afternoon at the residence of the bride's parents on Oak Hill. It was the social event of the season and many out of town guests were present. The ceremony was performed by Rev. F. D. Sargent under a canopy of pink satin and white asters. Two little maids dressed in pink led the bridal march scattering roses. They were followed by Miss Louise Burch of Utica, NY, the maid of honour and then came the bride and groom. Following the ceremony came an elaborate wedding breakfast, served by Delmonico of New York and the Amphion Orchestra of Boston was in attendance. The bride's gown was an imported creation of ivory satin with a square yoke of muslin de soie trimmed with a deep ruffle of point appliqué lace. She carried a bouquet of lilies of the valley and her veil of point appliqué was held by a cornet of the same flowers. The couple left in the afternoon for an extended bridal trip. Among the expensive wedding presents was an exquisite diamond necklace, the gift of the groom. They will reside in Denver."
By 1899, Dr. McPhatter had relocated his practice to New York City, having only recently returned again from Edinburgh. He was resident in the Windsor Hotel at 575 Firth Ave., Manhattan on the afternoon of March 17, 1899 when, during the St. Patrick's Day Parade, the seven-storey building burned to the ground, leaving an undetermined number of people dead, some unidentified and many suffering from burns and broken bones. Dr. McPhatter suffered a fractured leg, while saving the lives of two women by lowering them by a rope, which served as a fire escape, from the window and was only able to resume his practice in July.
According to a Mercury article of July 23, 1899, he was "recognized as one of the ablest surgeons in America". A daughter, Janet McPhatter, was born to the couple in October 1899 in Connecticut. However, more crushing blows to his personal life followed, as his baby daughter died in May 1901 in Putnam, Connecticut and his wife, Bertha died in Oct. 1901. Both were buried in the Grove Street Cemetery in Putnam.
In September 1902, newspapers carried the story of a remarkable operation, which he conducted to remove a growth from the jugular vein. By Aug. 17, 1906, Dr. McPhatter was devoted exclusively to performing surgery and he was regarded as professionally eminent.
He occupied his spare time with the activities of the New York branch of the Canadian Club. He had been President of Canadian Club for the previous three years, when he was given a surprise dinner at Reisenwabers by member of the club on June 26, 1907 and presented with an engraved silver cup. This was followed by songs, the playing of bagpipes and the making of speeches.
A sketch, published in the magazine, The Caledonian on Feb. 5, 1908, noted that he was still President of the Canadian Club. He was described as prominent socially and professionally in New York, in great demand as an after dinner speaker at special functions, being quite eloquent, possessing a magnetic personality and as popular with both members of his profession and his patients.
In 1908, he married for a third time, to Sara Holt, daughter of John Holt, owner of the Providence Rubber Company of Pawtucket, Rhode Island and they were blessed with a daughter, Jean Ramsay McPhatter, born about 1910 in New York.
In search of a healthier climate in which to raise his daughter, the family had moved to Calgary by 1913. They lived at 338 14th Ave. West during 1916-1921. In an article from the Ottawa Journal of Aug. 21, 1913, Neil McPhatter, at age 54, was "a large man, with a shock of light hair, a determined mouth and piercing, blue eyes".
Sara died in 1923 and Dr. Neil McPhatter died on Oct. 8, 1928 at 2 Argyle Court, Calgary. They were buried in Burnsland Cemetery in Calgary.
This was an original article written for PuslinchToday by Marjorie Clark. We are so grateful the citizens of Puslinch like Marjorie that volunteer their time to produce such wonderful content for all of us to enjoy and help us to remember. Thank you Marjorie!

-Kevin