History Corner: Malcolm McCormick
Malcolm McCormick died on Friday, June 10, 1932, at the home of his sister, Mary McNaughton in Guelph, at the age of 77 years. Prominent in educational circles in Guelph, he was widely known as a man of exceptional attainments.

Malcolm McCormick was a native of Puslinch Township, born on August 29, 1854, the eighth child of ten, to William McCormick and Betty McMillan. His parents emigrated from Argyllshire, Scotland in 1841 and were among the original settlers of the district. He spent his boyhood in Puslinch, where his desire for knowledge manifested itself early. He was one of the most eager readers of the Crieff School Library, borrowing 18 books in a six month period at the age of 13.
Malcolm attended Crieff School and received his secondary education at the Galt Collegiate, under the guidance of Dr. Tassie, one of the most noted teachers of that time. Later, he graduated with his B. A. from Queen's University, Kingston.
He took up the teaching profession and held positions in Belleville, Kingston and Poughkeepsie, NY, among others.
In 1884, he opened the Guelph Business College and conducted that institution for thirty years. The 2nd Annual Circular and Catalogue of the school, now held in the archives of the Guelph Civic Museum, gives the Guelph Business College motto as "Les Affaires Font Les Hommes" or "Business Makes the Man".
He was the founder of the Canadian Club, which was formed in Guelph in 1888. The purpose of the club was stated as: to study the history, literature, art, music and natural resources of Canada; the recognition of Canadian worth and talent; and the fostering of patriotic Canadian sentiment.
Malcolm McCormick was also a poet and his ode to Puslinch Lake provoked a poem in response from Donald McCaig, another Puslinch native, educator and poet.
Puslinch Lake
(on revisiting after the lapse of years)
Aye, once again, O silent, sylvan lake,

I stand upon thy verdant, wave-splashed shore;

And cherished memories within me wake

As I recall halcyon days of yore.
Oft have my willing footsteps hither strayed,

Ere yet the glow of boyhood's days had fled,

Ere yet the dreams of youth were rudely frayed,

Or loved companions numbered with the dead.
How fair the morn when, from yon eastern hill.

Thy waters greeted first my wond'ring sight;

Thy radiant beauty made my bosom thrill,

With the pulsations of a new delight.
The western breeze upon the ripples played,

That gaily sparkled on thy bosom fair,

Thy island woods their graceful branches swayed,

And scattered fragrance on the morning air.
With eager hands we pushed the boat from shore,

That waiting lay upon the pebbly beach,

My comrades twain took each a willing oar,

And forth we sped, the island shades to reach.
In merry converse sped the happy hours;

No voice save Nature's mingled with our own;

A joy that knows no touch of care was ours;

Ah, why have boyhood's hours so quickly flown?
But now the scene is changed, O sylvan lake,

And stately mansions sentinel thy shore;

Amid thy woods the slumbering echoes wake,

Responsive to the steamer's sullen roar.
"Tis evening, and o'er on same eastern hill

The rounded moon comes slowly into view;

Her mellow splendour falling calm and still,

Bedecks with myriad gems the water blue.
Dear are the scenes of childhood to the heart:

Deep their impressions stamped upon the mind;

Though earth's wide orb their presence from us part,

Fond mem'ry paints them still with pencil kind.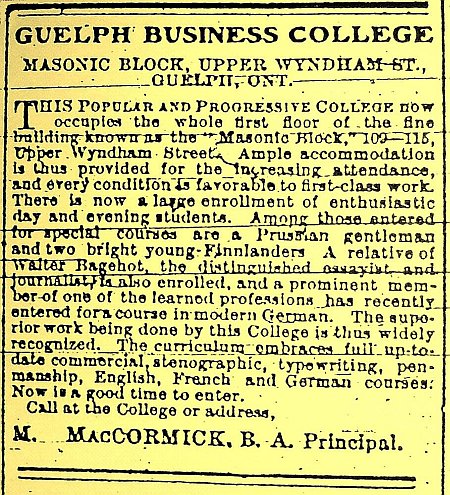 On August 9, 1893, Malcolm married Helen Anderson.
Of a sensitive nature and perhaps overworked, in 1914, he suffered a nervous breakdown. He sold his interests in the Guelph Business College with the intention to retire. He lived in Puslinch Township for several years, after which, in 1921, he operated another business college at 17 River Road in Welland, Ontario. Then, in an effort to improve his health, he moved to the west.
While in Edmonton, where he resided for about five years, he conducted private lessons in languages, of which he spoke seven. One of these was undoubtedly the Highland Scottish Gaelic of his forefathers, which he would have learned from his parents, who likely spoke it in their home, and the others probably the classical Latin and Greek, French, Italian and Spanish. After this, he lived for a short time in Vancouver.
In his later years, he took up residence with his sister, Barbara Campbell, at Dorchester Station, near London, Ontario. Then, for a few months before his death, with another sister, Mary McNaughton in Guelph.
His funeral was held at Mary McNaughton's home, 168 Waterloo Ave. in Guelph on Sunday, June 12th, with burial in Killean Cemetery. There was a large attendance of the citizenry of Puslinch, as well as friends and relatives from Guelph, Galt, Orangeville, Toronto, Hillsburgh and Clyde. It was the passing of an accomplished man.
– Marjorie Clark