History Corner: Donald McCaig
Donald McCaig
Poet, Teacher, Administrator
By: Marjorie Clark
When Malcolm McCormick, Principal of the Guelph Business College and native of Puslinch, wrote a poem entitled "Puslinch Lake" [click here to view] about 1884, Donald McCaig, also a Puslinch native, and Inspector of Public Schools for Algoma and Parry Sound, was inspired to write a poem in reply.
To the Puslinch Lake Poet
Dear Poet of the Puslinch Lake,

You beat through mem'ry's glades and dells;

And gather from each shady brake,

Some rare sweet flowers, – Heart Immortelles.
But as you back in mem'ry stray,

O'er silent years like moments fled;

You find her Album leaves are grey,

With ashes of her buried dead.
My mem'ry too has held her wake,

O'er empty shrouds of morning haze;

And doubting stands, what path to take

Along life's dim forgotten blaze. (a)
For it is now so long ago

Since I youth's thoughtless paths have trod;

That I must up the current row

Than you a longer, rougher road.


… Click to display the rest of the poem …
As he was inclined to do, Donald included an explanation of some possibly unfamiliar terms in his poem:
(a) A gash on the trees, by which travellers found their way through the bush in early times.
(b) Mr. Holmes built a large boat between 30 and 40 years ago to navigate Puslinch Lake but she proved a failure.
(c) About 35 years ago the manufacture of whisky from potatoes became quite an industry about Preston and farmers of that day, who thought it necessary to have a drop of the pure quill in their houses, were wont to start in the morning with their grist of potatoes and return in the evening with a supply of the vile stuff. But these were not the days of protection and Jacob Hespeler's efforts in the "old rye" line killed the potato adventure.
(d) Tuns and butts are historic units of volume measurement for wine or oil or honey. A butt was ½ a tun.
This poem was included in his book, "Milestone, Moods and Memories", a compilation of his poetry, which was published in 1894 and was for purchase locally at the Morriston Post Office in March of that year.
He had been writing poems and articles for some time. He contributed to many periodicals and magazines, among them "Canadian Magazine". His poem, "Moods of Burns" was awarded a medal from the Caledonian Society of Toronto in January 1885.
Famed British economist and philosopher, John Stuart Mill (1806-1873) wrote "The Subjection of Women", which was published in 1869. In 1870, the J. P. Lippencott & Company of Philadelphia published Donald McCaig's 240-page book, "Reply to John Stuart Mill on the Subjection of Women", which garnered him international attention. As well, he gave lectures around the area.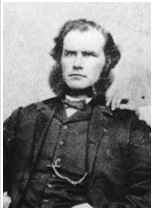 This poet and writer, Donald McCaig was born in Cape Breton on May 15, 1832 to Highland Scottish natives, James McCaig (c.1800-1879) and Catherine Taylor (c.1803-1872), who emigrated from Scotland to River Dinis in Cape Breton, Nova Scotia in 1831. The family arrived in Hamilton, Ontario in July 1836, then moved to Waterdown, Ontario in December 1836 and settled on lot 18, concession 2, Puslinch in May 1840.
There were no schools in the 3rd concession of Puslinch in 1840. As he grew older, his labour was needed on the farm. In his early years, Donald learned to read but not to write. Eventually, a log school was built in the section. He thirsted for knowledge and read extensively in poetry, literature, metaphysics and theology. He managed to obtain enough education to become a teacher at S. S. #14 in Waterloo Township in 1856. He left this position to attend Toronto Normal School, a college for training teachers.
He graduated from Toronto Normal School with high honours in 1858. Following this, he taught school at Perrytown in Durham County in 1859, in Erin Township in 1861 and possibly other Wellington County schools. At some point, he also taught in Ottawa.
About 1865, with Alexander McMillan (c.1838-July 1, 1902), he took over the Rockwood Academy in Rockwood, Eramosa Township, Ontario from its founder. William Wetherald had opened that private secondary school about 1850.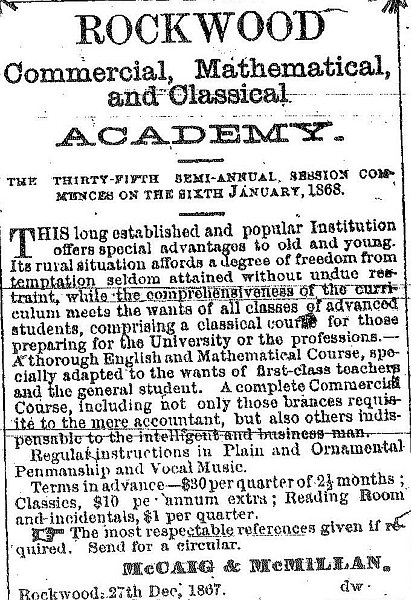 Six years later, Donald sold his share in the academy to Alex McMillan. Alexander McMillan continued to administer the Rockwood Academy until 1881, when the government began to fund secondary schools.
In 1871, Donald McCaig became Principal of Central School in the town of Berlin, Ontario, now called Kitchener, and he remained there throughout 1872. He moved to become Principal at Galt Central School from 1873 to 1876 for larger remuneration. After this, he spent a few years farming.
Donald McCaig was certainly a respected man. According to his obituary in the Collingwood Enterprise-Bulletin, he was an honest, straightforward and determined man, with a strong love of nature. His poetry does betray a passionate spirit. The Berlin Telegraph described him as "a gentleman of culture and possesses in a high degree qualities which render him an eminently successful teacher". The Galt Public School Board wrote of him in April 1878, "not only were you highly regarded professionally but as an individual and member of society. Your frank and genial disposition and your earnestness and integrity of character won for you the esteem and respect of the community at large". At one point, he was offered a situation at the Guelph Agricultural College but declined.
In 1886, he was appointed Inspector of Public Schools for Algoma and Parry Sound. His mandate covered an extensive territory from North Bay and Sudbury west to the Manitoba border and included Manitoulin Island. Northern Ontario was open for lumbering and for settlement about 1872 but the building of roads had scarcely begun and schools were few. He lived in Collingwood and, in the early years, traversed the distances to visit the 118 schools, with 127 teachers, under his care by canoe in the spring and fall and by dog sled in winter.
Donald McCaig called the teachers under his auspices together to create the Teachers Association of Algoma, Division 2 in July 1887.
His personal life, too, was full. He married Helen "Ellen" Smith (c.1843-Oct. 17, 1918), the daughter of Puslinch settlers in the same section, Alexander Smith and Mary Beattie, on March 16, 1860.
They had ten children. Mary Taylor McCaig (May 12, 1862-March 17, 1936) was single. James Albert McCaig (June 1863-Dec. 24, 1864) died in infancy. James McCaig, (Apr. 25, 1865-Oct. 8, 1921) became a teacher in Alberta. Christina McCaig, (Jan. 1869-Apr. 7, 1895) died from tuberculosis. Alexander McCaig, (Feb. 23, 1871-July 3, 1941) became a medical doctor in Sault Ste. Marie, Ontario. Helen Armstrong "Ellen" McCaig (March 3, 1875-Oct. 9, 1951), lived in Portage La Prairie, Manitoba. Catherine McCaig was born on Apr. 18, 1877. Ada McCaig (Aug. 2, 1878-June 25, 1915) married Charles Ramsay and lived in San Diego. She died in North Bay, Ontario. Donald Spencer McCaig (Oct. 6, 1879-Oct. 3, 1918), was a customs agent in Lethbridge. He was killed in World War I and buried in Damascus, Syria. Margaret Armstrong McCaig (Nov. 30, 1881-Sept. 3, 1951) was single. Isabella Beatrice "Beattie" McCaig (b. Sept. 20, 1887) married Roy Douglas and lived in Alberta.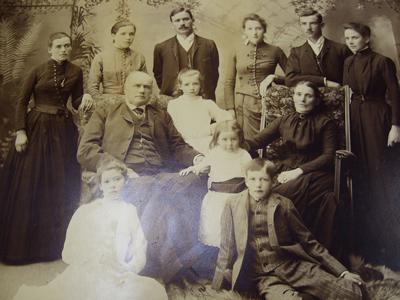 In the preface to Milestones, Moods and Memories, Donald McCaig wrote, "when I sleep, I think I would prefer doing so on some gentle hill, with the maples and pines waving over me, to resting beneath the proudest monument. But, in any case, I pray that neither warmest friend nor worst enemy will do me the dishonour of placing over me in iron, marble or in brass, 'Born May 15, 1832, died ____'. If this be all, not for mercy's sake."
Donald McCaig need not have feared anonymity, for we are still reciting his successes and reading his poetry in 2016. He died on July 28, 1905, at his home on Hurontario St. in Collingwood.