History Corner: Puslinch's Squire Leslie
Known in Puslinch and environs as Squire Leslie, squire being an old English term of respect for a country gentleman, William H. Leslie died on December 1, 1884 and was buried in Crown Cemetery. His funeral was very large, with 150 buggies from all parts of the township in the procession to Crown Cemetery.
Captain William Wade Leslie, born c.1796, of Hollybrook, Fermanagh, Ireland attended military school in Enniskillen and became an officer in the British military. He fought at the Battle of Waterloo. While there, William Wade and Louise Lavigne LaSashe's son William Henry Leslie was born on March 16, 1816 in St. Omer, France. Six more children were born to them after their return to Ireland, William George, Jane, Mary, Henry, John and Peter.
As a reward for distinguished service, Captain William Wade Leslie was granted a tract of land in Puslinch, as were several other soldiers, 397 acres of wooded wilderness, lot 37 in the Gore. Captain Leslie, however, was one of only two to actually settle on his land.
Captain Leslie and his family arrived about 1832. He was resident in Puslinch for four years, when his uncle died in Ireland, leaving him heir to his property. Captain Leslie returned to Ireland to dispose of the property there. On his return, he embarked from Liverpool on Sunday, Feb. 5, 1837 on the Jane and Margaret. The ship was wrecked off the coast of Wicklow County, Ireland on Feb. 17, 1837. All passengers perished and William Wade Leslie's estate settlement was lost with him at sea. His son, William, at 21, was left heir to the land in Puslinch, to clear the land and head the family. Captain Leslie's wife, Louise, died in 1838. Finding herself with the responsibility of raising seven children in primitive conditions when compared with her home country, France, family lore says Louise died of a broken heart within a year of her husband's death.

Of the children of William Wade and Louise Leslie, George (born c.1820) and Henry (born c.1827) settled in Beverly Township; Peter (born c.1830) went to Egremont Township, Grey County, Ontario; John (born c.1829) settled in Owen Sound, Ontario; Mary married Joseph Black and lived in West Flamborough Township; and Jane married Andrew Wise and lived in Beverly Township, Wentworth County. Only William remained in Puslinch.
In 1838, William Leslie married Jane Gordon (1828-1901), daughter of Captain and Sarah Gordon of Hamilton. They had a family of twelve, all of whom grew to adulthood, a feat in itself in those early days.
Their children were: Louisa Jane (1845-1921), who married John MacDonald; Cecilia Marie (1847-1931), who married Rev. Richard Harrison and lived in New York; Adelaide Victoria (1849-1931), who married William Ironside; William Gordon (1851-1933), who lived in Guelph; Henry Thurtell (1853-1917) became a clergyman and lived in Winnipeg; Sarah Annie (1855-1932) married William Coulter and lived in Toronto; Letitia Emma (1857-1942) married 1st Dr. Richard Orton, 2nd James Ross; Theresa Lavine (1859-1917) married Albert Pentecost and lived in Toronto; Herbert Wade (1861-1931) lived in Walkerton; Vivian Blayney (1864-1920) lived in Hamilton; Viola Josephine married 1st Donald McLean of Badenoch, 2nd Robert Bark; Clara Evelyn (1870-1902) married George Greer.
Appointed postmaster on Sept. 9, 1847, William Leslie opened the first post office in Puslinch on Jan. 6, 1850. He was Postmaster until his death.
William Leslie opened a general store in Puslinch about 1854. John Angus McDonald, who was employed as a clerk in the store, married William Leslie's eldest daughter, Louise Jane Leslie and inherited the store at William Leslie's death. This advertisement appeared in the Guelph newspaper on Friday, January 31, 1868: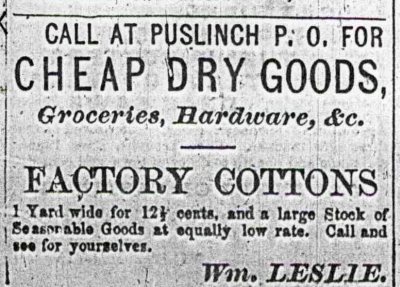 The Leslie store was a large emporium type of structure, which was taken down when the overpass for Highway 6 was built over the C.P.R. tracks at Puslinch Station. John and Louisa McDonald continued operating a smaller store on Highway 6, south of the train track, as did their son, Clarence MacDonald and grandson, Winston MacDonald, after them.
William Leslie organized the first militia in the township and was prominent in the militia in Puslinch. He served in the Rebellion of 1837. He was promoted from captain to major on Nov. 20, 1862 and to lieutenant-colonel on Apr. 1, 1881.
He was appointed a Justice of the Peace. He was one of the first two men to represent Puslinch on the Gore District Council in 1842, the only local political body at the time. He was elected to Puslinch Council in 1851-1853 and served as Reeve of Puslinch from 1859-1867 and again from 1869-1881. The interruption of one year was due to controversy over the construction of the 1867 Township Hall in Aberfoyle. William was Warden of Wellington County in 1865. He was also a Division Court Clerk. In 1867, he stood as a Conservative for a seat in the Ontario Legislature.
On his retirement as Reeve, he was fêted at a supper in the Aberfoyle Hall on Jan. 20, 1882 and presented with a gold watch and purse.
William Leslie perceived the advantage of a railway in Puslinch. He gave the Credit Valley Railway free land and right-of-way through his property on the promise, that the station to be established here would be named Leslie Station. As it happened however, the Company got its stations mixed up and named the next stop west, in Killean, Leslie Station and the one at Puslinch village, Schaw Station.
The Governor-General, the Marquis of Lorne, presided at the official opening ceremony held at Milton on Friday, September 19, 1879. The opening of the railway had an almost immediate effect. Henry William Ironside built a large warehouse, measuring 100 feet by 60 feet, at the Credit Valley Station at Puslinch village. It was completed in November 1879. There, he operated a coal and a grain business. Two grain buyers were expected the week of November 10th. The Guelph newspaper reported that Puslinch village was looking "very lively" and that the value of property had increased decidedly. Schaw Station at Puslinch village became a centre for shipping of Puslinch livestock, lumber and produce to the cities and was a very busy place in the late 1800's, with wagons lined up along the Brock Road, waiting to deliver their loads. Henry Ironside married William Leslie's daughter, Adelaide Victoria Leslie, on Sept. 19, 1883. The railway was a decided benefit to Squire Leslie and his descendants and indeed, to all of Puslinch Township.
For more and detailed information on the Leslie and MacDonald families of Puslinch, descendants of which still live in in the township, please see The Leslie Family by Darryl Davey, and other documents and genealogies, pertaining to the family, available at the Archives of the Puslinch Historical Society.
By Marjorie Clark with acknowledgement to Marilynn Crow