Meet Rockford – The Tallest Steer In Puslinch!
A couple of weeks ago Robert Fera from Deerpath Breeding and Development contacted me to say they had the "tallest steer in Puslinch" as a pet at their equine reproduction facility.
He invited me out to meet 'Rockford' and of course I jumped at the chance. Last Friday my wife and I took a drive down to Deerpath to meet him first hand.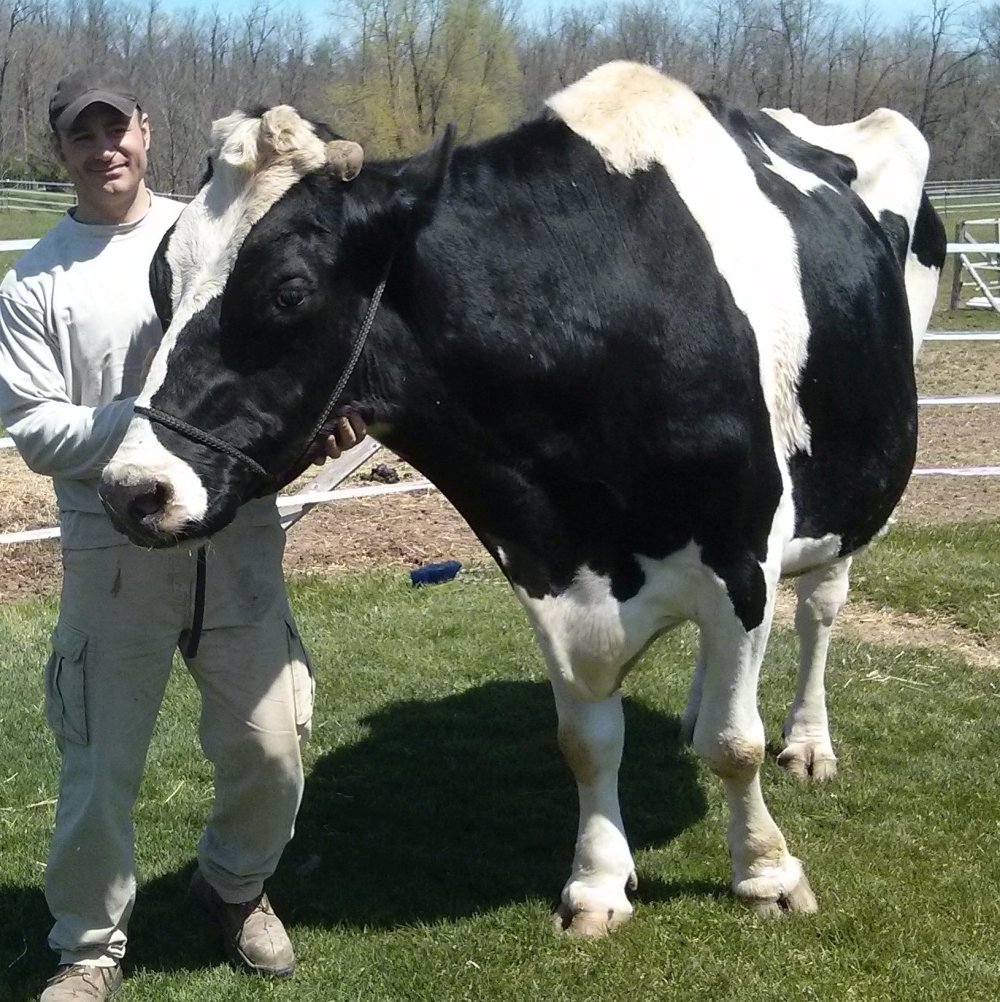 Since I hadn't seen any photos of Rockford I didn't know what to expect, but as soon as we turned onto the driveway we could see he was something special – and by special I mean HUGE! Rockford was laying on the grass in a field next to a horse that looked absolutely tiny next him.
Once we had gotten out of our car and introduced ourselves to Robert, Rockford was up and at the gate – as if he knew we were there to see him. As it turns out, Rockford gets visitors all the time. People driving by quite often drive in to ask about him and want their picture taken with him.
As soon as Robert led him out to see us we knew he was different, you could see that he loved the attention! He came right up to me and started head-butting me to get me to rub his head and neck, his tongue licking my forearm the whole time. It's not until you stand right next to Rockford that you realize just how big he is – the pictures don't do him justice. He is 10 years old, 6'4″ tall and 2200 lbs!
Turns out there's a story behind Rockford that sounds like it comes straight from a Disney movie. Ten years ago Deerpath had an orphaned foal that was all alone at the farm – every other foal had gone to their home farms. Robert decided he needed a companion and got Rockford to fill that need. Rockford was just 2 days old when he came to Deerpath and has lived there ever since. He has his own stall and grooming kit, goes for walks around the farm with Robert and loves all the attention he can get. If I had to guess I'd say Rockford thinks he's just a really big horse.
When it was finally time to leave Robert told Rockford it was time to go back into his fenced field with the 'other horses' and Rockford literally ran over to my side and started headbutting me for more rubs.
Cutest thing ever!
Before we left, we were treated to a tour of one of the horse barns and saw a foal that was only about 14 hours old. What a great trip, I can't thank Robert enough for contacting us and sharing his story!