My Yearn for the Christmas Urn
By Daina Makinson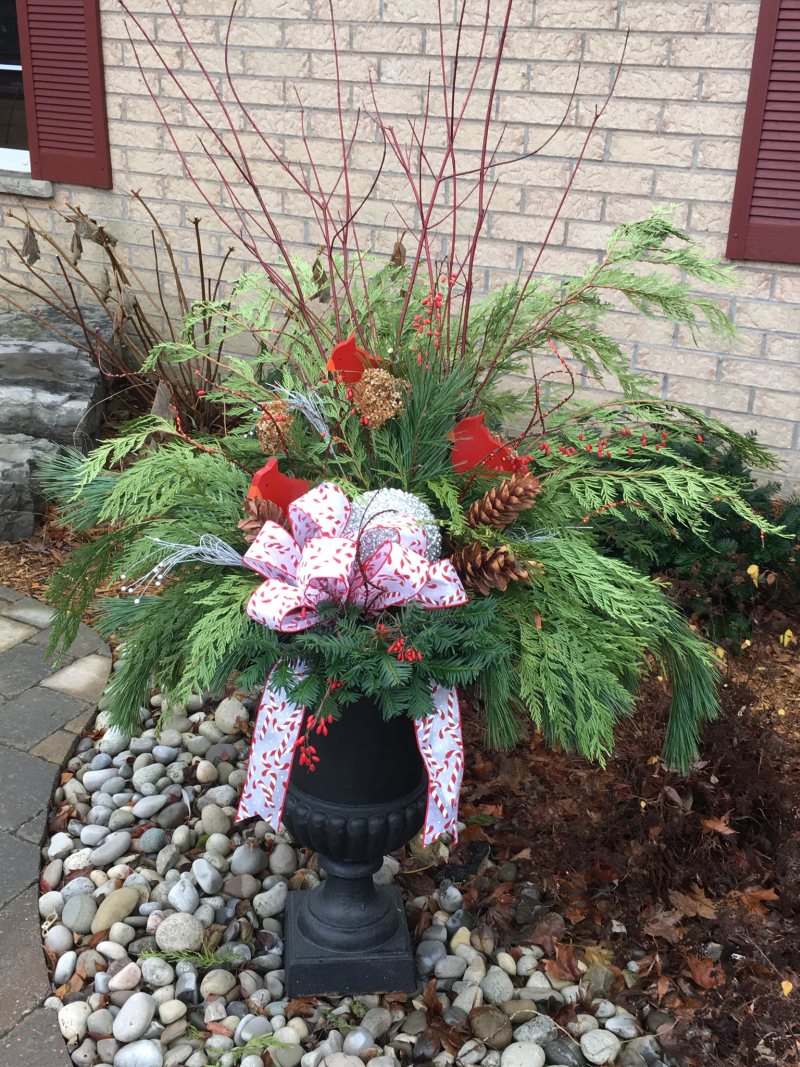 Ok, I will confess – I have urn envy. Whenever I see a fabulous urn, gorgeous in all it's earthiness with festive branches reaching for the sun, my heart twinges with jealousy. Every house I visit at Christmas resides a hostess whose creativity is off the Richter scale. I politely ooh and ahh over the said creation and then cynically make mental notes about how I too can make such a beauty with all of nature's bounty from my own back yard. Insert sarcasm here. I did try to do it myself. Once. Three guesses how that turned out.
I had no idea that all along I had the fortune of a good friend who, with the aid of her husband's marvellous woodworking skills and her eye for beauty would transform my front garden into my own winter wonderland. Robin Wayne: The Queen of Craft. Robin and her husband Larry were the owners of The Bird's Nest on Brock Road in Aberfoyle. She has a nose for crafts the way a sommelier has a nose for excellent wine. If you ever had the utter joy of shopping The Bird's Nest you will know of what I speak.
Over lunch with Robin a few weeks ago I moaned of my Yearn For The Urn. Being the wonderful and generous friend she is, Robin offered to help me make my own. Robin did not end up with me as her clumsy craft-less co-creator as I know my own shortcomings. I want Robin to stay my friend.
Last Sunday while my family and I had our annual family Christmas baking marathon, Robin was outside my house performing her magic. She foraged in our forest and found the perfect ingredients of nature to create her masterpieces. Little did I know that her husband Larry also had a treat in store for me.
It was perfect timing when I heard the tap on the door. I had just put the yeast dough in my oven to rise and had a moment to breathe while I listened to the sounds of my family continuing to prep for all the goodies about to make my home smell like the Latvian Christmas of my childhood. With all those good feelings wrapping me up in a blanket of happy I stepped out onto my front step.
There it was. What I had always yearned for, but so much more. Two of the most lovely Christmas urns that absolutely took my breath away. Next to Olaf, a wooden snowman and Penny and Polly Penguin (our names for them) all crafted by Larry Wayne, these urns completed our winter wonderland. And the unexpected treat from Larry? Pretty little wooden cardinals tucked away happily in the arrangements. I threw my arms around that wonderful woman and thanked my lucky stars for such a talented and kind friend.
I would Iike to thank the Waynes from the bottom of my heart for making a dream of mine come true. And whenever a visitor oohs and aahs over my urns and wood crafts…….I will send them to Robin and Larry!
Merry Christmas Puslinch! Here's my wish for you – that whatever brings you and your family joy this festive season fills your heart to the very brim!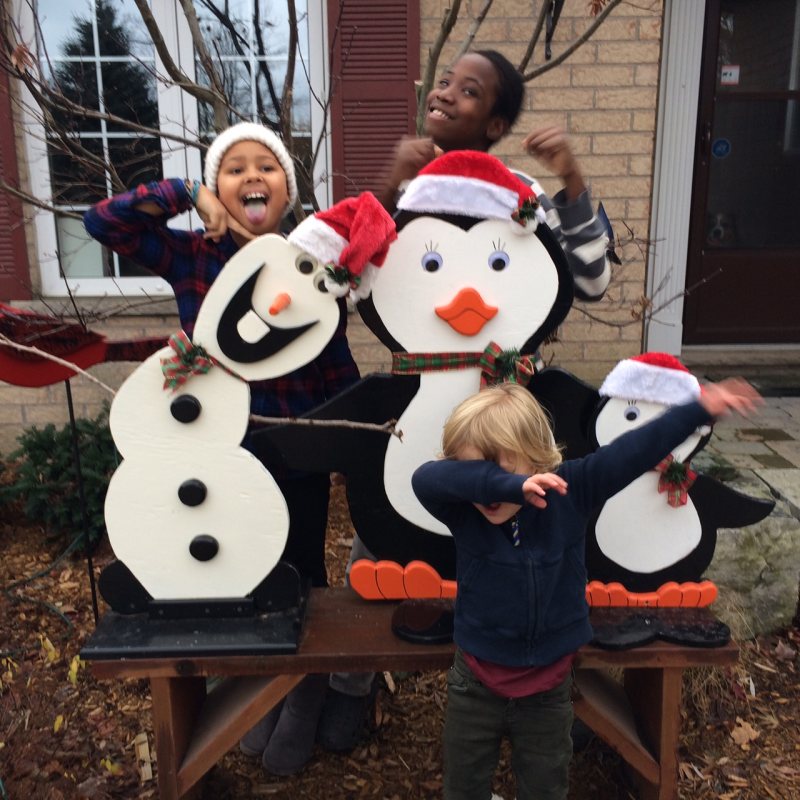 My Grandkids having fun with Olaf, Penny and Polly