Congratulations To Puslinch Student Serena Basi!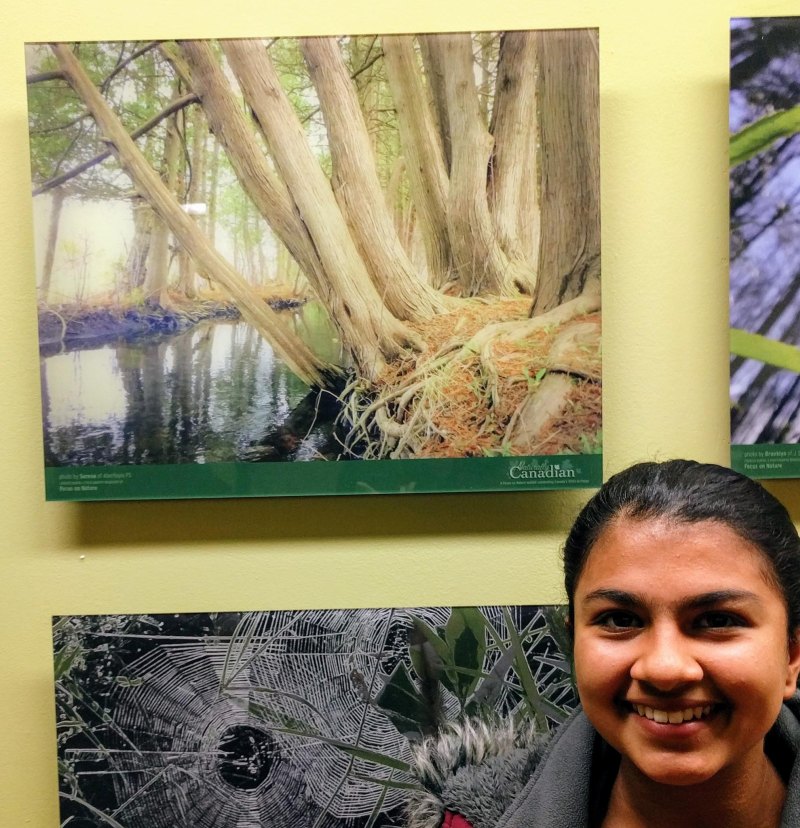 Aberfoyle Student's Photo In Exhibit For Focus On Nature
Congratulations to Serena Basi, a grade six student at Aberfoyle School. One of her photos of nature, taken in spring, 2016, has been selected for, 'Naturally Canadian', Focus on Nature's upcoming student photography exhibit, celebrating Canada's 150th anniversary!
Naturally Canadian features the work of 60 young photographers and runs from March 20th to April 20th at eMERGE Guelph in the Old Quebec Street Mall.
In April, 2016, as a grade-five student, Serena participated with the rest of her class in a one-day workshop on outdoor photography of nature run by the volunteer organization known as 'Focus On Nature'. Participants are supplied with a digital camera for the day to take close-up photos of elements of nature ranging from tree leaf buds to frosty glass blades. Instruction comes from a team of volunteer professional photographers. Advice is given for key aspects of camera use including focus range, shutter speed and light exposure. From approximately 20 – 25 photos, students choose their best five to edit and enhance. During the final portion of the day, students share their top photos with peers while explaining the reasons behind their selections and what software features, if any, were used to embellish their photography.
Aberfoyle students in grade five have been using the grounds of the Puslinch Community Centre for their annual Focus on Nature experience since autumn 2013. We switched the program to the spring term in 2015.
We congratulate Serena on this fine accomplishment. Below is information for anyone in our school community who may be interested in viewing Serena's photo along with others during the exhibit at eMERGE.
Location: eMERGE Guelph, 55 Wyndham St North, in Old Quebec Street Mall, across from PharmaPlus

Dates: March 20th to April 20th, 2017

Hours: Mondays – Thursdays, 9:30am – 5pm

Also: Saturday, March 25th, 10am – 3pm, during the Eco-Market