History Corner: F. W. Stone, Importer & Merchant
F. W. STONE

EARLY IMPORTER OF PUREBRED STOCK,
ESTATE FARMER & MERCHANT

by Marjorie Clark
Frederick William Stone was born in Barton-on-the-Heath, Warwickshire, England on Sept. 17, 1814, the second son of Edward Stone and Elizabeth Hooper. His siblings were: Edward Stone, born in 1810, a merchant in India; Ann Hooper Stone, born in 1812; John Jeffries Stone (1817-1879), Francis Edward Stone (1822-1869) went to Australia; Sarah Elizabeth Stone (1826-1881) and Henry Robert Stone (b. 1831). His ancestors owned land in Oxfordshire for several generations. A friend, Richard Gibson, described F. W. thus: "He was a typical English yeoman, stoutly built, with all the attributes of his fellows in England. An aggressive colour in his cheeks, good healthy, ruddy bronze, bespoke health and happiness."
Possessed of money, F. W. emigrated to Canada in 1831 with the Arkells, when 18 years of age and purchased 200 acres on Puslinch Plains, lots 3 to 6, concession 9, Puslinch, near Farnham Cemetery. The Arkells were his close friends and neighbours.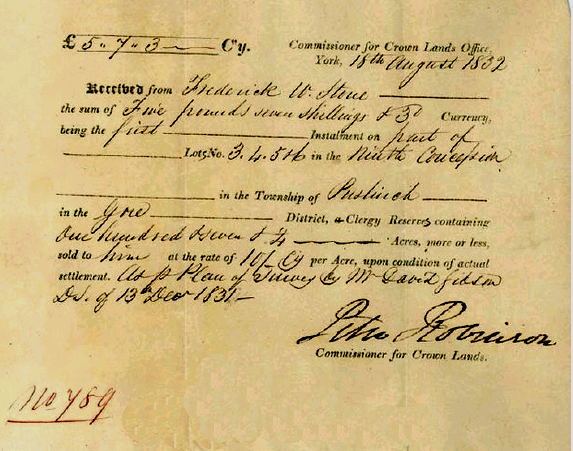 In a few years, he was offered a position with his uncle, John Jeffries Hooper, a merchant in Calcutta and he returned to England with the idea of accepting but kept his land in Puslinch. After some time in England, he changed his mind and returned to Canada. He bought a property from his father-in-law, John Caulfield, and opened a store about 1847, at the corner of what is now Gordon St. and Farquhar St., Guelph (32 Gordon St.), on the Brock Road, as well as operating the farms and he added more land until he owned 583 acres. He built a house beside the store at 5 Farquhar Street.
On Feb. 3, 1842, he married Eliza Clarke, step-daughter of John Caulfield, who also emigrated and settled in Puslinch. Children born to them were: Elizabeth (Dec. 3, 1842-Apr. 3, 1848); Edward, born Oct. 24, 1844, died in England on Aug. 16, 1853; and John, born Sept. 21, 1846, died from chronic bronchitis on Nov. 26, 1876. Frederick William (Oct. 16, 1848-Sept. 29, 1915) was sent to his grandmother in England at age 8, to be educated and did not return to Canada. He graduated as a barrister, became a livestock breeder and married his cousin. Priscilla Jane (Sept. 17, 1850-June 18, 1927) was single and lived at 5 Farquhar Street in Guelph with her single sister, Sarah Edith. Mary Hooper Stone was born Nov. 15, 1852 and died in England on Apr. 27, 1869. Alfred (Dec. 14, 1854-Feb. 4, 1927) was an insurance agent. He was single. Eliza Jane (June 6, 1857-Oct. 19, 1929) married William George Bond and lived at 224 Liverpool Street in Guelph. Annie Louisa, born Aug. 8, 1859, married Walter MacDonald, a lawyer in Toronto. Sarah Edith (Sept. 4, 1861-Feb. 10, 1929) was single. Henry Jeffries lived from March 30, 1867 to July 19, 1868. The children were sent to boarding school in England to be educated. Two of them, Edward and Mary died in England and one, Frederick, remained there. For a time, Eliza Stone's single sister, Annie Clarke, lived with the family.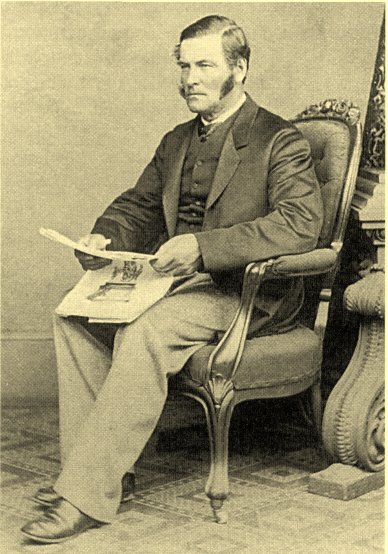 His first venture with purebred stock was with Shorthorns. In 1850, he purchased the herd of Rowland Wingfield, one of the earliest breeders of Shorthorns in Canada from John Howitt.
In 1853, he began importing. The first shipment of ten Cotswold ewes and one ram and five Durham heifers and one bull was lost at sea, washed overboard in a storm in November 1853. The second shipment, made in 1854, arrived in wretched condition and several died, both before and after reaching Moreton Lodge. However, F.W. persisted and in August 1855, ten Cotswold ewes, one ram and one ram lamb from the flock of Edmund Rusk arrived safely.
Frederick Stone was first to import Yorkshire and Berkshire (1856) pigs, Suffolk horses (1865), Cotswold sheep, Dorking chickens, English pheasants and Aylesbury ducks. He also brought Bremen Geese. He continued to import until 1875.
A newspaper article from Nov. 13, 1856 noted that, at the Provincial Agricultural Show, he took 30 prizes. The November 1857 issue of The Cultivator devoted nearly a full legal-sized page to a description of the animals sold and the prices received at F. W. Stone's first stock sale in September of that year. Total receipts were $23,778.
When visiting England in 1860, he attended the Royal English Show at Canterbury and was much impressed with the Hereford cattle. The Hereford breed originated in Hereford County in the west of England, where it existed prior to 1700. His brother in England purchased two cows, six heifers and a bull, "Patriot", from the famous herd of Lord Bateman of Shobden Court in September. All arrived in Puslinch safely. In 1861, he added three cows and a bull, "Sailor", from the herd belonging to Lord Berwick.
Canada Farmer, Sept. 1864, stated that Mr. Stone drained low-lying land to make use of every possible acre. At this time, he kept 120 head of cattle, 80 Shorthorns and 30 Herefords, between 400 and 500 Southdown, Leicester and Cotswold sheep, horses, Yorkshire and Berkshire pigs and poultry. The barnyard was surrounded by a stone wall and most of the buildings were stone. F. W.'s home, Moreton Lodge, was in the process of being constructed.
The Guelph paper from Sept. 16, 1864 mentioned that he would send 40 Durham and Hereford cattle to the Provincial Exhibition in Hamilton.
Among the customers at the annual sale of stock, held Oct. 12, 1864, were Mr. Howard, Secretary of the Board of Agriculture for Michigan State, Colonel Mitchell of Norval, John Snell of Chingacousay, Mr. McKane of New Jersey, George Clark of Otsego Co., New York, Thomas Ashton and Mr. Jones of Ohio, W.B. Telfer of Pilkington, Robert Cromar and Alex Watt of Nichol, J. T. Nottle of Hamilton, Robert Strang of Doon, Mr. Carpenter from Norfolk Co., David Halton of Nelson Twp., Mr. Shaw of Dover East, A. Jeffrey of Vaughan, John White of Milton, William McGrath of Toronto Twp., Mr. Cadenhead of Fergus, A. Anderson of Stratford, R. S. Charles of New York State, Mr. Gifford of Cobourg, Archibald McMillan of Erin, J. Armstrong of Yarmouth, and Mr. McTavish of Beckwith.
An account of the annual sale in September 1866 was described in the Guelph newspaper: "The weather was most auspicious and the sale was attended by several hundred farmers, stock breeders and others interested in agricultural pursuits and that not only from Guelph and the adjoining townships but from remote sections of the province. An excellent lunch was served at noon and about an hour thereafter, the sale commenced. A circle was formed in front of the Lodge, with a double row of moveable sheep pens on either flank and in these and on the adjoining ground, the animals on sale were arranged and ticketed, so as to afford every opportunity for inspection previous to their being brought singly into the circle, where they remained until the hammer fell. Mr. Knowles did his duty as auctioneer, with his wonted tact and energy. Descriptive catalogues, with figures corresponding to those on the animals, were liberally supplied and the entire arrangement was most orderly and convenient."
He was very successful at exhibitions and his cattle won major awards in the U. S. and Canada throughout the last half of the 19th century. A farm publication wrote about his exhibit at the Provincial Exhibition in London, ON in 1865: "The splendid appearance of the 25 Herefords of both sexes and various ages exhibited by Mr. Stone at the late Provincial Exhibition was something to be remembered. His animals possess every distinctive excellence of this really useful and valuable bovine tribe. Judged by his Herefords alone, his reputation as a judicious and successful breeder is indisputably established" His most noted bull was the Grand Duke of Moreton. After a successful career on the show circuit, Grand Duke Moreton sold for $1000.00
The Cobourg World reported in 1867 that Mr. Stone's farm housed 200-300 head of Durham and Hereford cattle and 500 sheep and that he had lately imported a Suffolk Punch stallion and three mares.
"The stables and yards at Moreton Lodge are very extensive and are kept with the greatest care. Twice a year, the buildings are whitewashed, inside and out and every attention is paid to the health and comfort of the herds. The principle fodder is hay, turnips, cut peas and chopped feed, all of which are furnished on the farm. Mr. Stone's crop of turnips is usually from 40 to 60 thousand bushels, averaging over a thousand bushels to the acre, all of which are used in feed. He employs 25 hands on the estate and his manager is Henry Arkell. He is, at present, in England, on business we believe, connected with the enlargement and improvement of his stock."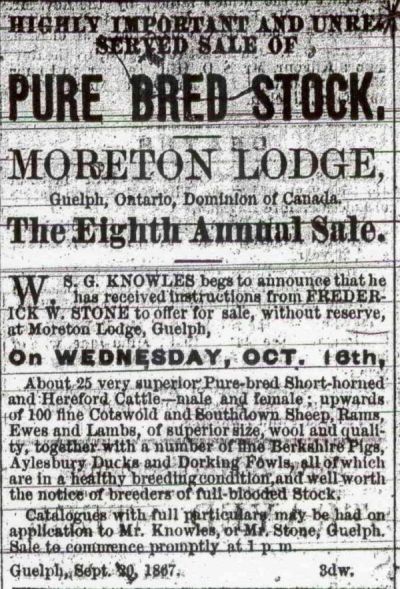 In 1872, he sold a bull, "Sir Charles" to T. L. Miller of Beecher, Illinois for $1,000.00 in gold. In September 1878, his entries were awarded every prize offered for Hereford cattle at the Provincial Show, amounting to $318.00 and a diploma. At the Provincial Exhibition in 1879, F. W. was awarded the Governor General's Gold Medal for the exhibitor receiving the greatest number of prizes for cattle and the medal was presented to him by Her Royal Highness Princess Louise.
In 1873, the Ontario Government purchased the recently completed Moreton Lodge and its 500 or 550 acres for the Agricultural College and Experimental Farm for $75,000. Moreton Lodge was a two storey stone house, named in honour of his mother, who was born at Moreton, Gloucestershire. It was so lately completed, that the Stone family had not moved in. It was used as a residence and administrative building by the College until 1929, when it was demolished. Only the two lower stories of the central tower were saved and still remain on the quad at the now University of Guelph, where they were reassembled.
F. W., then, purchased an adjoining 200 acres in Puslinch, in addition to his 248 acres holding at Arkell where he farmed until his death in 1895 at 81. After this, he referred to lot 1, concession 8 Puslinch as Moreton Lodge Farm but F. W. and his children continued to live on Farquhar Street in Guelph.
He maintained the largest and finest herd of Hereford cattle in all of Canada and the U. S. about 1880, selling stock throughout Canada and the northern U. S., to buyers in New England, New York, Maryland, Ohio, Michigan, Indiana, Illinois, Iowa and Missouri.
F. W. had a nursery, where he grew over 100 varieties of roses, as wll as fruit trees, Austrian Pine and Norway Spruce. He won first prize for his carnations at the Guelph Horticultual Society Spring Show on July 4, 1862.
For a long time, F. W. was an active member of the Board of Agriculture of Upper Canada. In 1861, he was elected President of the Arts and Agricultural Association of Canada. For many years, he was President of the Wellington Mutual Fire Insurance Company and Guelph representative for the Canada Life Assurance Association. He was also, for many years, a magistrate at Guelph. He was a member of the Building Committee for the second St. George's Church building in Guelph in 1852 and was Church Warden.
In January 1892, F. W. and Eliza celebrated their 50th wedding anniversary. Eliza Stone died in Feb. 1892. Three years later, F. W. died. They were buried in Woodlawn Cemetery in Guelph.
After F. W.'s death, his estate continued operations under the name "F. W. Stone Stock Company". In May 1897, Alfred Stone escorted Professor Day and Ontario Agricultural College students on a tour of a selection of bulls and heifers from the Stone herd. In September 1898, representatives of the herd won three first, four seconds and three thirds at the Toronto Industrial Exhibition.
However, the family was making attempts to dispose of the properties. At noon on Saturday, Nov. 2, 1895, all of F. W.'s farms were auctioned at the door of Guelph City Hall. Moreton Lodge, 200 acres, consisting of lot 1, con. 8, and the former McBride farm in Puslinch, was bid up to $18,000. and withdrawn, as it did not reach the reserve bid. The bid for the Plains Farm, 250 acres, went to $9,500. and was also withdrawn, not being up to the reserve. For the 33 acres in Guelph Township next to the O.A.C. property, the bidding went to $1,250. and was also withdrawn. The 68-acre O'Neill farm on the west side of the Brock Road, part of lot 1, concession 7, also among F. W.'s holdings, was purchased by Alfred Stone for $3,000. The 66 acre sawmill property on the Speed River, lots 12, 13 and 14, concession 6 in Puslinch also went up for sale.
Following this, the properties were advertised as available through F. W.'s son-in-law, Walter Macdonald, of Toronto and H. Murton of Guelph. In May 1898, an announcement regarding the availability of the Moreton Lodge Farm and the Plains Farm appeared in the Guelph Mercury, mentioning Sarah E. Stone, F. W.'s daughter, as the person to be contacted. The Plains Farm went up for auction again on Wednesday, December 10, 1902.
In July 1908, the three parcels of land were put up for sale – "The Plains", composed of west parts of front lots 3, 4, 5, and 6, 9th concession, Puslinch, 248 acres; "Moreton Lodge Farm", lot 1, concession 8, Puslinch, 200 acres and 33 acres in the O. A. C. block. By this point, the properties and stock were suffering from neglect.
In July 1908, Moreton Lodge Farm contained 200 acres, 130 under cultivation with the balance in forest and pasture, a stone house and two frame houses, two large barns with stables and root houses underneath, stabling for 100 to 125 head, a horse stable, pig pens, tool house, implement shed, silo, two sheds attached, a frame horse stable, a large orchard and two large cisterns.
Walter Macdonald died in February 1900 and in 1921, his widow, Annie Stone Macdonald, and her daughter, Mary Katherine (Sept. 15, 1896-Nov. 9, 1981), lived with Annie's single siblings, Alfred, Sarah and Pricilla, at 5 Farquhar Street. By 1929, Alfred, Pricilla and Sarah had died, leaving only Annie Macdonald and her daughter. They vacated the premises. After years lying vacant, 5 Farquhar was sold in 1937. Annie Macdonald died in 1939.
In December 1955, Guelph contractor and developer, Dario Pagani purchased two of the Stone farms in Puslinch Township immediately south of the Ontario Agricultural College, running through the concession from Highway 6 to Victoria Road, from Mary Katherine MacDonald. Miss Macdonald was allowed to remain in the house for two more years. Before long, a subdivision was built and the stone house on the property was razed.
The barn that housed his first herd of Herefords was on the property that became the Victoria Park East Golf and Country Club in 1973. Ernest Hales of Guelph bought that farm from the Stone estate on May 1, 1935. The Hales family sold the farm to Ted DeCorso for an extension of the Victoria Park Golf Course, located on the other side of the Victoria Road The barn, with its magnificent hand hewn 80 foot beams that ran the full length of the building, was dismantled that year to make way for the golf course.
F. W. Stone died on Jan. 29, 1895. He was inducted into Milton Agricultural Hall of Fame in June 1990. Stone Road, originally the boundary between Puslinch and Guelph Townships, now in the City of Guelph, was named for him and the Stone Road Mall was named for the road.
Sources:
Guelph Mercury, September 16, 1864
Guelph Mercury, Aug. 28, 1867
Farmer's Advocate, Aug. 27, 1960
Guelph Mercury, Apr. 14, 1973
The Canadian Cattleman
Guelph Mercury, June 2, 1990