Local Puslinch Resident Assists Crime Stoppers with Award Win
Recently Crime Stoppers Guelph-Wellington won the online excellence award for their online presence. Our very own Kevin Johnson, co-founder of Puslinch Today, helped to design and program the website that was part of this recognition.
The award Online Excellence incorporates social media awareness as well as website design and use. This is a new category for OACS and was open to all programs, regardless of size. CSGW is active on Facebook, Twitter, Instagram, YouTube and recently redesigned their website, www.csgw.tips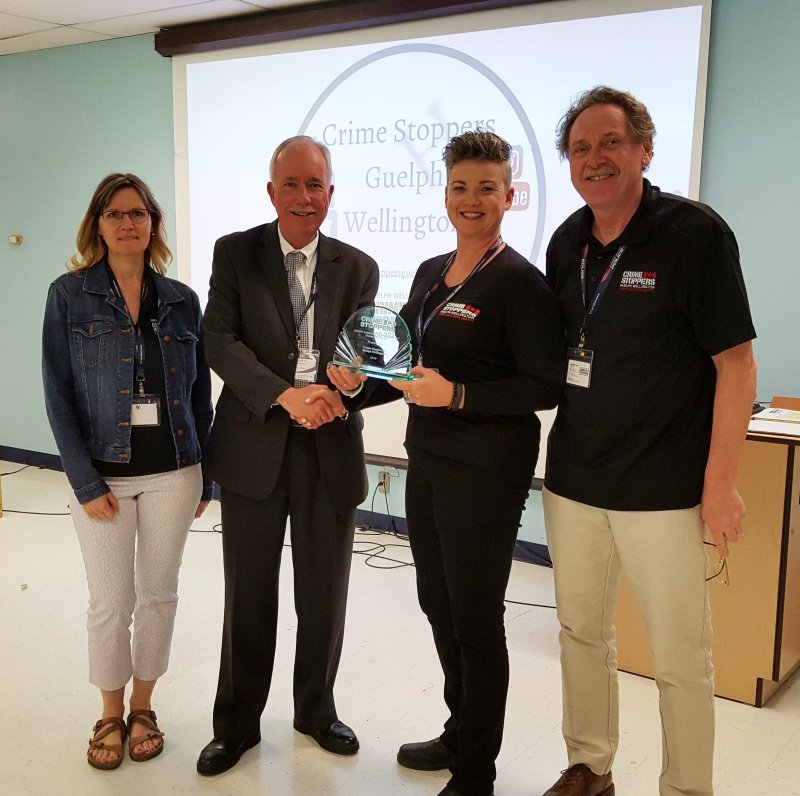 ONLINE EXCELLENCE – Don Hawkins (centre) President of the Ontario Association of Crime Stoppers, presents the Online Excellence Award to, from left, Crime Stoppers Guelph Wellington Office Coordinator Leesa Keleher, Program Coordinator Sarah Bowers-Peter, and Board Treasurer John Svensson.
Kevin Johnson of quantumslice.com volunteered his time to produce the award winning website component free of charge. Kevin stated "Crime Stoppers is continuously fundraising to provide the rewards they offer so I felt I could best help them by volunteering my time to do their website. The board of directors really did make the process easy for me. They were extremely engaged in the process and I never could have completed such a wonderful site without their help. With all the cases of arson in the community over the past year having a service like Crime Stoppers seems more important then ever."
Kevin Johnson with Marlene Coughlin of Crime Stoppers holding the award for Online Excellence.
We'd like to congratulate Crime Stoppers Guelph-Wellington and Kevin Johnson on this well deserved award.
Check out a few of Kevin's other excellent local website designs: