Puslinch Kodiaks Weekly Update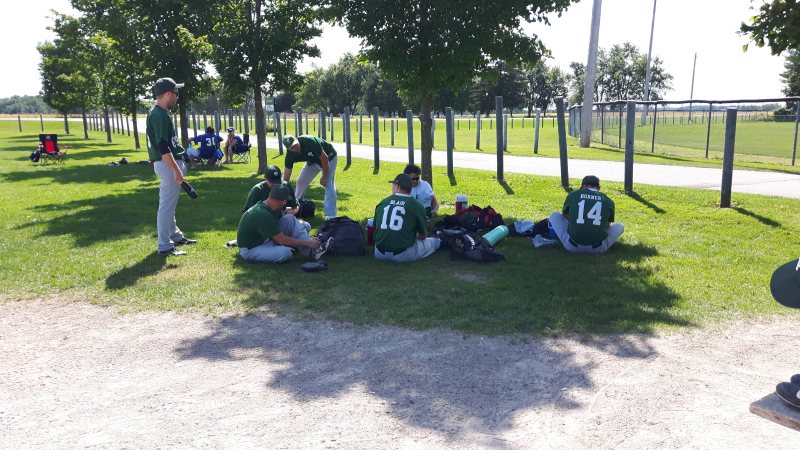 By Jordan Duffield.
On Thursday the 6th of July, Puslinch traveled to Milgrove to take on the Waterdown Hammer for their fourth, and final regular season match-up of league play. The Kodiaks hopped out to an early lead on a RBI double by Kyle McCaig, followed by a RBI single by Erik Horner. From there the Kodiaks would add 1 more run in the 3rd inning, to take a 3-1 lead. Troy Cox started on the mound for the Kodiaks, and was cruising along, until the fourth inning where he ran into some trouble. Waterdown was able to watch some close pitches and take a couple walks, a few hits later lead to three runs coming across, giving Waterdown a 4-3 lead. The Kodiaks would find their offense once again in the 6th inning, with Brian Jefferson and John Blair knocking in a couple runs to give Puslinch the lead 5-4. David Jefferson took over on the mound for Troy Cox in the 4th inning, and shut the Hammer team down until into the 7th, but unfortunately couldn't keep them off in their last at bat, as Waterdown was able to load the bases and get a run on a walk to tie the game. David was able to generate a pop out immediately after that, and the game ended in a tie at 5 a piece.
Ponsonby Tournament
A quick recap of the Ponsonby tournament played on the 7-9th.
Game 1, Friday night vs Rockwood: An old rival from their inter-county league days, the Rockwood team was able to almost completely silence the Puslinch bats, and with one bad inning involving a couple of uncharacteristic errors by Puslinch, Rockwood won the game by a score of 4-1.
Game 2, Saturday morning vs Elmira 37's: A completely different looking team showed up to play Saturday morning, as the Kodiaks scored in every inning except the first one, and with a very strong outing from Troy Cox, were able to come away with an 11-2 victory. Home runs by Matt Haines and Brandon Viol.
Game 3, Saturday late afternoon vs the Kitchener Predators: Again, the Kodiaks came to play this game, as Erik Rasmussen hurled 5 scoreless innings, and the Kodiaks offense put up 7 runs in just 4 half innings, and walked away with a 7-0 mercy win.
The 2-1 record led to a 3rd place finish in their 6 team division, and lined them up with a Sunday morning match-up against another old rival, and host team, the Ponsonby Sting.
Game 4, Sunday morning vs Ponsonby Sting: The Kodiaks jumped out to an early lead in the 3rd inning when they put up 3 runs to take a 3-1 lead. Unfortunately the tough sticks of Ponsonby quickly answered back with two runs of their own in the bottom of the third, and then one more each in the 4th and 5th to take a 5-3 lead. Erik Rasmussen got the call once again on Sunday morning against Ponsonby, and threw 4.0 innings, before giving way to Kevin Dowling who threw two more innings. Unfortunately the Kodiaks bats couldn't help out their initial outburst in the third inning, and they fell by a score of 7-3.
Thursday July 13th vs Niagara Fury:
On the 13th Puslinch traveled to Milgrove to take on the Niagara Fury. It was a very damp night, as there was a very slight rain/mist the entire game, making it difficult for both team's pitchers and fielders. Despite this, Troy Cox pitched the entire game, giving up only 2 runs, giving him too very impressive starts in a row. The Puslinch bats were fairly silent, getting hits here and there, but not piecing many together until later in the game. In the 5th inning, they would finally break through on a 2 RBI double by Erik Horner, which would give the Kodiaks a 3-2 lead. They would go on to add one more insurance run in the 6th inning, and close out the game from there with a 4-2 victory.
The Kodiaks will have a busy week coming up, with a double header on Monday night in Niagara against the Jordan Jays and the Niagara Fury, and then they will play host to Glen Williams on Tuesday night in Aberfoyle.
On July 22nd the Kodiaks will be hosting the Ontario Under 22 team to Aberfoyle for two exhibition games. The games will be at 3 and 5 pm, and we'd love to see some familiar faces in what should be a couple of high quality games.