Kodiaks Finish Regular Season With Win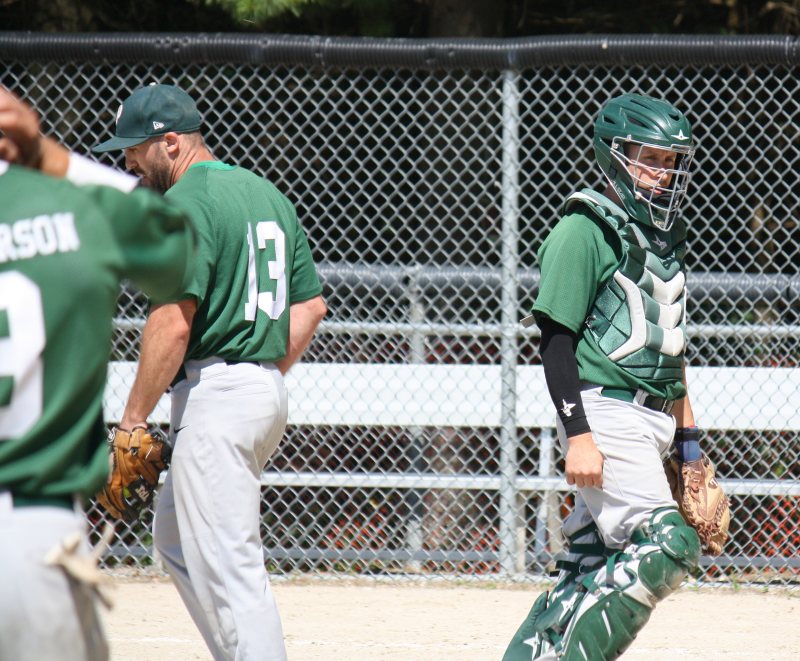 by Jordan Duffield.
On Tuesday August 8th, the Puslinch Kodiaks welcomed the Hamilton Pirates for the Kodiaks final regular season game of the year. The Kodiaks once again came out of the gate very slow, registering just one run over the first three innings, and giving up 4. Only one of those 4 runs that came in were earned, as the Kodiaks defense had a few errors in the first few innings. Tory Cox was on the mound for the Kodiaks, and pitched quite well considering the defense behind him. The Kodiaks gave up another unearned run in the top of the fourth inning to fall behind 5-1.
In the bottom of the fourth, the Kodiaks offense finally came alive, putting together 4 hits in a row, including back to back home runs by brothers Brian (three run home run) and David Jefferson. In total the Kodiaks would add 4 runs in the inning, tying the game back up at 5.
Troy Cox would once again take the mound in the 5th inning, but after a few walks and a run scored, he would give way to Scott Gordon. From there, Gordon would strand two base runners, and get the Kodiaks out of the inning down just one run.
In the bottom of the 5th, Puslinch would continue to hit the ball with Kyle McCaig coming off the bench to hit the Kodiaks second 3 run home run of the game, giving Puslinch a 8-6 lead. The next inning the Kodiaks would once again get two base runners on, and Brandon Viol for the third time in this game, would provide a three run home run for Puslinch. They would add one more in the 6th, taking a 12-6 lead into the final inning. From there the Kodiaks would give up one run, and finish their regular season with 12-7 victory.
Up next for the Puslinch Kodiaks is the Ontario West Provincial Tournament on August 18-20 in Innerkip, which Puslinch finished in second place in last year. The Kodiaks will finish their league play with a tournament in Niagara Falls on the September 8-10 weekend. They will also hopefully get some exhibition games played over the next few weeks with some fairly local teams in order to stay sharp.