Wildlife And Mankind In Puslinch – Part 3
By Marjorie Clark.
"What has become of the wild pigeons? Years ago, in the spring and early summer – and sometimes in the fall – the sky would in a measure be darkened by immense flocks of these birds but for the past number of years, they have entirely disappeared. The last great visitation in this neighbourhood took place in 1854, when for about six weeks, the pigeons passed over the southern part of the town in the mornings with a regularity."
Although he goes on to say that, "The brow of the hill immediately south of St. Andrew's Church manse was the favourite point for sportsmen those mornings and it was lined from daybreak till about 6 o'clock, when the flight generally ceased", he cannot seem to find the answer to his question. In the 1830's, the sky would be darkened with passenger pigeons, which made their breeding rookeries in Badenoch, according to Malcolm McNaughton, quoted in The McPhatter Letters. After 1870, few passenger pigeons were seen in the township. Anna Jackson, in an article on the passenger pigeon, published in the Puslinch Pioneer in March 1997 wrote that John W. Gilchrist (1865-1942) did not witness the great flocks of pigeons but he did see small flocks, which lit in tall trees. The last time he saw a passenger pigeon was in 1878. It was an extraordinary event, when Thomas Weir saw a large flock flying northwards in early April 1897.
The huge herds of deer, which grazed in the township in 1832, were entirely gone by 1887, such that a correspondent from Killean wrote to the Galt newspaper on March 4th, that although a couple of deer had been sited in the vicinity, it would be well to remember the law regarding the destruction of such animals at this season of the year.
The Killean correspondent stated on May 15, 1888 that:
"Notwithstanding nets and other unlawful means of fishing, the suckers have commenced to run at last and vast quantities have been speared since the 1st of May in the outlet."
Barney Brown Jr. of Morriston boasted of having shot seven hares and a fox on Nov. 21, 1889. The piano keymakers of the Bell Organ Company made a collection of seventy to eighty groundhog tails in June 1891, all of which they shot around Arkell in a few afternoons.
John W. Gilchrist, on June 29, 1891, shot "a fine specimen of the black eagle" in Puslinch, " a young one, which measured two feet, seven inches in length and six feet, two inches from wing-tip to tip". It was sent to James McGinnis of Hespeler, an expert taxidermist, who was preparing a case of Canadian birds for the Chicago Fair.
The tide of public opinion on the matter of hunting was turning, however. On Dec. 12, 1890, the Killean correspondent wrote:
"HUNTERS – Sportsmen are still to be seen around here, although the farmers order them off as soon as they set foot on their premises."
By this time, some landowners were attempting to protect the fish in the streams on their property. In a column entitled, "The Third", dealing with happenings on the 3rd concession, dated Apr. 5, 1892, the writer noted that a large notice, erected by Mr. Douglas, over a creek on his property, had been moved to a pond. Amused, he remarked that:
"These notices generally give a fellow an intense desire to fish in the forbidden waters but it is to be hoped that the strangers who were taken in by the notice did not fish in the pond, as it contains nothing but lizards, frogs and muskrats."
By November 1892, farmers at Arkell and Corwhin complained that, every Sunday, hunting parties from Guelph shot at any game sited with revolvers and their hounds chased the sheep.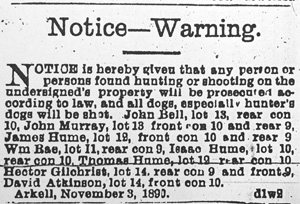 The following report is from the Arkell column of Nov. 17, 1896:
"Sheep worried – Mr. George Lamb had his flock of sheep destroyed by dogs. Nineteen of them had to be disposed of and others may have to be destroyed. It will be a great loss to Mr. Lamb. The farmers should be very careful of their flocks of sheep at this time of the year. There are so many hunters going through the country with packs of hounds. There were some of these seen the next morning covered with blood."
Foxes, still considered vermin in 1894, were under siege. John Crane dug a fox from its burrow on James Millar's farm on Dec. 20th. It escaped to another hole on John Howitt's farm, where he dug it out again and killed it. William Moran, Thomas Hutchinson, Thomas McDonald, Thomas Moran, Joe Moran, James Spruhan, Michael Spruhan and James Cantwell went fox hunting on William Moran's farm in June 1898. They shot a vixen and dug out her five kits.
There were some specific game laws and a game warden by 1895. There was a closed season on wild turkey and beaver, extending to 1900 and a prohibition on woodcock until the same year. The season for deer hunting was limited to Nov. 1st-15th. No deer were to be killed in the water. A license had to be obtained for $2. There was a limit of two deer per hunter. There was open season on grouse, snipe, rail, plover, black and grey squirrel and hare from Sept 15th to Dec. 15th; on quail from Oct. 15th to Dec. 15th; swans and geese from Sept. 15th to May 1st; ducks from Sept. 1st to Dec. 15th; otter from Nov. 1st to Apr. 1st; muskrat from Jan. 1st to May 1st. In April, muskrat could be trapped but not shot. Cottontail rabbits could be killed at any time.
The Puslinch Lake correspondent wrote on Apr. 23, 1895:
"The fish are very plentiful in the outlet this year, as also are the fishers and nets. The Game Warden paid the streams near Puslinch Lake a visit last week and succeeded in finding a few nets and their owners. He warned them not to continue netting but the warning has not been heeded."
By this time, there were some people, who began to decry the wholesale slaughter. On Oct. 1, 1895, the Arkell columnist noted:
"Game must have a hard time to escape the hunter's eye, as there are a great many passing to and fro, accompanied with their hounds, in search of the coveted stuff."