Llamas On A Sheep Farm? You Bet!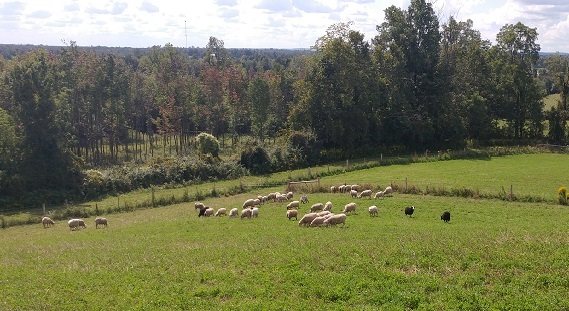 When Ted Stark, owner of Valensbrae Farm on Highway 97, decided two years ago to become a sheep farmer he had to overcome a number of challenges, including how to keep the sheep safe from predators.
Valensbrae Farm is currently raising 58 sheep and lambs. Twenty four are Dorset ewes, 22 Dorset lambs raised for meat and 11 Shetland ewes, primarily for their wool.
Ted chose the Dorsets on the recommendation of a local Mennonite sheep farmer who said that Dorsets are a great breed for beginner shepherds. A ewe weighs about 140 pounds, while the lambs are about 100 to 110 pounds after a year.
The sheep are pasture raised over 8 acres squared off into paddocks cordoned off with electric fencing. But even electric fencing doesn't fully protect the sheep, they need on-site or in-field protection when they are grazing.
After a lot of research, Ted settled on llamas.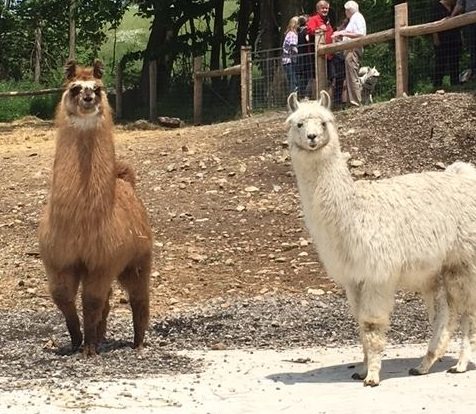 Ben & Jerry, both male, arrived to Valensbrae in the spring of 2016. As guard animals llamas are ideal and instinctively alert and aware of their surroundings. They've been known to draw attention to an intruder using a startling vocal alarm. If that doesn't work, they can give a coyote a good kick or two much the same way a donkey does.
Ted is delighted with Ben & Jerry, and the sheep just consider them as members of the flock. Even Randy the resident ram enjoys their company.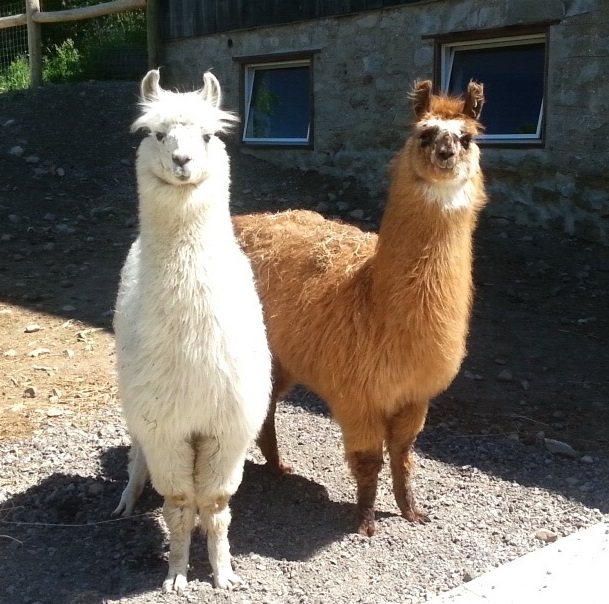 Llamas feed on the same grasses as sheep, are always active and research indicates that most llamas bond quickly with sheep, particularly lambs.
Initially Ted thought that a dog might be a better fit, particularly a breed like the Great Pyrenees. However, sheep dogs, while outstanding breeds don't tend to mingle well with house dogs. Ted was concerned not just for his own dog Lacey, but both his daughters have dogs as does his granddaughter. He simply didn't want to risk it.
Besides, Pyrenees don't live as long as llamas – who have been known to live 30 years, making them a better investment.
So Ben & Jerry have become the headliners at Valensbrae.
Any downside to using llamas? Only one remarked Ted. "They don't herd. That job is for Lacey and I. And sometimes those two llamas are just as hard to herd as the sheep!"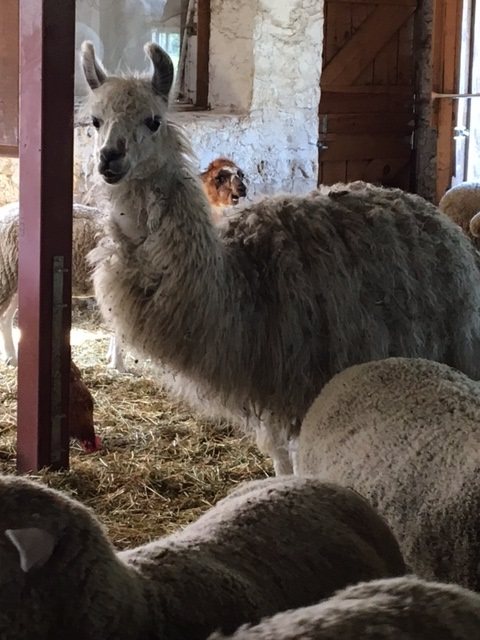 Valensbrae Farm – Pasture-raised Ontario Lamb. Pre-order today for lamb meat available in November. In addition to Dorset & Shetland sheep, Valensbrae Farm has pot-bellied pigs, Red Sexlinks layers, honey bees and two llamas Ben & Jerry. A family-run operation led by Ted. Stark.

1527 Regional Road 97 | Puslinch | 905-659-7253 | [email protected]