Random Acts of Kindness Celebrate a 50th Birthday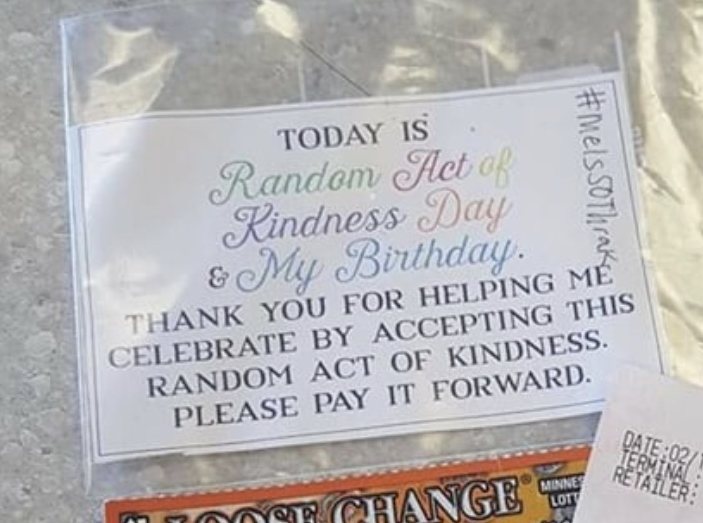 Bullying and mental illness are on everyone's minds these days after the tragic shootings in Las Vegas and Marjory Stoneman Douglas High School in Parkland, Florida. It can weigh on our hearts, especially our children, so what can we do to make a change in the world – no matter how insignificant it can seem, one small step can be the start of something positive. Below is a letter from a friend of Margaret Hauwert, one of our esteemed journalists, long time Puslinch resident and teacher (ret.) at Aberfoyle Public School. Her friend Skye told her about this act of kindness that happened in Minnesota and shared it with us. We felt it was time for a little good news to brighten the day.
"My friend Melanie and her twin brother turned 50 today. She's a very giving person, and I knew that doing acts of service for people would make her feel awesome.
She loved handing out balloons to random children, but she liked it even better when we went to a hospice home and she could give balloons to the patients there. We also passed out some in a nursing home. We put dollar bills on the Redbox movie rental machines so that people could have a free movie for the night. We taped quarters to gumball machines were little children to have. We placed one dollar bills and five dollar bills around a store for people to buy themselves for a little treat.
My teenage son, her 20 something daughter and son-in-law, and her teenage son were all along for the ride. One of the most fun part of our day was taping lottery tickets to the front of gas pumps. Each thing we handed out had a little note explaining that it was a random act of kindness in celebration of her birthday. After we placed the lottery tickets on the gas pumps, we parked and just watched how people would react to them. We could see them reading the note and then looking around, and some people would take the ticket. Others left for the next person. Everyone who took it had a smile and that made us feel awesome. We parked far away so that no one would know it was us, but it was great watching their reactions and knowing we did something to brighten their day.
Even though the teenage boys especially were skeptical about going out to do all of this today, in the end they both said how much fun it was. There was a lot of time in the car driving from place to place to do all of this, and we had some fun conversations about all the reactions. My friend, Melanie said it was one of the best gift she's ever been given and she felt amazing. I know the memory of going out to do this with her kids will last longer than any tangible gift I could've given her."
Note: Margaret tells us that they found out through Facebook that a friend knows a person who got one of the a lottery tickets.