Puslinch Historical Society Newsletter For April 2018 – New Acquisitions
VALUABLE ACQUISTIONS AT THE
PUSLINCH HISTORICAL SOCIETY
THE JOHN W. GILCHRIST WATERCOLOURS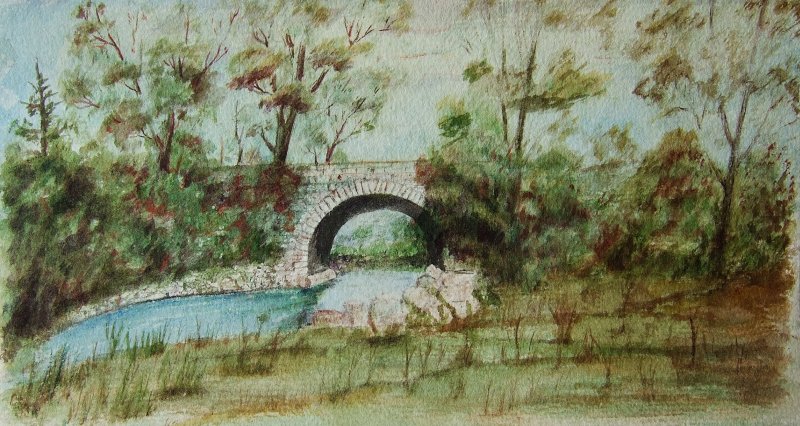 Jean McKay Harnick, former Puslinch Historical Society member, died in December 2016. Last year, her daughter, Dr. Laurie Harnick gave Jean's collection to Marjorie Clark of the PHS, who was thrilled to discover among it eight watercolours by John W. Gilchrist (1865-1942).
John William Gilchrist was a man of many talents. With little formal education, as he was his father's only son and required to help on the farm from the early age of 13, he read every book in the Killean Sunday School Library. As a young man, he was a natural athlete, participating in many sports, including football (now known as soccer). He joined in the debates of the Puslinch Lake Debating Society. He taught himself to play the violin by listening to and watching other fiddlers, amassed a large repertoire and played with the Gilchrist Orchestra.
An excellent marksman, he won many prizes, including the Paterson Trophy in Ottawa in 1897 and he was selected for the Canadian Team to attend the Empire-wide competitions at Bisley in England on several occasions. He was a member of the 11th Field Battery of the Wellington Rifles Militia, rose to the rank of captain and became a shooting instructor in the Canadian military during World War I.
A writer of note, his articles were published in Weekly Fun, Rod and Gun and Farmer's Sun. John Gilchrist was also a Puslinch historian. He collected and displayed antiques for Colonel John Bayne Maclean's Crieff Museum, as well as carving replica farming equipment and a scale model of Knox Presbyterian Church in Crieff from wood. All of this, he accomplished while farming for a living.
While attending the Bisley competition in 1906, John Gilchrist visited his family's ancestral home, Kintyre, Scotland. Most, if not all, of his watercolours feature subjects from this trip. The paintings have been framed and hung in the PHS Archives in the Puslinch Library in Aberfoyle. We are pleased to invite you to view them any Saturday from 11 a.m. to 3 p.m.
VISITORS: During 2017, researchers visited the Puslinch Historical Society Archive from Lowville, Dundas, Nanticoke, Leamington, London, Ontario, Kent County, Edmonton, Kelowna, Washington State, Wichita, Kansas and California in search of information about their Puslinch ancestors. We received e-mail queries from as close as Puslinch and as far as Nova Scotia, Saskatchewan, British Columbia and Washington State.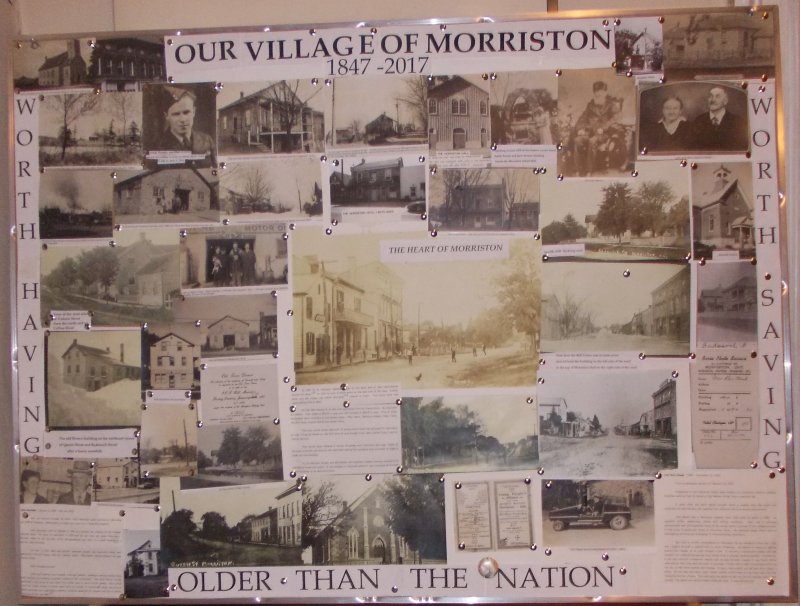 CANADA DAY: Poster by Beatrice Woolsey for the PHS display at the Community Centre.
PRESERVATION OF THE PUSLINCH PIONEER: Over the years since it first went to print in 1976, writers for the Puslinch Pioneer have gathered and published a good deal of Puslinch history. In 2017, the Board of Directors donated two complete sets of the printed Pioneer from inception to 2016 to the Puslinch Historical Society. Betty Ferguson also donated stacks of copies. In the end, three series were compiled, two complete to 2016 and one complete to 2000. As the PHS Archives already contained a complement of the newspaper, the Society was able to donate one collection to the National Library in Ottawa, a second to the Wellington County Genealogical Society and another to the West Flamborough Historical Society Archives. Historical articles are being harvested from extra copies and placed in the appropriate files in the PHS Archives. The information is now well preserved and widely available.
Check out our websites. They contain lots of information on Puslinch Township and its people:
http://www.puslinchhistorical.ca

http://www.clarksoftomfad.ca/

Check out the Duncan McFarlane diaries: https://ruraldiaries.lib.uoguelph.ca/duncan-macfarlane