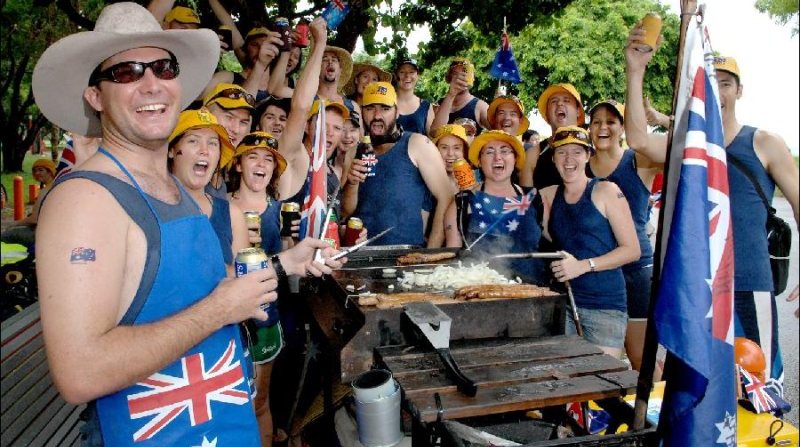 Who better to ask about barbecuing lamb than the Australians. They've certainly eat lots of lamb and barbecue all year round to boot. So, we went down under to get their secrets
Best lamb cuts for on-the-Barbie?
Our friends recommended, and we concur that steaks, loin chops, leg chops, chump chops, and ribs are the best choice. Regardless of the cut, any lamb cut should have a minimum thickness of 15mm.
Barbie Cooking Tips:
Make sure your barbecue is HOT before you start to cook. The barbecue should be hot enough to sizzle the meat when it makes contact with the grill. Use the hand test to gauge the heat. It's moderately high perfect for barbecuing, when you can hold your hand above the heat for only 3-4 seconds.
Cook one side until the first sign of moisture appears on the upper side, turn and cook other side. Turn once only for rare and medium. For well-done turn a second time once moisture re-appears and reduce temperature until cooked. Use tongs rather than a barbecue fork, as piercing the meat drains the juices onto the grill.
Don't crowd your grill. This reduces the heat and the meat will then release juices and begin to stew.
Marinated meat needs to be cooked differently. Marinade your lamb cuts overnight in the fridge and lightly pat it dry with a paper towel before placing them on the grill. Brushing the meat with a little marinade during cooking is a helpful – but not during the last minutes. And never, pour marinade directly on the meat while it's cooking. This will cause it to stew and flare-ups on the grill.
Never cut the lamb cuts to see if they are cooked. Instead use tongs. Rare is soft when pressed, medium is springy but soft and well done is very firm.
Always rest meat after it comes off the heat. This allows the juices, which have been driven to the centre of the meat by the heat, to return to the surface. Rested cooked lamb won't lose juice and it will be tastier when you bite into it.
Serve with your favourite sides and wines.
Always give your grill a really good clean after cooking lamb cuts. While it has a yummy flavour, lamb is also strong and the flavours can interfere with your next barbecuing experience.
Enjoy!
Quick Australian Sheep Facts:
There are about 74 million sheep in Australia more than any other country after China.
The first sheep (70 in total) arrived in Australia 1788. The first merino sheep were introduced in 1797.
In 1803 Australian wool was first exported to England.
Australia wool is sold to 52 countries, making Australia the number one producer of fine wool.
Have you got a lamb marinade you'd like to share? We'd love to add it to our collection!
With references from: Kidcyber.com.au | Beefandlamb.com.au
Valensbrae Sheep Farm – Pasture-raised, grass fed Ontario lamb. In addition to Dorset & Shetland sheep, Valensbrae has pot-bellied pigs, Red Sexlinks layers, honey bees and two llamas Ben & Jerry. A family-run operation led by Ted Stark.

Seasonal farm gate sales of lamb cuts.

1527 Regional Road 97 | Puslinch | 905-659-7253 | [email protected]