Savoury Baklava Made With Lamb, Perfect For Special Events
— February 7, 2019
The first we heard of Lamb baklava was at a recent Thanksgiving dinner. The hostess had scooped the recipe from the August Issue of Chatelaine.
Baklava? Lamb? That was our first reaction as well. Our vision of baklava as sweet, with lots of nuts and honey, didn't sit with lamb.
Turns out that many countries, Australia and New Zealand in particular, have modified the sweet baklava into a savoury variety using lamb.
Like all great dishes, the history of baklava is rather murky.
According to Wikipedia, baklava was probably developed in the imperial kitchens of Istanbul. The Sultan presented trays of baklava to the Janissaires (new soldiers) every 15th of the month of Ramadan in a ceremonial procession called the Baklava Alayi.
The main ingredient in baklava is the phyllo pastry which is separated with melted butter or vegetable oil and laid in a pan. A layer of chopped nuts [hazelnuts, walnuts, pistachios] is then placed on top and so on until the pastry is used up.
The phyllo is then either cut into a variety of shapes, or simply sliced in a pie. Once baked, baklava is covered in a syrup of honey, rosewater or orange flower water. The syrup sets and is soaked in to the desert.
Baklava is served at room temperature and garnished with ground nuts.
There are many regional variations of baklava from Persia to the Middle East to Northern Africa. But this, recipe for Lamb baklava is from a Canadian magazine!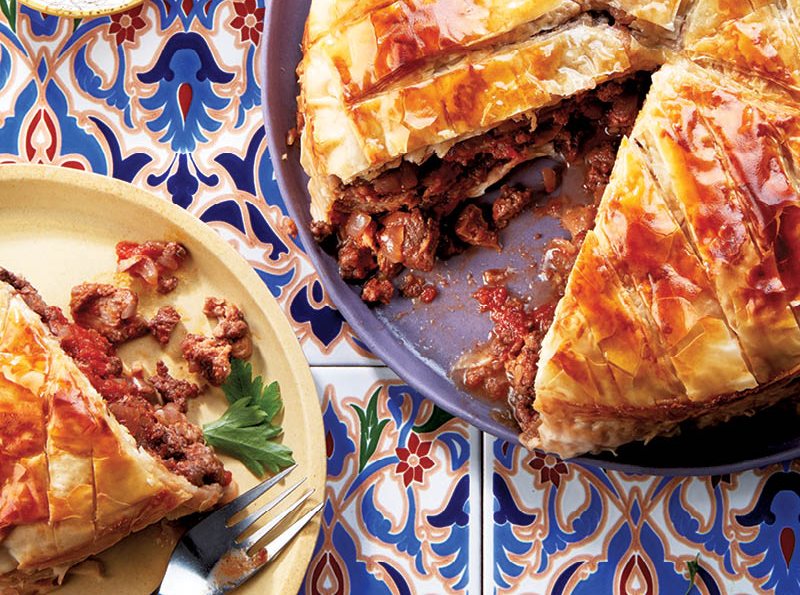 Lamb baklava
Serve: With large green salad
Serves: 8
Pairing: A lighter red, perhaps a Bordeaux
Ingredients:
• 750 g lean ground lamb
• 1 red onion, chopped (about 3 cups)
• 6 garlic cloves, minced
• 1 tsp ground coriander
• 1 tsp smoked paprika
• 3/4 tsp salt
• 1/2 tsp hot-red-chili-flakes
• 1 796-mL can plum tomatoes
• 1 cup red wine
• 1/3 cup sultana raisins
• 4 thyme sprigs
Crust:
• 1/2 cup butter, melted
• 12 sheets phyllo pastry
• 2 tbsp honey
INSTRUCTIONS:
POSITION a rack in bottom third of oven and preheat to 375F.
HEAT a large frying pan, preferably non-stick, over medium-high. Add lamb and stir often, until no pink remains, 5 to 7 min. Pour off all but 2 tbsp fat. Add onion, garlic, coriander, paprika, salt and hot pepper flakes. Cook until onion is softened, 5 to 7 min. Stir in tomatoes, wine, raisins and thyme. Bring to a boil, mashing tomatoes with a potato masher. Reduce heat to medium and boil gently, uncovered, until most of liquid is absorbed, 30 to 35 min. Remove thyme and let mixture cool completely.
CRUST: Insert the base of a 9-in. round springform pan, lip side down. Lightly brush bottom and inside edge with melted butter.
PLACE a phyllo sheet on a work surface. Brush all over with melted butter, then top with another sheet. Brush with melted butter, then repeat with 2 more sheets. Using bottom of springform pan as a guide, carefully cut into a 9 1/2-in. circle. Cover circle with plastic wrap and set aside.
KEEP remaining phyllo sheets in a stack. Lightly brush top sheet with melted butter. Remove from stack and place it, butter side up, in prepared pan with two overhanging sides. Rotate pan 90 degrees. Repeat with 7 more phyllo sheets, rotating the pan as you go so side is evenly covered. Scoop cooled lamb mixture over phyllo, then smooth top. Lift overhanging edges toward the centre of the pan and fold over to enclose filling. Top with reserved phyllo rounds. Use the dull side of a paring knife to tuck edges into side of pan.
BRUSH top of baklava with honey. Using a sharp paring knife, cut the top phyllo layers into quarters, then cut 5 evenly spaced diagonal lines into each quarter. Transfer pan to a rimmed baking sheet. Bake in lower third of oven until phyllo is shiny and dark golden, 28 to 32 min.
COOL baklava in pan for 10 min. Transfer to a platter. Cut into 8 wedges. Kitchen tip: To save on prep time, use eight sheets of phyllo instead of 12 and omit the round phyllo topping. After folding the phyllo over the lamb filling, brush the top with honey, then bake without scoring.
Sweet or savoury. At Valensbrae Sheep Farm, baklava is the best!
Valensbrae Sheep Farm – Pasture-raised Ontario lamb. Farm gate sales of lamb sold as individual cuts or by the whole or half lamb. Price List available. In addition to Dorset & Shetland sheep, Valensbrae Farm has pot-bellied pigs, Red Sexlinks layers, honey bees and two llamas Ben & Jerry.

A family-run operation led by Ted Stark.
1527 Regional Road 97 | Puslinch | 905-659-7253 | [email protected]