Puslinch Travels: A Mountain, Two Tombs And A Beach
This is part nine of a travel series by Margaret Hauwert. View Part eight HERE. Be sure to scroll down to see all the included pictures!
By Margaret Hauwert
As some of you may know I am home in Puslinch as I finish up the last few articles. It has brought back great memories of the trip!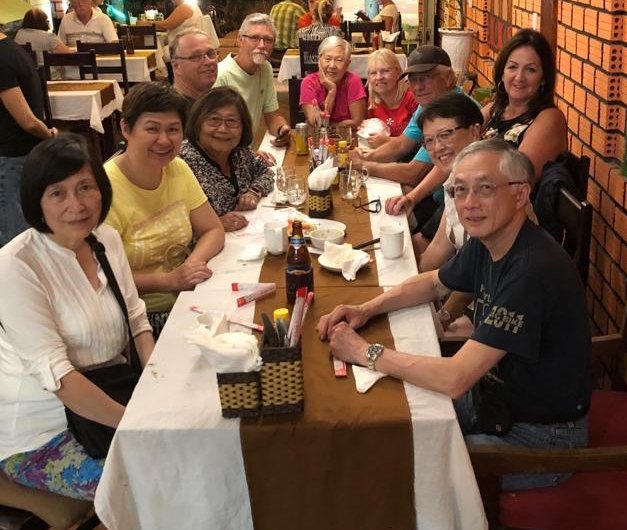 Well, our group officially swelled to 11 on Friday, Mar. 15th. Being bigger was just my cup of tea as one of my goals was to increase my peer group to at least fifteen new people by year end. As with all new beginnings, we took our friends to one of our favourite restaurants that night. It was called Tin Tin and was located a mere 2 minute walk from the hotel. This was good as all of the new people had flown in from Vancouver and would need some time to adjust from jet lag. So that no one would have to hear so much teacher talk I choose to sit at the end of the table with Grace for the evening. You are not going to believe how three degrees of separation works. She lives in British Columbia but she has a sister in Guelph, a brother in Cambridge and another sister in Scarborough. I was speechless.
It was at this gathering that as a group we started to plan what activities we wanted to do next. Lots of conversation was had that night but the biggest surprise to me was that the new travellers did not know each other and had only decided to come because Donna had asked them.
After a few glasses (15,000 dong = $1) of fresh beer it was decided that we would go to Marble Mountain, Emperor Tu Duc Tomb, Khai Dinh Tomb, Lang Co Beach and then on Saturday to Danang to see the fire breathing dragon bridge. We would wait until Joyce flew in from Hong Kong on Wednesday to visit Ba Na Hills.
A van with a driver was rented for the day (1.2 million dong= 175.000 each=$10) as this was the cheapest way to travel in a large group.
First up was Marble Mountain which was located only 20 minutes north of our Hoi An location. We stopped for 1.5 hours which in hindsight was not near long enough. This spot consisted of 5 large marble and limestone hills. Also found on different levels were functioning Buddhist and Hindu grottos. You could walk up the 120 stairs to the first level and then add on more stairs (40,000 D = $2.50) or take the elevator to the top of the mountain (50,000 D = $3) and meander through the levels. My funniest moment of this adventure was when Domenic, Ellen, Gracie and myself went into the one cave and were told by a fellow traveller that we could climb up the stones and see the lookout from above. Being naive we followed his advice only to find out this was a dead end and we had to scale the same stones on the way down. Visualize climbing stones with nothing to hang on to except the natural curve or hole in the stone and having to then pull yourself up to the next stone and repeat. This happened five times before we got to the top of the cave. Needless to say we had some not nice words to say to our fellow traveller as we slid down the same set of stones on the way down. I can laugh about it now but I sure wasn't then! We passed on different information to the people we met coming into the cave.
We were all very happy to climb into the air conditioned van which whisked us off to our next stop The Emperor Tu Duc Tomb. This popular site was designed by the emperor himself so there is lots of land and surrounding ponds filled with large koi. Even though he had 104 wives there were no offspring.
My favourite destination was up next, Lang Co Bay. This beach was unlike any I have ever been to. The sand was white and very, very fine. The water was warm, clean and a pale blue. I could have stayed here for a couple of days to just sit and enjoy the view. After a lunch of seafood we headed off to our next tomb.
The Khai Dinh Tomb. He was emperor in 1916. Even though it is a smaller area it is more elaborately designed. The French influence was disliked by many Vietnamese people. It caused many problems as they didn't feel it was reflective of their cultural. Entrance fees were the same of 150,000 D ($8.50) each.
We could hardly wait to get back to the hotel for a nice hot shower as it had been a long and fun by exhausting day.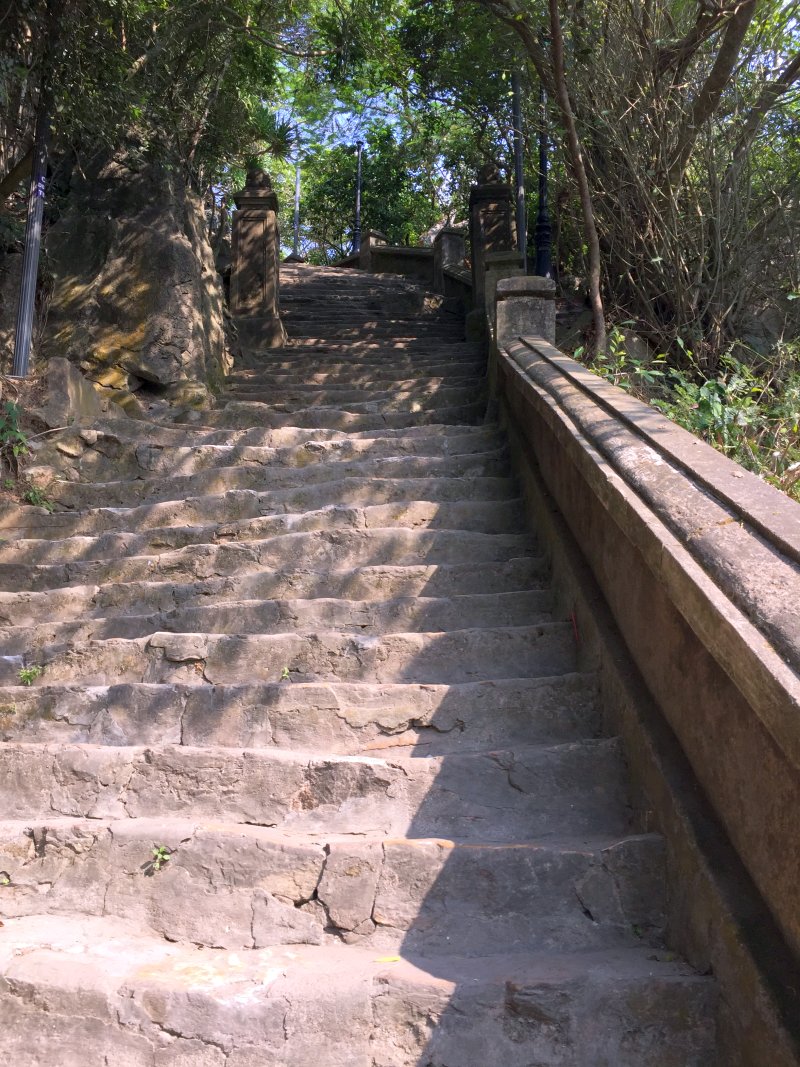 Marble Mountain: Stairs in any of the sites were always of different lengths, widths and heights. It was always a good workout.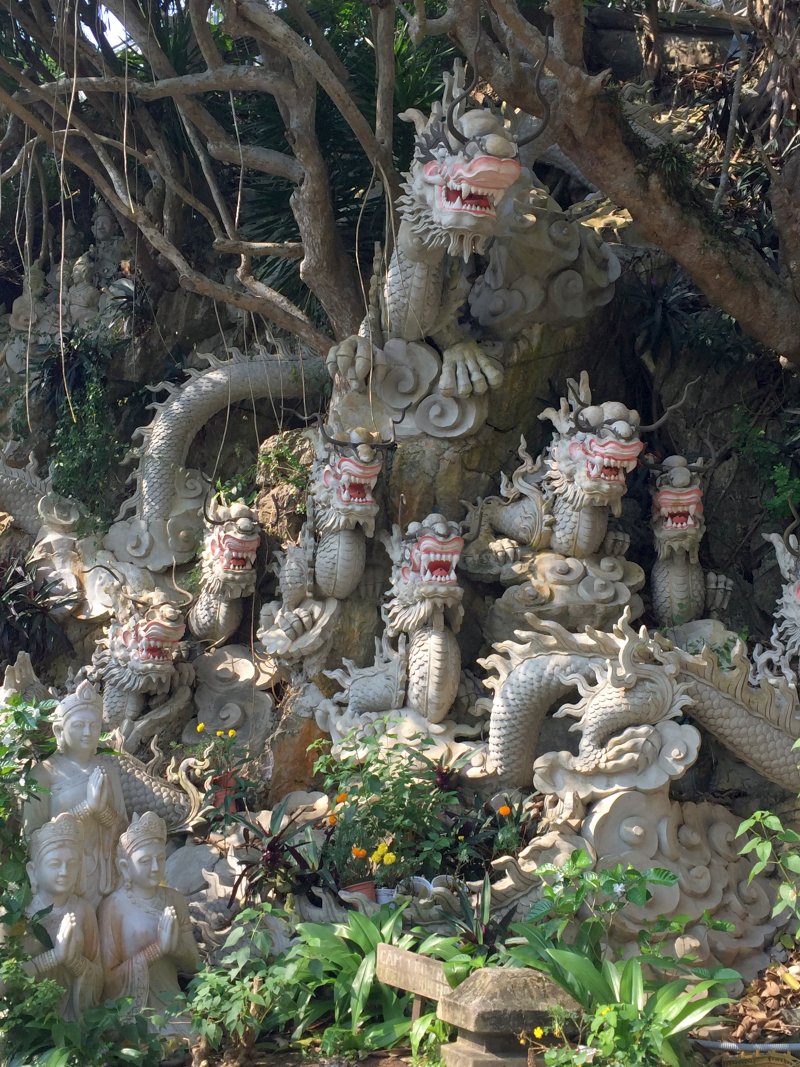 Marble Mountain: One of the many carvings found all over the mountains.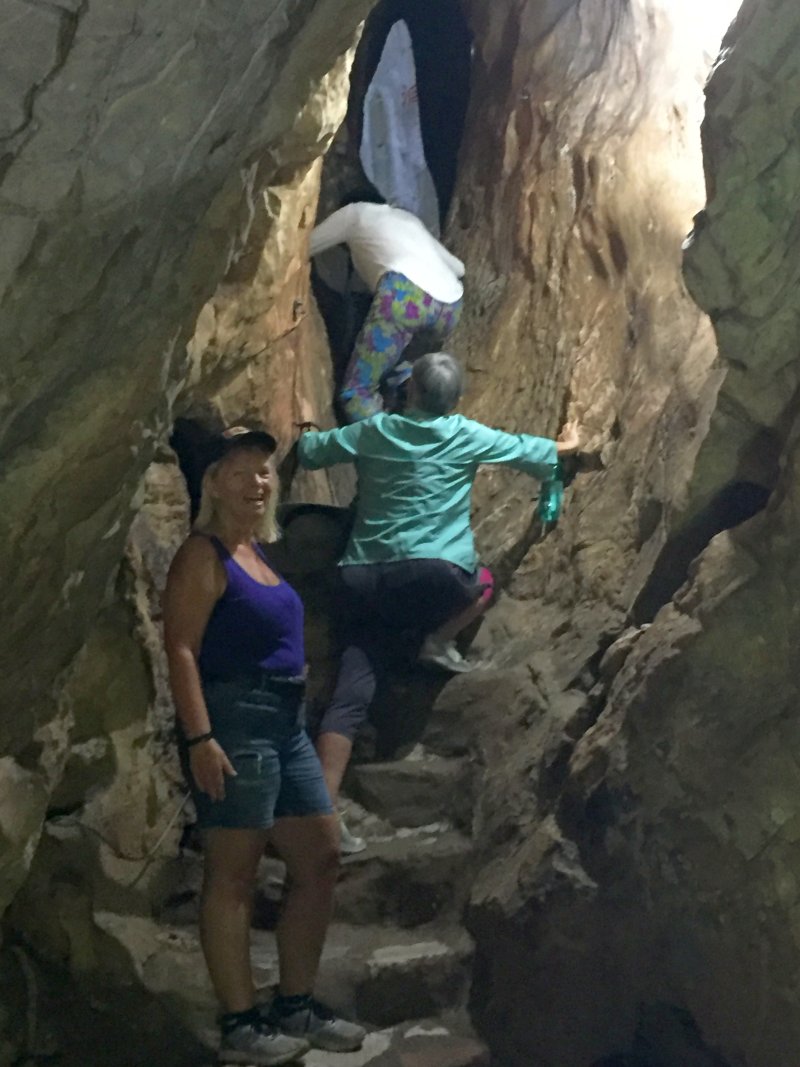 Marble Mountain: I was naively smiling as I had NO idea what we were in for.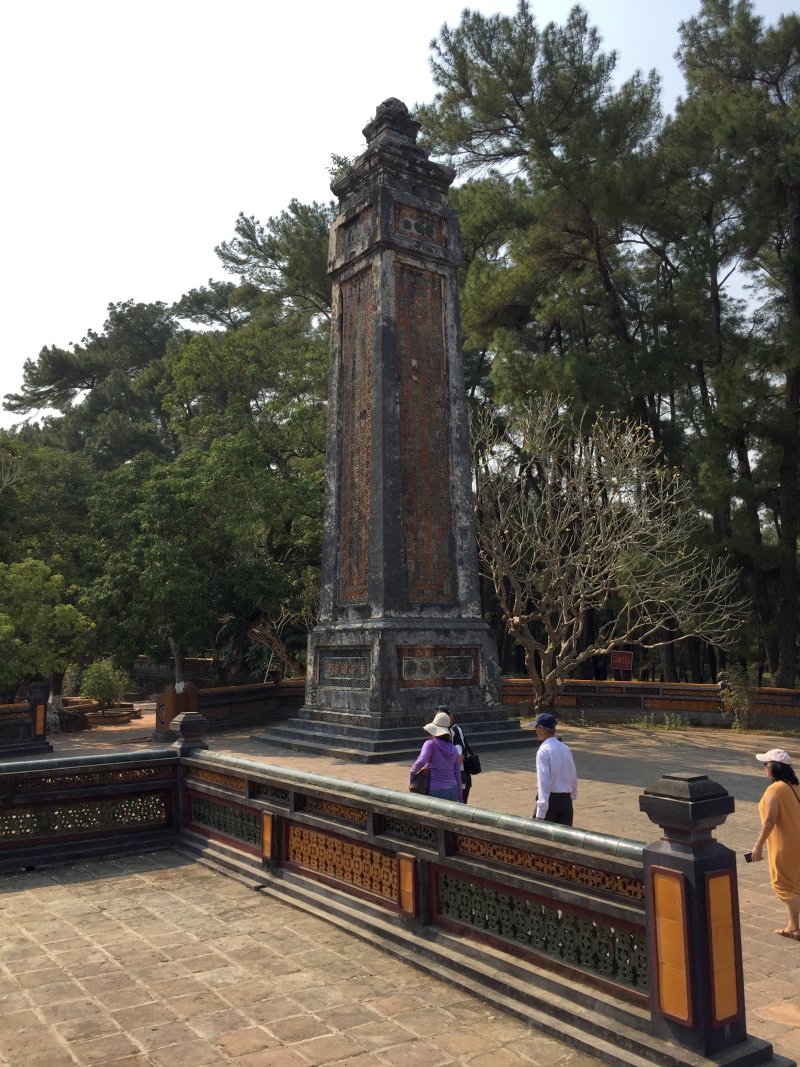 Tu Duc Tomb: This site has large spaces for viewing the many tall structures.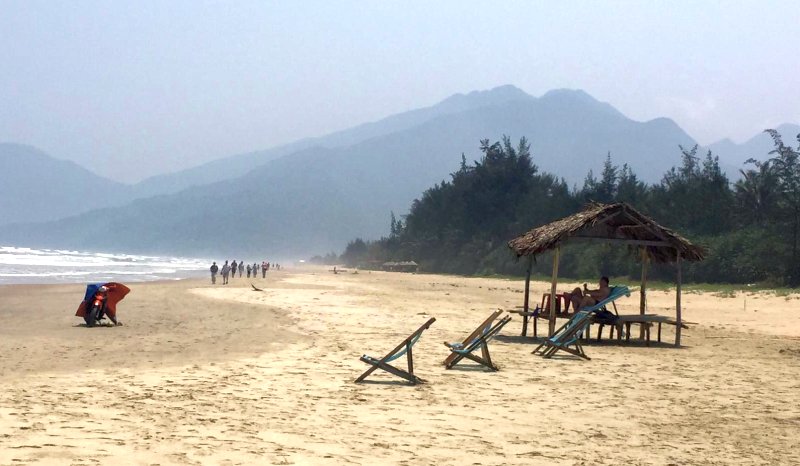 Lang Co Bay: Just looking at this picture makes me want to transport myself back to this stunning location.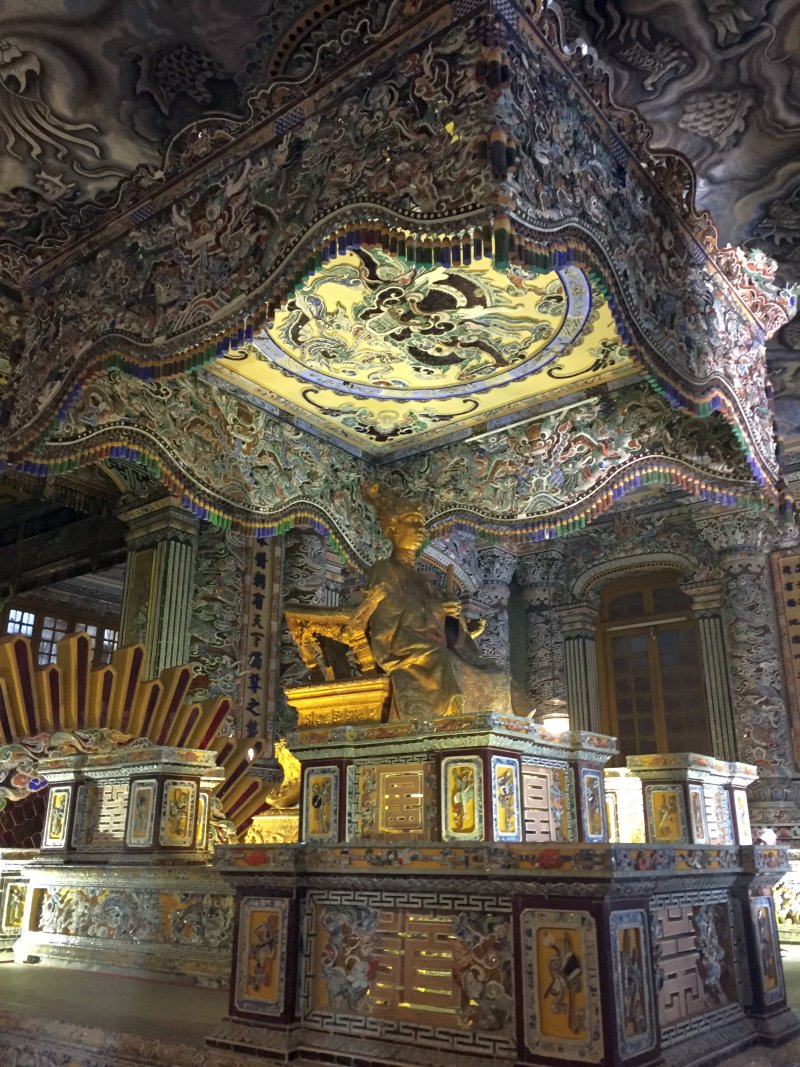 I was in awe of this beautiful design at Khai Dinh Tomb.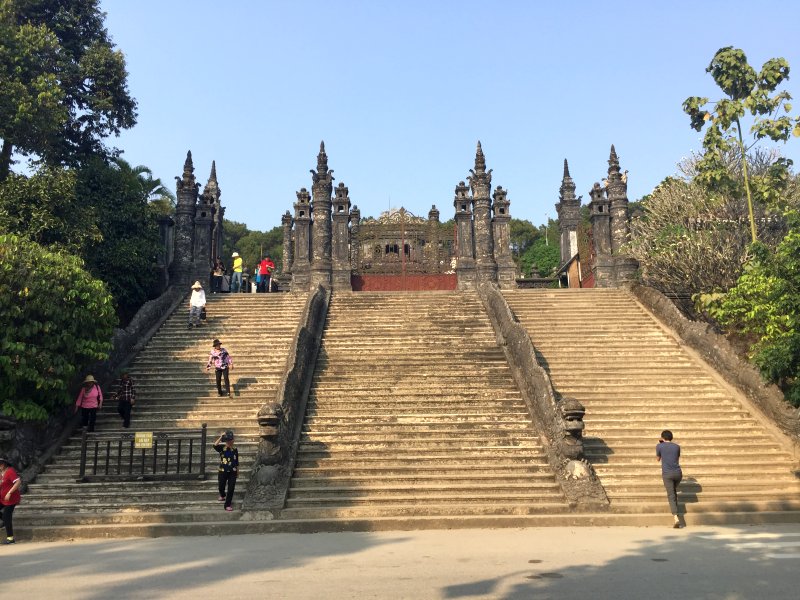 Khai Dinh Tomb: My Fitbit was never disappointed in Vietnam as there were always stairs to climb to get to your next activity.