Puslinch Travels: Vietnam The Adventure Continues
This is part ten of a travel series by Margaret Hauwert. View Part nine HERE.
By Margaret Hauwert
Da Nang Dragon Show
Joyce had arrived so now we could do some really touristy things as none of us had been in Vietnam before. First on the agenda was to go to see the free Fire breathing dragon show located in Da Nang a short 20 minute drive by car. Tim's business was busy with us, as we once again used his services "Hoi An Pick-up". This time our driver understood and spoke English really well. We wanted to be in Da Nang 4 hours earlier as we had heard there was a Big C grocery store nearby. We were on the hunt for Vietnamese coffee and felt it would be cheaper in the big city. We were correct and loaded up with 20 boxes and bags of coffee.
Then it was off to find a restaurant where we could see the event unfold. The event was not going to start until 9 pm however the tour buses started to arrive at 6 p.m. At last we found the perfect spot it was three floors up at the Kalyspa bar and coffee place. We were all seated above the purple line too far and dark to get a good picture of us but good for dragon watching.
As Joyce and Jeanette explained to me the pearl is one of the most powerful symbols in the ancient Chinese belief. The dragon spits out the pearl to give good luck to everyone watching, then it breathes fire to show power and fierceness. A person born in the year of the dragon is thought to have good leadership abilities.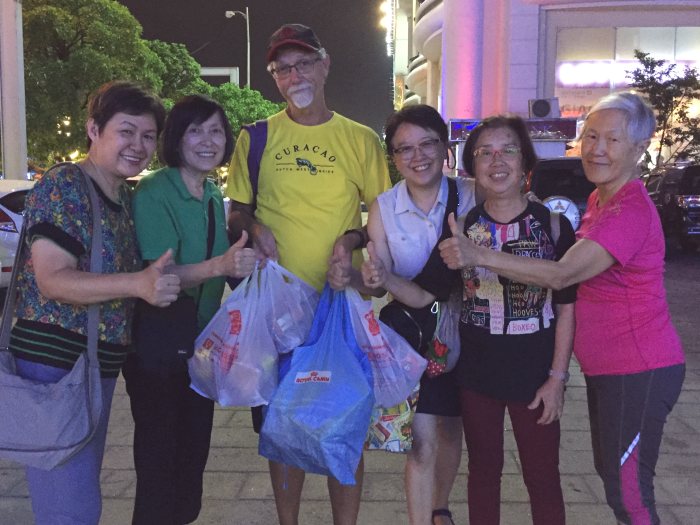 We felt that John would enjoy carrying all our Big C purchases.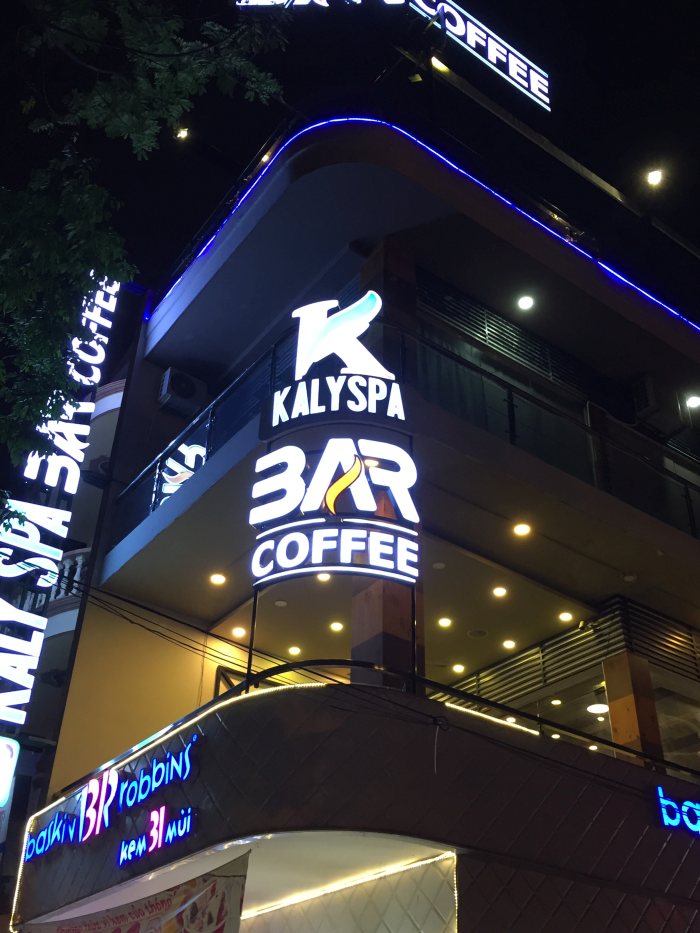 Ba Na Hills
After arriving in Hoi An we had chatted with many foreigners who said you must go to Ba Na Hills to see the Golden Bridge. So over a lazy breakfast meeting it was decided that we would all go to see the hands. There would be 14 of us. It was going to be 700,000 D ($42) each to get in plus 80,000 D ($5) for the van rental. It was super cheap because there were so many of us. We knew we had to leave early as there could be as many as 10 to 20, 000 visitors on any given day. Oh my word, the brochures do not even do it justice. Going on the cable car through the clouds was awesome. Lucky for us it was a clear, sunny day as you always take a chance on the weather in this location. This "Disney of Vietnam" as the locals call it had a non stop festive mood. All day long we raced from one level to the next. On the first level is the entrance and a short cable car ride to the gardens on the second level. This year the owners "Sunworld" were aiming to have 1 million flowering tulips celebrating "The Year of the Pig". On this level there were also several gardens to explore as well as the famous "Golden Bridge". The hands that wrapped around this bridge are awesome to see up close and from a distance. At first I thought they were shaped out of the stone found on the mountain side but realized that would be too heavy. It really is fashioned with wire mesh and fibre glass. Regardless it is a sight to see. From the second level, you take another cable car to "The French Village" and Fantasy Park. The underground amusement park is where a lot of the action is for children and the young at heart adults. We loved going on the bumper cars, playing skeet ball, navigating the pac man Atari game, pretend shooting in "The house of death" and riding on the Alpine Coaster. This tourist attraction holds the record for having the longest continuous cable car ride. It was 28 minutes from level 3 to the entrance. The views were stunning!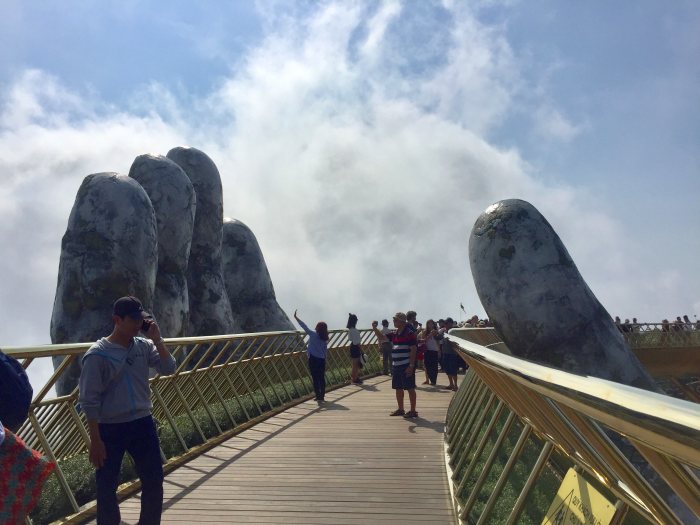 One part of the hands when the bridge was not too busy.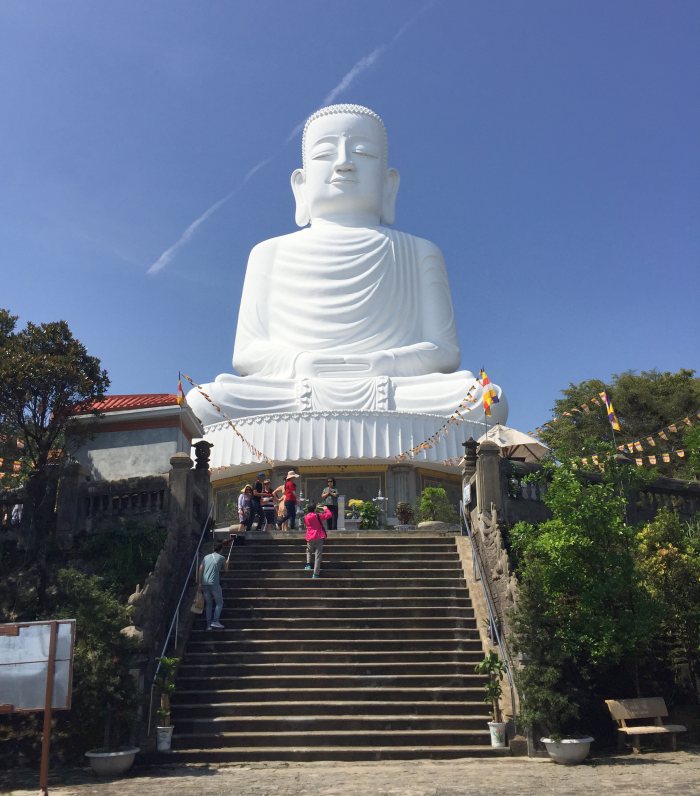 One of many buddhas, however this is the one that you can see from the cable cars.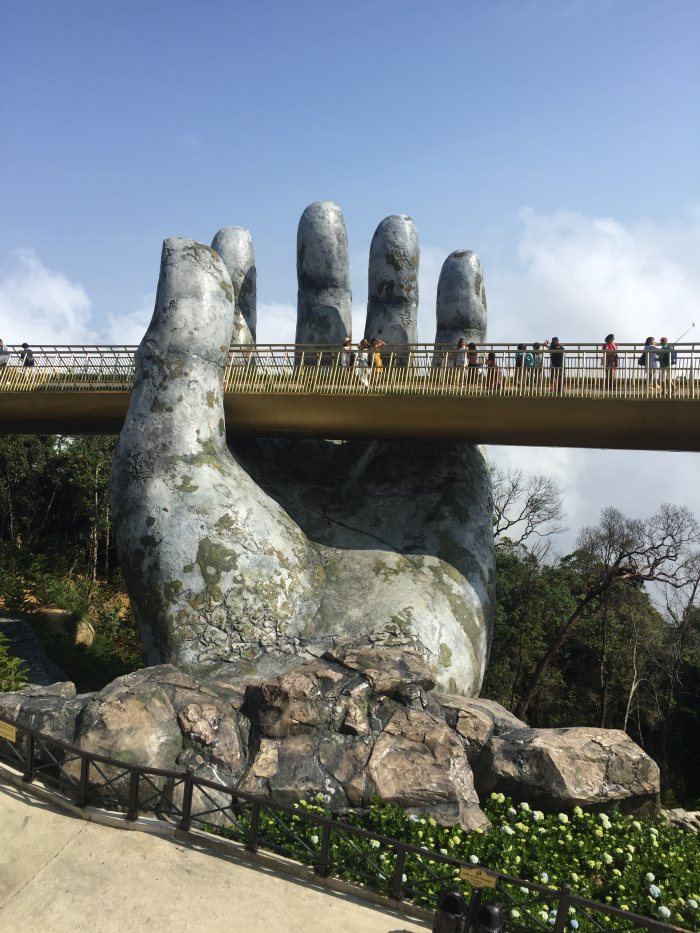 One of my favourite pictures taken from the cable car.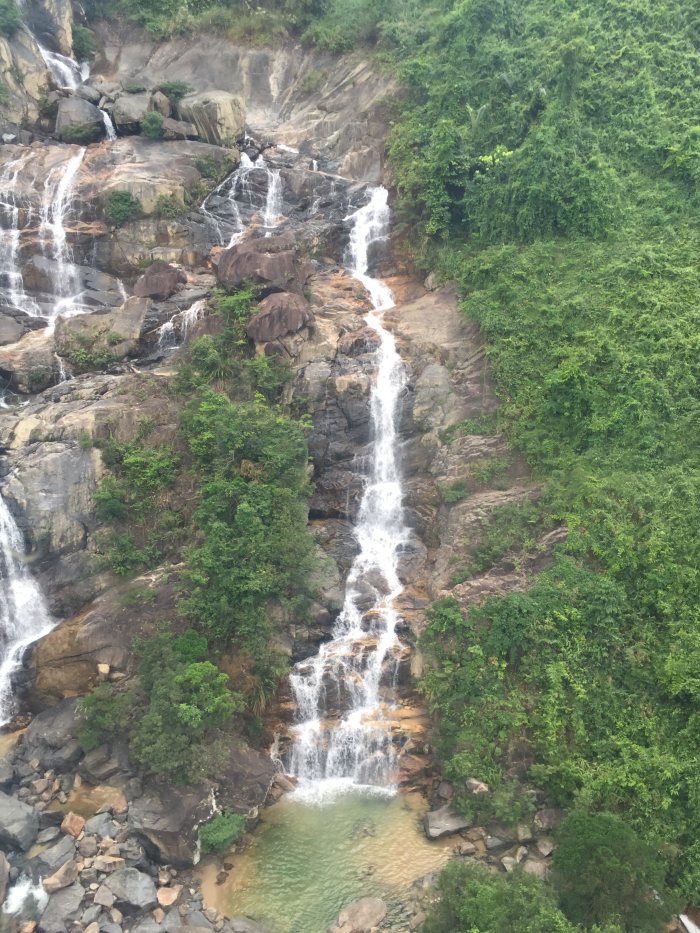 One of MANY waterfalls seen on the way down on the longest cable car ride.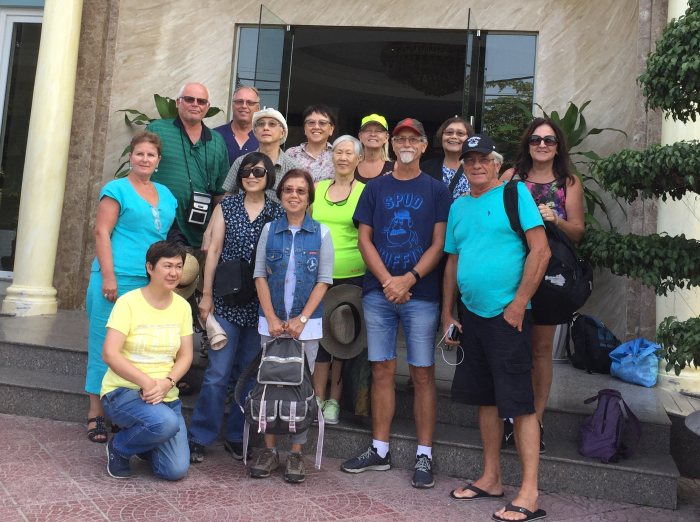 Our group now included two new people from Finland. Marti and Anu
Charity
I knew already before going to Vietnam that Jerry and Nina were part of a local (but global to me) charity network. I was excited to be part of it and wanted to expand on my knowledge of how global giving worked. We were going to be delivering blankets, box of noodles and 10 lbs of rice to two villages. I didn't realize for this project how much had to be set up before hand. We had to secure an ok from the government to visit the villages, contact the head tribes person to collect information of how many, solicit a translator, collect money to buy supplies, rent a truck to take the supplies and finally rent a van for ourselves. The goal of everyone that went was that 100% collected was used for food and blankets as the people going would pay for their own transportation. It was satisfying to be part of this eye opening experience.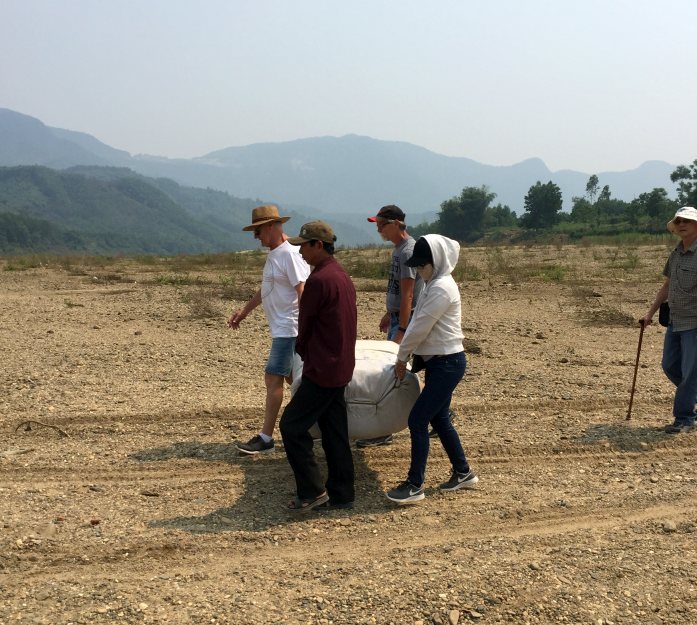 It wasn't heavy just awkward for carrying.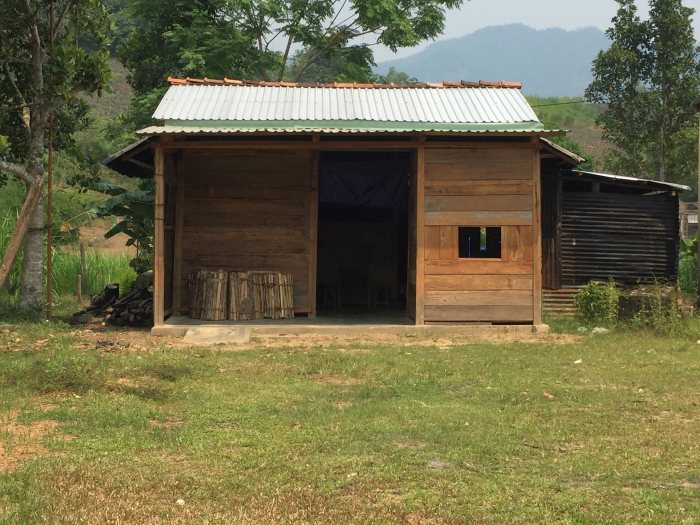 I often take for granted how lucky I am for where I live.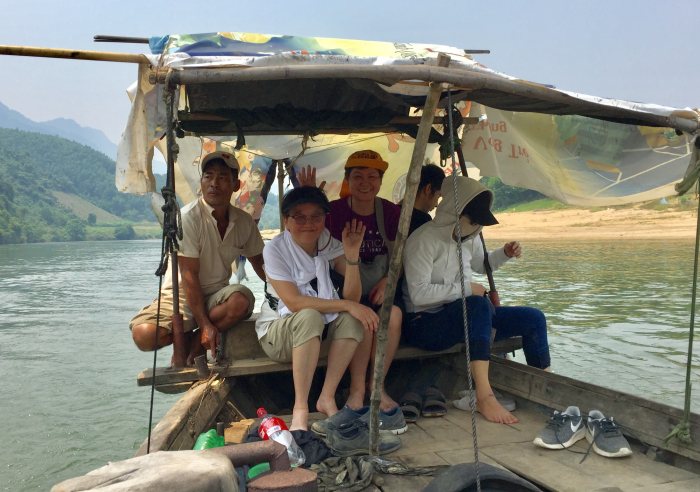 For one of the villages we had to take a boat to cross the river.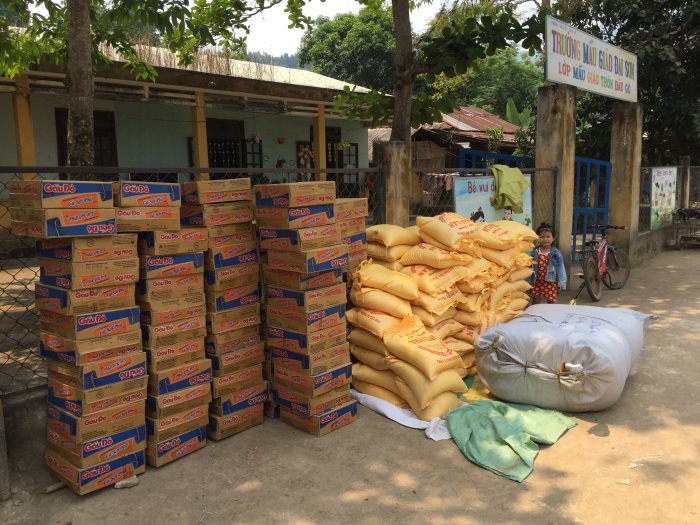 Enough food for 80 people for one month.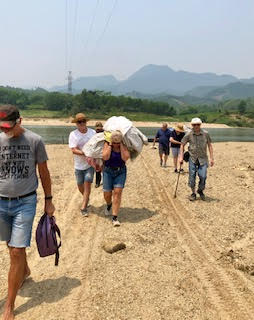 I waited until the bundle was much smaller to carry it.