Paint Night At The Change Of Pace Restaurant Thursday May 30th!
— May 27, 2019
Click HERE for information on how to register!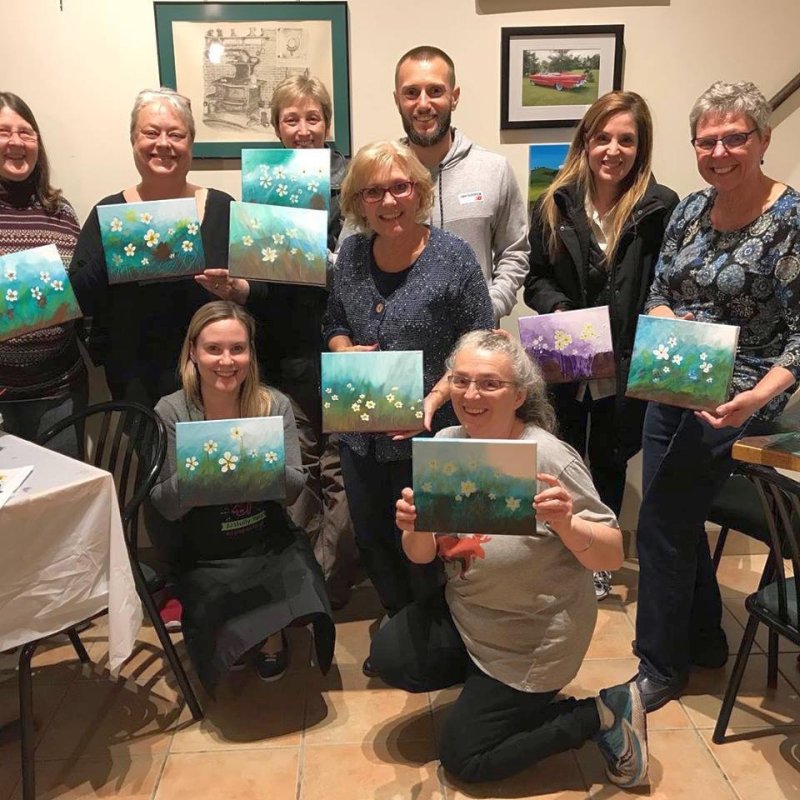 How I Went From Preschool Art To Picasso In Two Hours
When I walked into The Change of Pace Restaurant last month for a paint night to let my "creative juices flow and the stress melt away" I thought I was going to paint by numbers. I figured this has to be the process. How can a person with no experience, well since high school anyway, and most likely no talent, well for painting anything other than a wall, be able to produce the beautiful pieces I see on Facebook after a paint night class? Surely these people who have participated all have their own inner Monet or Manet or even a Van Gogh or two in them? Well, the answer is, just like me most had never done this before or had even painted in eons. So where were the numbers? All I saw in front of me was a blank canvas. I thought at that moment that I should probably excuse myself to go to the bathroom and slip out the back door before I embarrassed myself completely! But alas, I had a lovely young guest and SHE did have experience AND talent so I thought better not to be rude and ditch her especially since I drove.
I could go through this step by step, how I got from from a few indiscernible blobs to a piece of art that, if I must say so myself, surprised me beyond my wildest imagination and now hangs in my kitchen. But that should be your journey when, and I am saying when, because everyone should do this at least once. Personally once you've experienced a paint night with Julie-Ann Wurtele, a resident artist of Puslinch, I think you won't be able to do just one. Sort of like eating one Lay's potato chip, it's not possible.
What I will tell you is that this is the perfect girl's night, date night, first date night (yes what a great way to get to know someone!), family activity or just the perfect gift for that hard to buy for person.
There is laughter, surprise, camaraderie, team work and even support when you just can't get those clouds painted right. All under the expert guidance of Julie-Ann Wurtele from Artfully You.
Everything is included, just bring yourself and/or friends and come early for a delicious bite to eat at The Change of Pace Restaurant in Morriston. The restaurant will open at 5pm.
Next Paint Night is this Thursday, May 30 at 7pm -9pm. Check the details out and how to register in our Event Calendar by clicking HERE. And have some FUN!