Local Resident Brings Kindness To Puslinch
Click on any image to see it full size!
When Kelli Wallace and her husband were travelling through the US on a road trip, she never dreamed she would find something so special that would change her perspective on these difficult COVID times.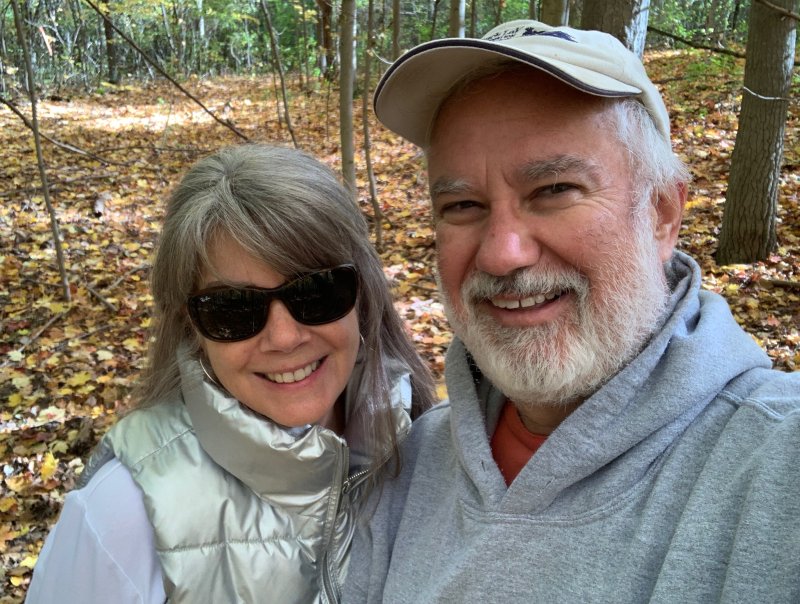 They took off for their destination with a large supply of food provisions, allowing them to avoid eating in restaurants, a best practice now if you are on the road, to maximize physical distancing. On their way they stopped in Illinois for gas and chose a pretty park nearby that they has sussed out as green space on the map. While sitting on the park bench, eating her sandwich, Ms. Wallace looked down and noticed a rock perched amongst the mulch. She picked it up and exclaimed "Oh, it's painted!" She tells me that rock brought her a moment of happiness that has stayed with her since.
What Wallace didn't know at the time was that it was a Kindness Rock, created by a local resident inspired by the Kindness Rocks Project which is a worldwide movement whose mission is "One message at just the right moment can change someone's entire day, outlook, and life."
She took a photograph of the rock and posted it on the EliginILRocks Facebook Page while noting that they had been travelling from Toronto to Minnesota and found the rock at the park bench. Someone recognized the rock's creator and tagged her in the post. When the artist read the comment she thought her rock had travelled all the way to Ontario and was thrilled. Except Wallace wasn't aware at the time what to do with the rock so she left it in the same place. Which is perfectly fine as the "rules" are geared to spread happiness, and that can be done any way you like if you find a rock. You can keep it, give it away or hide it somewhere else, even if it's in the same spot. Learn more here about The Kindness Rocks Project.
On returning home to Puslinch Wallace said "When I stumbled across that first rock in Elgin Illinois, it stayed with me. I thought about it for several days, actually weeks, and decided that I wanted to give that little bit of joy to people in my community. It's such an unprecedented tough time in our world right now. The negativity is palpable. I can't change the history or how people have been treated or COVID or the political unrest. I'm fond of saying 'Kindness is Free'. (Maybe there's a small start-up cost with supplies.) This seemed like a way to offer strangers a hug." When she found out that there was a universal movement called Kindness Rocks it called to her chose 'K Rocks' as the group name.
She also shared with me that Provincial Parks are off limits to the Kindness Rocks. "I've heard that there's some environmentalist that oppose this idea. I certainly understand and respect the request by the Provincial Parks to not put these painted rocks in those areas. Our rocks are made with (love and) paint and then they are sealed. I don't expect the paint to last forever, but I don't think that they are polluting any more than the paint on people's homes or the lines painted on the asphalt. It's also the intention that people find these rocks and keep them, or share them with someone in need, or we hide them for another person to find. So how many rocks truly stay out in the environment is unknown."
K Rocks will launch Friday October 30 to coincide with Halloween. Since this year will be so different due to physical distancing, her hope is that Halloween can also be celebrated if not by collecting candy, by spreading kindness instead.
On a final note Wallace left me with this thought: "Each of us has our own path and journey in life. I would never assume to understand another's. And I don't think these rocks are magic and will solve the world's problems. I have had my life's challenges and family relationship issues, but the rock I found in Elgin Illinois filled me with joy. That gave me the incentive that maybe a few of my rocks can reflect kindness or give joy or hope to others. "
Click on any image to see it full size!
To find out how you can join in the fun and spread the joy
FOLLOW K Rocks on Facebook
. And may joy be with you when you find a rock.