OSSGA Responds To Mill Creek Stewards Letter
Dear Editor:
I am writing today in response to the article from the Mill Creek Stewards published in Puslinch Today on November 3rd. The article contains a number of misrepresentations and a clearly one-sided and uninformed view of the aggregate industry overall, and in particular in the municipality of Puslinch. The article asks "whether the Puslinch community's rights to a healthy, viable community are being fairly balanced with the aggregate industry's right to gravel extraction." As an important part of the Puslinch community the aggregate industry would like to help answer that question.
The aggregate footprint in Puslinch
First let's start with some facts to get an idea of the scale of the industry in Puslinch, directly responding to the article's assertion that Puslinch can be compared with 'Swiss cheese'. The area of Puslinch is 21,400 hectares. Currently, Puslinch is home to 27 licenced aggregate sites, 25 pits and 2 quarries. The total area of these sites is 1508 hectares, or 7% of the area of Puslinch.
Does that mean there are currently 1508 hectares of land currently under excavation in Puslinch? No. Licensed sites are typically extracted in phases. That means that on any licensed property you are likely to see three types of land uses:
The active area of the site that is currently being extracted. We know that in the Ministry of Natural Resources and Forestry's Guelph District (where Puslinch is located) approximately 35% of the licensed site areas are typically 'disturbed' or under extraction at any one time.
Areas of the site where extraction has been completed and progressive rehabilitation has taken place. These areas may have been rehabilitated back to farmland, natural vegetation, wetlands or other features.
An area of the site where work has not yet begun. As this land awaits extraction it might be used as farmland, sit as a natural area, or have some other use.
The net result: Assuming the Guelph District average, there are approximately 528 hectares (or 2.5% of Puslinch) being actively extracted in any one year – hardly 'Swiss Cheese'.
New applications for aggregate sites are subject to the Aggregate Resources Act (ARA), The Planning Act and more than 20 other pieces of legislation. The aggregate industry in Ontario is one of the most highly regulated in the world. Sites must also receive zoning from the municipality and must comply with hundreds of regulations. Municipalities, in this case the County of Wellington and Township of Puslinch will often hire their own independent experts, at the aggregate company's expense, to confirm a proposed aggregate application conforms to all of the policies and legislation and that the community is protected from negative impacts.
While it is true Puslinch has a great supply of aggregate, that does not mean the industry has unabated access to that resource. The map of gravel resources provided in the article does not account for constraints such as already developed areas, provincially significant wetlands and other uses that would preclude extraction. Recent changes to the ARA and the Provincial Policy Statement have helped provide clarity in certain areas of land planning, but the municipalities have the same fundamental degree of control over zoning of aggregate sites as they have always had.
Rehabilitation and Puslinch
Aggregate operators are required under the Aggregate Resources Act to progressively rehabilitate their sites as they move from phase to phase. But more important, as the Mill Creek Steward's acknowledge, there has been a conscientious effort to rehabilitate in Puslinch by aggregate producers. In fact, Puslinch and the surrounding area is home to outstanding and award winning projects both from small and larger producers. Here are two examples:



Above water example of rehabilitation: Capital Paving Inc.

Wellington Pit Township of Puslinch
Capital's Wellington Pit was licenced in 1998 as a below water pit and is 96 hectares. Since that time, Capital has rehabilitated a total of 57 hectares with 6.34 hectares of wetlands/wooded areas and 50.66 hectares returned to productive agricultural lands that has seen a number of different crops such as corn, soybean, wheat and hay fields. Capital also rehabilitated its former Pit #2 across the street from Wellington Rd. 34 and surrendered the 30 hectare licence in the early 2000's. Pit #2 is now a mix of agricultural fields and a horse boarding and riding stable complex.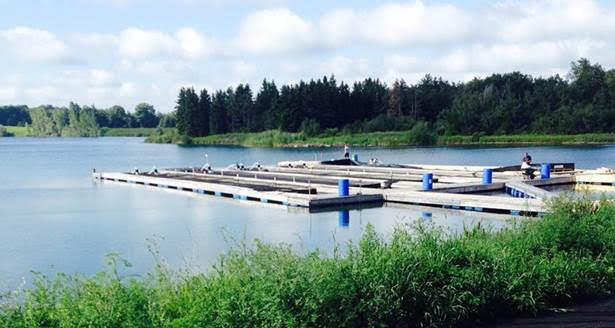 Below water example of rehabilitation: Izumi Aquaculture Project and CBM Aggregates (St. Marys Cement)
In 2016 Izumi Aquaculture partnered with CBM Aggregates for a unique project in Ontario to demonstrate the effectiveness of floating raceway technology for the production of Steelhead Salmon in a former aggregate site. The waste products from the fish [fuel] provides for a diversity of plant life in the pond – bringing new wetlands and biodiversity to the eco-system. Located in Puslinch, this highly innovative project is breaking new ground in aggregate rehabilitation and is attracting attention from all over the world.
In the MNRF District of Guelph (which includes the Township of Puslinch), there has been more than 4,000 hectares of former aggregate sites rehabilitated in the past 20 years, and that important work continues every day. For more examples of innovative rehabilitation, visit GravelFacts.ca/rehabilitation.
MPAC Property Assessment in Puslinch and the Aggregate Levy
The issue of a fair and equitable MPAC valuation system for aggregate is not new. In 2008, a new methodology, using inappropriate industrial land rates, was adopted by MPAC which caused valuations and taxation rates to soar for aggregate producers. More than 500 appeals were launched by aggregate producers across the Province. The appeal was settled in 2016 and the rates returned to a more reasonable level. There are however some municipalities who were not happy with the settlement and are looking to that artificially high rate in 2008 as the bar they believe the industry should be paying.
The new methodology uses a cost-based approach to establish the land's baseline value by assigning a Class 5 farmland rate plus a licensing cost to account for the investment in the land to get a licence allowing for future extraction. The appropriate tax classification is then applied based on the use happening on the land. That means if a portion of a licenced area is being actively used for extraction – it is taxed at an industrial rate, if it is currently being farmed, it is taxed at a farm or residential rate. If there is no activity at all on the land, it may be taxed at a residential rate. Given these various uses on the property, we regard this holistic approach as fair and reasonable.
With respect to taxes assessed on rehabilitated below-water properties, as the Mill Creek Steward's article points out, there can be very successful post-rehabilitation uses for the land that integrates new water features. The Reid Estates, a former sand and gravel pit, now boast homes with some of the highest property values in the County. This could also happen at other below water sites in the Township when those sites are depleted.
In addition to the property tax, the aggregate industry pays a levy on each tonne of aggregate extracted. We are the only industry that pays such a levy in Ontario, which amounts to more than $20 million across the Province. In 2019, Puslinch received more than $515,000 of these dollars. In Puslinch aggregate sites are typically located within 1 kilometre of regional roads which are designed to accommodate heavy trucking, and within 5 kilometres of highway 401. In fact, the majority of the Township haul roads being used by aggregate trucks were paid for and built by the aggregate companies at no cost to the taxpayer. The truth is, the industry pays its fair share – and is happy to do so.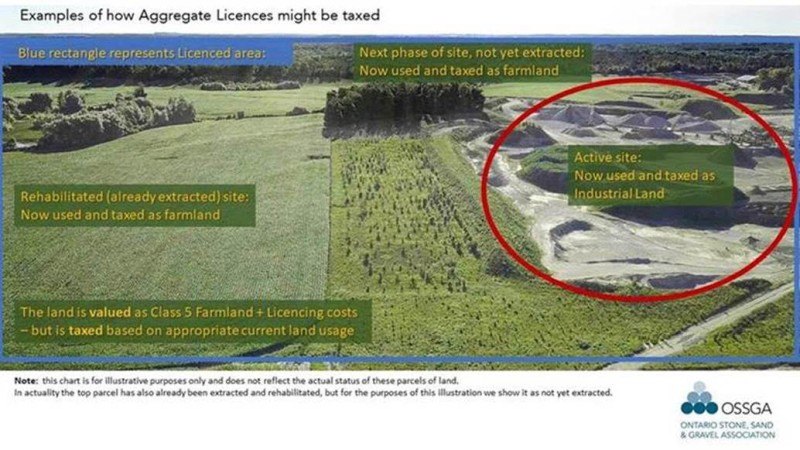 We do agree on one thing. We need balance. We all use aggregate, every day. When we get up and brush our teeth (toothpaste), look out the window (glass) of our house (bricks, mortar, foundation, paint), drive to work (roads) or go shopping (buildings). Stone, sand and gravel is the basic building material of modern society. So, how do we find that balance? As we have demonstrated above – to ensure the safety of Ontarians and the environment, the industry complies with hundreds of environmental and other regulations before it can extract from a property… that is balance. The industry not only pays taxes but it also pays an aggregate levy to the municipality and helps build haul roads and other infrastructure in its host communities… that is balance. Aggregate operators are conscientious stewards of the land, engaging in progressive rehabilitation and creating the green spaces for the next generation… that is balance.
The industry is committed to working with government and communities to create the balance we need to build a better Ontario. I urge your readers to visit GravelFacts.ca or contact the Ontario Stone, Sand & Gravel Association at [email protected] for more information.
Regards,
Norm Cheesman

Executive Director
Ontario Stone, Sand & Gravel Association (OSSGA)

5720 Timberlea Boulevard, Unit 103

Mississauga, ON L4W 4W2

www.ossga.com