Have Your Tried Local Puslinch Lamb Shanks?
LAMB SHANKS: One Dish Meals
After a long day at work and with only 30 minutes to get the gang primed and ready for hockey practise, who needs the hassle of using more than one pot? One-dish meals for busy families is the ideal solution and Lamb Shanks: Italian Style, tastes great, is easy to make for company, or can be pre-made and heated up for quick and nutritious weekday meals.
The Valensbrae Farm cooks have a large assortment of cook books. One of our favourites is – Reader's Digest One Dish Meals – The Easy Way. First printed in 1991, copies are still available on Amazon or e-bay.
It's easy to tell by the torn and dogged eared pages, notes in the corner and grease splattered recipes that this book was one of the favourites! And this is where we found this week's recipe along with several other great lamb recipes.
Lamb is more common in Greek than Italian cooking, but these shanks are flavoured with wine, tomatoes and rosemary and then slow-cooked until the lamb practically falls off the bone!
But Italians do eat lamb. According to Williams Sonoma, raising sheep was the primary occupation of the Abruzzo region which is located along the Adriatic coast. The Aburzzese shepherds drove their flocks along the coast south in the winter and north in the summer for easy feeding. As expected, over time, towns were built along the shepherd's migration path, where lamb is regularly eaten.
The shank is the portion of meat around the leg bone beneath the knee. Valensbrae lamb cuts are sold by the half or whole lamb. Each half lamb contains 12 shank pieces.
Here's our suggestion for lamb shanks, but do have a favourite way of preparing lamb shanks and would like to share with the Puslinch Today readership?
Send your lamb recipes and stories to [email protected]
LAMB SHANKS, ITALIAN STYLE
Prep: 30 min
Cooking: 1.5 hours
Servings: 2
Pairing: Pinot Grigio
Ingredients:
4 Lamb shanks
2T oil
8 large shallots finely chopped
2 garlic cloves, minced
2 medium green peppers, cut lengthwise into ½ wide strips
1C dry white wine
14oz can of chopped tomatoes, juice too
1/2t each of dried rosemary and salt
Pepper to taste
1C of basic beef stock
1C of orzo (rice-shaped pasta)
1/2C minced parsley
Instructions:
Brown the shanks in Dutch oven or similar until well done on both sides (about 10 minutes.) Remove shanks and add shallots, garlic and sauté until softened (about 5 minutes). Add green peppers until softened (about 10 minutes). Stir in wine, scraping up any browned bits on the bottom of the pan.
Return the shanks, add tomatoes, rosemary, salt, pepper and stock. Cover and reduce heat to a simmer and cook for 1.5 hours or tender. Turn and baste the shanks occasionally with pan juices.
Once the shanks are tender, skim off excess fat. Add the orzo, cover and simmer until tender (about 10 minutes). Stir in all but 2T of parsley with the remainder on top when plated.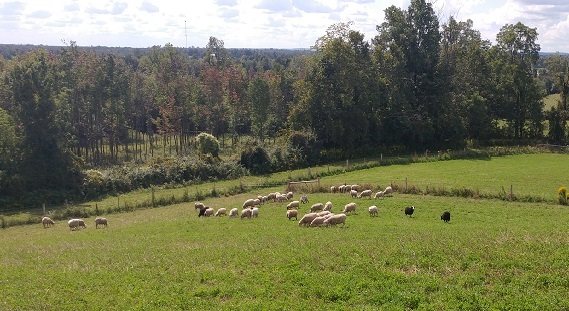 Valensbrae Farm – Pasture-raised Ontario Lamb. Pre-order today for lamb meat available in November. In addition to Dorset & Shetland sheep, Valensbrae Farm has pot-bellied pigs, Red Sexlinks layers, honey bees and two llamas Ben & Jerry. A family-run operation led by Ted. Stark.

1527 Regional Road 97 | Puslinch | 905-659-7253 | [email protected]