Union Market Square Open In The Heart Of Arkell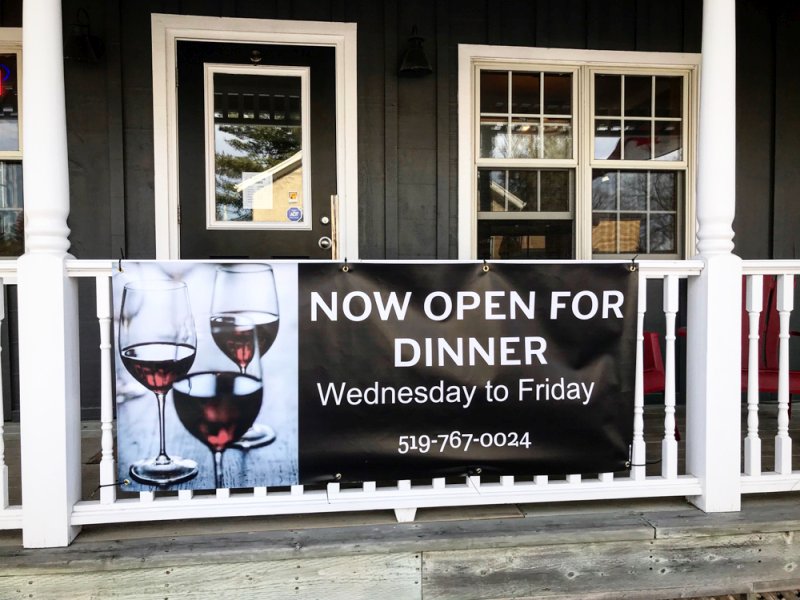 As I walk towards Union Market Square, just a few steps away, I pass a pretty young woman going to pick up her three children at the school bus stopped at the first house on the road. She gives me a friendly smile and says hello. I knock on the door, the market and bistro is closed on Mondays, and Chef/Owner Stephen Goyda answers. I'm there to take photos and find out more about this venture he has set a course for in a quaint house at the corner of Watson and Arkell Roads.
In walks the young woman with her three children, all bundled up to stay warm on this chilly afternoon. It turns out she is Goyda's wife, Jessica. The family live just down the road in Arkell, not far from their new business. The kids are happy for the long Easter weekend coming up and are glad to sit in the corner and share a large fresh home baked cookie to pass the time patiently while I click away taking photographs of the charming and cozy environment.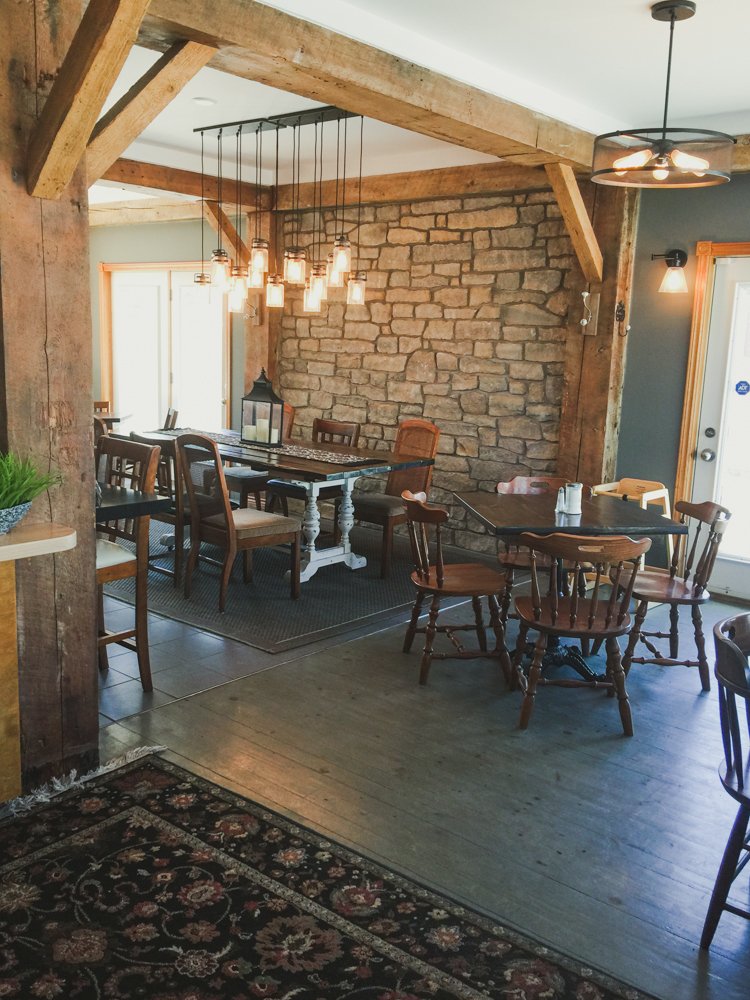 Goyda's dream was to open a bistro restaurant where community could come together to share meals in a convenient location to the neighbourhood. A menu where everything is made from scratch in house from locally sourced products wherever possible. Such as local honey from Julie and the Bees – just up the road in Arkell. "You don't get much more local than that" Goyda states.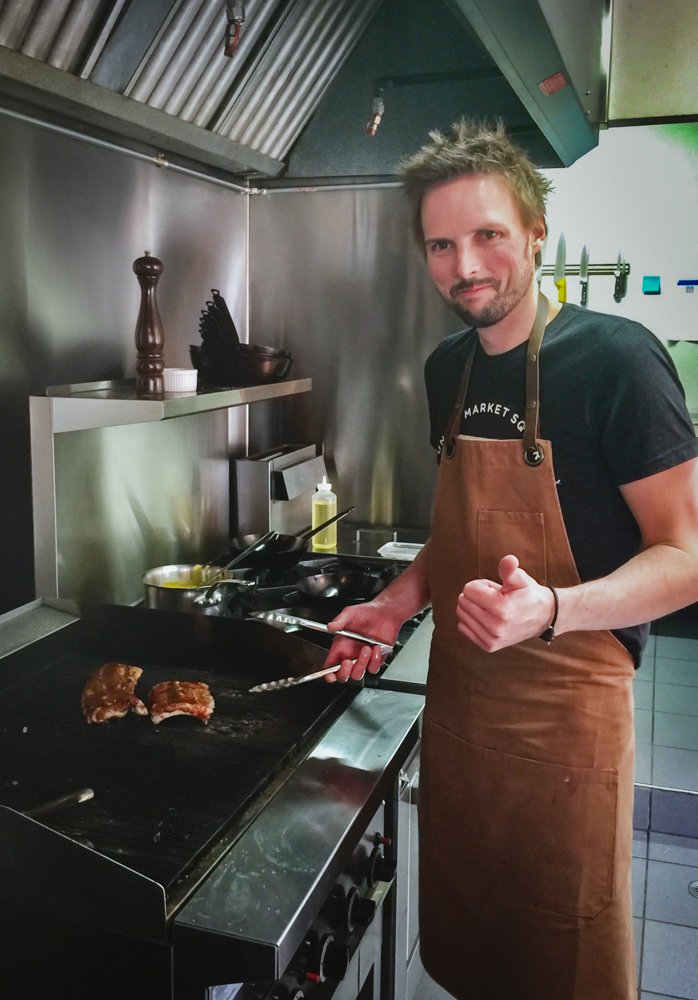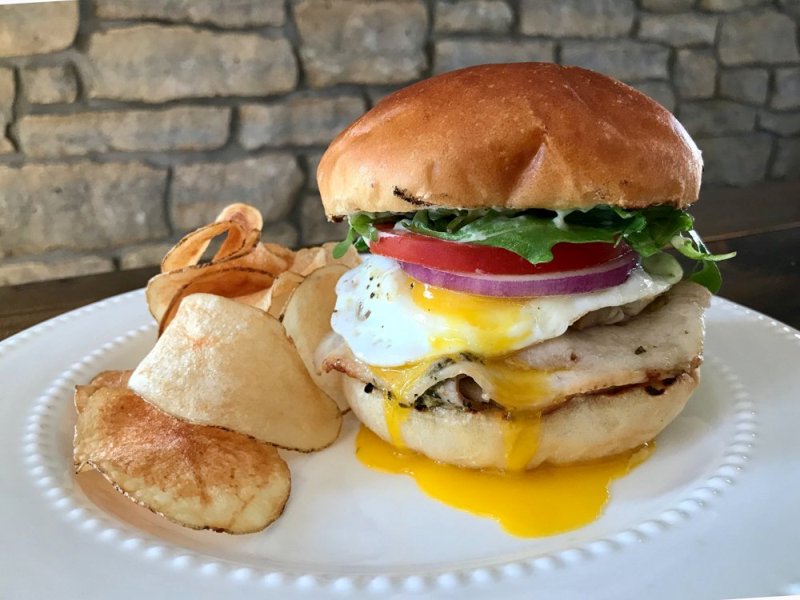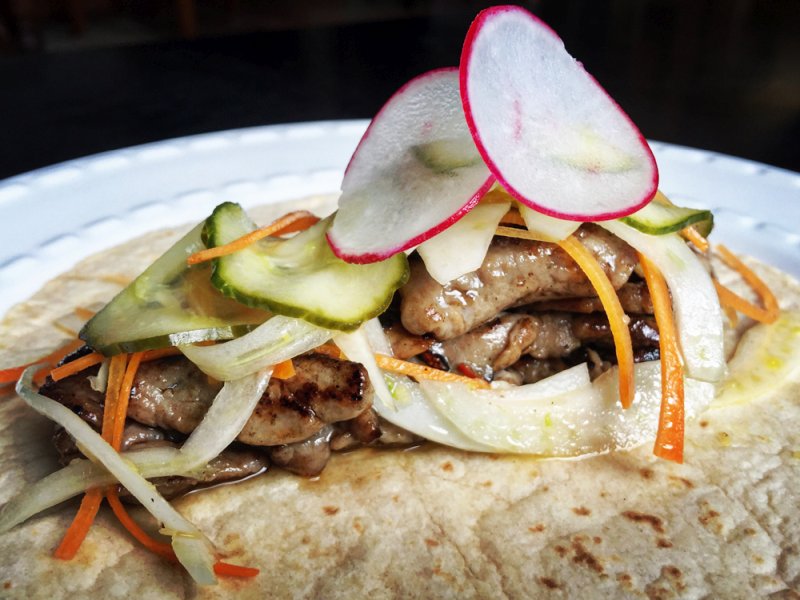 He visits as many of his sources as much as possible – which is commendable since they are still in their first year of operation and anyone in startup knows there's not enough hours in a day. He feels strongly about having a better understanding of where the products come from so he can share the information with inquisitive customers. Their farm fresh eggs come from Blue Haven Farm, between Rockwood and Fergus. Goyda has been to the farm and can confirm that the chickens are free range. I ask what the difference is between free range and free run and he tells me that free run chickens are held in cages and let out for periods at a time then corralled back to the cages. He says "think of it as recess." Free range chickens run free in their environment whenever they want, with the comfort of chicken coops they can return to at will. Who do you think is the happier hen producing excellent eggs?
Union Market Square recently launched prepared meals available to pick up on your way home from a busy day with no time to cook. My mouth waters when I hear of the meals they prepare from scratch in house, same as their bistro menu. Items range from pastas to curries, Thai pork to cassoulet. You can also pick up their delicious soups made from their own chicken stock. Fond of making your own soup? They sell their chicken stock as well.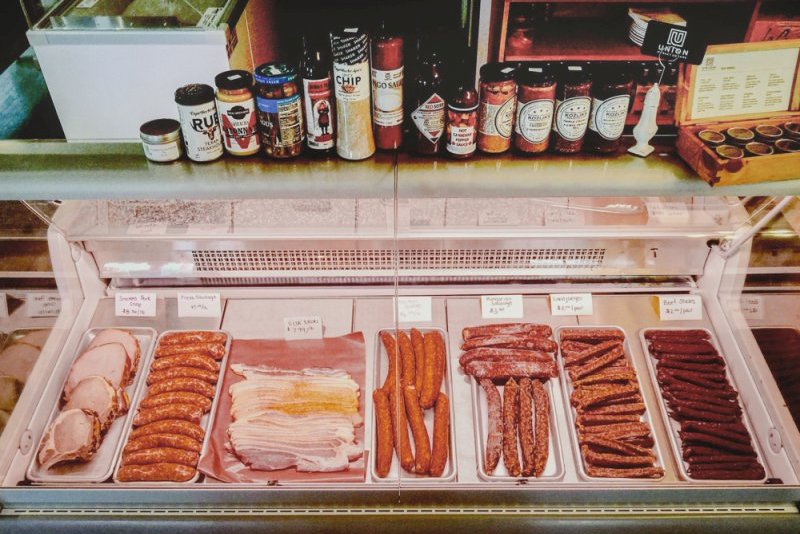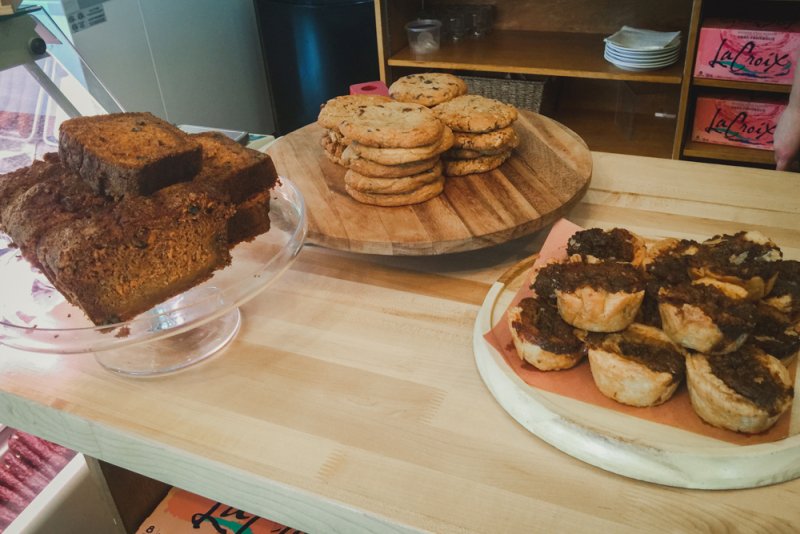 But it's not just a bistro. That's the half of it. There are fresh baked goods on display as you walk in the door, as well as fresh sausages and beautifully marbled steaks. I ask Goyda if he makes his own sausages, "not yet" he says with a smile. I find out there are a few things on the horizon from this talented chef and foodie.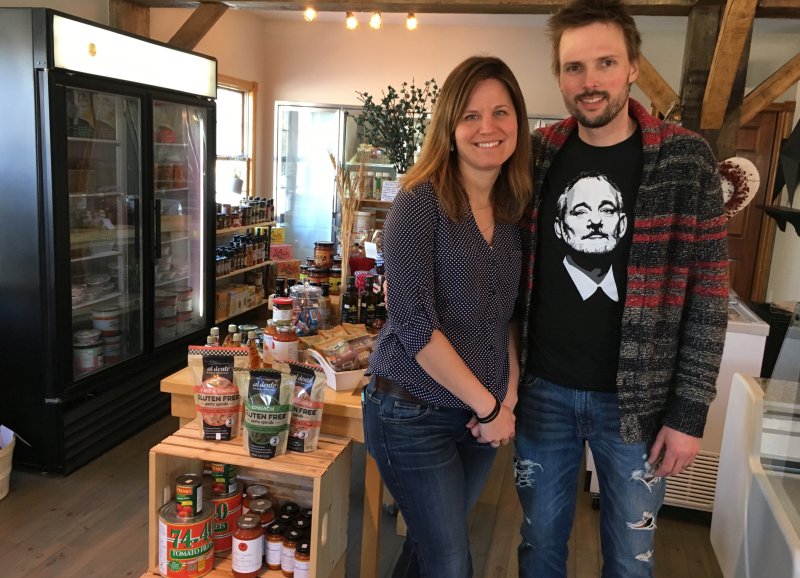 Union Market Square is also a market where you can pick up convenience items such as milk or cream. All the products stocked on the shelves and in the fridges are the same high quality products Goyda uses to create his menu and serve in the bistro. Plus you can also enjoy sauces and preserves made from scratch in the kitchen. This sounds to me like a one stop shop for all things good. And in a convenient location.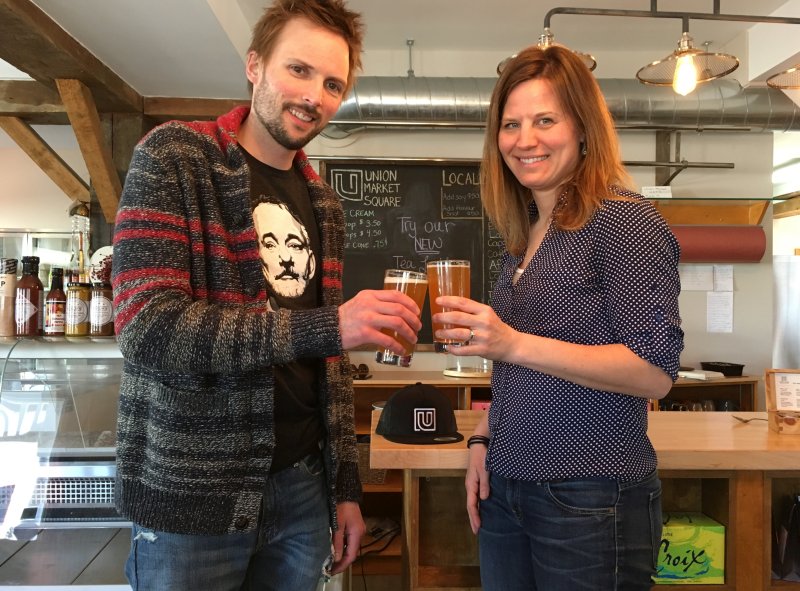 Goyda just launched his own brewed in house beer, made with what else, local grains and hops. With everything he has going on I asked him why he would add this to his full plate. He told that me that many years ago when the local craft brewery industry started to burgeon he was with a friend and lamented that he couldn't find a beer that he was fond of. All it took was his friend to say "well then why don't you just brew your own beer!" Simple enough right? Now Goyda has seven years experience of brewing his own beer that he brings to the table. You can have it served at your table as well in the bistro to complement your lovely meal. Not surprisingly they offer an array of beers from local craft breweries to round out their brew assortment.
I discover that cooking classes are in the plan for the future and I can't wait to attend an event where I can learn more from this talented chef who is clearly passionate about his food and his community.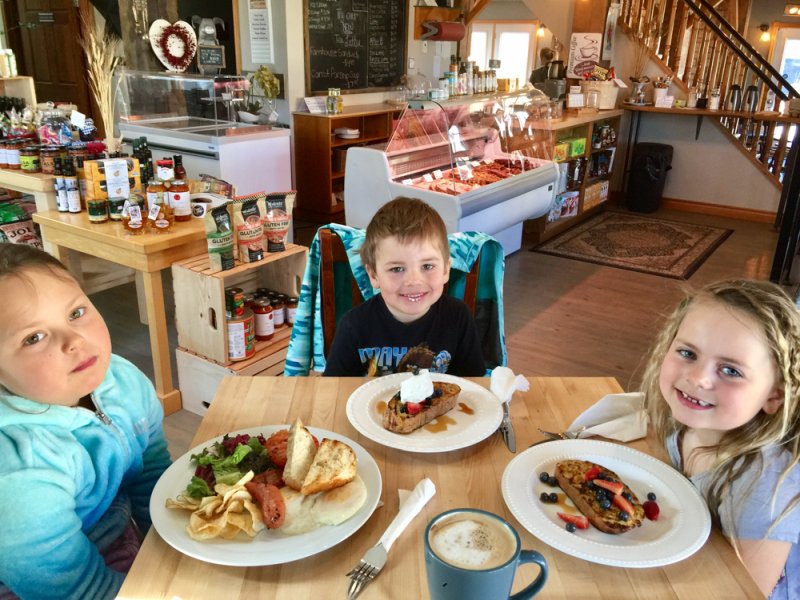 Before I say good-bye I have a chance to have chat with the lovely Jessica. Not only is she Mom to the three well behaved kids, no doubt well sated by the scrumptious cookie, she is also a partner in this venture. She supports the business with administration and can be found at the front of house when it gets busy. I find out that she's lived in Puslinch since she was ten years old. Making her children first generation Puslinchians.
I leave the market/bistro with a strong sense of what this family is about and the direction they want to take Union Market Square. Nestled in the heart of Arkell is a family who live here, work here, raise their family here and who support a community environment. I think about the word "Market Square" in their name and Google it upon my return to my office. Wikipedia describes a town or market square as "an open public space commonly found in the heart of a traditional town used for community gatherings. Being centrally located, town (and market) squares are usually surrounded by small shops such as bakeries, meat markets (and) cheese stores." Union Market Square represents its name well.
Want to find out more about Union Market Square? Check out their WEBSITE and LIKE them on FACEBOOK
Thank you to Jessica Goyda for sharing so many great photos of the market/bistro.