Instant Pot® Leg of Lamb From Valensbrae Farms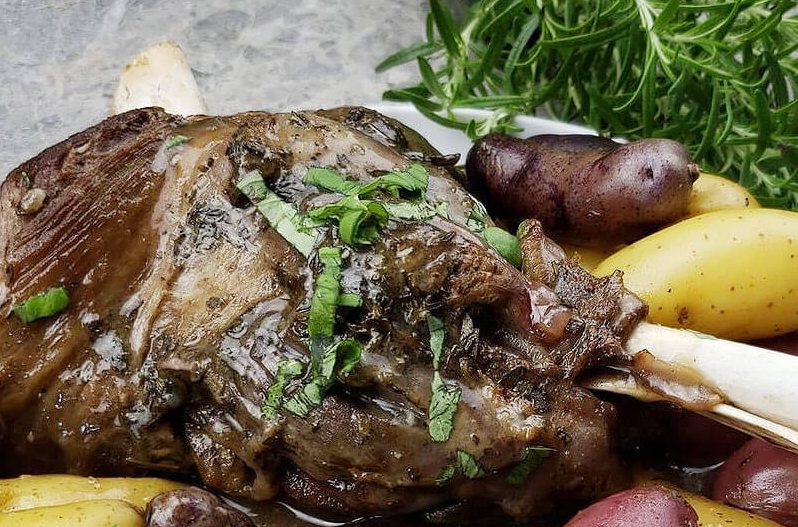 Leg of Lamb Accompanied by Potatoes Adapted for Instant Pot®
We're still talking about the Instant Pot®, and how it has introduced pressure cookery to a new generation of cooks.
Seasoned cooks have many stores of pressure cookers exploding coating the walls with mashed potatoes or worse hurting someone. Thankfully the Instant Pot® has added several safety lid-detection features making it almost impossible for anyone to open the lid before the pressure is released.
What is interesting about the Instant Pot® is that it's a Canadian invention.
Under the leadership of Instant Brands Inc. a team of Canadian technology veterans were tasked with finding solutions to food preparation that would take less time and hopefully reduce the consumption of fast food. That was 2009.
In 2010, the first multi-use programmable pressure cooker was released that incorporated 5 cooking functions: pressure and slow cooking, cooking rice, steaming and warming.
A huge success, Instant Brand Inc. continued to raise the bar on functionality, safety and being really super user-friendly.
In 2012, Instant Brand Inc. released the Instant Pot® Lux 6-in-1 Multi-Use Programmable Pressure Cooker, a larger version of the first Instant Pot® and category favourite. Shortly after, Instant Pot® Duo 7-in-1 Multi-Use Programmable Pressure Cooker was released adding a yogurt maker and searing pan.
In 2014 Instant Brands Inc. released a version that incorporated Bluetooth technology allowing cooks to program and monitor cooking from mobile devices.
For meats like mutton or lamb, appliances such Instant Pot® reduce the cooking time while continuing to maintain the wonderful flavouring that often comes with long cooking times.
Instant Pot® – The pot that does the work of several appliances and talks to your phone.
With Easter around the corner, we wanted to find recipes that would allow our readers to serve Leg of Lamb to their families, without spending the entireday in the kitchen.
This recipe from The Art of Syrian Cookery was specifically adapted for the Instant Pot®
Instant Pot® Mediterranean Lamb Roast with Potatoes
Serves: 4 to 5

Serve with greens
Ingredients:
2 tablespoons olive oil
5 to 6 pound leg of lamb bone-in or boneless
1 teaspoon sea salt
1 bay leaf crushed
1/2 teaspoon ground black pepper
1 teaspoon dried marjoram
1 teaspoon dried sage
3 cloves garlic minced
1 teaspoon ground ginger
1 teaspoon dried thyme
2 cups broth
2-1/2 to 3 pound potatoes peeled and cut into 2″ to 3″ pieces
2 to 3 tablespoons arrowroot powder optional
Instructions:
Turn Instant Pot to sauté. Let it get quite hot before drizzling in olive oil.
Put the roast in, and swirl it around until it is coated with oil. Sear on one side, then the other. Prevent sticking to the bottom.
Sprinkle the roast with the salt, pepper, and all herbs.
Add broth and seal the Instant Pot, set to high pressure for 45 minutes.
When done, release pressure and open the lid.
Add potatoes and seal the lid again, cook on high pressure for 10 minutes. Check potatoes for doneness.
Using slotted spoon, transfer potatoes and roast to serving platter to rest.
Whisk the arrowroot into 1/3 cup of water and add to broth in pot. Stir to thicken.

Valensbrae Sheep Farm – Pasture-raised Ontario lamb. Farm gate sales of lamb sold as individual cuts or by the whole or half lamb. Lamb will be available August 2019. In addition to Dorset & Shetland sheep, Valensbrae Farm has pot-bellied pigs, Red Sexlinks layers, honey bees and two llamas Ben & Jerry.

A family-run operation led by Ted Stark.

1527 Regional Road 97 | Puslinch | 905-659-7253 | [email protected]